Last week I discussed the Yacht Club. If you missed it, click here for PART ONE and PART TWO.
Today I'll be examining they Yacht Club's sister resort, the Beach Club.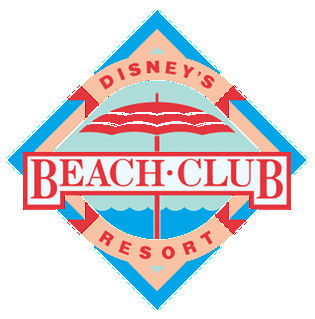 The Beach Club opened on November 19, 1990. This deluxe resort features 583 guest rooms with an average room size of 380 square feet. The exterior of the hotel is painted blue with white trim and uses stick style architecture. Stick style architecture was popular in America in the late 19th century and was the predecessor to the Queen Anne style.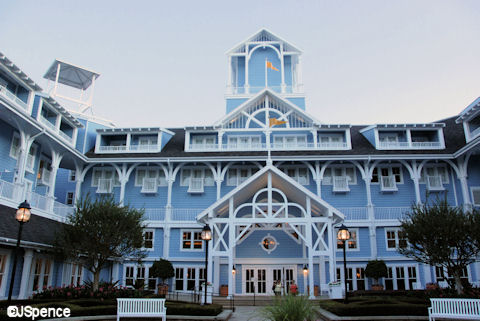 Whereas the Yacht Club has a formal atmosphere, the Beach Club is more casual. The Beach Club is the type of resort that wealthy families of the mid to late 1900's might have visited for playful days at the seashore and clambakes at night. This carefree atmosphere is evident from the moment you enter the lobby. Take a look at some of the furnishings and the chandelier. In addition, a very mild "Little Mermaid" theme has been incorporated into the resort's design. This is most evident in the carpeting.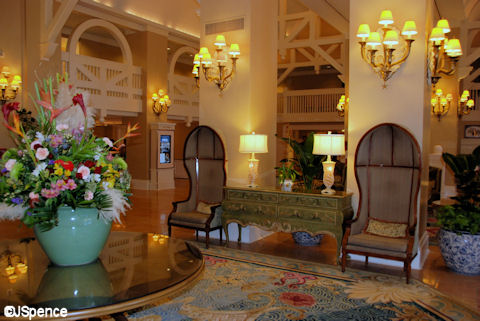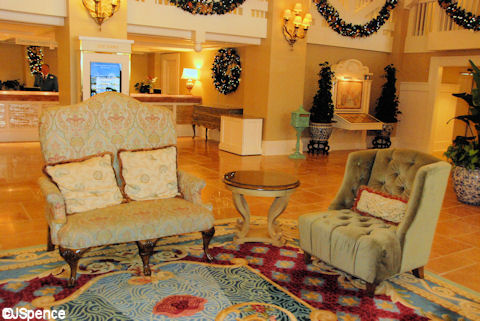 Like the Yacht Club, the Beach Club also employs a nautically clad cast member to greet you, answer questions, and direct you to the proper destination. As you enter the resort, the check-in desk is to your right and the concierge desk is to your left. A children's waiting area, complete with TV, can be found near the windows.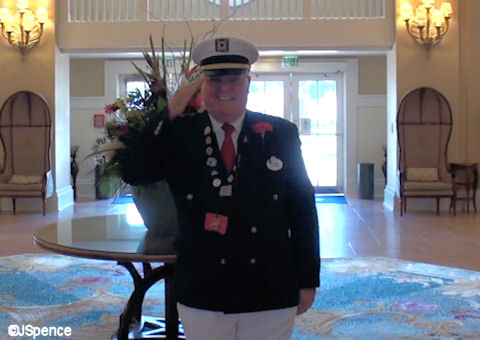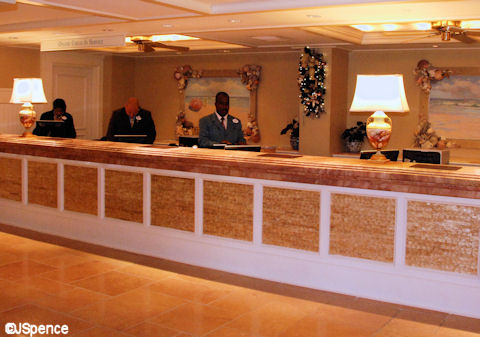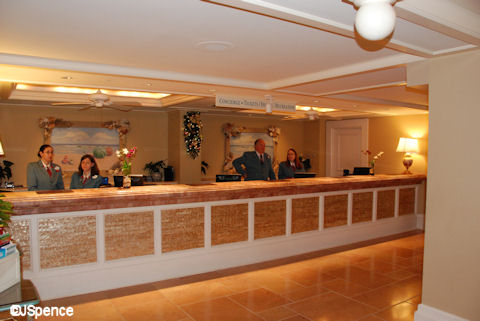 Most standard rooms have two queen beds and a sofa/daybed (see the pictures for the Yacht Club in last week's article). However, some rooms feature one king bed. In many cases, these "king" rooms do not conform to the standard room shape and have been "fitted in" to unusual spaces. This was the type of room I occupied during my last visit.
My room featured a longer and wider than normal hallway to reach the sleeping area. Off of this hallway is a standard closet containing a small safe, extra pillows, hangers, iron and board, and a luggage rack.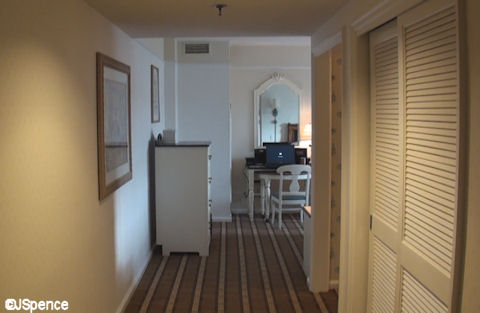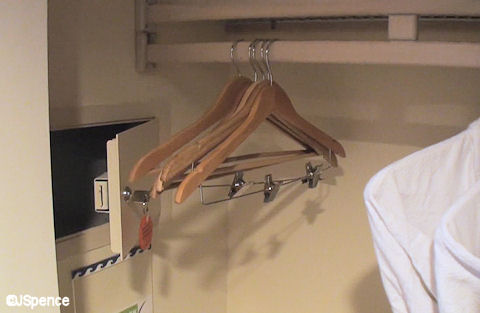 Also off of the hallway is the bathroom. Since this room only has one king bed, the vanity only has one sink. However, storage space for toiletries is ample with the addition of a marble shelf above the basin. A hairdryer can be found attached to the wall or in a bag on one of the shelves beneath the sink. H20+ body wash, shampoo, and conditioner are supplied. For those of you who find it next to impossible to remove the plastic wrap from the soap, try this trick. Take a set of car keys and puncture the wrap. This works well for me.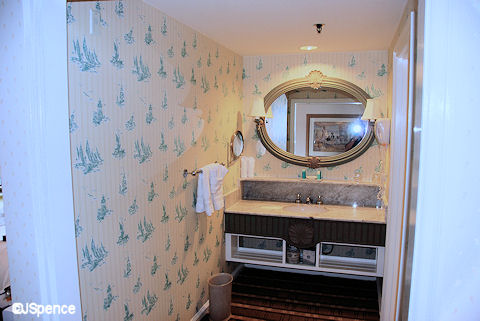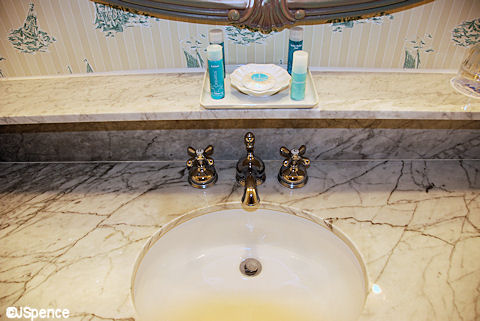 The wallpaper in the bathroom features sailboats with a hidden Mickey.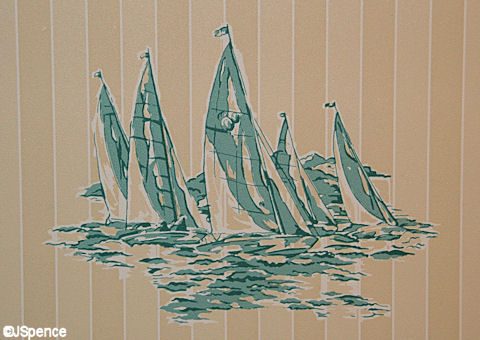 The toilet and shower are in a separate room. Marble flooring and marble shower tiles add a bit of elegance to this small space. There is a phone next to the toilet and two toilet paper dispensers inserted into the wall. Even though this "king" room is intended for two, there were five fluffy towels.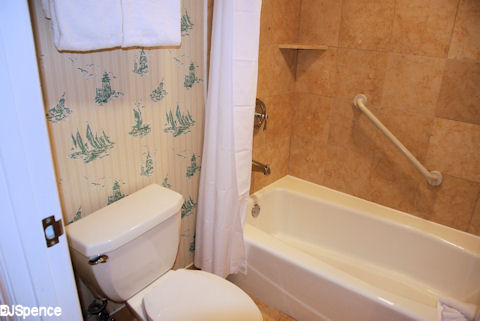 Being an "irregular" room, the sleeping area was more square than rectangular in shape. Combine this with only one bed and the room seemed quite large. The walls are covered in a non-intrusive cream paper and the furnishings continue this color scheme. The carpet is made up of brown and beige stripes. The draperies feature stripes of blues and browns.
The room had a standalone chest of drawers. It's interesting to note, at the Yacht Club, the coffee maker sat atop a similar chest. But at the Beach Club, the coffee maker can be found on the desk. I think I prefer the coffee maker on the chest of drawers as I want as much space as possible when I'm working with my laptop at the desk.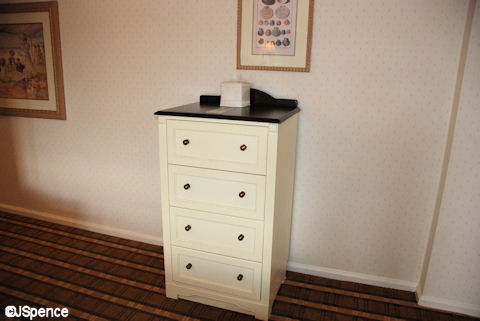 The desk is decent sized and contains electrical and internet connections built into its back panel. A second, "computer" desk nests underneath the main desk.
On the desk is a very cute Mickey Mouse lamp. At one time, this lamp was sold at the Beach Club Marketplace, but alas, no more.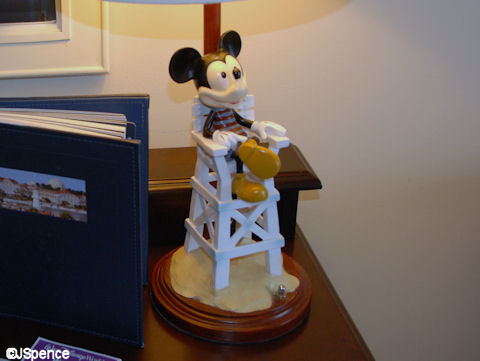 Disney is currently testing Wi-Fi in a number of their resorts. The Yacht & Beach are on this list. I used this Wi-Fi service and was very pleased with the ease of connection and the speed. At the moment, this connection is free. However, I have no idea what the future may hold and if charges are on the horizon.
The credenza contains a refrigerator, several shelves, and four drawers.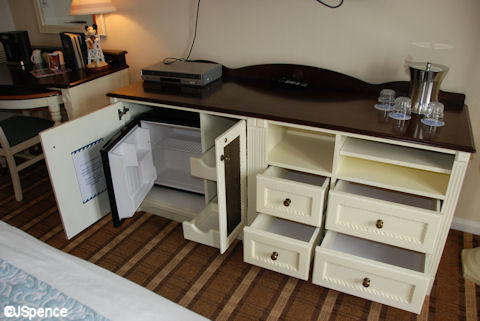 The bed is comfortable and forgoes a bedspread in favor of a second top sheet to cover the blankets. There is a nightstand on each side of the bed and individual dimmer controls work the two bed lamps. A phone can be found on one nightstand and a clock-radio that can accommodate iPhone type devices is positioned on the other.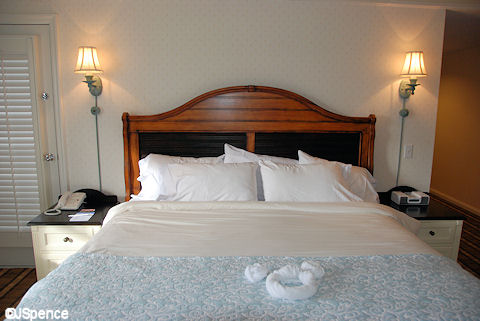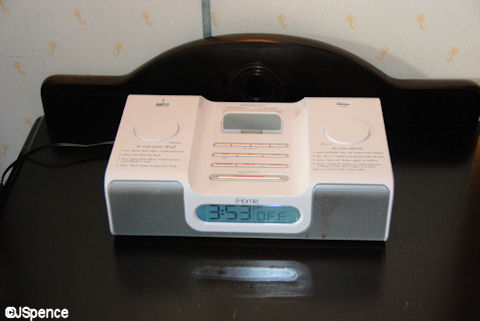 Because of the unusual shape of my room, I had a double balcony. Please note, not all of the rooms at the Beach Club have balconies. If this is important to you, make sure the reservationist knows this when booking your room.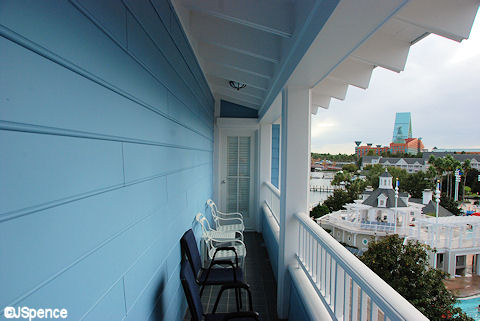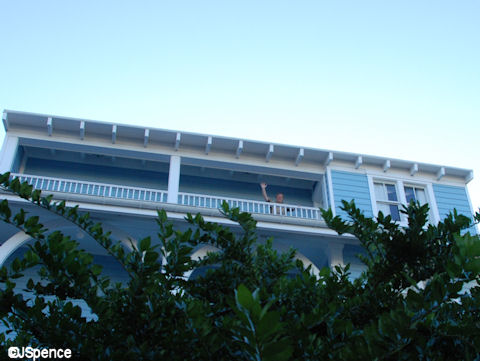 Here is a 2½ minute video of a "King" Beach Club room.
Any of you who have read my column for more than a few months know that I'm pretty easy going when I'm reviewing Disney. Not that they need it, but I usually cut them a lot of slack. However, I did have two issues with my room at the Beach Club – one minor, and one, not so minor. I'll start with the less significant.
I was staying in a Club Level room (more expensive than a standard room). One of the perks of staying in these better appointed rooms is a DVD player. Disney is known for their attention to detail, yet they completely forgot to plan for DVD players when outfitting these rooms with wall-mounted flat-screen TVs. Rather than hiding the DVD cables, they simply plugged them into the side of the TV and let them run down to the player in plain sight. In addition, other cables were protruding from behind the TV. Disney can do better than this. This was tacky.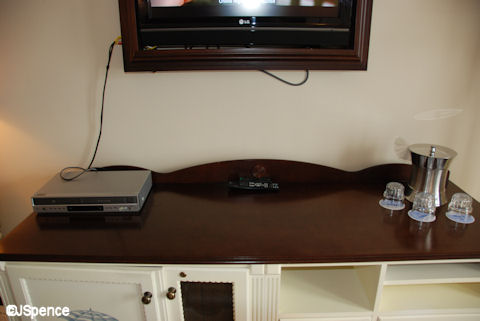 I want to discuss my more significant issue with you so you may learn from my disappointment.
I booked my room online – without the aid of a Disney reservationist. I was willing to pay extra for a better view so I booked a Lagoon View (one of the options given to me on their website). The Disney webpage clearly states, "Lagoon Room Views are located on the fifth floor and offer views of Crescent Lake." No other possible views were mentioned with this choice.
When I arrived at my room at 10am, I found my view looked out onto a courtyard. Only if I walked out onto my balcony, leaned over the railing, and looked hard left could I see a portion of Crescent Lake. I returned to the concierge desk and questioned my room location. I was given no explanation, but was offered another room if I was willing to wait until after 3pm and forgo two queen beds for one king. I agreed.
When I arrived at the second room, I had a beautiful view of Stormalong Bay, but once again, the only way to see Crescent Lake was to stand on my balcony and lean over the railing. So I returned to the concierge desk where I was fortunate enough to find a supervisor. After explaining the situation, I was told that the Beach Club offers three views, Standard, Garden, and Water – and a Water View can be of Crescent Lake OR of the swimming pools.
When I showed the supervisor my reservation which clearly stated Lagoon View (not Water View) and that the Disney website clearly states that a Lagoon View equates to a view of Crescent Lake, she was perplexed and had no explanation. As no other room was available, I had no choice but to accept the second room.
While at the Beach Club I ended up speaking with two supervisors and let them know their website is presenting false information and setting up expectations that cannot be met. Both of these supervisors assured me that they would bring this information to the attention of the appropriate people. When I returned home, I wrote Disney a letter informing them of their webpage error. I also did more research and found that the Room View descriptions are not consistent between the Yacht and the Beach.
I later spoke with a reservation supervisor who informed me that I would not have had this problem if I had booked through a cast member over the phone as they are very well versed on this subject matter.
Bottom line"¦ Disney only recognizes the term "water view" and this can be of a lake, pool, or river. They cannot guarantee which view you will get.
Since it's not my desire to be negative, I would also like to share a very positive story about the Beach Club. About a week and a half before my visit, I stayed one night at the Beach Club Villas. After I checked out and returned home, I realized that I had left my charger-cord to my iPhone in the room. Since this wire only costs a few dollars, I just chalked it up as lost.
When I checked into the Beach Club for this visit, I stored my luggage with Bell Services until my room was ready. When my bags were delivered to the room, they also included my charger cord. I NEVER mentioned to anyone that I had left this cord in my room on my previous stay, yet they returned it to me. This was truly Disney magic.
That's it for Part One of the Beach Club. Check back tomorrow for Part Two.