Yesterday I began my review of the Beach Club with an overview and a description of a standard "king" room. Today I'll talk about Club Level amenities and the various shops and restaurants found around the resort.
I like the Stone Harbor Club Lounge facilities at the Beach Club better than those at the Regatta Club at the Yacht Club. At the Yacht Club, the check-in area and lounge seem like they were added as an afterthought. I had the impression that Disney had knocked a wall out between two guest rooms to create the lounge. But at the Beach Club I didn't get this feeling. Both the check-in area and the Stone Harbor Club felt like they had been part of the initial design.
When exiting the elevators on the fifth floor of the Beach Club, guests are greeted by cast members at two concierge desks. These cast members will get you settled into your room and help you with restaurant and show reservations. Their services are available from 7am to 10pm.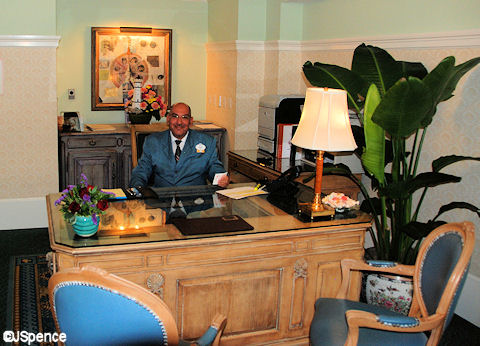 The Stone Harbor Club Lounge is decent sized with a number of tables, chairs, and sofas arranged around the room. There are two televisions – one tuned to cartoons for children and another featuring news and sports for adults. The sets are far enough from one another as to not interfere with each other. The Beach Club lounge does have a balcony, but unfortunately it is so narrow that it cannot accommodate any tables or chairs.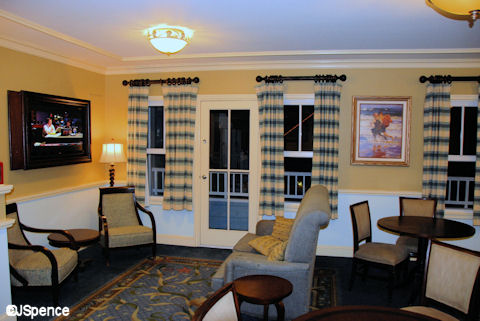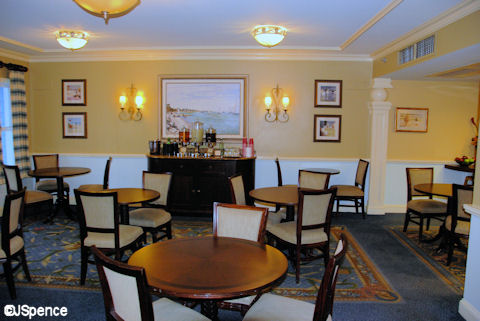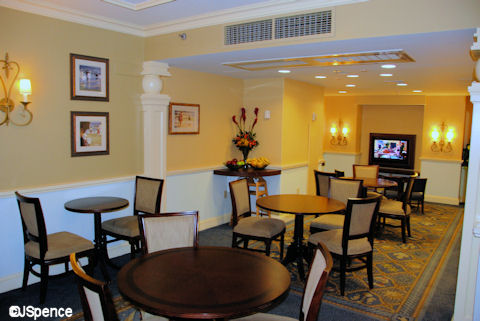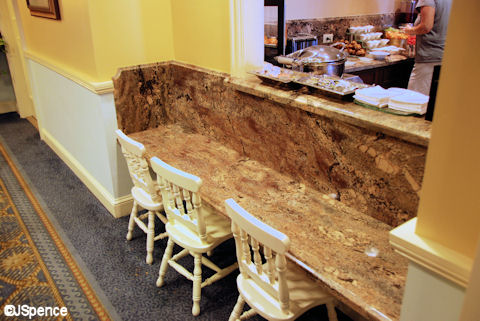 The food serving counter is "U" shaped and is brightly lit. Breakfast offerings feature bagels, pastries, fruit, cold cereals, hardboiled eggs, and other continental selections. Cookies and other snacks are available at lunch. And a rotating menu of cold and hot hors d'oeuvres is served each evening. Canned sodas are available all day long and wine and cordials are served in the evening. All of this is included in the Club Level price. Service is as follows:
Coffee: 6:30am to 7am
Continental Breakfast: 7am to 10:30am
Snacks & Soft Drinks: 11:30am to 3pm
Tea Time: 3pm to 4pm
Hors d'oeuvres & Wine: 5pm to 7pm
Desserts & Cordials: 8pm to 10pm
Children under 10 should be accompanied by an adult when in the Stone Harbor Club Lounge.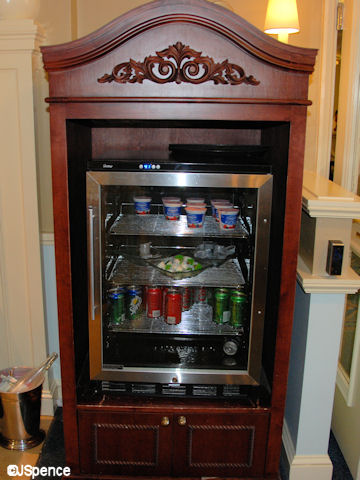 Here is a 1½ minute video of the Club Level facilities.
Now let's take a look at some of the facilities of the Beach Club.
The Tidal Pool (quiet pool) can be found at the far end of the resort (closest to Epcot). This is a good spot for sunning and relaxing without all the hubbub of Stormalong Bay. Laundry facilities can be found in a building next to the pool so you can spend some quality time while washing your clothes.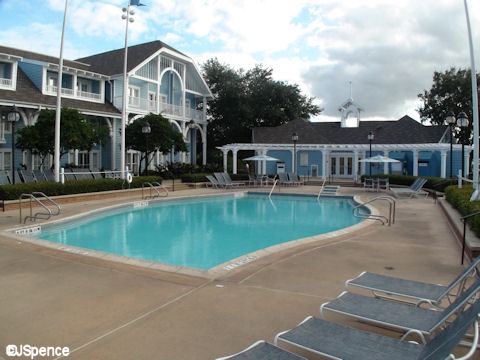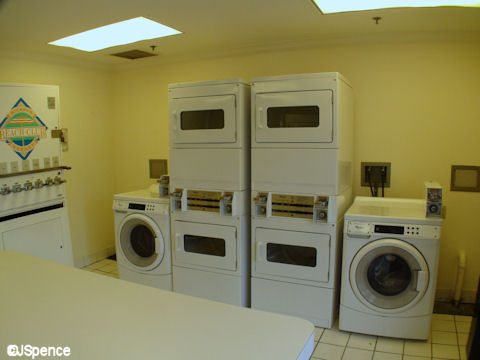 Beach Club Marketplace is the resort's shop and carries the typical array of Disney souvenirs. When the Beach Club Villas were built in 2002, this shop was remodeled and a "mini-market" added which carries a reasonable selection of food stuffs intended to be taken back to your Villa room for preparation and consumption. In addition, a quick service food counter was added where you can purchase made-to-order omelets and French toast in the morning and flatbreads, salads, and sandwiches for lunch and dinner. I have tried this spot a couple of times and feel that Disney is trying (and succeeding) at serving above par dishes. This facility is open from 7am to 11pm.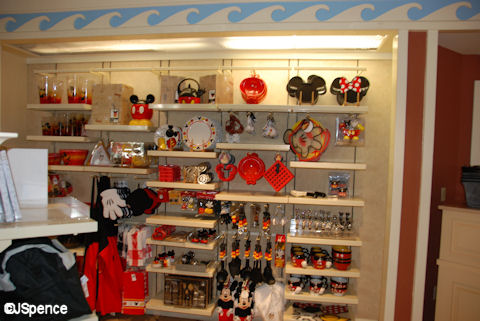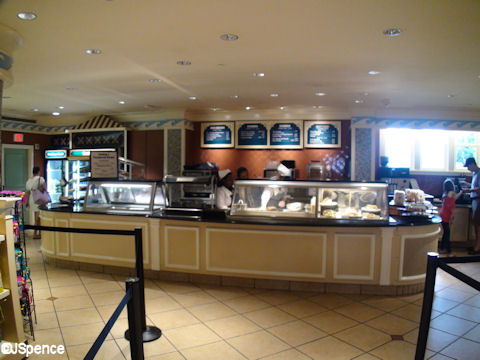 Down the hall from Beach Club Marketplace is the Solarium. This window-lined sunny room is a great place to gather with friends and perhaps enjoy one of those delicious flatbreads you just purchased at the nearby food counter.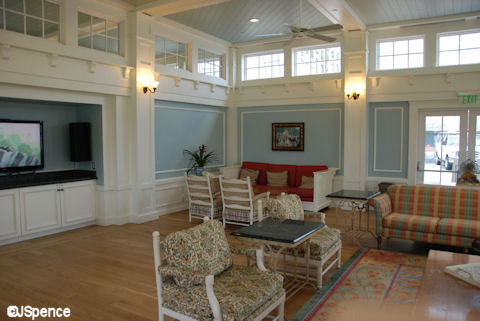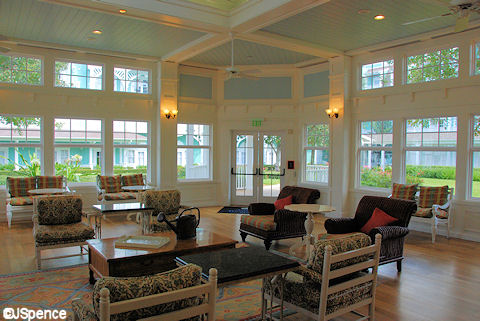 One of the most popular buffets at Walt Disney World is Cape May Café. Located just off of the main lobby, this restaurant has a "fun in the sun" atmosphere. Giant, colorful umbrellas line one side of the restaurant and croquet mallets and beach chairs adorn the walls. The buffet is four-sided, sits in the middle of the restaurant, and is surrounded by tables. Breakfast features Goofy and friends and serves standard American fare. Dinner recreates a clambake atmosphere and offers crab legs, mussels, and freshly steamed clams. For those of you desiring more traditional selections, carved meats, ribs, chicken, seasonal seafood salads, and pastas are also served. You will not leave this buffet hungry. Advanced reservations are extremely important here.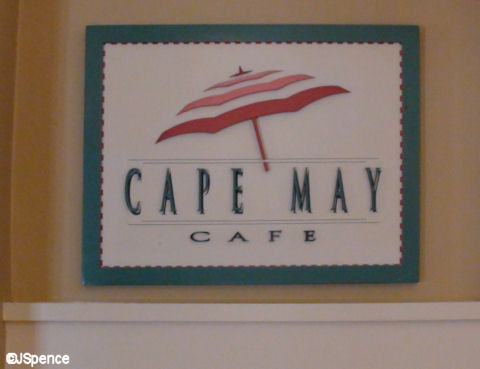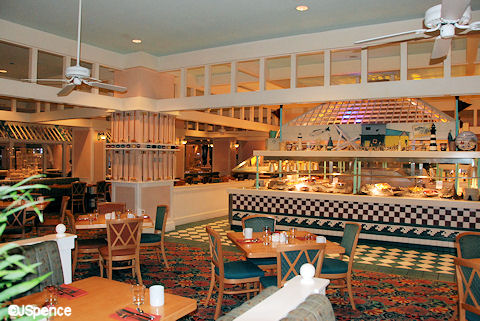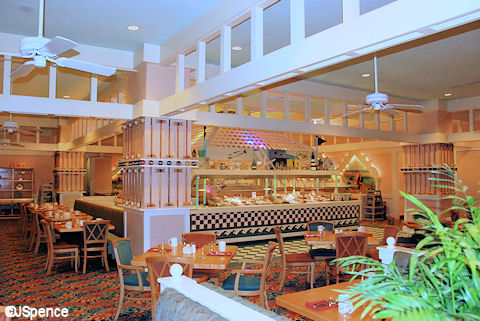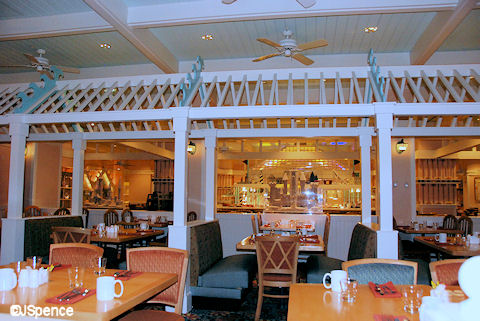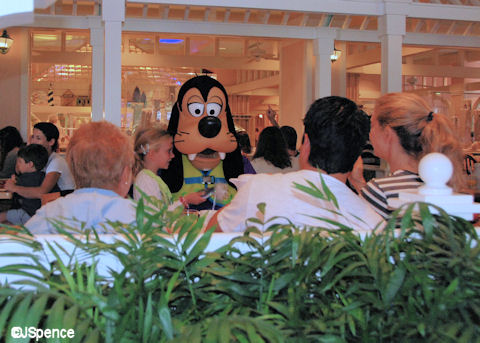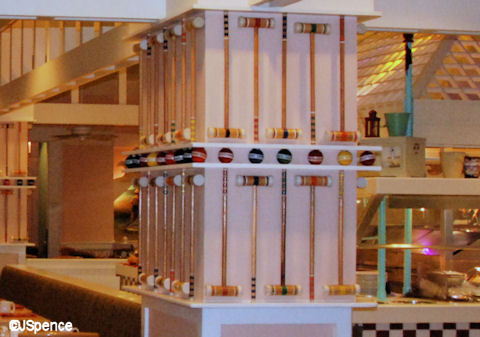 If you're in the mood for an evening cocktail and some tasty appetizers, check out Martha's Vineyard located just around the corner from Cape May Café. Open nightly from 5pm to 11:30pm, this watering hole serves New England clam chowder, peel-and-eat shrimp, teriyaki BBQ ribs, and Buffalo chicken nuggets.
Next to Martha's Vineyard is Ariel's. When the Yacht and Beach Club first opened, the designers felt a deluxe steakhouse should be built at the Yacht Club (Yachtsman Steakhouse) and an upscale seafood restaurant should be located at the Beach Club (Ariel's). However, it was discovered that the resort did not need two fine-dining establishments and Ariel's was closed. Today this space is used for banquets and other group functions.
On the premises of the Beach Club is possibly one of the most fantastic eateries at Walt Disney World, Beaches & Cream. This restaurant recreates a seaside soda shop complete with a marble counter, wrought iron tables and chairs, and jukebox. Fantastic ice cream concoctions and great hamburgers can be ordered here. The place is small and does not accept reservations. Expect a wait if you decide to eat here – but it's worth it. A walk-up counter is available for ordering ice cream. I wrote a complete blog about this establishment last year. To read it, click here.
Next to Beaches & Cream is Lafferty Place Arcade. As the name implies, this is the spot to challenge your hand-eye coordination with electronic wizardry.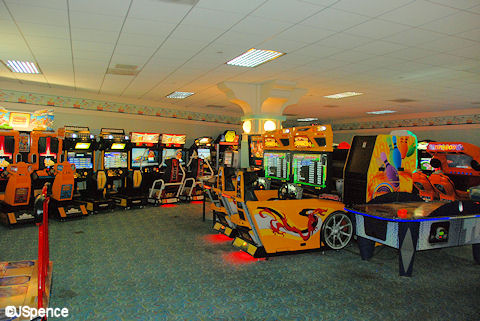 Out on the lawn of the Beach Club is a sand volleyball court. Equipment is complimentary and available at the Ship Shape Health Club located on the Yacht Club side of the resort.
The beach at the Beach Club is pristine. This is a great place for kids to run in the sand and adults to bask in the sun. However, Crescent Lake is off limits for swimming. In the evening, a campfire and sing-a-long is held around a fire pit located near the shipwreck Albatross and Disney movies are shown under the stars afterwards.
Stormalong Bay, the fantastic swimming pool of the resort, straddles the Yacht Club and Beach Club. For more information about this delightful water wonderland, see Part Two of my Yacht Club blog posted last week.
When I stay at the Yacht Club, I'm always in a quandary whether I should take a Friendship boat to Epcot or walk. When I stay at the Beach Club, I have no decision to make. I always walk. Close proximity to Epcot is one of the great things about this resort. For transportation to Disney's Hollywood Studios, catch the boat at the Yacht Club pier. For transportation to other locales, catch a bus located a short distance from the hotel's main entrance. Note, the Yacht and Beach share one bus. Since the bus stops first at the Yacht Club, seating can be difficult to secure when loading at the Beach Club during the morning hours.
That's it for The Beach Club. Check back tomorrow when I will discuss the Beach Club Villas.