Last fall, The Walt Disney Company launched a new initiative to help parents raise healthy, happy children called Disney Magic of Healthy Living. It's a program encouraging smart eating and exercise through a year-long series of inspiring public service announcements featuring First Lady Michelle Obama and some Disney Channel stars, including Nick Jonas and Brenda Song.
Magic of Healthy Living PSAs feature the First Lady Michelle Obama and Disney Channel stars address food choices, activities, and portion sizes.
A highlight of the program was a national essay contest encouraging children across the country to write about their ideas for living a healthy life at home, at school or in their communities. Fifty winners were invited to Disney Magic of Healthy Living — The Weekend, a special event at the Walt Disney World Resort.
Disney Magic of Healthy Living — The Weekend, took place March 18-20, 2011.The 50 essay winners and their families came to Walt Disney World to explore a weekend of flavor and fun. The Weekend included a one-of-a-kind 'TRYathlon,' an imaginative and inspiring course "around the world" to TRY new foods, new moves, and new ways to live healthy.
The weekend kicked off with an opening ceremony dinner that featured Disney Channel stars Kenton Duty, Daniel Curtis Lee, Jennifer Stone, Alyson Stoner and Caroline Sunshine. The 2011 Disney Wide World of Sports Spirit Award Winner, Boston College linebacker Mark Herzlich and Tampa Bay Buccaneer linebacker, Barrett Rudd, were also on hand to join in the weekend's TRYathlon. Also, Disney Chef Gary Jones was on hand to share healthy culinary delights. Chef Gary is working with Disney chefs to create healthful, flavorful meals in both Disney restaurants and snack menus.
First Lady Michelle Obama welcomed everyone to the Disney Magic of Healthy Living — The Weekend by way of videocast.
The Jammitors, as Jammin' Chefs, entertained the audience.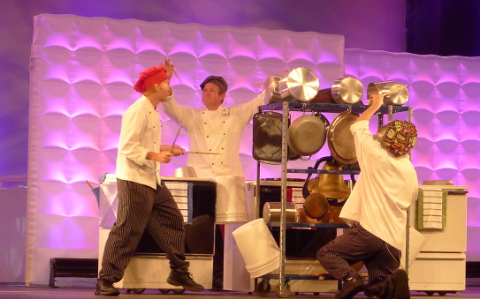 AllEars.Net spoke to Disney Channel stars Kenton Duty and Alyson Stoner to learn more about their part in the Healthy Living Initiative:
Alyson Stoner voices Isabella Garcia-Shapiro on Phineas and Ferb and appeared in Camp Rock 2. She's been with the Disney Channel for 11 years and said she has seen huge positive changes in the food offered, with healthier options now. "As a family we are growing healthier together. We'd have pop (soda) with every meal — we never reached for water. So we are rewiring our habits now."
Kenton Duty plays Gunther in the Disney Channel comedy series "Shake it Up," and he also appeared on "Lost" as young Jacob. Kenton, a self-proclaimed health nut, loves that his job involves so much dancing — a great cardio exercise. His personal goal of being involved in the initiative is "to inspire kids to aspire to be the better them. Enjoy working out and exercising."
The Disney Magic of Healthy Living program offers online information for kids and parents on two new dedicated web sites: Disney.com/healthyfun is geared towards kids and Family.com/healthymagic offers resources for parents.