A Walt Disney World park entrance is like the opening credits to a movie and sets the theme for the guests as they enter. Disney's Hollywood Studios patterned their ticket booths after the popular art deco used in theaters back in the 1930's, 40's and 50's. This choice of an entrance gives a guest the feeling of nostalgia for a bygone era. One, in which they are about to re-enter in the Hollywood that never was but is.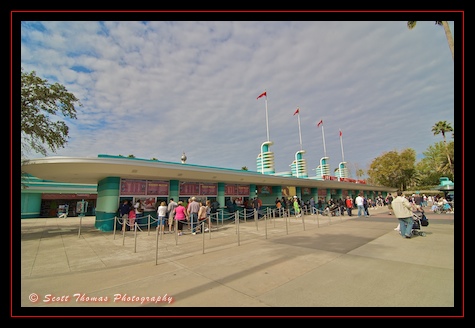 Disney's Hollywood Studios art deco ticket booths greet guests at the park's entrance.
Nikon D70/Tokina 11-16mm, 1/400s, f/10, ISO 200, EV +0.3, 11mm focal length
Barrie and Lisa will be here on Thursday and Saturday with their favorite Park Entrance for the Disney Pic of the Week.