I recently spent a long weekend at one of my favorite Walt Disney World resorts, the Wilderness Lodge. I was there to celebrate my birthday and what better way to do that than with a trip to the World?
Perhaps my favorite aspect of the Lodge is the sense of tranquility and seclusion that it offers, as well as theme of the Great Northwest which is carried out to perfection here. These factors immediately come into place as soon as you pass under the giant archway serving as an entrance to the resort.
Watch for bears crossing the road as you approach the Lodge.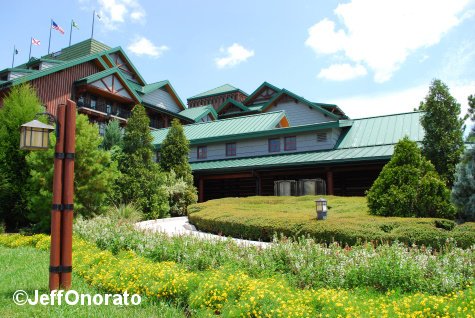 In addition to the Canadian goose topiary at the entryway of the resort, another magnificent creation is on display as you approach the Lodge from the parking lot or drop-off areas – a pair of buffalo. These are mainstays of the resort and are true works of art.
I always feel like I am close to the magic as soon as I enter the spectacular lobby of the hotel.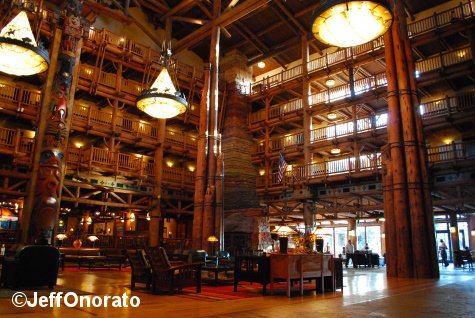 This stay at the Lodge was a bit different for me in that my room was on the Concierge level. I have been fortunate enough to have stayed at several of Disney's resorts, but never experienced their Concierge service.
"So how does staying on the Concierge level differ from the lobby Concierge?" you may be asking yourself. If you are booked on the Concierge level at one of the deluxe resorts, you will receive a phone call within a few days of your departure. The Cast Member will inquire as to whether your group will need assistance in making any special dining reservations or planning to celebrate any special occasions. Staying Concierge can also provide exclusive access to special tours, such as the Wildlife Discovery Excursion at Disney's Animal Kingdom park.
Concierge service at the Wilderness Lodge is located on the 7th floor and can be accessed by way of key-card in the elevators. The Concierge desk is located just to the right just as you are exiting the elevators.
A Cast Member is there to assist guests beginning at 7:00 a.m. each morning. They can answer any questions you might have and assist with the booking of tickets to the Cirque du Soleil, Hoop Dee Do Revue, and Spirit of Aloha Luau shows too.
The folks that I encountered behind the Concierge desk were very friendly and more than willing to help out in any way they could. I was in need of a Pharmacy while I was there. Rather than giving me driving directions to a local drug store, the cast member recommended a local service that delivers medicines for a nominal fee. I thought this was great service, especially since it would save me the time of having to drive to the drug store during my precious few days in Disney.
Directly across the hall from the Concierge desk is the main entrance to the Old Faithful Club lounge, which is where snacks and beverages are served throughout the day.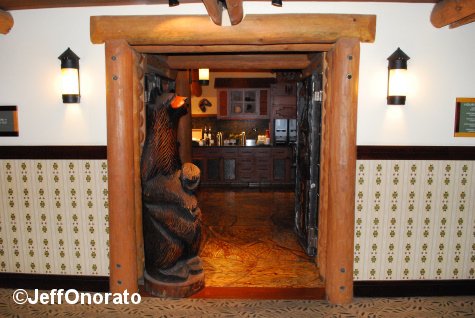 Just around the corner is another entrance by the seating area.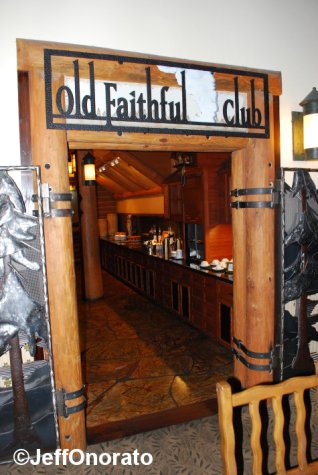 Tables and Chairs are in abundance if you decide to kick back and relax by the lounge area. They surround the entire balcony area of the 7th floor, and I found it peaceful and relaxing to look out over the cavernous lobby each morning while having breakfast. Kiddy-sized tables are on hand for children and a huge flat screen TV is on display if you decide to kick-back in the common area.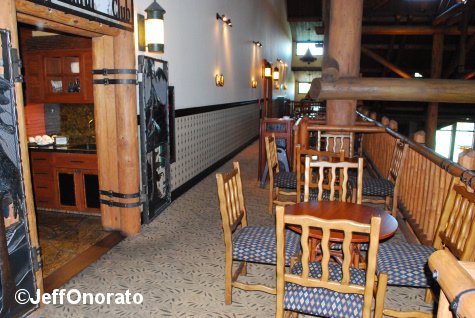 Different offerings are presented at different times of the day, generally in 2-hour intervals. From 7:00 – 9:00, a light "Continental" breakfast is served. This includes large bottles of chilled Spring Water, Juice, Coffee, Cappuccino, Espresso, Cereal, Bagels, Croissants, Muffins, Pastry, and Fresh Fruit (Watermelon, Cantaloupe, Pineapple, Grapes, and Melon). Monin flavored syrups are also available for your coffee or hot tea.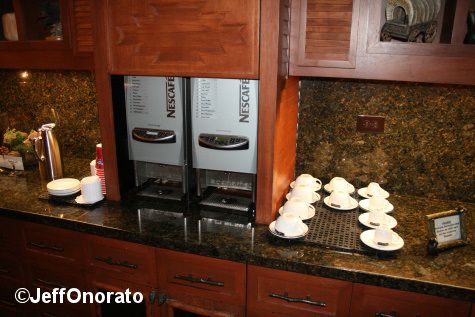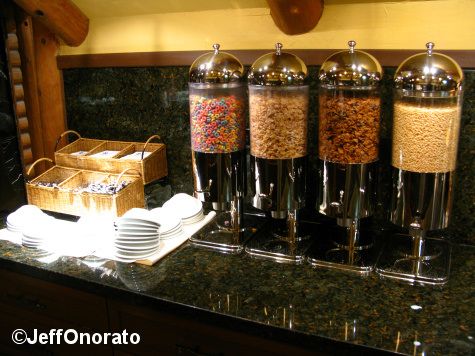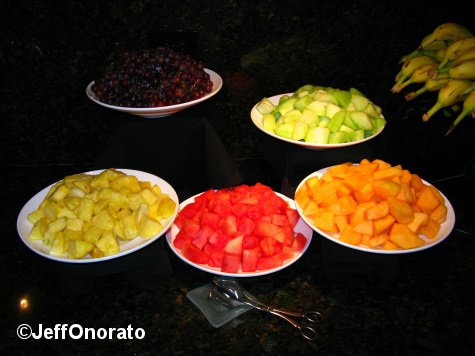 Light snacks such as Pretzels, Goldfish, Gummy Bears, Cookies, and Trail Mix are offered in the Lounge at lunchtime and throughout the afternoon. There also is a refrigerator where canned beverages and Yoplait Yogurt are kept on hand. Coca-Cola, Sprite, Diet Coke, and Minute Maid Apple-juice boxes were stocked in the fridge. I found this to be most convenient when heading out to one of the parks or coming in from a long, hot day. It's so much easier to swing by the lounge and grab a drink rather than having to head all the way up the room, grab the refillable mug, and venture down to the food court.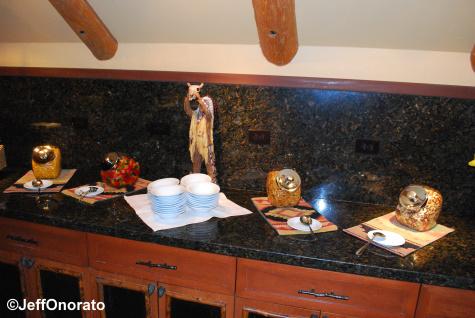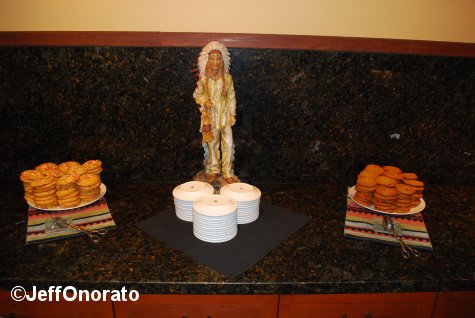 From 5:00 – 7:00, finger foods are served. This was definitely the busiest time of the day in the lounge, and there was actually a line of folks waiting to fill their plates. Different hors d'oeuvres are presented depending on the night, but a sampling of the offerings included: Chicken Satay, Cheese & Veggies, Skewered Meats, Chicken Salad, Venison Meatballs, and Crackers/Pita Chips. Different dips were on hand for the crackers such as a Red Pepper hummus and Goat Cheese with Garlic spread, which I found to be very tasty.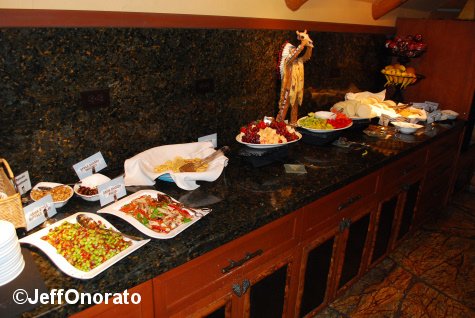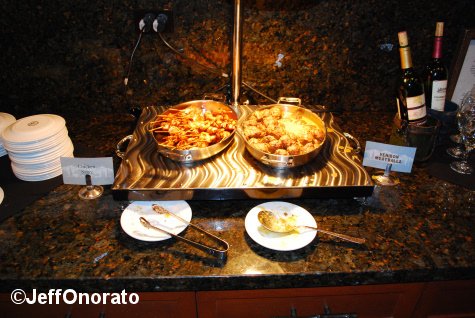 From 8:00 – 10:00, dessert is presented. This included warm Berry Cobbler, "Magic" Bars (granola with chocolate chips), Cookies, Brownies with icing, and various cordials such as Kahlua and Courvoisier. Bottled Beer (Heineken among them) and Wine (Merlot, Chardonnay) are also made available. Perhaps you don't wish to venture down to the Territory Lounge for an evening cocktail. This is a convenient alternative for those wishing to have a nightcap before bed.
No stay at the Lodge would be complete for me without a meal at Artist Point, the resort's fine dining restaurant. I had reservations to dine there during my stay and was careful not to overindulge in the snacks on the evening of my visit. I didn't want to spoil the meal. Artist Point is one of my favorite WDW restaurants, and has never disappointed! I decided to deviate from my usual order (of the Pacific King Salmon) and try a vegetarian dish this time – the House-made Gnocchi.
Artist Point is a participant in the Disney dining plan, with a 2-credit requirement.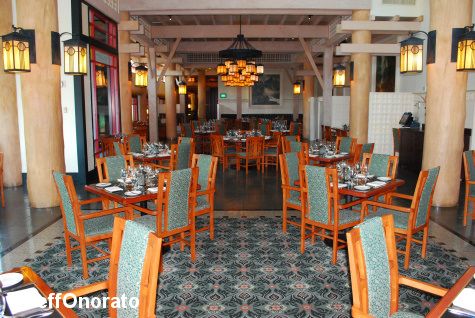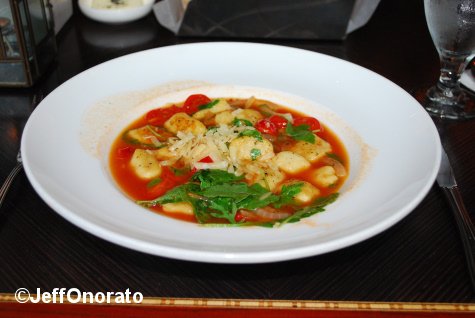 I stayed in room #7114, and it was very conveniently located just around the corner from the Concierge lounge. I couldn't notice any difference in the layout of my room vs. Standard rooms I have stayed in at the Lodge. I was on the top floor and this was a dormer room, meaning the ceiling is vaulted and on an incline at one end of the room.
I also had a Woods view, which was scenic and overlooked the DVC Villas.
If you should decide to stay Concierge at Wilderness Lodge, there are a few additional room amenities: Bath Robes in the closet (for borrowing only) and nightly turndown service, which is provided automatically.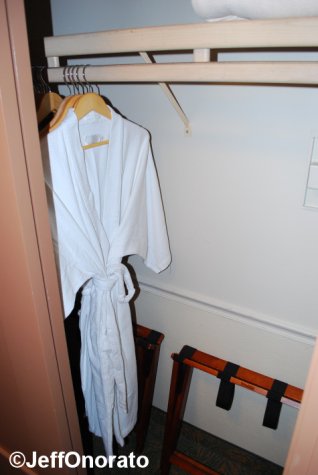 Housekeeping will also run a spot check on your room each evening to ensure that additional toiletries and towels are not needed.
I enjoyed trying something new and experiencing Disney's Concierge service. If money were no object, I'm sure I would make use of this service often. I think that families traveling with children will get more value from this service than Couples since there are more people per room making use of the food and beverages offered. While I found the breakfast offerings to be sufficient and satisfying, the other meals are intended to serve as a snack and not substitutions for regular meals. That said the money saved on breakfast each morning could certainly be used towards the additional cost of the room. The benefit of having someone to assist in Dining Reservations, Show and Park tickets could also be a substantial perk for travel booked at the last minute.
Would I spend the extra money to stay on the Concierge level again? Absolutely – the extra assistance with Advance Dining Reservations and personalized service made me feel truly pampered. I also enjoyed having access to light snacks at those times when I wasn't craving a full meal or dessert. The Concierge Cast Members really went out of their way to make sure that any special request was met to the best of their ability. Those little touches made this a birthday to remember.