While I hadn't seen every "Star Wars" movie when my vacation overlapped Stars Wars Weekends at then-named Disney-MGM Studios in 2006, I knew enough to appreciate all that I saw. By researching the schedule of events online before I left home, I was able to determine which sections of the park to avoid at certain times such as long lines for autograph session wristbands. Certainly my research aided me in knowing where to find Jedi Mickey and when as well as info on the parade, merchandise, and other cool stuff.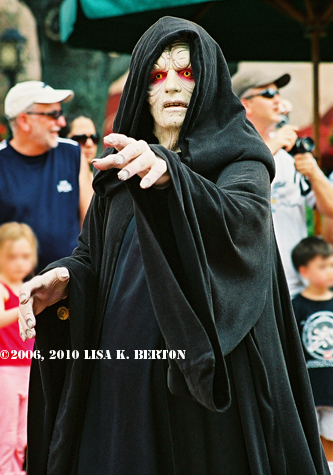 Palpatine, like many of the other characters in the parade pointed at various Guests. I'm not sure why but at least it's one thing Jedis and the dark side can agree on.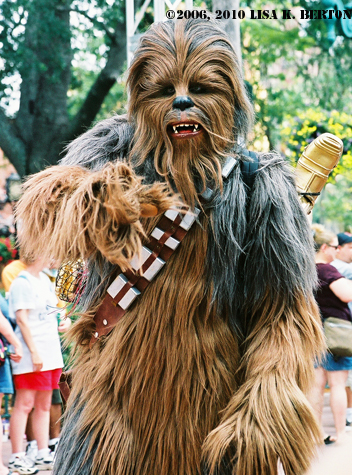 See what I'm talking about? Hi Chewie. Your fur looks very healthy today.
In order to get a photo of Anakin Skywalker, Guests waited in the hot Sun and were dripping sweat by the time they made it up to the sulking future Darth Vader.
Why are all of the bad boys so cute? I asked him that. He didn't respond. Good luck, Padme.
Bounty Hunter Boba Fett and I faced off to the delight of the laughing crowd. I'm not afraid of some guy whose job is to locate paper towels. Pft!
I hope you've enjoyed my pics and May the Schwartz be with You. I kid, I kid.