The first installment can be found here.
Day 3
Guess who called? Amanda. Yeah, I don't know anyone named Amanda either. She started out trying to be friendly and I finally had to ask who she was. She was from Wyndham Bonnet Creek and wanted to make sure we had everything we needed. Yep, we're all set, thanks. Then came the final attempt to convince us to attend the sales pitch breakfast. When it just wasn't sinking in with her that there was no way on Earth we were going I finally said, "Look, we don't meet the minimum financial status you require." Now she was backing off. I also informed her that I was laid off 2 months after I booked the vacation. Ohhhh. She gave up and hung up. Crikey!
For the next few days breakfast would be eaten in our unit. We had fruit, cereal, mni-muffins that my mom had picked up at Sweet Tomatoes, water, juice, etc… Plus we had snacks to take along to the parks or munch on while vegging out.
The park of the day was Animal Kingdom, a place that neither of them had been to before. I slowly lead us through The Oasis so we could stop, watch and photograph the animals. Before walking into Africa I showed Judi another angle of the Tree of Life. My mom rested and people watched while we were doing that.
I picked up some FastPasses for Kilimanjaro Safari before roaming the Pangani Forest Exploration Trail. As we were looking at Colobus Monkeys a CM started talking about them and then Judi & my mom noticed the guy was from a town near us. Well wouldn't ya know, they knew some of the same people. Then from across the way we heard a tire pop on one of the safari vehicles. I think I'm correct in saying the truck had just left the loading dock when it happened and was maybe 50 feet into the ride. We moved on so I couldn't tell you what transpired afterwards but my psychic-ness says the tire was removed and replaced with a new one.
Once we'd seen all the animals who wanted to be seen, we used the FastPasses for Kilimanjaro Safari. A good assortment of mammals were out and about. The driver did his schtick as usual and that baby elephant was saved once again from the poachers. When is Little Red ever going to learn his lesson?! But the bigger question is how did those poachers get their vehicle inside Animal Kingdom? It's because of people like them that we have to have our bags checked before entering the parks!!

After our safari we found this guy pondering life.
Time for lunch. Time for air conditioning! Luckily Yak and Yeti was taking walk-ins and we had a fairly short wait. I'd never been there before so everything was new to me as well. We were seated upstairs in a long narrow room overlooking part of Asia.
Remember my mom thought I should wear my birthday pin? Well, I wore it on this day. Our server Dee and Chef Rena who made me a special meal due to my dietary restrictions both wished me a happy birthday. OK, we were off to a good start and then we stalled. We decided the 3 of us would split the mango pie. It came out by itself. Meanwhile, a fellow at the table beside us was also wearing a birthday pin and he got a scoop of ice cream with chocolate sauce and a candle. Now my mom was ready to address the situation and very politely asked Dee if I was also going to receive ice cream. Her answer was that the guy's wife had pre-ordered it downstairs with the hostess and paid for it. Oh really?! I wound up talking to someone at Disney Dining who told me that that was completely false. Yeah, I know. Now before you say it wasn't actually my birthday, the point is people celebrate at Walt Disney World when time allows and sometimes it's the actual day and sometimes it isn't. A CM can't discern one from the other and this year the big promotion is "What will you celebrate?" I feel bad for any other guests who were let down this year.
Moving on, we watched the brave souls on Mt. Everest come down the tracks then we poked around the gift shop before sitting down for Finding Nemo the Musical. Is it just me or is Nemo swimming around in the bubbles on either side of the stage pre-show new? It certainly kept all the kids occupied. Every few minutes you'd hear a crowd of young voices shout "Nemo!" It was very cute. I loved the show as usual and my mom & Judi enjoyed it as well.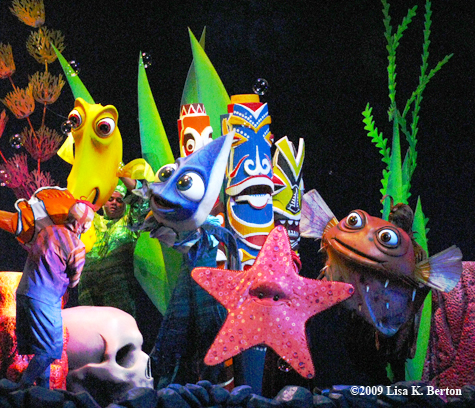 On to Festival of the Lion King where we became part of the lion section. Roooaar! They loved this show, too. How can you not? It's incredible.
We'd hit everything we wanted to and so we got back into the car and my mom wanted to show Judi the town of Celebration. If you haven't taken a drive over there you really should, it's so quaint and charming and looks like a scene out of "Pleasantville." When I win the lottery, I'm moving there.
After driving around a bit it began to pour and we needed somewhere to grab dinner. My suggestion was the food court at Pop Century so that Judi could see another Disney resort and my mom could revisit the one she and I stayed at back in 2004.
The joint was jumping probably due to the weather but we easily found a booth and there was plenty to choose from on the menu. Judi was going through her pack and realized she was missing a $50 bill. She thought she'd put it back after paying the cashier. We went looking for it, retracing her steps and luckily I found it on the floor, due to gravity. I'm amazed no one either saw it or took it even if it was to the front desk. Phew! A major sigh of relief from Judi.
The rain stopped so we walked down to the 50's section to show her how detailed and fun the buildings are as well as the bowling pin-shaped pool. I think this may have sparked an interest in returning to Walt Disney World in Judi. Thus ended another night of vacation.
Day 4
Today was Judi's birthday so she picked out which park we'd visit and where we'd have lunch. Her choices were Hollywood Studios and the 50's Prime-Time Cafe. Soon as we arrived she went to the ticket window to pick up the Birthday Fun Card because she already had a multi-day Hopper ticket. She also got her birthday pin at the same time.
The humidity had been taking its toll on my mom all week and the temperture was in the high 80's so as each day went on, taking breaks from the elements became more and more important. Since I had planned on obtaining FastPasses for Toy Story Midway Mania and then turning around and taking them to The Great Movie Ride, I left my mothers (Judi's like a 2nd mom. I've known her my entire life) in the gift shop across from Playhouse Disney Live!.
Traveling through movie sets can cause hunger so I went to grab my favorite snack, an apple stuffed pretzel at Min and Bill's Dockside Diner. No more pretzels! Agh! Not even regular pretzels. I took a big girl pill and carried on about my day.
We got 3rd row seats for Indiana Jones Stunt Spectacular. Pretty darn good considering we never stood in line. Am I a good tour guide or what? That was rhetorical. Another fabulous job by the actors and crew of this show.
Our reservation wasn't for another hour or so but we were already hungry so we asked if they'd be able to take us early and as luck would have it, they were. Now, I always ask to speak with a chef due to dietary restrictions and what borders as an allergy to pepper. I've never had a chef come to my table at Prime-Time and I've been there 4 or 5 times. I vowed last year to never go there again but for Judi's birthday I would. I don't know if it was our server Sabrina or Chef John who was on duty but the curse was finally broken.
Sabrina not only brought Judi a birthday cupcake but she had everyone in the room sing to her. There were 4 tables in our room in the back of the restaurant and at one point everyone except for Sabrina was from Massachusetts. It was hilarious.
We took on the Muppets 3D show and walked into the waiting area a mere 4 minutes before the theater doors opened. They got a real kick out of the show with the interaction between the movie and the characters, both those who walked freely and those bolted to their seats.
In the Writer's Stop I met George, a CM who has been with Disney for 14 years. Next time you're in the mood for coffee or dessert, pop in, get some treats and say hi to this little face.
The last thing on our agenda for Hollywood Studios was Toy Story Midway Mania. You know how fun it is. Does anyone else get an elbow cramp? It could easily just be me. They did some shopping and then we went back to the resort for some rest. I watched "Supernanny" and "Clean House," 2 shows I'm totally addicted to.
Rested and rejuvenated we took on Magic Kingdom. The request came through for Country Bear Jamboree and Pirates of the Caribbean. We tried to escape before the fireworks ended and we came close. In need of dinner we ventured back to our restaurant of the week, Kona Cafe. We saw the same girls at the desk every time and we assured them that this was the last they'd see of us. I forget who my chef was but everything was fine and since my mom decided to put her birthday pin on one more time, both she and Judi received dessert. It looked like cream puffs with chocolate drizzle and Lilo & Stitch stenciled in chocolate on the plates. I had the coconut cream kiki tart. Yum! It was a long and glorious day that ended at 11:45pm when we got back to the unit.
If you're wondering why I don't have more photos, my Canon Powershot SX100 IS barely worked on the trip. It's the result of a short fall it took once. I'll have a blog regarding camera repairs later.
Next week: Day 5 and Notes – Mom falls asleep at an attraction
Dear Readers,
This Sunday, Oct. 18th I'll be walking in a fundraiser for Children's Hospital of Orange County, the CHOC/Walk in the Park at Disneyland. That's right, I'm in California!
When I was in CA this past March celebrating my birthday, my friends told me I'd have to come back in October for the CHOC Walk. It's funny because I got them into it just 2 years ago. They've latched onto it since and we've gone from a group of 6 to a dozen plus as they keep recruiting more of their co-workers, family, and friends to take part.
I'm writing to ask if you'd be interested in sponsoring me. They have hospitals in Orange and Mission Viejo and are highly recognized for having fantastic care, doctors, and nurses. CHOC treats every patient regardless if the family has health insurance and can afford medical treatment, surgery, and so forth.
This will be my 3rd time participating and my goal is to raise $1,000.00. I'm at 70% of my goal right now and the event is THIS Sunday morning. In an effort to get more people to donate, my cats have pledged to donate $1.00 for every individual human or animal who sponsors me. Don't ask me where they get their money, I'm still trying to figure out how they learned to speak English.
It truly amazes me when I get in the midst of the crowd and see everyone from babies to grandparents taking part. It blows my mind when the parents who have lost their little ones to disease hold up signs and wear T-shirts in memory of and keep up the good fight for others.
I know firsthand that times are tough financially. If you can spare a few dollars you'll be helping a wonderful cause and will have my thanks and appreciation.
http://www.chocwalk.net/faf/donorReg/donorPledge.asp?ievent=314791&lis=1&kntae314791=FD8A4907DF3946C78608E061374C0144&supId=263896053
With Grace and Gratitiude,
Lisa