It's very exciting when people comment on our photography blogs and ask questions because it means that you are not only reading us but you take the time to contact us and we're truly grateful. Recently we received a letter from Kathy Bonutti. She wrote:
We are visiting WDW in late August – all 11 of us! My son has a Canon Rebel XT. What places would you recommend we go for a great family photo? How would we go about having, perhaps, a cast member take the photo for us? Looking forward to your recommendations for these family photo memories! Thanks.
I loved these questions so much that I immediately wrote to Scott & Barrie and called dibs on writing an entire blog entry in response. Yeah, baby, yeah!
Finding a Photographer
Let's begin with an easy way of doing this, using Disney's PhotoPass photographers and/or program. These camera-armed Cast Members work in all four theme parks in specific locations including several that will place large icons like the Tree of Life or Sorcerer Mickey's Hat in the background. For a list of locations, click on the above link for details.
You'll be given a PhotoPass card the first time you have a photo taken by one of these Cast Members. Present your card to each photographer whose services you use so that all of the images are loaded onto the same account. While Disney's goal is for you to buy prints or a CD from them, you are under no obligation whatsoever to do so. PhotoPass photographers will happily take photos of your family and/or friends with your camera(s) too.
Another special crew of Cast Members you'll encounter are Character Hosts. Their job is help both Guests and characters by keeping crowds orderly, answer questions, escort characters, and assist with the meet and greet process. They will also take photos for you with your camera(s) of your party with a character. The image in my head of a Character Host has them wearing black pants and a white button down shirt with character sketches on it and yellow patches about the shoulders.
Check the daily entertainment schedule for a list of character meet and greets at each park. You can also research the info ahead of time at Steve Soares' website. I do.
By no means are Guests limited to asking a PhotoPass photographer or Character Host to snap a picture. The great thing about Disney is they want to make you happy so you can ask any Cast Member you see for assistance even the ones in shirts and ties.
I can't count the number of times I've been asked by other visitors to take a photo for them. If you're on the lookout for someone nearby to take the photo, your best bet is to find someone who is also carrying a SLR like a Canon Rebel XT. Why? He/she already knows how they work and you will (hopefully) get a better photo.
Where to Pose
Since there are lots of great locations already staged with PhotoPass CMs, I'm going to suggest other options that will accomodate large groups and hopefully not block foot traffic.
Magic Kingdom
Walt Disney World Railroad station seems to only be crowded when the parade marches passed. If you climb up the stairs, there's a great empty platform that looks out over Main Street.

The Invisibles from left to right are: Marcelo, Susana, Marie, and Doña Tecla.
In the back of Casey's Corner there's a small amount of stadium seating where folks can enjoy a hotdog and watch Goofy cartoons. It'd be a cute place for a group photo on a quiet day. If anyone completely lucks out and this idea of mine works out, let me know.
There's a lot of open space in Tomorrowland between Carousel of Progress, Tomorrowland Transit Authority (People Mover to me), and Space Mountain. It would be pretty easy to find a location you like and have everyone pile into the shot. With all that room, you could get a variety of angles and backgrounds.
Hollywood Studios (aka MGM)
There are so many creative photo opportunities on Streets of America that you could probably spend a good hour running around, having fun, and taking lots of silly group pictures. Ever try to cram a whole family under the umbrella? I haven't but I bet it'd be pretty darn funny.

After you pick up the dry cleaning, can you stop by the post office and mail this package.
While you're seated, waiting for Beauty and the Beast, Indiana Jones Stunt Spectacular or Lights, Motors, Action to begin, why not ask someone to take a photo of your group seated together.
Sorcerer Mickey's Hat covers a pin shop and the whole thing is built up from the ground as a circle surrounded by a few steps. Stagger your group on the ground and steps and have your photographer either leave lots of room to include the hat or aim up, which isn't always a complimentary angle.
Animal Kingdom
Bare with me as I try to give directions here. After you enter the park and walk through the Oasis, you'll be on Fantasy Island, I mean Discovery Island. Just before you cross the bridge into Africa, take a right. You'll head down a path with a body of water to your left. Keep going and you'll find several macaws perched. Set up your group around their "habitat."
To the left of the theater where Finding Nemo – The Musical is performed, you can see Expedition Everest. There is plenty of foot traffic here but it's still a doable location for a group photo and lots of people passing by means you'll find yourselves a photographer.
Ask your tour guide on Kilimanjaro Safaris if when you finally return from your venture if he/she or another Cast Member can take a photo of your group once all other guests have vacated the jeep. If the park is busy, don't be disappointed if they can't accomodate your request.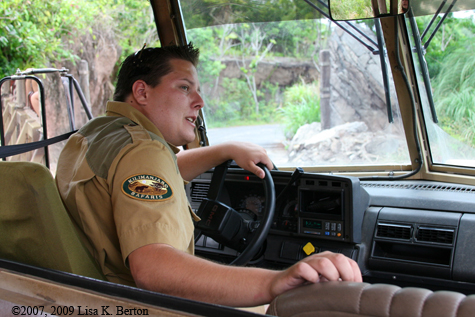 When all else fails just photograph your driver.
EPCOT
Walking to/from International Gateway you'll see a body of water, a bridge, a parked bicycle, some art supplies and behind that, France. This walkway, across from World Traveler gift shop, is wide enough to let crowds pass while your group lines up in front of the black metal gate. All that I mentioned will serve as a backdrop.
In Future World over at the Imagination Pavilion there are jumping fountains. Also, if you angle it right, you can see beautiful flowered landscaping in the background. Turn another direction and the vibrant colors of the building housing Journey into Imagination with Figment is the background.
Last but certainly not least is United Kingdom where you can play around or maybe even inside the red phone both. Follow the street and it'll take you to a courtyard complete with a gazebo and various types of architecture. Be careful not to lose your loved ones in the hedge maze!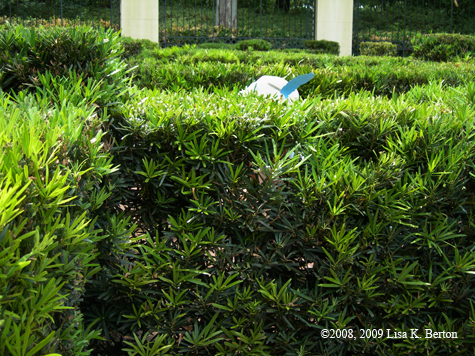 Thank goodness Yankee Doodle Laura put a paper feather in her cap.
Additional Reading
A few months ago, Barrie, Scott and I did a series on group photos. We each offer advice regarding posing, lighting, and composure. You'll find our entries here: Barrie, Scott, and Lisa.
This blog was so much fun writing that I'll be doing one for Disneyland next week.