I think "Survival of the Fittest" is a fantastic name for the Kidani Village health club!
Survival of the Fittest offers state-of-the-art exercise equipment in a very pleasant atmosphere. It is also located next to the pool so a cool-down swim is just a short walk away.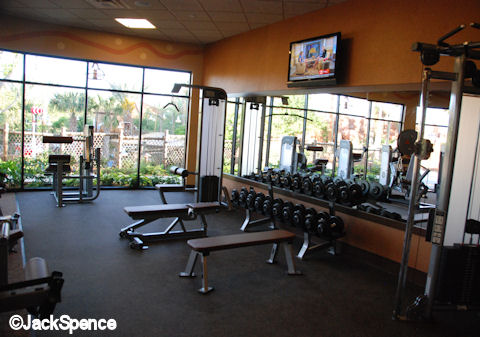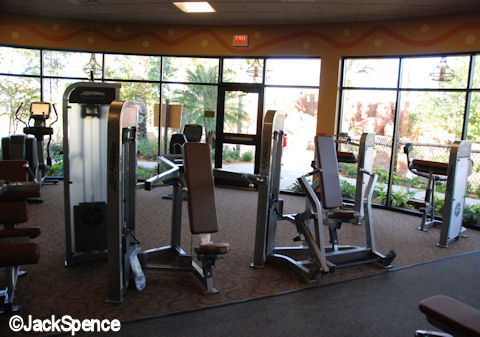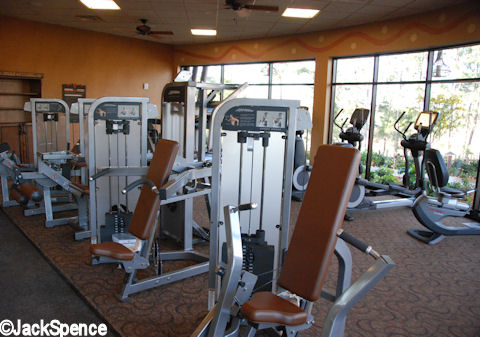 A number of the machines have pleasant views of the pool area or natural surroundings.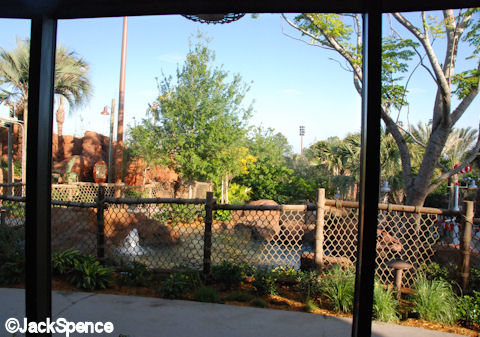 The Samawati Springs pool (Sah-mah-WAH-tee) measures 4,700 square feet and offers a zero-depth entry. Samawati is the Swahili word for the color "azure."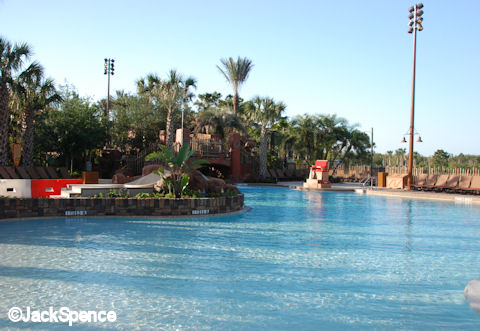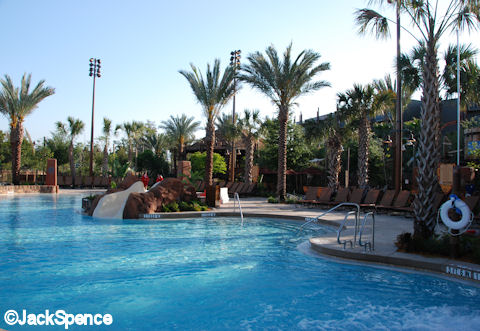 Also part of the pool is a 128-foot slide and two whirlpool spas.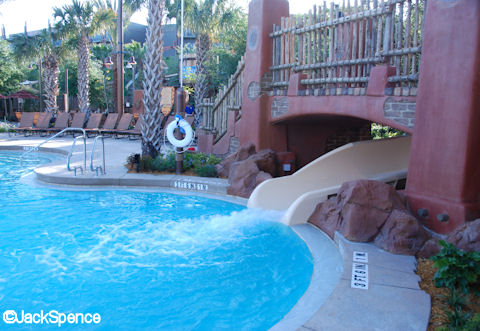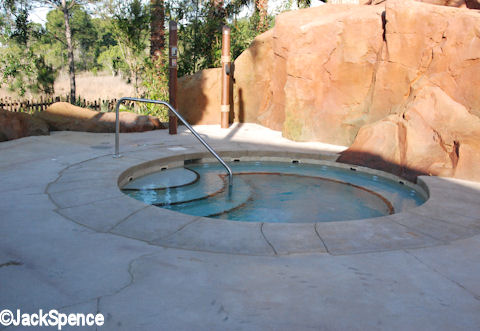 Plenty of lounge chairs are available for sunbathing. But don't forget your sunscreen!
Adjacent to the Samawati Springs is Uwanja Camp (oo-WAHN-jah). This is a children's play area, but after you see the pictures, I'm sure that you'll agree there will be as many adults here as little ones. Uwanja means "play area" in Swahili.
Let's start at the entrance where two African masks spray mist on you as you pass by.
Once through the entrance gate, prepare to get wet. Water comes at you from all directions.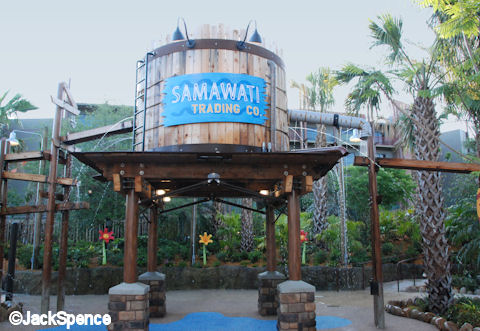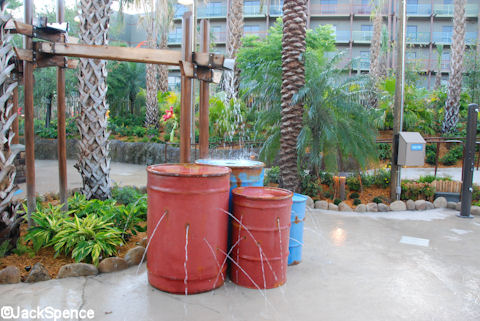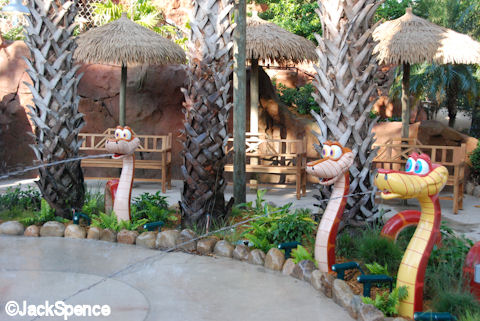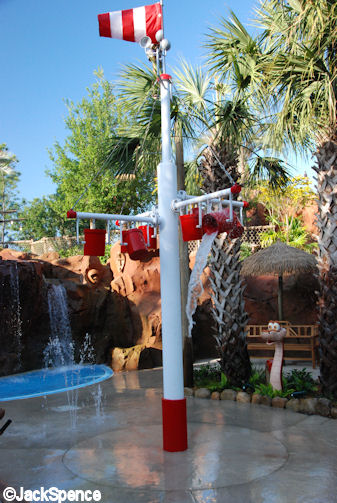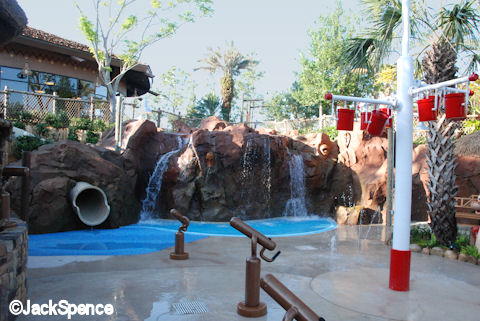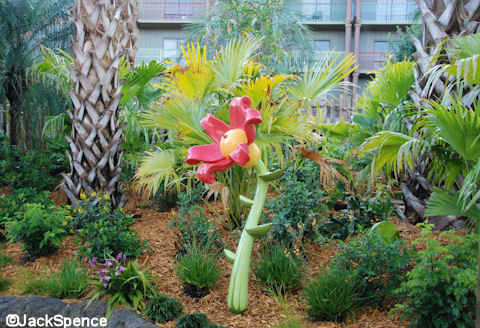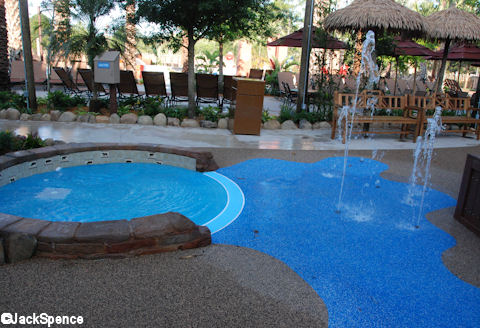 These next two pictures show how a water-canon battle could erupt between the attackers and the defending fort.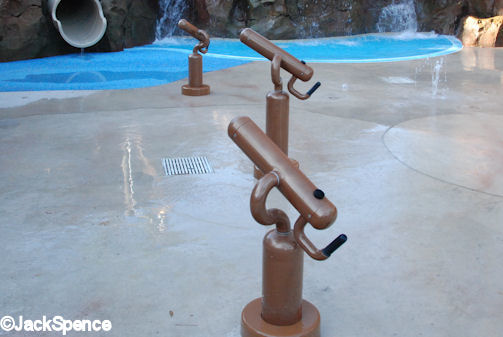 There is also a "Jungle Gym" type apparatus for the kids to climb on, slide down, and burn off energy.
Also located near the pool is the Maji Pool Bar (MAH-jee). Maji means "water" in Swahili. Besides soft drinks and adult concoctions, a limited selection of food is also served.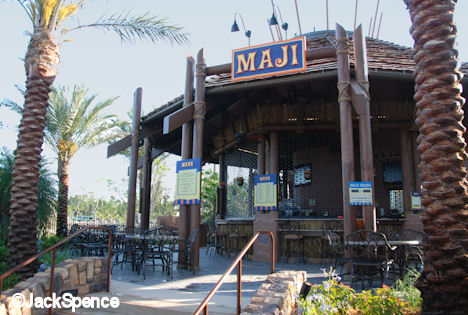 At Kidani Village, DVC Members and Guests can choose between four different room categories: studio (sleeps up to 4), one-bedroom villa (sleeps up to 5), two-bedroom villa (sleeps up to 9), and three-bedroom, two-story Grand Villa (sleeps up to 12). All rooms feature a balcony, most with spectacular views of the resort's savannas.
Studio units feature one queen-sized bed, one double-size sleeper sofa, and a kitchenette.
Once again, the Fabric theme of the resort is evident in the bedspread. Also, check for hidden Mickey's on the spread and carpet.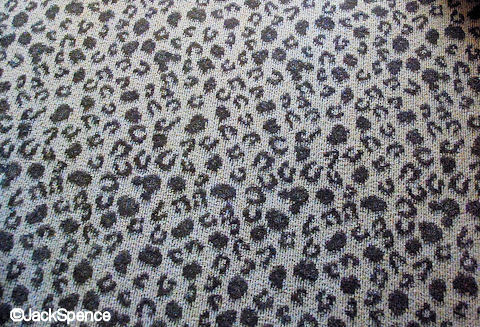 One-bedroom units and larger feature a living area, a full-size kitchen, washer & dryer, multiple bathrooms, and a whirlpool tub.
Here are two pictures of the kitchen.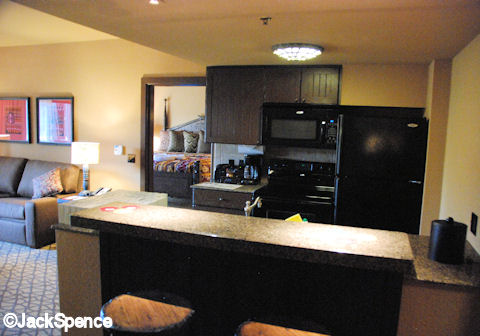 Below are pictures of the living area. Notice the wood-carving on the TV cabinet.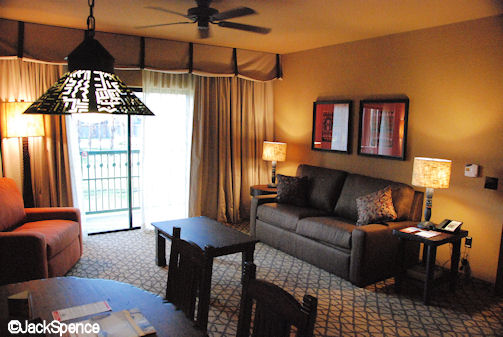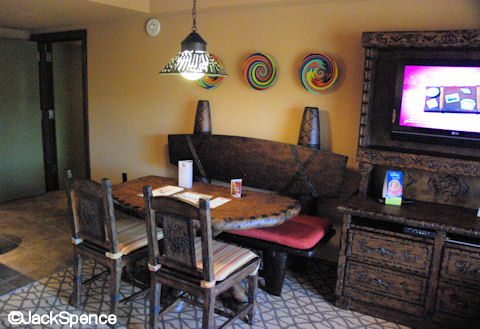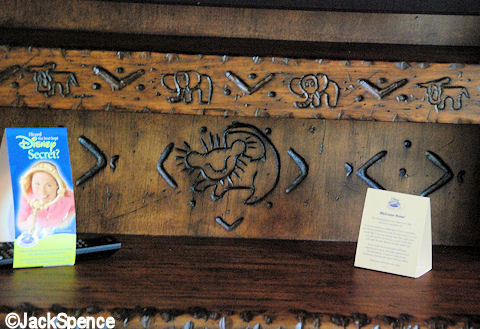 Next we see photos of the two basic bedroom styles. One features a king-size bed while the other has two queens.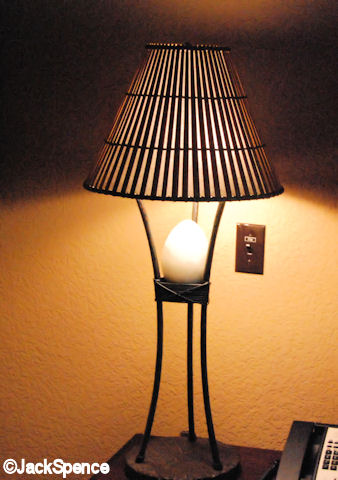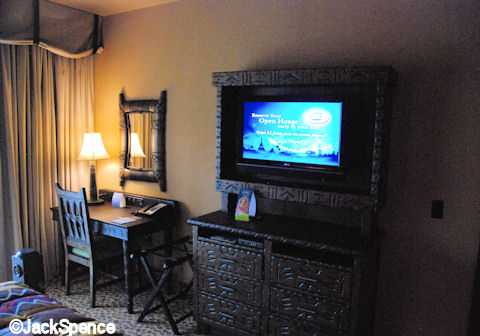 Here are pictures of the bathroom that is connected to the bedroom with the king-size bed.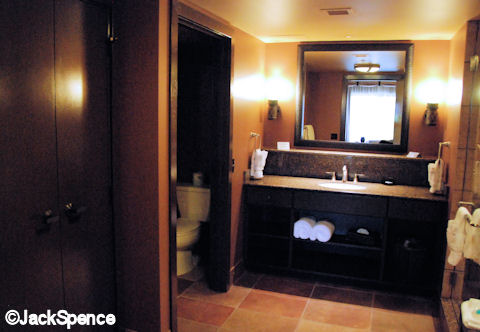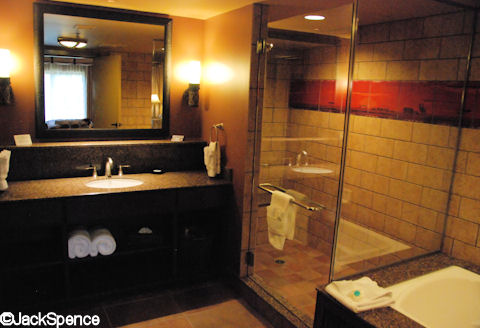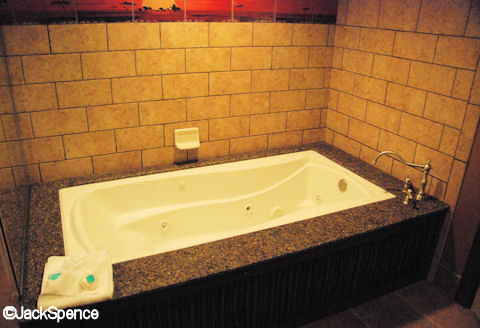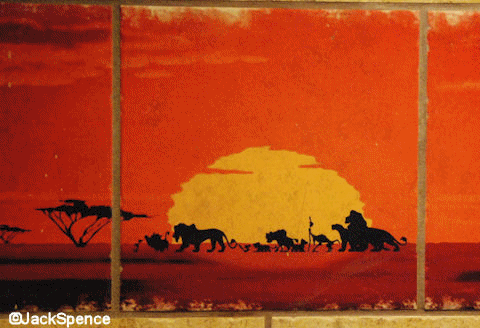 Below are pictures of the bathroom that is associated with the bedroom with the two queen-size beds.
One-bedroom rooms at the Kidani Village feature a second bathroom. This is a nice feature in the morning when multiple family members are trying to get ready.
Jambo House offers the same type of accommodations with slightly different floor plans than Kidani Village. In addition, The Grand Villas in Jambo House are one-story and feature a pool table. The Grand Villas at Kidani Village are two-story and have entrances on both the fourth and fifth floors.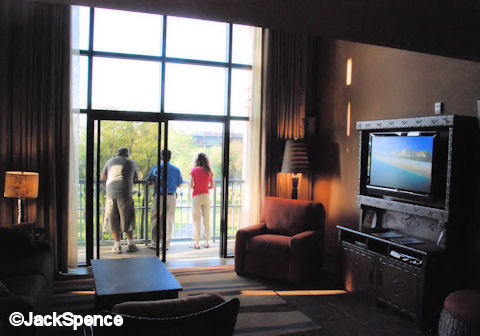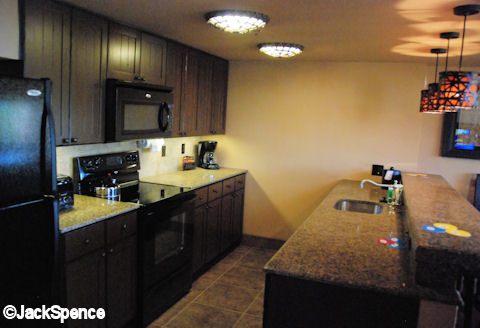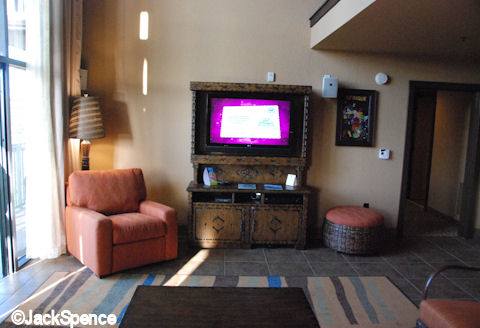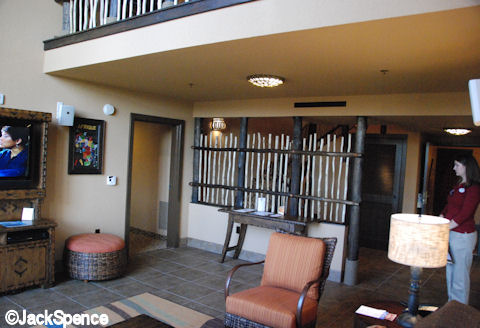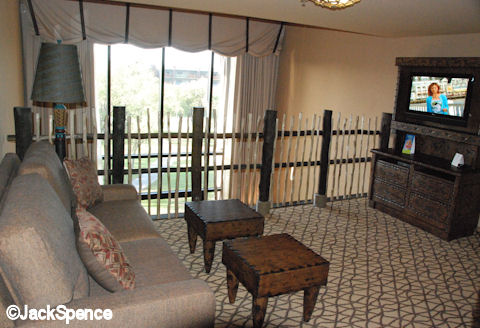 Well folks, that's all I have for now. I will be staying at Kidani Village on May 1st and 2nd so I can explore this resort in more depth. Watch for updates.
I'd also like to extend my thanks to Kristin for spending over an hour with me and showing me this fantastic resort.