I'm back home now, but thought I'd finish writing about the rest of the trip.
So, when we left our heroines they had just completed running the Inaugural Disney's Princess Half Marathon. We pick up our story after they have returned to the Boardwalk and showered.
Breakfast (a bagel) had been hours before, and since it was almost noon we were really ready for some real food. I visited the Menus pages on AllEars looking at the menus of the various restaurants in the Boardwalk area (yes, we do refer to the site ourselves!), and we decided that The Fountain at the Dolphin sounded good.
We were able to walk right in and sit in a booth – we chose the booth because it had seats that were more padded than the chairs! 🙂 I'd made Pam wear her medal (and I was wearing mine) and our server noticed them and congratulated us – and he was very good about keeping our drink glasses filled.
When we were looking at the menus, one item that had really intrigued us about the Fountain's menu was something called "Griddled Fladen Breads". (Pronounced flaw-den.) Pam ordered the Spicy Chicken Fladen and Lee ordered the Albacore Tuna and Cheddar Melt. It was interesting – Pam's came folded over and sliced into triangles like a quesadilla, while Lee's was served open-faced like a flat bread pizza. The Spicy Chicken one was the favorite, though the albacore was good, too.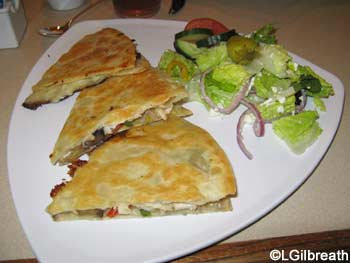 I had a cup of the roasted tomato soup with croutons, and a turkey burger. Both were quite tasty – though at that point even cardboard might have been tasty. 🙂 Although the Fountain also has a very nice selection of milkshakes, ice cream, sundaes, etc. we skipped those. We were able to use our DVC member card to get a 20% discount, so that was nice.
Pam and I were tired (gee, I wonder why?) and just wanted to relax so we headed back to the Boardwalk and Lee went into Epcot to wander around. Pam and I went to the hot tub at the quiet pool and put our feet in front of the jets – ahhhhhhhhh….foot massage. We went back to the room and planned to nap but I couldn't sleep – I was tired but not sleepy. That happened to me after the marathon, too. So I worked on my race day blog entry instead.
Lee came back about 4:30 – he'd had a nice afternoon in Epcot wandering around, watching the Voices of Liberty, drinking a beer, and people watching.
We had dinner reservations at Jiko, so we left for Animal Kingdom Lodge a little after 5:00. They've gotten strict about checking people in again at the resort entrance – I told them we had reservations at Jiko and they actually checked the list to make sure.
At Jiko we were seated after a short wait – they put us in the Wine Room. It's a little quieter, but rather out of the way. We were the first seating of the night, so it's not like the main part of the restaurant was full! But they were seating several other parties in there, too.
We shared a couple of appetizers – the Barbecue Chicken Flatbread and the Curried Samosas. The restaurant has a new chef de cuisine since we ate there in October, and I thought the barbecue sauce had more of a kick to it.
The menu hasn't really changed very much since our last visit, though. Pam and I, of course, were thinking about the same two entrees – she eventually ordered the Maize-Crusted Halibut and I ordered the Chermoula Tanglewood Chicken.
I had the halibut in October and it was great – and it was wonderful this time, too. Pam shared, and we all got to enjoy it. It was served with "Vegetables of the Moment", which seemed to be a mix of lima beans, pea pods, spinach and slices of something that looked like onion but didn't taste like it.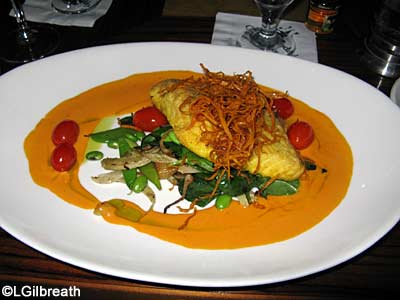 The chicken was fine – it was moist and flavorful, but the thing that had most intrigued me about it was the Goat Cheese Mashed Potatoes that came with it. I couldn't taste any goat cheese, though. It was also served with some micro greens. It was fine, but I probably wouldn't get it again.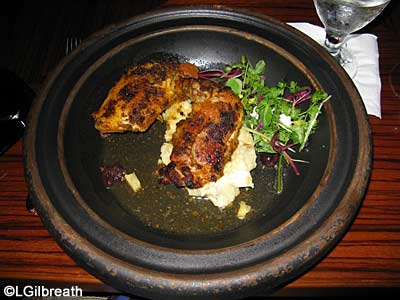 Lee ordered the Pan-Seared Scallops – with Butternut Squash Gratin, Apple Slaw, and Apple Vinaigrette. He enjoyed that, and the apple slaw was quite good.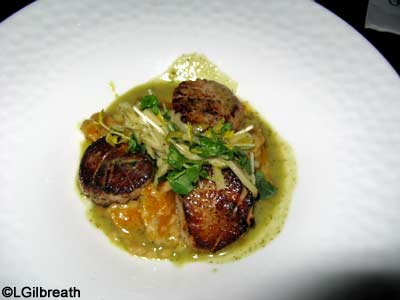 We decided to pass on dessert, since what we really wanted was ice cream, and we had several choices for that back at the Boardwalk – Seashore Sweets, Beaches and Cream, or the Fountain.
It was 7:00, but thanks to the time change it was still very light outside, so we went out to the Uzima Savanna overlook to see if there were any animals. We got a special bucking giraffe show. 🙂 There was a giraffe eating from one of the feeders, while one of the Ankole cows came up behind it, moving closer, and closer. The giraffe apparently thought those big horns were getting TOO close, because suddenly it turned and started bucking and charging toward the cow. The cow quickly moved away and the giraffe went back to eating…and the cow started moving closer again. 🙂 Eventually the giraffe finished and moved away, and the cow was able to move in and start grazing on whatever the giraffe had dropped.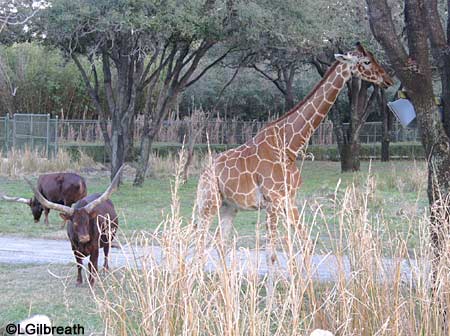 We saw five other giraffes out there, too, in addition to more Ankole cattle, some impala, and a nyala in the distance. Fun to see them.
After we returned to the Boardwalk Pam went to the room while Lee and I went in search of dessert. I obviously had not logged nearly enough miles that day, because what I really wanted was gelato from The MarketPlace in the Beach Club – which is completely on the opposite side of Crescent Lake. We walked over there and I got my scoop of chocolate gelato. This has got to be one of the bargains at WDW – it was a VERY generous scoop, and was only $2.55! And it's *so* good.
Lee had his heart set on a milkshake, so we went to Beaches and Cream next. The server started to give me a bad time about bringing ice cream into Beaches and Cream until I told her it was gelato – and then she understood. 🙂 We walked the rest of the way around Crescent Lake and back to our room – my gelato lasted just that long. 🙂
Finished up my race day blog and went to bed – we were all looking forward to a better night's sleep than we had the night before, now that the race was over.
Monday morning we had to get up and pack. Unfortunately Pam had started feeling unwell the night before with a cold or allergies, and she was really feeling rotten that morning. 🙁 She got some cold remedies in the Screen Door General Store, and we left her sleeping in the room while Lee and I went off to have breakfast at Picabu.
That was a pleasant surprise – I had their bacon, egg, and cheese ciabatta sandwich and it was really quite good. The egg and cheese were cooked like an omelet, and then served on a nice soft ciabatta roll (not tough and chewy like they usually are) with slices of bacon on top. It also came with lyonnaise potatoes.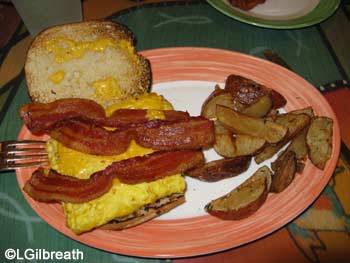 Lee had the quiche (spinach and onion, I think?) which also came with potatoes, and that was also good. And we again got our 20% DVC discount.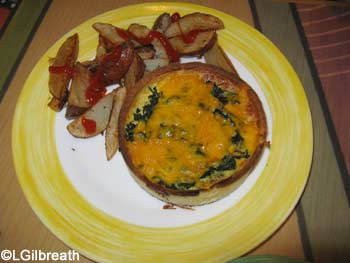 It was getting close to check-out time (11:00) by the time we got back to the room. Pam really didn't feel up to going anywhere, so after we put our bags in the car she went to the quiet pool to nap on one of the lounges while Lee and I went into Epcot for a while. We wandered around Future World first and saw the Jammitors.
And we also admired a lot of the topiaries and plantings that are already in place for the Flower and Garden Festival. It seemed awfully early for that, but I hadn't realized that it was starting so early this year – March 18.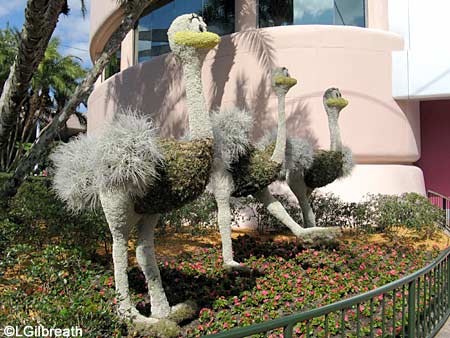 We wandered around World Showcase clockwise – saw a lot of people with their "Kimmunicators" who were enjoying the Kim Possible Adventures. There were more families with kids this time. In Germany I was able to get a better photo of the final effect we had for our adventure than I did at night on Friday.
By the time we'd gotten back around to the International Gateway it was time to leave the park and head home. We collected Pam at the pool, where I think she'd been able to sleep a little, and headed off to the airport, where we said goodbye to Pam just before we boarded our flight. It was great to see her, and wonderful to be able to run with her, I'm just sorry that she ended up feeling so poorly at the end. 🙁
Our flights were uneventful and we were at home about 8:15.