We did it!!!! And actually we did a lot better than we were expecting to do. 2:42:49, and that includes a lot of stops for photos with characters.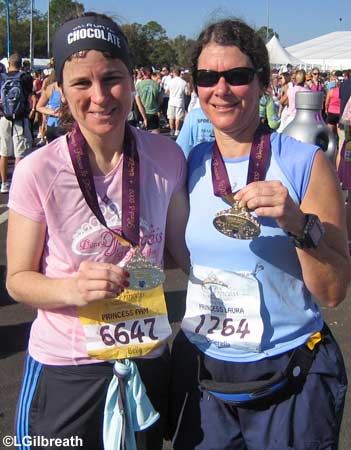 The weather was just about perfect by my standards – it was ~56 at the start, and it was about 68 when we finished. Not too humid and there was a nice cool breeze. I had worn a sweatshirt and a head band, but I think I had both of those off by about mile 4.
It was a very well-run race – which of course is what we expect from Disney. They really did a great job of having characters throughout the course after it got light – from mile 5 on there was at least one character photo op – and sometimes more. That really helped to break things up since we stopped for every one.
The medal is just gorgeous – that's certainly something that Disney does really well. This one has lots of rhinestones and a synthetic heart-shaped amethyst – it's really sparkly and pretty.
It was very nice that Disney changed the start time to 7:00 rather than 6:00 – it meant a lot less running in the dark for us – it was starting to get light by 20-30 minutes into the race.
We got up a little before 5:00 (having set all our clocks one hour ahead the night before, since this was the day of the Daylight Saving Time change), and left the room about 5:30. Lee was nice and volunteered to get up with us and drive us there, and then come back and pick us up later. We had no problems getting to Epcot, but once there the traffic going through the entrance was backed up, because they had 6 lanes merging down to 2. That took a long time to get through – I think we finally parked about 6:30 and by then they were already walking people back to the start line. We didn't have a lot of time in the pre-race areas – hit the porta-potties and said goodbye to Lee.
The walk to the starting area was pretty long – close to a mile, I think! It was a bit chilly but not too cold, fortunately. I had a sweatshirt and a headband, and I was ok. Pam was wearing long pants and had on a long-sleeved pullover in addition to her short-sleeved shirt and a headband of her own, and she was ok. In addition to our regular number bibs in front, we were wearing our "The Evil Twins" team bibs on our backs. In the registration process we were asked who our favorite princess was (Belle, Aurora, Cinderella or Snow White) and we got different colored bibs depending on what we chose. I had a blue Cinderella bib and Pam had a gold Belle bib.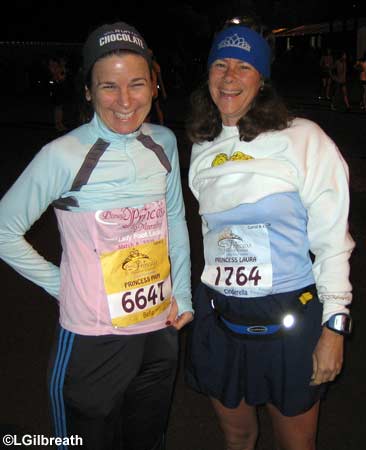 There were three start corrals – we were in the last one, but we moved as far forward as we could, so were maybe 1/3 of the way from the front of it. But back where we were there were no speakers, and we couldn't see the start line at all, so we really had no idea what was going on. There was a big push forward when the Wheelchairs went out at 6:55, and then we started moving a little after 7:00.
We were disappointed in the start – there were no fireworks and of course we couldn't see or hear anything. It took us almost 15 minutes to cross the starting line, and there were still a couple thousand people behind us! The Fairy Godmother and a lady-in-waiting type woman that I didn't recognize were at the start line cheering us on.
And we were off! As usual, going was pretty slow in the beginning with so many people going so many different paces and trying to sort themselves out. It was nice that Disney changed the start time from 6:00 to 7:00 – it started getting light 15-20 minutes after the race started.Apparently all of the mile marker signs had some special features – the one I heard the announcer say was that there was a hidden mickey on each. Each one was different, and featured characters from one of the Disney "Princess" movies.
By Mile 2 we had a lot of daylight, and were well on our way towards Magic Kingdom.In several places along the road, there were signs (sponsored by the Sharpie company) with Princess Trivia questions – first a question, and then a little beyond was the answer. Something to do between Miles 2 and 3!
There were several different groups entertaining us from miles 1-5 – a very nice chamber orchestra group playing classical music, a guitar group, an oriental drum group, and several DJs. We had Powerade and water stops just about every mile, and they were well-staffed with wonderful volunteers, just like always. It's easy to take that for granted, but they are terrific and we couldn't do it without them!
Between Mile 4 and 5 we went by the Magic Kingdom parking lot and through the TTC (Ticket and Transportation Center), and under the waterway that connects the 7 Seas Lagoon and Bay Lake – there was a very nice banner there.
And then came the really fun part – running in Magic Kingdom! We ran down Main Street and through Tomorrowland into Fantasyland. I was surprised that there were no characters until we got just behind the castle, and there we found Snow White and her Prince, and several Ladies-in-Waiting. And something else I'm not used to seeing – *lines* to take pictures with the characters! Disney handled it pretty well – they generally had two different people available to take pictures, and one would take the camera from the next group while the other was taking a picture, so they kept things moving along.As we ran through the castle we started yelling "woooooooo", and got a bunch of other runners doing it, too. 🙂 Nice echo in there.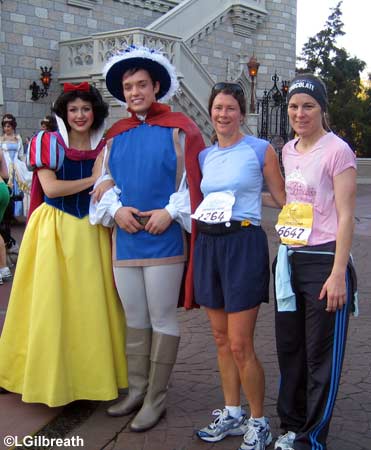 Not long after the Mile 6 mark we crossed the train tracks (one of the trains and its engineers were there to greet us) and went backstage. There were several character opportunities there – Chip and Dale, all dressed up in tuxes, and Donald and Daisy also in evening wear – Donald had an especially dapper top hat. Pluto was back there, also.
After we turned onto Grand Floridian Way we got another sequence of Princess Trivia
signs – like this one: Who are the Disney Princesses?
Well? Can you name them all? I'll give you a hint, Disney says there are 8.
And here's the answer:
Since we ARE the Evil Twins, we were very happy to see our heroine, Maleficent, after Mile 7. (And very happy to hit Mile 7 since that meant we were over halfway – woo hoo!!!) I pointed out the Evil Twin bibs on our backs – though she didn't seem very impressed, and told us to "Run along, girls", after we had our photo taken. 🙂
Next were Aurora and Prince Philip – I have to say it was nice to see the Princes in addition to the Princesses!
The longest photo line we saw all day was for Belle, the Beast, Wendy, and Peter Pan. We waited at least 5 minutes there. We didn't make very good time in that Mile 7-Mile 8 stretch because there were so many characters. Not that I'm complaining about that – it was nice to have the excuse to stop, and wonderful to see so many of them!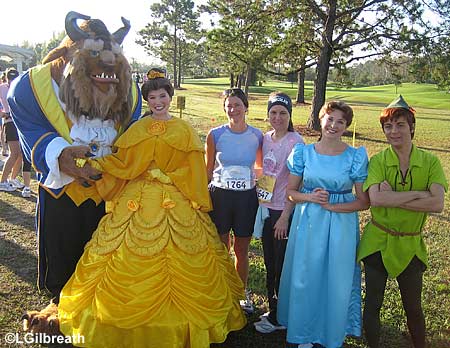 Just after Mile 8 were Pocahontas and John Smith, with a very nice backdrop. The characters were all so gracious about posing with all of us sweaty runners.
Though I didn't take any pictures of them, we saw quite a few runners who were wearing some really nice costumes. For a while we were running behind a group which had a Cinderella, a Belle, and a Tinker Bell. And we saw an Ariel that actually had a mermaid's tail sticking out behind her! There were some very nice Snow White, Jasmine, and Auroras, too. And lots of women wearing tutus and tiaras. We saw a few wearing those tall pointy Princess hats – those seemed like they would be very difficult to run in, though!
Aladdin and Jasmine were out just after Mile 9, and after we'd posed with them, Abu came out from somewhere, too.
No characters between miles 10 and 11, and we were starting to get pretty tired, but by then we only had two miles left, so we kept running. (And I'd just like to point out that it was *Pam*, who had been telling me all weekend that I was going to have to drag her along the last few miles that kept on running, even when I would've been happy to stop and walk for a while! That's why *she's* the Evil Twin!)
We crossed the next-to-last overpass (they got steeper every time!) and found Alice in Wonderland and the Mad Hatter. And just before the last overpass were Tinker Bell and one of her Pixie pals – though I don't know her name.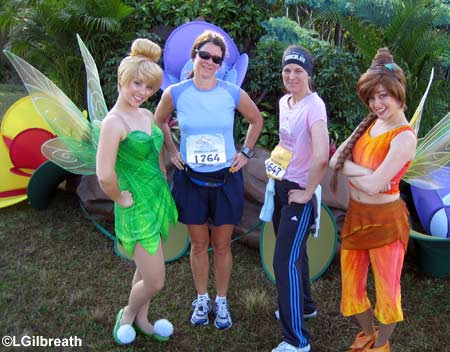 Just after the last overpass was the Mile 12 sign. Yay!!! Only a little over a mile to go! Not long after that we ran backstage into Epcot, and came back into Epcot um…I think it was between the Art of Disney shop and the restrooms. (Pam says yes.) Just after the fountain we found Stitch and the Queen of Hearts.
We ran to the end of the walkway that connects Future World and World Showcase, and then made a U-turn back towards Spaceship Earth. Only about 1/2 mile to go! I know I was ready to be done by then.
Backstage again between Innoventions and the restrooms, and then a little ways further to the Mile 13 sign.
We started to sprint the last tenth of a mile ("sprint" being a relative term at that point!), but just a few feet before the finish line were Mickey and Minnie, so I made Pam stop and pose for a picture with them. She hated me for that. 🙂 And then we ran across the finish line together!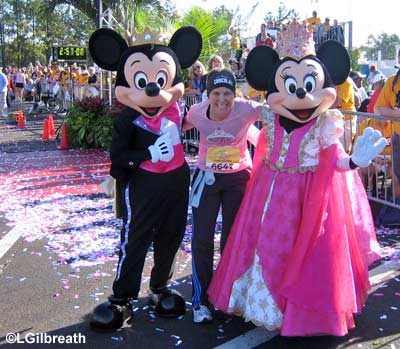 2:42:49 – woo hoo!!! I really expected it to take us at least 3 hours. We finished in just under 3 hours of elapsed time – but remember we had that 15 minute delay in crossing the start line.
We got our timing chips cut off and got our bright shiny medals, and got drinks and a little something to eat. And then went out to the Family Reunion area to meet Lee – but he wasn't there quite yet. Once he arrived he took a few photos of us and then we walked back to the car – that sure seemed like a loooong walk – our legs were tired! But overall we were so happy with the race and how we did – it was a great experience and I'm really glad I nagged Pam enough to talk her into doing it with me. She did just great and it was wonderful to be able to share this experience with her.
In the Team competition we finished 24th out of 51 "Open" teams, so that was pretty good!