(I didn't have time to finish all of Day 2's activities, I'm going to pick up where I left off from Friday, and then talk about today, Saturday.)
So, when we left our intrepid band on Friday evening, they were headed into Epcot for dinner, IllumiNations, and Extra Magic Hours.
On the Epcot schedule we'd seen the mention of the new Kim Possible World Showcase Adventure. Since this was new to all of us, and we thought it sounded interesting, we went to the Team Possible Recruitment Center near the UK pavilion to see if they were still recruiting. They were, and we got a ticket that told us to be at the Italy pavilion at 6:30. That was about 25 minutes away, and since we could hear British Invasion playing nearby, we went over and watched them for a while.
The band was wearing their Sgt. Pepper's Lonely Hearts Club Band outfits – wow. Those are bright. We had time to listen to several songs (including When I'm 64, which they dedicated to anyone celebrating an anniversary) before we had to head off to Italy to begin our super-secret mission.
At the cart we checked in with the Team Possible agent, who told us we were going on one of her favorite missions, in Germany. She gave us a Kimmunicator (a cell phone) and a few more instructions, but the bulk of what we needed to know was provided on the phone itself.
This was really great fun – I'd read somewhat mixed reviews of the Kim Possible adventures on the internet, but we enjoyed ourselves. Lee says I'm not allowed to spoil it for others, so for now I'll just say that the Imagineers have put things in here that will appeal to kids and adults. The best part is that in the pavilions you get to make certain things happen – which will totally amaze other guests, who have no idea who is doing it. And some of the effects you are allowed to do over again, so that's fun.
Once you've completed a mission you have the option to do others – we were given a choice between Mexico, Norway and Japan and chose Norway for a second adventure. By then it was getting dark, so some of the effects were hard to see. And we also ran into several other Kim Possible teams in Norway, so we were on top of each other a little bit. That one was ok, but not as good as the one in Germany – the special effects we could create were not as noticeable. We chose to return our Kimmunicator at that point – they have drop boxes at the end points of each mission.
It was time for dinner, and we went to one of our favorites – Tangierine Cafe in Morocco. It was about as busy as I've ever seen it – we had to wait in line to order, and then almost didn't find an empty table. Pam and I each had the Falafel Wrap (without consulting each other we keep ordering the same things – see why we call ourselves twins?), and Lee had the Lamb Shawarma platter. All delicious, as always!
The park was closing at 8:00 and not 9:00, so IllumiNations was at 8:00. We barely had time to get to a spot near that red gate thing in Japan (Tori gate?) before it started. The flame barge is still not working, and that looked rather odd. But we enjoyed the show.
First stop on the "New Things" tour was O Canada. I was a little surprised that the Cast Members didn't check our resort ids, but it's not like it was really that full. We enjoyed it.
Next up was The Seas with Nemo and Friends, where they DID check our resort ids (though only needed one per party) before we entered that seemingly endless queue for the Clam-mobiles. I heard the starfish at the end say something different this time – something like how she liked that song (Big Blue World) but not when she had to hear it over and over and over again. I wonder how many other things she says – before I've only heard her counting the people going by.
We also saw Turtle Talk with Crush – Pam had seen the version of this they have at DCA when she came to California last summer. Dude! It's totally awesome!
By the way, it cooled off a lot yesterday evening – 80 during the day but already down in the 60s by 7:00, so we were in long pants and light jackets.
Spaceship Earth has changed fairly recently, so that was our next stop. Pam was surprised to hear Judi Dench narrating (and she recognized her voice right away – that's why she is the Cultured Twin). Don't ask me what's going on with my head in the picture – Pam says it's a horn because I'm evil. 🙂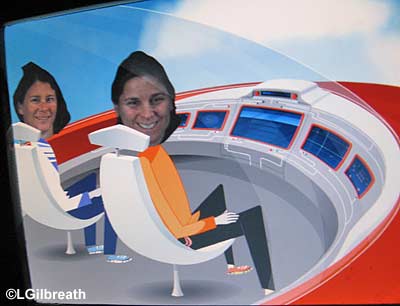 Mission Space was also new to Pam, but we opted for the Green Team. (Since none of us wanted to actually *look* green after the ride!) Lee chose not to ride, but Pam and I successfully completed our training, though the motion simulators bother her and she had to close her eyes for part of it. She says that's a ride that she never has to do again. 🙂
Last ride of the night was "it's a small mexico"…I mean, the Gran Fiesta Tour. It was getting close to 11:00 (when the park was closing), so we had the boat all to ourselves. And I've never heard it so quiet in the Mexico pavilion – it was very nice!
Lee wanted some dessert, but since it was so late, almost nothing was still open at Epcot, like the coffee and pastry carts, and we were pretty sure the Boardwalk Bakery would be closed by the time we got back there. But when we walked by the UK, their shop was still open, and I suggested to Lee that he get some chocolate. He went in and had fun flirting with the two young ladies working in the shop, and asking what their favorites were. We ended up with a Flake bar, and Galaxy bar, and Aero bar, a Twirl bar and some clotted cream fudge. We sampled most of them when we got back to the room.
Twirl bar got a thumbs up, and I liked the Galaxy bar (even though I'm not really into milk chocolate, it was still nice and smooth). The Flake bar just had a weird texture – it WAS flaky, and good chocolate shouldn't be flaky, in my book. The fudge wasn't chocolate at all – it was more like caramel but with the consistency of fudge. It was very good, though.
And so ended our first full day – now perhaps you see why I didn't finish yesterday's blog entry until today! 🙂
So this morning was another bright and sunny day. We went over to the Studios, planning to get a Fastpass for Toy Story Mania, and see the Lights Motors Action stunt show. But you know what they say about the best-laid plans…we did not realize that it was a Magic Morning at the Studios, so when we arrived at 9:00 they had already been open to resort guests for an hour. Our Toy Story Mania fastpasses were for 12:20! And the first stunt show wasn't until 1:20.
We had breakfast at Starring Rolls – they have completely rearranged it since the last time we were there – and it's really a disaster. The wraparound layout is just awful, and the line got held up for minutes at a time with people waiting to toast their bagels (the toasting station is in the line, and not away from it!) and get the hot beverage orders. Lee and I got cinnamon rolls and drinks out of the refrigerated case just so we didn't have to stand in line to get bagels (even untoasted) and hot beverages.
There was no place to sit when we got outside, so we sat on a bench with our trays on our laps. After a few minutes a very nice woman came up and said they were leaving, and asked if we would like their table! So very thoughtful of her!
We went to the Prince Caspian exhibit – Pam had never seen the movie, but the nice thing about the show is that they show you enough movie clips that you've seen most of the movie by the time the show ends.
After that we decided to go to Magic Kingdom – the Studios was just too crowded and all the standby lines were long, and there really wasn't anything else we wanted to do between then and 12:20 (our Fastpass time).
You can't actually take a bus to Magic Kingdom – we had to go to the TTC and then take a ferry or monorail. We lucked out in that the bus was just getting ready to leave when we got there. We decided to take the ferry just so we could try a different mode of Disney transportation.
After we got Fastpasses for Space Mountain we went to the Monsters Inc. Laugh Floor Comedy Club – new for Pam. It was a fun show – Pam says that Roz is her new favorite character. She *is* somewhat evil, after all. 🙂 And then we went to Stitch's Great Escape, also new to Pam. I know to hold my breath for the whole chili dog thing, fortunately. 🙂
Today's matching t-shirts say "Property of WDW Commando Task Force". On the back, they say "Carpe Disney". 🙂
Crowds had really picked up in the Magic Kingdom. But after all, it IS Saturday, a notoriously busy day. We noticed that El Pirata y El Perico, a restaurant in Adventureland, was open – we'd never eaten there because it always seems to be closed when we're here. It's pretty basic (and not very good) Mexican food – they only have ground beef and not chicken. Pam and I had the vegetarian tacos (with black beans) and Lee had the taco salad. One interesting thing – the entrees only come with the tortillas and the beef or bean filling – for the rest you go to the toppings bar, where you can pile on as much lettuce, tomato, cheese, onion, and salsa as you want.
The corn tortilla shells for the tacos were pretty awful – obviously pre-cooked and just pulled out of a box. The flour tortilla shell on Lee's taco salad was freshly fried, though, and it was pretty good.
Haunted Mansion had a 20 minute standby posted (and it looked longer) so we bypassed it and went to Philharmagic. We were able to get into the next show, so had about a 10-minute wait. That show was full – I've never seen that before. Pam enjoyed it – she liked the 3-D graphics and the music.
We tried Haunted Mansion again but it was up to a 30-minute wait, so we went to use our Space Mountain Fastpasses. Wow, that is a looooong queue – and the standby side of it was full. Lee noticed that Space Mountain is darker inside than it used to be – it's been a long time since we have ridden it during the day instead of at night.
What to do after that? It was about 2:15 and there was really nothing more we wanted to do at Magic Kingdom, so we decided to take the monorail and bus back to the Studios and use our Toy Story Mania Fastpasses. On our way out of the park we thought about getting ice cream, but decided we'd get it back at the Boardwalk after we went to to the Studios.
We again lucked out with Disney transportation – the monorail arrived right as we got to the top of the ramp, and the bus to the Studios was about ready to leave the bus stop.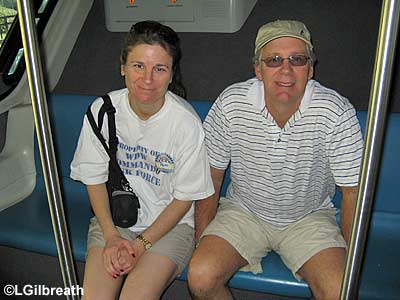 But when we arrived back at Toy Story Mania they told us it was down with technical issues, and they hoped to have it running again "soon". Ok…Plan C. Let's get ice cream here while we wait.
There was a very long line at Dinosaur Gertie's, but I remembered that they had ice cream sundaes and milk shakes at Prime Time – and thought maybe we could order those at the Tune-In Lounge. There were three seats at the bar, and we asked John the bartender if we could do that, and he said sure, and brought us menus – including the dessert menu on the Viewmaster. 🙂 Lee got a root beer float, I had a hot fudge sundae, and Pam had a hot fudge sundae with chocolate ice cream. And we had a lot of fun chatting with John as he worked. It was really a nice break for us – we were able to sit down for a while (staying off our feet the day before a race is a good thing!), and have something sweet in a fun atmosphere.
After we'd indulged our sweet teeth we checked the Information board at Hollywood and Sunset – nope, Toy Story was still down. Lee noticed that a Beauty and the Beast show was starting in about 15 minutes, so we went there. Yet another excuse to sit for about 45 minutes! 🙂 The show was good, though this particular Gaston needed a lot of padding to give him much in the way of muscles…
Toy Story was up and running again after the show ended – yay! Of course the Fastpass return line was longer than usual because it had been down, but we were still on in about 20 minutes. Pam had done the ride in California, but not in Florida. She and I rode together. We were able to trip the "Easter Eggs" for the balloons and the robot, and I got the fox on the hen house a couple of times, which I'd never done before.
We walked back to the Boardwalk and relaxed for a while, before going over to Picabu at the Dolphin for our pre-race dinner. They didn't have any pasta except lasagna, unfortunately. Pam had that, and I had the rotisserie chicken, and Lee had the pot roast, which he said was quite good.
So now Pam and I are getting our stuff together for the race tomorrow – we'll both be happy to have it over with. Though by the time many of you read this we will already be finished, one way or another!