The Imagineers did an excellent job when designing Fantasyland. They took the charming aspects found in Disneyland, California and expanded them into a larger space without losing any of its appeal. Now, instead of having a small village, you have a lush countryside. A meandering stream runs through the area and unifies the space. Manicured gardens line its banks and the abundance of greenery has a calming effect on what could have been a frenetic place.
I was so impressed with the beauty of Fantasyland that I took a number of pictures of nothing in particular. The following photos aren't of any specific attraction; they are of the general area. Take a look for yourself and see of you don't agree that this is by far the most beautiful of all the Fantasylands.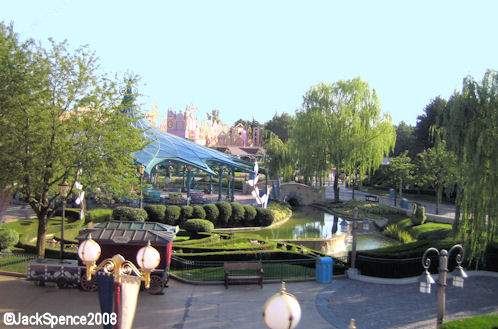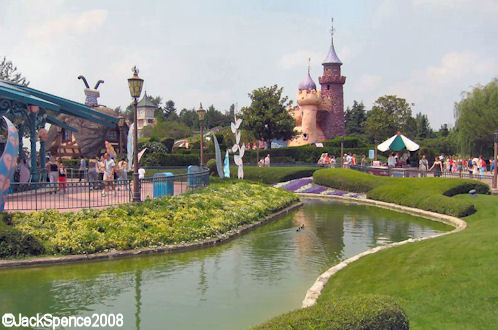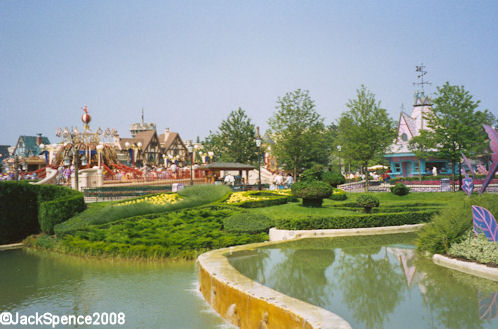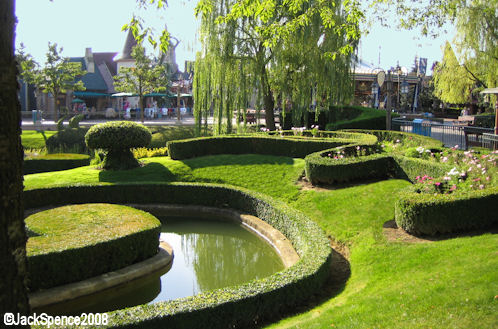 A "dark ride" is defined as an indoor attraction that uses special lighting to highlight various scenes and sights along the vehicle and passenger's journey. Although the scenes may be dimly lit and use black lights, they can also be brightly illuminated.
Most people can easily relate that carnival-type attractions such as "Snow White" and "Peter Pan" are dark rides. But "it's a small world" and "Pirates of the Caribbean" also fall into this category.
Fantasyland has four "dark" rides, Blanche-Neige et les Sept Nains (Snow-White and the Seven Dwarfs), Les Voyages de Pinocchio (Pinocchio's Fantastic Journey), Peter Pan's Flight, and "it's a small world." In this blog I'll be discussing the first three.
Snow-White and the Seven Dwarfs (Blanche-Neige et les Sept Nains)
This attraction has more similarities to its California cousin than to Florida's. To begin with, the exteriors are almost identical. The ride is housed in a Black Forrest type castle. From the second story window we can see the Evil Queen peeking out sinisterly at the guests below.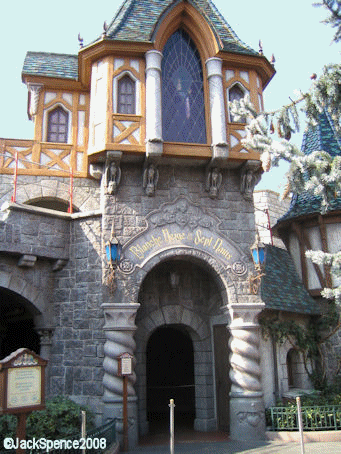 Along the inside queue you pass a portion of the Evil Queen's dungeon and can see her potion for poison apples.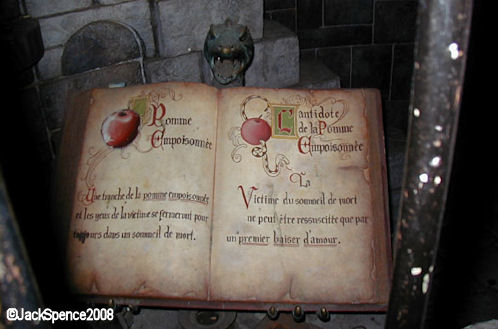 Although the word "Scary" is not in the attraction's name, this is virtually the same ride that you experience in Florida and California. So, if your little ones are frightened in the U.S. they'll be frightened in Paris.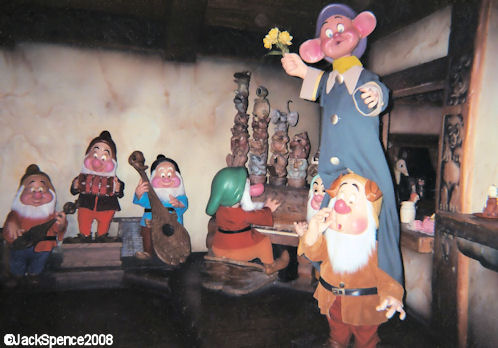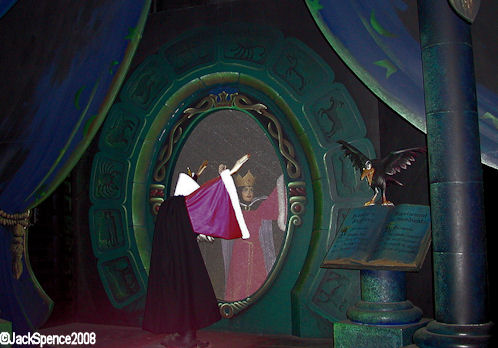 Of course, like all Disney movies and attractions, a happy ending is in store.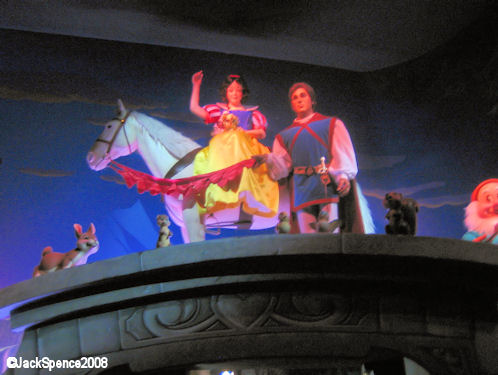 Pinocchio's Fantastic Journey
The French name for this attraction is "Les Voyages de Pinocchio" which translates into "The Voyages of Pinocchio." However, the English guide maps call this attraction "Pinocchio's Fantastic Journey" — which is interesting because the California and Tokyo versions of this ride call it "Pinocchio's DARING Journey." Go figure.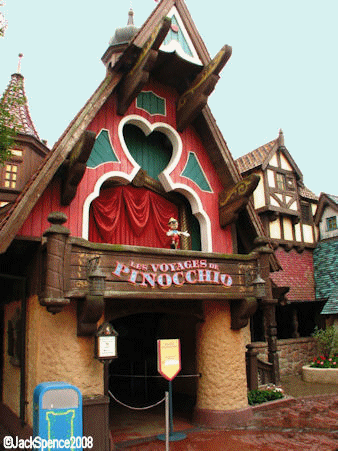 The exterior of this attraction is also very similar to California's, however the indoor queue is larger.
Other than that, this ride is almost identical to its overseas cousins. Pinocchio is lured by the cunning Honest John and Gideon to join Stromboli's puppet show. He escapes to Pleasure Island and is partially turned into a donkey. With the help of Pinocchio's conscience, Jiminy Cricket, he locates Geppetto and saves him from Monstro. In the end, the Blue Fairy turns Pinocchio into a real boy. Like all Disney dark rides, it helps a lot if you know the story before experiencing the attraction.
Just outside Pinocchio's Fantastic Journey you'll find Stromboli's wagon. It serves as a concessions cart and sells snack foods.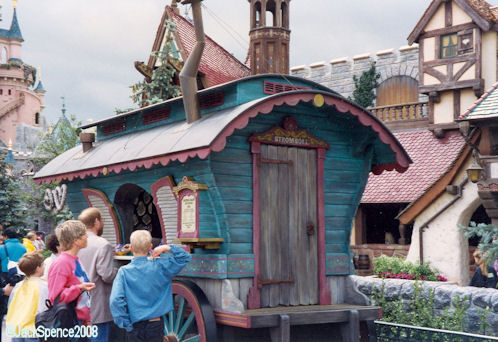 Next door to Pinocchio's Fantastic Journey is Au Chalet de la Marionnette (literal translation: With the Country Cottage of the Puppet). This is a counter service restaurant that serves hamburgers, chicken, and salads. Its atmosphere is very similar to the Village Haus Restaurant in California and the Pinocchio Village Haus in Florida. Indoor and outdoor seating is available. There is also access to this restaurant via Adventureland.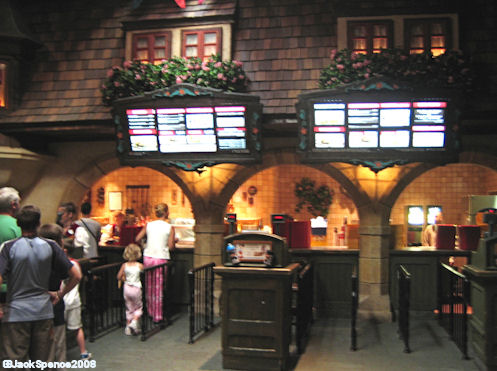 Peter Pan's Flight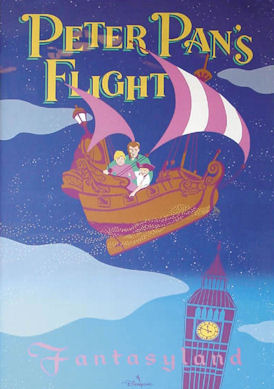 Across the river from Au Chalet de la Marionnette we find Peter Pan's Flight and a trip to Neverland. Just like its U.S. and Japanese cousins, this ride is a perennial favorite. This is the only attraction in Fantasyland that uses Fastpass and it is strongly suggested that you take advantage of it.
The exterior of Peter Pan's Flight is reminiscent of the California version, but on a larger scale. English Tudor is the architectural style used to set the mood before your flight to Neverland.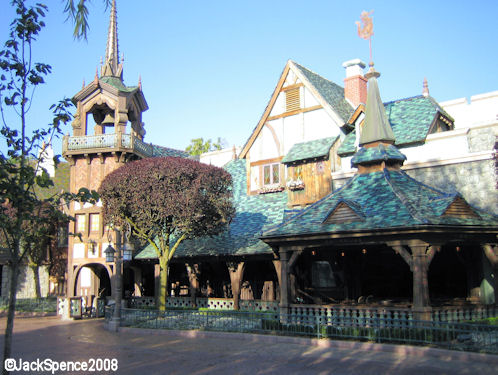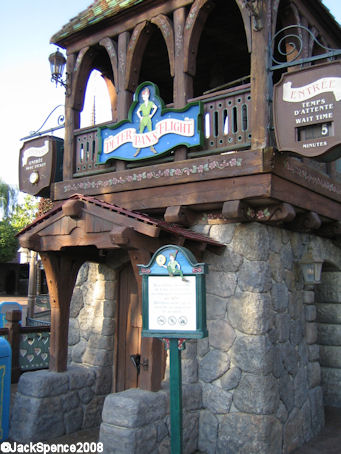 All of the Peter Pan attractions worldwide are very similar. You start your journey in the nursery of the Darling home then fly above the skies of London. Then it's off to Neverland to meet mermaids, Indians, Mr. Smee and Captain Hook.
An interesting note, the ride vehicles in Paris hold four guests (in a front and back seat) instead of two as they do in Florida, California, and Japan. This helps with ride capacity, but you should still Fastpass this attraction.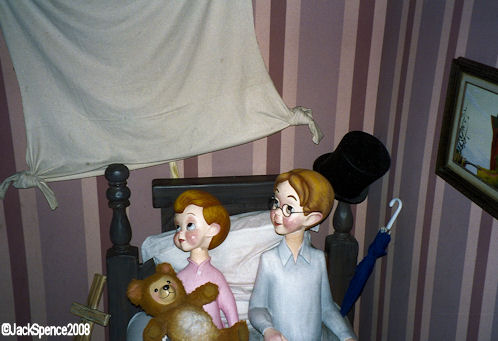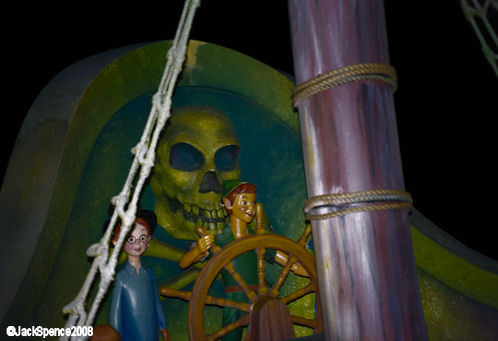 Toad Hall Restaurant
Just around the corner from Peter Pan we find the country mansion of Mr. Toad. This stately manor houses a counter service restaurant. As you might guess, Fish & Chips are the featured menu item here.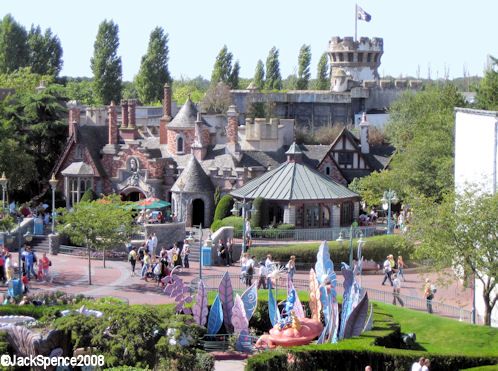 This is a fun place to eat. The theming is exceptional and everywhere you look you can find references to the egotistical Mr. Toad. Even the wallpaper pays homage to this crazy character. Since this restaurant is at the back of Disneyland Paris, it is often less crowded than other eateries.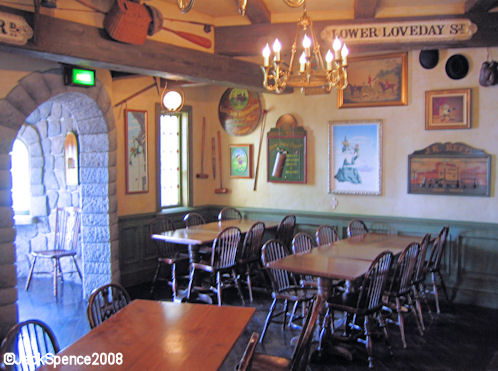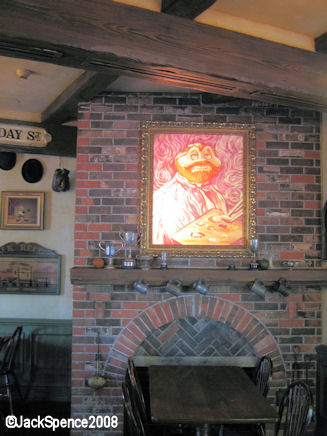 In my next blog I'll discuss Dumbo the Flying Elephant, Mad Hatter's Tea Cups, and Alice's Curious Labyrinth.