Thanks to all of you who have written wishing us good luck in the race! We need it!
So, today is Friday. Yesterday was a travel day for Pam and me, and also for my husband Lee – he was in Charleston on business so flew from there instead of from San Diego with me.
We're staying in a one bedroom at the Boardwalk. When I walked in the bedroom last night I noticed something seemed odd…it took a while before I realized the *both* lamps that area supposed to be on the bedside tables were missing! Huh??? Why would someone take both lamps? We were having quite a lighting crisis – the bulb in the lamp in the living room was also out. Called Engineering and they said they'd take care of it – though they seemed confused by the idea that the actual *lamps* were missing.
Pam and I had dinner at ESPN Club, and after Lee arrived bout 9:00 we went to Big River Grille with him. He had dinner and we had dessert. (The Chocolate Confusion cake – it was just ok.)
When we got back to the room the light bulb had been replaced but the lamps were still missing. So I called again, and the person tried to tell me that there should be lights on the headboard. Uh no, sorry – there should be actual lamps. So they said they'd take care of it. No one showed up last night, but when we got back to the room this afternoon we had lamps again – they were powered on, I guess to prove that they worked!
Another issue with our room was the Internet – plugged the cable into the wall and got no signal. But if you plugged the cable into the modem itself it worked. Called Network Services and they said they'd take care of it – which they did. The lamp thing still strikes us as really odd, though!
So today was Day 1 of "Show Pam all the new stuff at Disney World". She hasn't been in the parks (running through Epcot and MK during the 2006 Half Marathon doesn't count) in over 4 years.
After breakfast at the Boardwalk Bakery we went to Animal Kingdom. It was an absolutely beautiful day here, by the way – I'm sure all those of you who are surrounded by snow are going to go green when you hear it was sunny and 80 today. Pam was loving it – she's from New Jersey, so she was dealing with 9″ of snow earlier this week.
We got Fastpasses for Expedition Everest, and were just in time to catch the 10:00 showing of Finding Nemo – the Musical. Both of which are new to Pam. The Nemo show was not full at all – even arriving just a few minutes before it started we were able to find seats in the lower section over on the right side, so we had great viewing of the puppeteers.
Lee didn't care for this show too much when we first saw it, but he enjoyed it a lot this time – he said that being so much closer made a big difference. He liked it so well that he got the CD of the music. Pam has never seen the movie, but she enjoyed the show anyway. I liked it better than the first time, but I still think Crush needs a better song. The guy who played him was really good, though.
Time for our Expedition Everest Fastpasses by then. I think this ride has one of the most efficient Fastpass systems of any of them, and we were on the train maybe 2 minutes after we got in line – if that. I think it got a thumb's up from Pam, though she banged her head against the headrest.
When we walked by the siamangs they were putting on quite a "musical" show – there were three way high up in one of the towers, and two of them were really whooping it up – the AK version of the Hoop-de-do Revue, maybe? And then we got to see them traverse the rope lines back to the main temple building. Very cool.
The park was not too crowded today. After we got Fastpasses for the Safari we went back to Asia for the Flights of Wonder show. While we were waiting, I saw Jeanine walking by – she is also from California, and has written some Disneyland blog entries that you may have read (Blue Sky Cellar and Sleeping Beauty Castle). We were both surprised to see each other. We chatted for a few minutes and then she went on while we went into the Flights of Wonder theater.
Pam had seen this show, but it had been a while. Several of the birds were misbehaving a little bit, which is quite unusual, but I always find it rather amusing. I thought the raven was going to really take off with the dollar bill, though. 🙂 They had Pogo, the crazy parrot in the show again – he was still fun to watch.
It still wasn't quite time for our Safari Fastpasses so we went onto the Pangani Trail. At the okapi overlook we found a Cast Member who called them "Giraffes of the Forest" – I'd never heard that term before.
We were just approaching the savanna overlook when Lee said that he missed the gerenuks, which we hadn't seen in quite a while – but guess what, there were two gerenuks laying there in the grass. They got up and wandered away shortly thereafter, so our timing was good.
We saw several of the gorillas – the big silverback was laying right up against the glass watching all the of the silly people. 🙂
It was time to use our Safari Fastpasses. The jeeps were a little backed up for some reason, but it wasn't too long before we got on. We had a pretty decent safari, though the driver didn't really have a lot to say – she skipped a lot of the spiel. Didn't talk about the baobob tree at all, or say anything about the word "reticulata" (Latin for "net-like" on the reticulated giraffes. We got to see one of the baby elephants – this was a pretty small one, so maybe it's the newest one?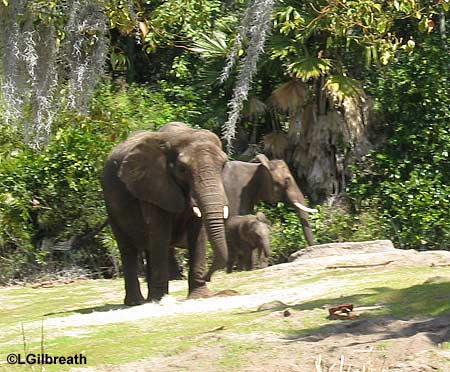 We had lunch at Flame Tree – Pam and I had the BBQ chicken salad, and Lee had the St. Louis ribs, and then headed out of the park. It was still an absolutely beautiful day!
Next stop was Wide World of Sports and the "Fit for a Princess Expo", where we had to go to pick up our bib numbers and t-shirts, etc. And do a little shopping, of course. 🙂 We are registered as a team "The Evil Twins", so in addition to picking up our regular bib numbers we had to pick up our team bibs also – these go on the back of our shirts. I guess that way everyone we pass (ha!) will know who is passing them. 🙂 We'd been wearing our matching "I'm the Evil Twin" shirts all day, and got a lot of comments from people about that – "How can you both be the Evil Twin", "Who's really the Evil Twin", stuff like that. We coordinated our wardrobes before we came down. 🙂
Before I go on, for those who don't know I should explain that Pam and I are not really twins, except in spirit, though we look like sisters. But we say we are twins separated at birth – by different parents, different years, and different coasts. 🙂
The Expo seemed to be pretty well-staffed and organized. Race numbers only go up to 8000, so the race capacity is about what I was expecting – my guess was 7500 – 8000. The place they had the long line was for pickup of tickets to the "Happily Ever After" party at the Studios on Sunday night – there must have been 50 people line and only a couple of volunteers handling that. So I'm glad we didn't have to do that!
It was about 4:00 by then and we went back to the room for a while – and discovered that yes, we had lamps again!!! They'd fixed the internet connection, too. We relaxed for a little while before heading into Epcot for the evening. Which was Part 2 of "Show Pam all the new stuff at Disney World". And actually the largest part, since there's lots more that's new at Epcot than at the other parks.
But I'm going to have to write more about that later!