This was Challenge #74: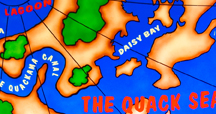 And here's the answer:


Copyright © 2006 Barrie Brewer, Nikon D50, 18-200VR, 1/13s shutter, f/4.8
Inside the hull of Donald's boat, the S.S. Miss Daisy, is this giant map. The Miss Daisy can be found in Mickey's Toontown Fair at the Magic Kingdom. Click on the map to see the larger version so you can enjoy all the detail – it'll quack you up! (I couldn't resist.)
Angie Young was the first to send in the correct answer for the challenge! Congratulations to Angie and all the readers who got the answer right: Anne Hainsworth, Evelyn Wilson, Ken Fischler, Sharon Dale, Paul Cooper, Maryann Eckenrode, Cara Richards, Susan Pitts, Stephanie Visco, Michelle Thompson, Amy Miller, Jill Linton, Scott Price, Brian Yesutis, Mike M., Brandon Emerson, Brenda Hawk, Marie Wolfe, Jen Cox, Leonard Sodrosky, Travis Grim, Emily Dagney, Kye Layton, Matt Cafone, Crista Kostrzewski, Kathy Berry, James Berry, Tim Wingfield, Michael Pyle, Megan Krainski, Monica Hatch, Irene Kleintop, Denise Owen, Hayley Lawson, Jeffrey Dunne, Jenny Leek, Jen Cerce, Chris And Alison, Lee Anastasi, Rich Kacprowicz, Ashley Pizzino, Jonathan Walker, Brittany Irish, Ann Fowler, Tim Johansen, Nancy Munger, Louise Barton, April Pangburn, Heather Young, Amy Schweizer, Sherry Klinefelter, Paula Munson, Rusty Podbelski, Scott Stubbs, Christi Ison, Ellie Argaluza, Alicia Roth, Kelly Montgomery, Emma Poprock, Charles Wright, Jennifer Tremley, Jamie Kelly, Alex Karr, Paul Moody, Willie Tople, Walter Fletcher, Karyn Christenson, Colin Christenson, April Tucker, Alicia Henderson, Jackie Purcell, Shannon Milair, Belicia Dawson, Scott Cullen, Dave Cole, Katelyn Anguish, Hollie Hinton, Scott Khachadourian, Kendall Huffman, Sharon Ray, Elizabeth Kormesser, Bruce Arnold, Lynn Barber, Scott Otis, Sharon Lee, Dylan Weidner, Danielle Aston, Louise Maxwell, Karen Hardy, Sabrina Bogart, Gabriella Rizzo, Julie Fahrner, Cam Lange, Tiffany Wakefield, Joann Albrecht, Elizabeth Scarborough, Tim Rachuba, Karen Schlumpf, Jennifer Schwing, Tracy Discher, Glenn Meyer, Gregg Mcglasson, Dana Schirnhofer, Chris Connors, Karen Dresser-smith, Deanna Simmons, Daniel Record, Gabe Widmer, Noreen Rachuba, Greg Stevens, Jen Norris, Deb Vacek, David Coates, Amber Keen, Jamie Poynton, Matt Cofone, Baines Family, Amy, Crissy Stout, Chloe', Carinne Kight, Lauri Gonzales, Julie Ellis, Tere Given, Jody Erdfarb, Bambi Eckelbarger, Jeannie Robbennolt, Karen Pizzuta, Jon Sison, Jeremy Coto, Dana Hall, Walter N Clark, Suzette Frey, Vickie Scioneaux, Abby Faulkner, Shannon Doyle, Heather Coursen, Chris J, Michelle Costello, Steve Knapp, Dina Grassi, Jim Thompson, Lisa Hoffman, Chris Auckland, Tracey Berton, Aruna, Theresa Rucando, Marie Phillips, Christine Dagney, Cheri Palmisano and Sue Daniels. Each of you were entered in the February winners' drawing.
And speaking of that monthly drawing" this month's big winner is Sharon Martinez! Congratulations Sharon, you are the lucky recipient of a fabulous Disney book and some really cool AllEars schwag!
Picture This! reader Jeffrey Dunne pointed out that folks on the west coast were having to get up before five a.m. on Sunday mornings to have any chance of being the first to get in their answers. That seems pretty extreme, so starting this week, we'll be posting the Where in the World challenges a little later in the day. Watch out east coasters, that means you have more competition now! And just to make being first a wee bit more exciting, starting this week, in addition to bragging rights, the first person to submit the correct answer each week will get their name put into the drawing twice for that week. Good luck everyone!
_______________________________________________________________________
Challenge #75: Where in the world is this?

Do you know? Do you have a guess? Send in your answer, before the end of the day on Thursday, March 5, by clicking on the button below. Please do not post answers using the Comment link at the bottom of this post.


_______________________________________________________________________
Everyone who sends in a correct answer to a Where in the World Challenge this month will be entered in a drawing at the end of the month for some special AllEars® goodies and a cool Disney book!