The other day I received a comment from someone telling me that they had recently eaten at Wolfgang Puck Express at Downtown Disney. After reading their positive review, I thought to myself, "I haven't eaten there in a long time." So today, that was my destination for lunch.
When I arrived at the parking lot, I saw a group of high school students, dressed in choir robes, leaving the area. Then I remembered, the stage at the Marketplace was undergoing a complete makeover and I wondered if it had been completed. Sure enough, as I rounded the corner of the World of Disney shop, I could see construction was done and this new performing area was already playing host to several groups.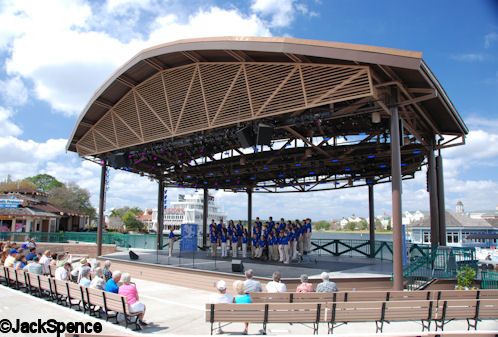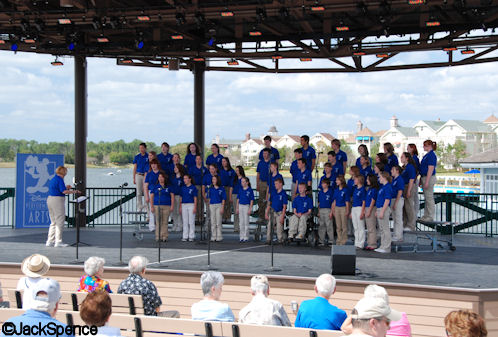 The new stage is a vast improvement over its predecessor. First, the performing area is covered, something I'm sure the entertainers appreciate. In addition, a much improved lighting and sound system has been added. It is now much easier to hear the groups sing. And I'm sure the nighttime shows will be enhanced as well with colorful lights.
The group you see performing here is the Heritage High School, "Heritage Singers."
Disney frequently invites high schools from all over the country to perform at this venue and others around property. It's very possible that one of these groups might kick off the 3 o'clock parade at the Magic Kingdom later in the day. For the most part, the audience is made up of friends and family of the group. But these performances offer a nice break from shopping and are enjoyable to all. Not to mention, these kids are thrilled to be performing at Walt Disney World and they put their hearts into the performance.
By the way, lunch at Wolfgang Puck Express was good too.