by
Jennifer Badcock
AllEars® Guest Blogger
The American Idol Experience is AWESOME!
My husband and I were there the Friday before the Super Bowl. Our plan was to visit three parks that day and we hit the Studios late morning. There was a cast member at the tip board passing out time cards for auditions for the new American Idol Experience, so I took one.
We rode Tower of Terror and Rock'n' Roller Coaster first and actually missed my audition time, but they took me when I returned anyway.
First, you are taken into a small area with a few audition rooms, and the "red room." I auditioned for a "producer" with a song of my choice, a cappella, and was a little surprised when she said she'd like for me to move on to the next audition. I was escorted to the "red room" where the whole experience was explained (it was actually the second or third cast member to explain the process, but it's new and they want to cover the bases).
I signed a couple of forms — releases, etc. — and was given a song list and an iPod. The iPod had all the songs from the list with and without vocals so you could choose two songs and practice.
My husband sat with me, offering advice until the room began to fill up with "contestants." It got too loud to hear yourself think with all of us belting out songs, trying to see if we could actually hit all the notes!
In the red room there is a board that lists any songs not available. My guess is that those are the songs the winners of earlier shows are singing so that two people aren't singing the same song at the finale. When you're happy with your two songs (they encourage you along if you spend too much time making your song choices), you wait outside the next audition room until it's your turn. You can hear through the door pretty well, which makes you a little nervous! (The first producer explained that they are only selecting people who will do well in competition. It is not their intent for anyone to be laughed at.)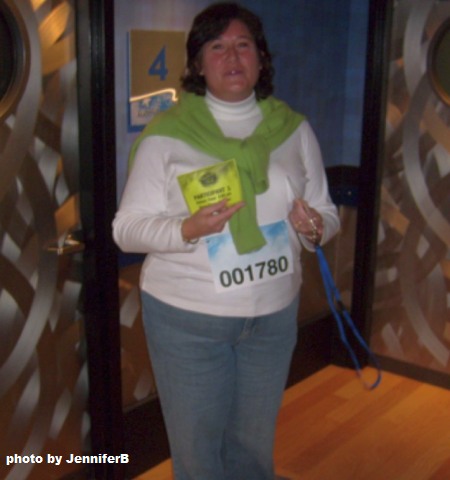 In the second audition I was asked to sing my first song choice with the music (and the words on a screen behind the producer, karaoke-style). He then asked me to sing the second song, then bits of the first song again. As I went through part of the first song again he began typing on his computer, and when he turned off the music he switched on a video of Ryan Seacrest who said he couldn't tell me I was going to Hollywood, but I was going to the show. Actually, I don't remember exactly what he said because I was completely shocked to be going anywhere besides on to Epcot (our third planned park of the day)! How many 45-year-old moms get this chance?
So then I was given a return time (about an hour and a half later), which would give me and the two other contestants chosen for that show (an adorable 20-year-old young man touring the country performing at veteran's hospitals, a 30-year-old mom of a 2-year-old, and me) 10 minutes for a makeup person to clean us up a little, 10 minutes with a great "voice coach" who worked on making bits of the song better and on showmanship, and 10 minutes to practice on our own with the iPod again.
We also did a complete run through of the show. It is sooooo much like being on American Idol! The crew is great and make you feel completely comfortable. You sit backstage in an area that feels like you are truly backstage in Hollywood.
We had the female host, and she's not Ryan Seacrest, but it's not really American Idol either. She was great.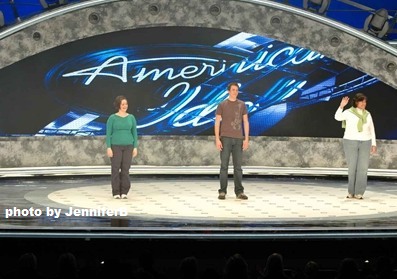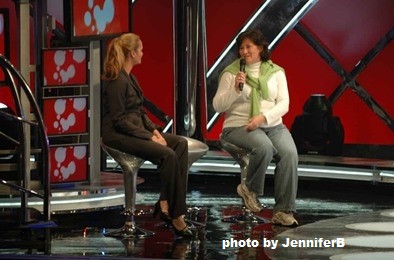 Each contestant had a different intro before his or her performance. Mine was an interview with the host and a clip of my "supporters" — my husband in the audience and folks in the queue who didn't even know me! One contestant had a video of tips from a true American Idol contestant and the other had video clips of his audition process.
The judges are caricatures of the real judges. Their comments to all three of us were very typical of what Randy, Paula and Simon would say.
What a ham I am! But being on that stage was so realistic! And… I was dressed for the park — not a performance!
The Simon-like judge agreed with Paula's comments when responding to my performance, but reminded me that I'm a bit "mature" for this — duu uuhhh!
The adorable 20-year-old won our round of competition and had the chance to compete in the finale for the chance at an audition for the REAL American Idol.
After a long day of patience on my husband's part and the number 3 best experience of my life (behind marrying him and having my two children) we made it to Epcot for a lovely evening — all as it should be.