Disneyland Paris does not have a Tom Sawyer Island. It was decided that most Europeans were not familiar enough with Mark Twain's writings to design an entire attraction around his stories.
Instead, the Imagineers came up with Adventure Isle. Here, pirates and castaways are used as a backdrop for this colorful environment. This is a wonderful place to play and explore.
You can reach Adventure Isle by one of four bridges.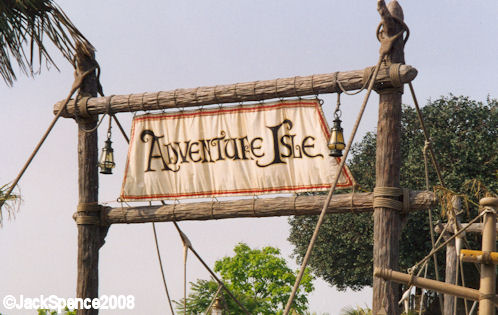 When Disneyland opened in 1955, it featured a wonderful restaurant/play area – the "Jolly Roger" (Captain Hook's ship). And in 1960, "Skull Rock" was added. The Jolly Roger was a counter service restaurant sponsored by Chicken of the Sea. Not surprisingly, it served tuna sandwiches, clam chowder, and other goodies. Cast members affectionately called the ship the "Tuna Boat." Besides providing food, kids could climb aboard the ship and pretend to be Peter Pan, Wendy, and Captain Hook. A wonderful dining area was nestled among the boulders and waterfalls of Skull Rock.
In the early '80's, Fantasyland underwent a major rehab and the Tuna Boat and Skull Rock were razed. The "new" Fantasyland is a vast improvement over the original, but many still look back nostalgically at this visually appealing restaurant and play area. Below is an early Disneyland postcard of the Chicken of the Sea and Skull Rock.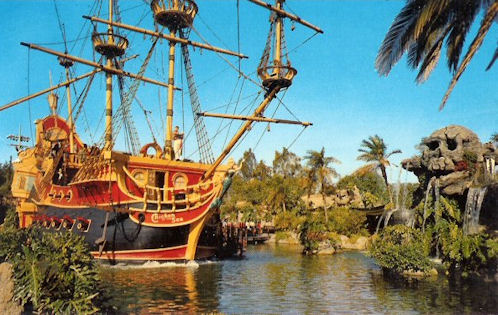 But all is not lost. Captain Hook's ship and Skull Rock have risen from the ashes and can be found on Adventure Isle. Like its predecessor, this vessel serves as a counter service restaurant called Captain Hook's Galley. On the docked side of the ship the gun turrets open up to create service windows. The offerings here are hot dogs, fries, and drinks. The deck of the ship is also open for kids to explore.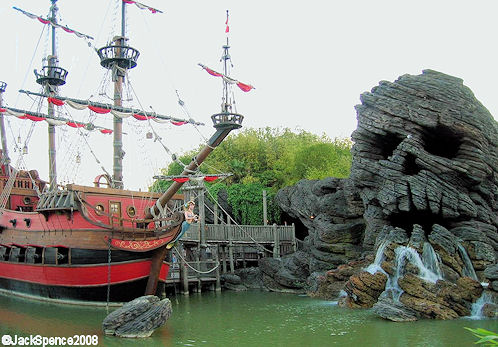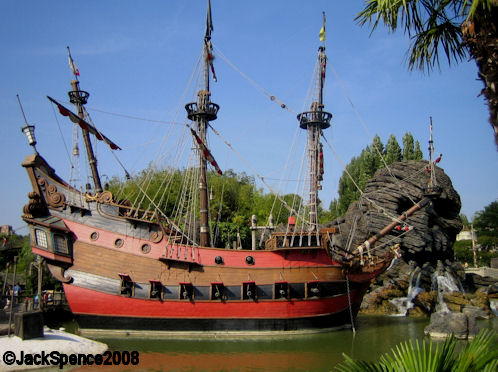 Deep within Skull Rock you'll find Ben Gunn's Cave. (Ben Gunn was a character in Robert Louis Stevenson's "Treasure Island.") This labyrinth of passageways is far more extensive and elaborately decorated than those found on any of the Tom Sawyer Islands. You can "almost" get lost down here.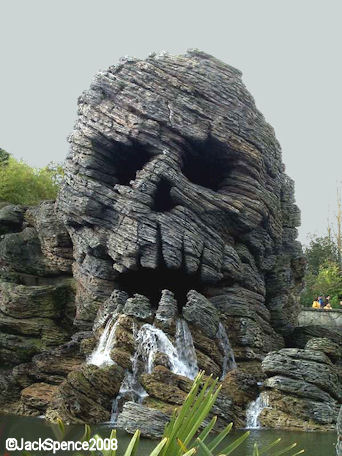 This next picture was taken looking out of the mouth of Skull Rock.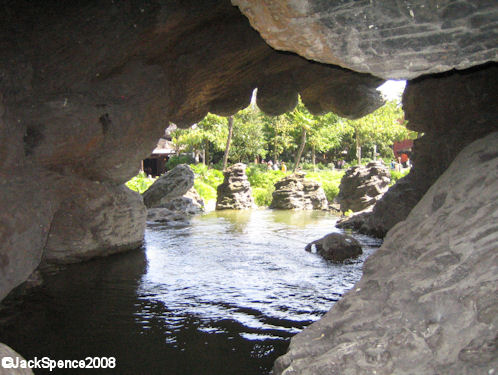 From the mouth of evil we venture deeper and deeper into the bowels of the earth.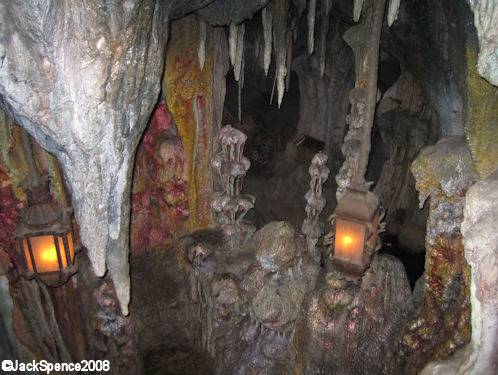 Hidden within the cave we find another skull etched into the stone.
Above ground is a peak called Spyglass Hill. Near the top is a lookout platform with a pirate canon aimed at a partially sunken vessel below. The view is great from up here. When it comes time to "escape" from the pirates, there is a suspension bridge that crosses high above the bay and the submerged ship.
If you're afraid of heights, you might want to turn back and skip this bridge as it is higher than any found on the Tom Sawyer Island counterparts. It also bounces a lot, which could add to your discomfort. But for the hearty buccaneer, this bridge is a lot of fun.
At water level, an unsteady barrel bridge crosses over the sunken ship. You can't board this soggy vessel, but there is still some good exploring to be had in this area.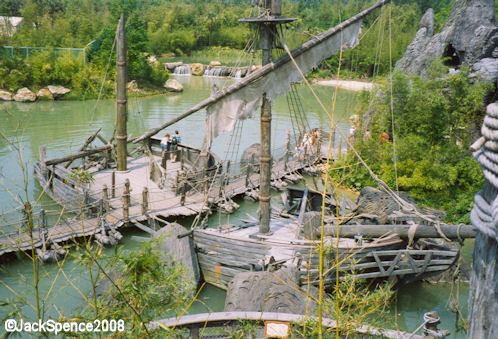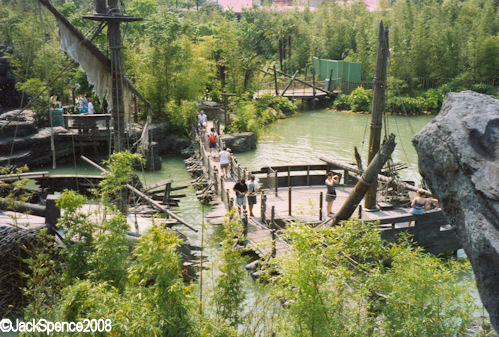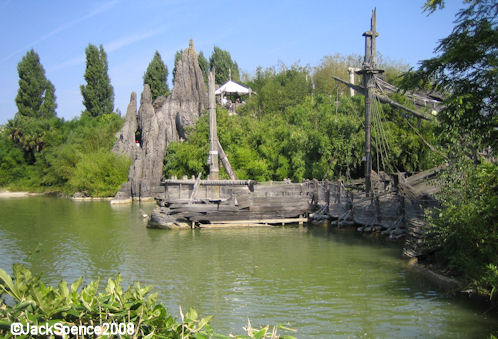 Watch out for crocodiles on this sandy beach.
At the opposite end of the island from Skull Rock is "La Cabane Des Robinson." We know it better as the Swiss Family Robinson Treehouse.
This tree is remarkably similar to its Disney World and Tokyo cousins. You start at the tree's base and climb a whole lot of stairs to view the home of the castaways.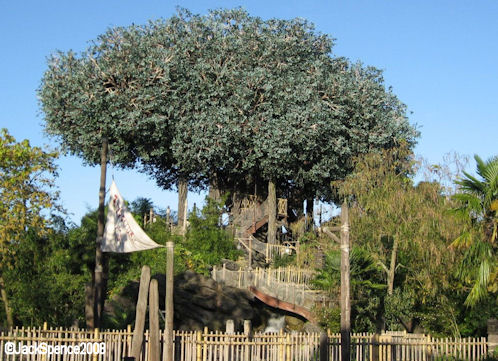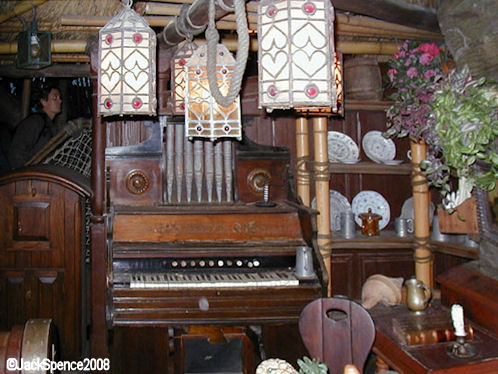 Entangled within the roots of the tree is another series of caves. "Le Ventre de la Terre" is the name of this cavern which translates into "The Belly of the Earth." Although not quite as extensive as Ben Gunn's cave, there are still a number of chambers to explore. If you're lucky, you might even find where the pirate treasure is hidden.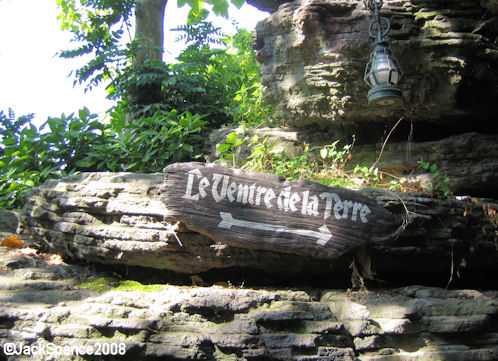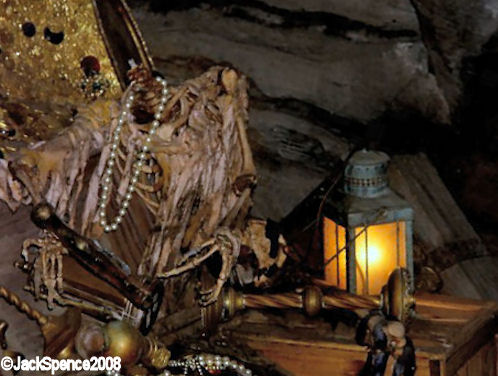 Pirate's Beach is located near the base of the treehouse. This is a children's amusement area with a number of slides, rope ladders, and other fun stuff for kids to climb and play on.
I like Adventure Isle a lot. In my opinion, it's much more enjoyable than any of the Tom Sawyer Islands – and easier to get to. It's a great spot for kids and adults alike.
In my next blog I will discuss Pirates of the Caribbean and Indiana Jones and the Temple of Peril.