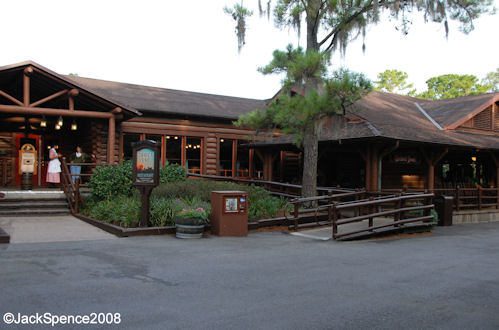 Back in August, I reported that the Trail's End lunch buffet had stopped serving "hot" entrees in favor of "make your own" sandwiches. I actually liked this change, but apparently I was in the minority – a very small minority. It seems that Disney received numerous complaints about this scaled-back menu. Many guests quipped, "If I wanted a sandwich, I could have stayed at my campsite and fixed one." To remedy this problem, the Trail's End Restaurant has removed the sandwich portion of the buffet and once again offers hot items for lunch.
However, things aren't exactly as they once were. The buffet does not offer as many selections for lunch as they once did. One noticeable omission is pizza, a kid's favorite. However, Mac & Cheese has returned. I also felt that there weren't as many entrees as before. Here's what was on the lunch menu today (November 9, 2008) when I ate there.
Three premade salads: Caesar, Chinese, and Strawberry and Blue Cheese.
Make-your-own salad
Potato Salad
Soup du Jour
Chili
Fried Chicken
BBQed Pork and buns
Mac & Cheese
Vegetable of the day
Rice
Cookies, brownies, and soft ice cream bar
Breakfast is served from 7:30am to 12 noon
Children: $7.99
Adults: $11:99
Lunch is severed from 11:30am to 2:30pm
Children: $8:99
Adults: $12:99
Dinner is served from 4:30am to 9:30pm
Children: $10:99
Adults: $18.99
From 11:30 to 12noon, both breakfast and lunch are served. If you arrive before 11:30 (check the time-stamp on the receipt the hostess gives the server), you pay the breakfast rate for both meals. If you arrive after 11:30am, you pay the lunch rate.
I have some good news and bad news for those of you waiting for the Hoop-Dee-Doo Revue. First the good news. A number of oversized games have been added to the area to amuse kids (and adults) while waiting to be let into the show. These include Ring Toss, Horseshoes, Jenga, Dominos, Chess, and more.
The bad news is this. Several of the rocking chairs have been removed from the porch to make room for these games.