I just got back from vacation. A portion of my trip was spent visiting the Disneyland Resort in California. For those of you who have read my bio, you know that I grew up in Anaheim and visited Disneyland often during my childhood. When I turned eighteen I got a job at the Blue Bayou Restaurant and worked there and at the Club 33 for nine years. I love this park.
When I returned from vacation I decided to write a 100% biased comparison of Disneyland and the Magic Kingdom. Please note, I'm only comparing the parks, not the resorts. I know everyone has a belief as to which park is better, so I decided to settle the argument once and for all with my prejudiced, yet scientific method. I will start by comparing duplicate attractions, giving one point to what I believe to be the better ride or show.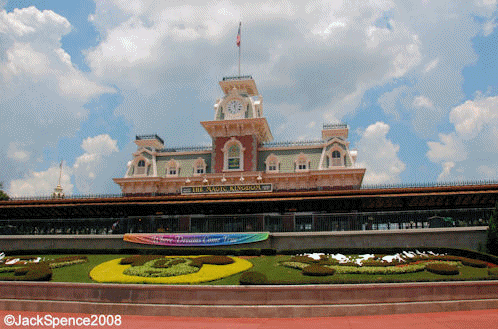 MAIN STREET
Disneyland Railroad / Walt Disney World Railroad: First, Disneyland has four stations to Disney World's three. But more importantly, the Grand Canyon Diorama and Primeval World easily makes Disneyland's train the better attraction.
Main Street Vehicles: Even though Disneyland runs their vehicles more frequently than Disney World, I would have to rate these attractions as equals.
ADVENTURELAND
Jungle Cruise: Walt Disney World easily beats Disneyland since it has the indoor temple section.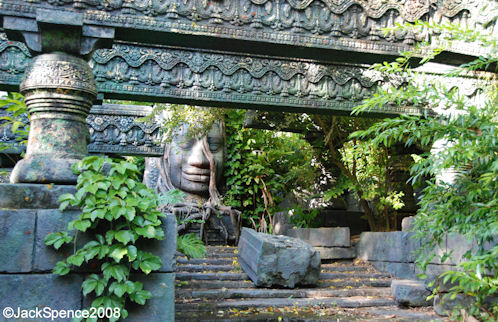 Enchanted Tiki Room / Under New Management: Disneyland still features the original show (albeit shortened slightly). I find "Under New Management" at Disney World obnoxious. Disneyland wins this one.
Swiss Family / Tarzan Treehouse: I really like the fact that Disneyland's treehouse has been updated with a Tarzan theme. Most kids today aren't familiar with the Swiss Family Robinson. However, the tree at Disney World is larger and negotiating the stairs is much easier. I'd have to rate these attractions as different but equal.
Pirates of the Caribbean (Located in New Orleans Square at Disneyland): Anyone who has ridden this attraction at both parks knows that California's version is vastly superior to Florida's. The ride is almost twice as long, has two waterfalls, and has a number of scenes that are missing from the Magic Kingdom's version. I'd like to give Disneyland two points from this attraction, but will stick to my rules and only give it one.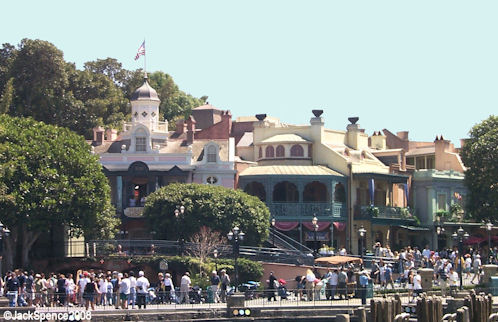 FRONTIERLAND
Mark Twain / Liberty Belle Riverboat (located in Liberty Square): The boats are similar as are the sights along the way. I'll call it a draw.
Big Thunder Mountain: The rides are mirror images of each other, but overall, I think the experience is about the same. The Magic Kingdom has the washed-out town that you ride through, but Disneyland has the town of Rainbow Ridge in its queue area. Another draw.
Tom Sawyer Island / Pirates Lair: I have always thought that Disneyland's Island had more to offer than Disney Worlds (more caves and more rocks to climb on). And with the new pirate theming being added in California, I'd definitely have to give Disneyland the nod.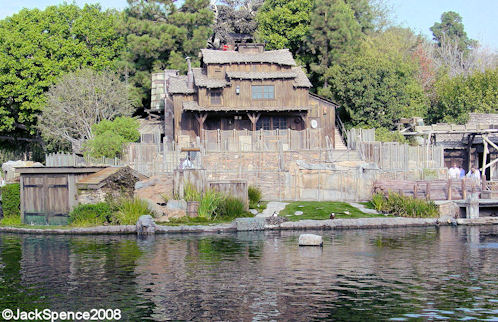 Splash Mountain (Located in Critter Country at Disneyland): The Disney World attraction is slightly larger and has side-by-side seats whereas Disneyland has a bench you straddle. Thumbs up for Disney World.
Shootin' Gallery: Equal
LIBERTY SQUARE / NEW ORLEANS SQUARE
Haunted Mansion: The exterior of both mansions are beautiful in their own way, but I feel the recent updates to the Florida attraction and the additional scenes of the piano player and library give this haunted house the edge. However, because Disneyland offers the magnificent Nightmare Before Christmas overlay for three months out of the year, I'll call this a tie.
FANTASYLAND
"it's a small world": The basic experience is about the same at both parks, but the exterior of Disneyland's attraction and the Christmas overlay make the California version the winner over Disney World.
The following attractions may have subtle differences, but overall, I'd have to rate them as equal:
Snow White's Scary Adventures – Disneyland / Disney World
Peter Pan's Flight – Disneyland / Disney World
King Arthur / Cinderella's Golden Carousel
Mad Tea Party – Disneyland / Disney World
Dumbo the Flying Elephant: Even though the basic ride is the same, the attraction is visually more appealing at Disneyland due to the fountains and calliope. I'd have to vote for California over Florida.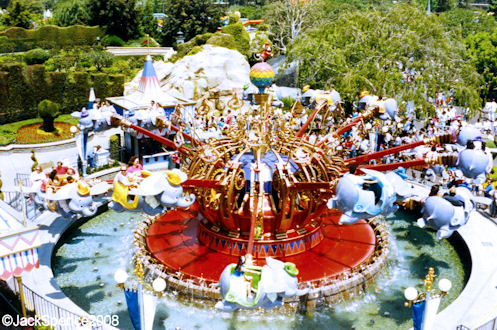 Sleeping Beauty / Cinderella Castle: Even though this is not an attraction, the castle at Disney World is awe inspiring. It deserves a point.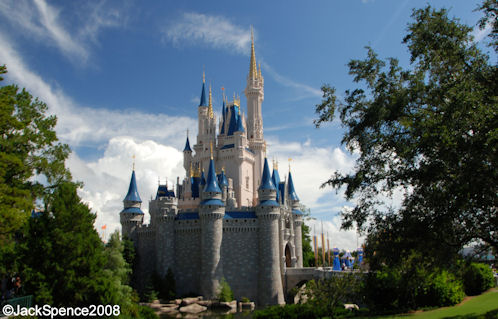 The Many Adventures of Winnie the Pooh (located in Critter Country at Disneyland): Although the Disneyland and Disney World versions are slightly different, I can't say that one is really any better than the other. Tie.
TOMORROWLAND
Space Mountain: Disneyland's version has synchronized music (similar to Rock N Roller Coaster). I understand that Disney World's version will be adding this feature in the future, but until then, California wins the space race.
Autopia / Tomorrowland Indy Speedway: I think the Disney World's version is boring. You drive around a figure-eight with little to see along the way. On the other hand, at Disneyland you drive on an elaborate roadway with different tracks taking different routes. Also, there are a number of sights to see along the way. Another thumbs up for California.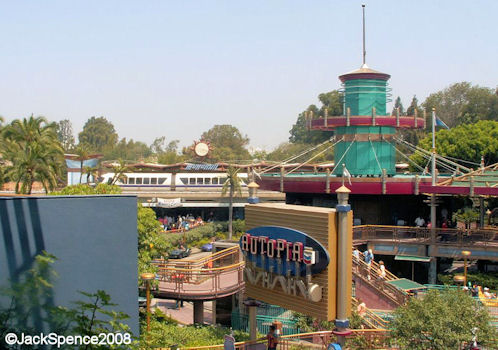 Buzz Lightyear's Space Ranger Spin / Astro Blasters: The simple fact that the lasers are attached via flexible cables at Disneyland, allowing guests to pick up the guns for better aiming, gives Disneyland a definite edge.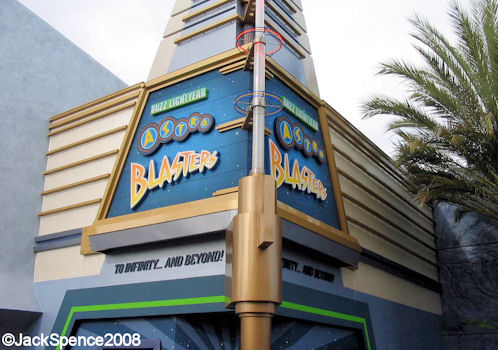 Astro Orbitor / Astro Orbiter (Note, "Orbitor/er" is spelled differently at the two parks): I was very disappointed when the "powers that be" moved Disneyland's rocket jets from their high perch to the ground-level entrance of Tomorrowland. Disney World's jets still sit well above Tomorrowland and this makes their attraction much more exciting. Score another point for Florida.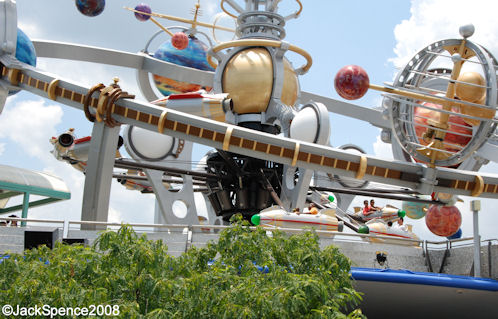 Starcade/Tomorrowland Arcade: Both venues offer a large assortment of video games. Another tie.
Star Tours: Here things get a little more difficult. Since this attraction is located at Disney's Hollywood Studios in Florida, it's difficult to know whether it should be included in the comparison. But since the attractions are identical, I'm just going to call it a draw. Disneyland's version.
Monorail: Once again, this attraction is more difficult to compare because at Disneyland it is part of Tomorrowland while at Disney World, it never enters the park. Still, I think the monorail in Florida is superior due to its larger size so I'll award a point to Disney World.
Innoventions: Although not present at the Magic Kingdom, it does exist at Epcot with more displays than Disneyland's Tomorrowland version. I'll give a point to Florida for this one.
Honey I Shrunk the Audience: Like Innoventions, this attraction is in Disneyland's Tomorrowland and Epcot in Florida. But in this case, the movies are identical so we have another tie.
MICKEY'S TOONTOWN / FAIR
Disneyland deserves a point simply because their Toontown is twice the size of Florida's. For basic "strolling through the area" there is no comparison. California wins due to the multitude of "gags" that can be discovered in the Downtown area of this land.
I think Minnie's House, Mickey's House, and Donald's boat are all so similar it would be unfair to pick one over another.
Gadget's Go Coaster / The Barnstormer at Goofy's Wiseacre Farm: Although the theming is completely different, both are kiddy coasters and offer the same excitement for the little ones. A tie.
That's it for shared attractions. In my next blog, I'm going to list all of the attractions that exist only at Disneyland and only at WDW.