This was Challenge #35: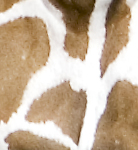 And here's the answer: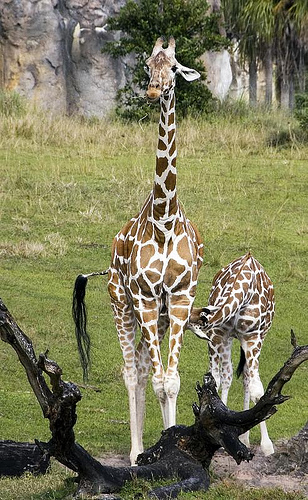 Copyright © 2007 Barrie Brewer, Nikon D50, 18-200VR, 1/320s shutter, f9
The Harambe Reserve at Disney's Animal Kingdom is home to these reticulated giraffes. You can catch a glimpse of them wandering the savannah when you take a ride on the Kilimanjaro Safari. Did you know that even though the giraffe's neck is taller than most humans are, it is still made of only seven bones? This is the same number of bones that are in the human neck. Click here to learn more about reticulated giraffes.
This week's bragging rights go to Darlene Harmon, who was the first to send in the correct answer to challenge #35. Nice going Darlene!
Congratulations to all the readers who knew the answer to this past week's contest and sent it in before the end of Thursday: Rusty Podbelski, Nicole, Chris Kotcamp, Kirby Double, Dawn Bach, Hollie Hinton, R.A. Curtis, Clare O'Connor, Bruce Lawson, Karen Dresser-Smith, Sara Beth Wade, Jean Smith, Leah Miscavage, Laura Brown, Sandra Miller, Sherri Pell, Kathy Smith, Walter N. Clark, Anjanette Tournillon, Gary Allen, Jami Kliethermes, Kim Wimberg, Karen Bortz, Shana Stewart, Jim Szlachta, Chris Thomas, Melissa Abreu, Allison Dibiase, Christine, Heather Coursen, Tom Swan, Kate, Kelly Nienhueser, Becky Terjung, Liz Moreau, Mary Jo Collins, Trish Babler, Diane Brunner, Joseph Zafia, Janet Theriault, Richard Nussbaum, Chris Bertelmann, Karen Akers, Debra Kuklinski, Jennifer Bogdan, Stacey Barboza, Amy Miller, Jim O., Lisa Forsythe-Kane, Lynn Hart, Mhairi Stirling, Heather Webb, Eulette Mckneely, Heather Stevens, Chad Coppess, Anita Burns, Jennifer Farrell, Jennifer, Elizabeth, Marie, Carinne, Liza Graham, Luis Rodriguez, Chris Connors, Melissa Santana, Janelle Farmer, Stephanie Visco, Kathleen Stevens, Marie Hodur, Merrie Tesh, Erica Adkins, Melissa Mathias, Julie Fahrner, Garland Cox, Doug Armstrong, Karen Korcheski, Laura Pranaitis, Emily, Wendy Snelgrove, Theresa Rucando, Cameron Lange, Dana Schirnhofer, Susan, Paula Potts, Heather Timko, Diane Blanchard, Debra Ulicny, Nick Straka, Dan Brian Huebner, Kendall Huffman, Lisa Gale, Kameo Crea, Melissa Demonbreun, Jennifer Tremley, Danusia Rogacki, Maryann Eckenrode, Vicki Vaught, Holley Blyler, John, Chris & Alison, Jennifer Bourg, Aaron Hale, Danielle Murgia, Jeff Schoeling, Brittany Irish, Belicia Dawson, Deb Ragno, Pollyanna Buff, Eli Young and Darlene Harmon. Each of you will be entered in the April winner's drawing.
_______________________________________________________________________
Challenge #36: Where in the world is this?

Do you know? Do you have a guess? Send in your answer, before the end of the day on Thursday, by clicking HERE! !
Picture This! Photo Blog Survey! Take a few minutes and provide feedback on our Photo Blogs.
_______________________________________________________________________
Everyone who sends in a correct answer to a Where in the World Challenge this month will be entered in a drawing at the end of the month for some special AllEars® goodies and a copy of PassPorter's Walt Disney World by Jennifer Marx, Dave Marx, Allison Cerel Marx!