Alright, so… Can we all agree that Target is basically the Disney World of grocery stores?
I mean, there's a Starbucks. There's even Disney merchandise that you can grab from the Disney Store that's inside Target now. You can even come home with cupcakes, popcorn, and crisped rice treats. It's basically the same thing, right? Well, if you're like us and can never resist a trip to Target, then keep on reading, because we're about to tell you how you can save BIG.
DISCLOSURE: This post may contain affiliate links, which means when you click a link and make a purchase, we receive a commission.
Target Circle week starts TOMORROW, October 1st, and will last until October 7th. Yep, that is seven whole days of great deals in 14 different categories.

If you're interested in learning how YOU can save big and even get started on some holiday shopping, then keep on reading!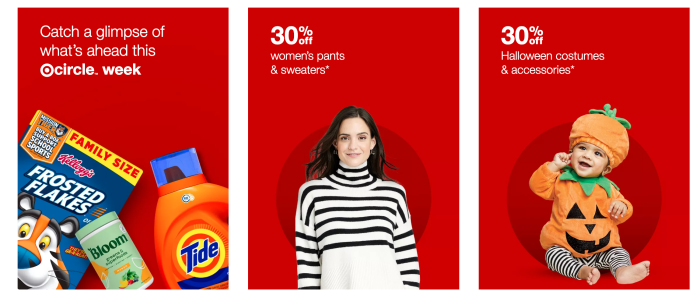 To start, you can save 30% on women's pants and sweaters, as well as Halloween costumes and accessories.  This could be a great time to stock up on fall stuff for the kiddos!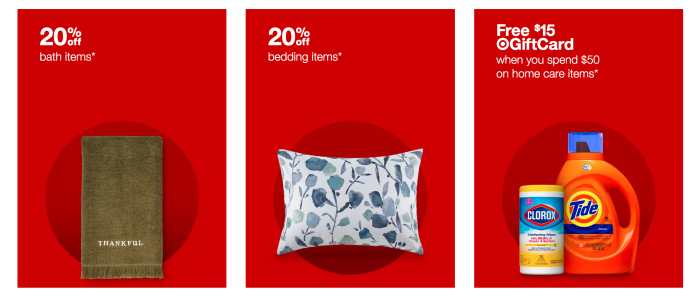 The holidays are a great time to refresh your home, especially if you'll have friends and family visiting. You can save 20% on bath and bedding items, and if you spend $50 or more on home care items, you'll get a free $15 Target giftcard. Hey, that's pretty easy to do just by restocking your cleaning supplies like laundry and dish detergents!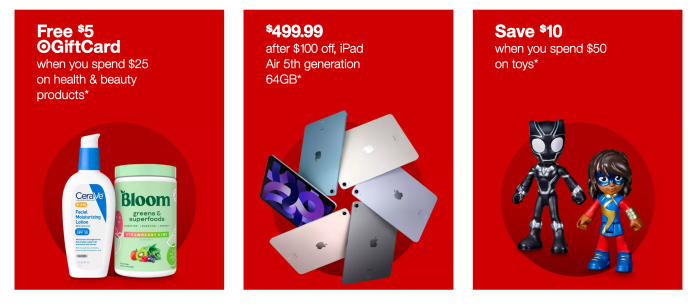 Okay, y'all! Now's your chance to grab those big ticket gift items before the Cyber Monday madness in November. You can get $100 off an iPad Air 5th Generation as well as save $10 when you spend $50 on toys. Plus, you can get a free $5 gift card if you spend $25 on health and beauty products — which make great stocking stuffers, BTW. (Can someone send this post to my mom or Santa, plz? Thanks!)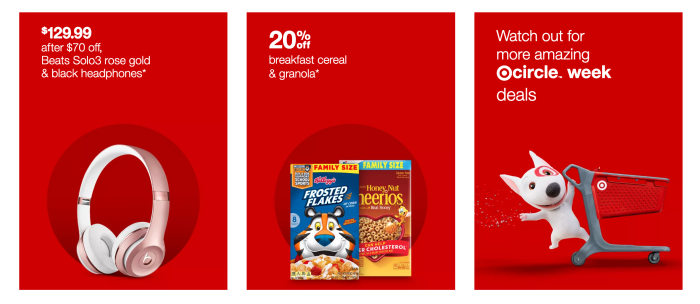 The communications degrees are not helping us understand the ad placement here or why headphones and granola are being promo'd next to each other but THAT IS NOT THE POINT. The point is that you can get $70 off a pair of rose gold or black Beats Solo3 headphones. And, if you love cereal, you can get 20% off of that as well. While you're pouring your bowl of Frosted Flakes you can listen to Dr. Dre.
And there you have it! Target Circle Week doesn't start until tomorrow, October 1st, but the good news is that if you are a Target Circle Member, you can go ahead and save these deals so that you're ready to purchase them as soon as those discounts are live. Happy shopping!