The most rootin' tootin' restaurant in all of Disney World has officially opened.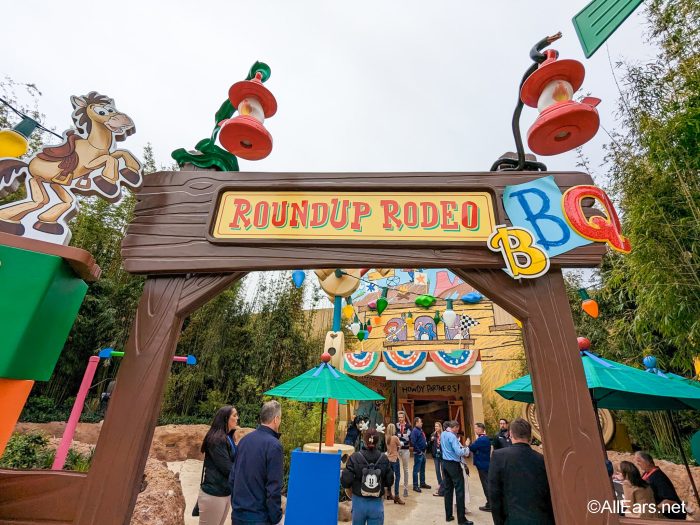 That's right, Roundup Rodeo BBQ is now available for lunch and dinner in Toy Story Land in Disney's Hollywood Studios. But before you think about dining there, we wanted to give you a quick rundown of everything you should know first.
Details
If you DO find yourself inside Roundup Rodeo BBQ, don't just rush through your mail. That's because you'll miss so many amazing details THROUGHOUT the restaurant. There are so many Toy Story nods and Easter eggs here that you just have to see! The theming here is so ON POINT. The concept is that Andy has set up a toy rodeo playset in his backyard.
Don't miss the bread twist tie used to hold up a lamp. And the lamps have little stickers on them like the ones you used to see that came with playsets for toy details like this.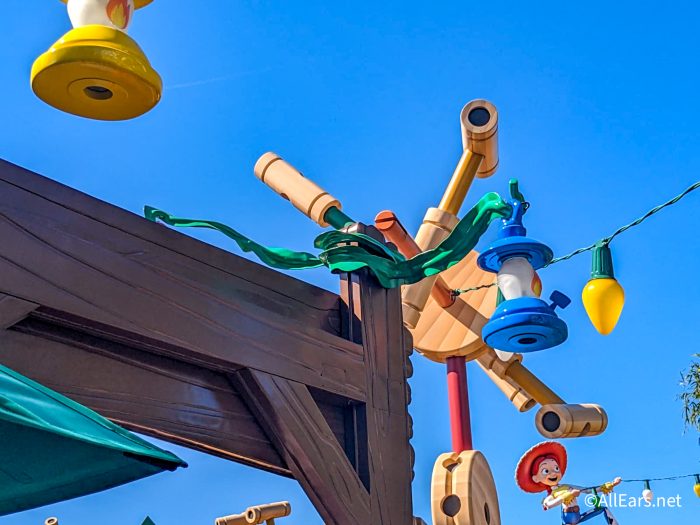 The details continue on the inside. The plates are actually ceramic, but they're designed to look like paper plates. Genius!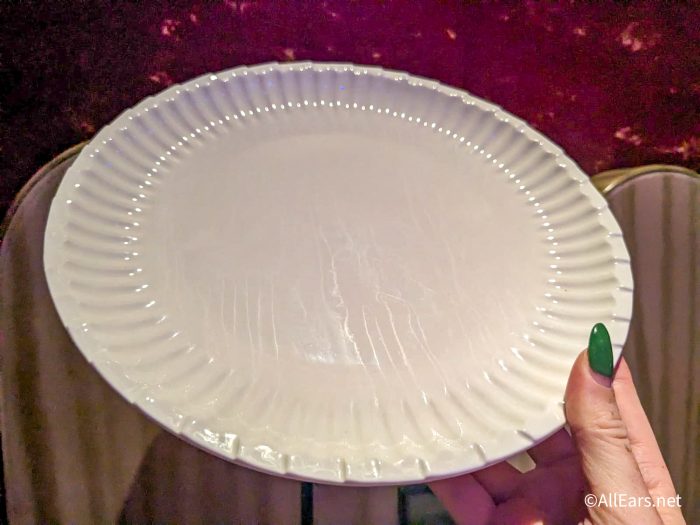 The theming of the restaurant itself is FLOOR TO CEILING. There's so much to look at and take in.
As you are shrunk down to a toy, even the writing utensil you're given to sign your check with IS HUGE.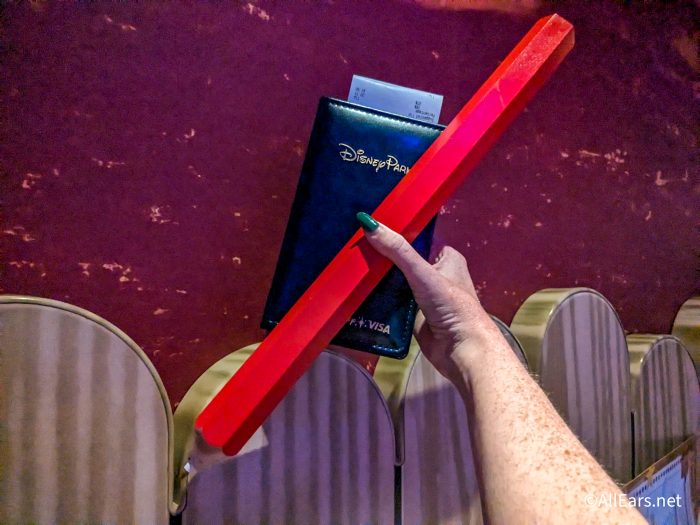 We could spend DAYS pointing out all the details, but you'll be able to see them for yourself. We also think you'll notice something new every time you eat there.
Price
Okay, so Roundup Rodeo BBQ looks cool, so what does it cost? Well, the price is $45 per adult and $25 per child (ages 3-9).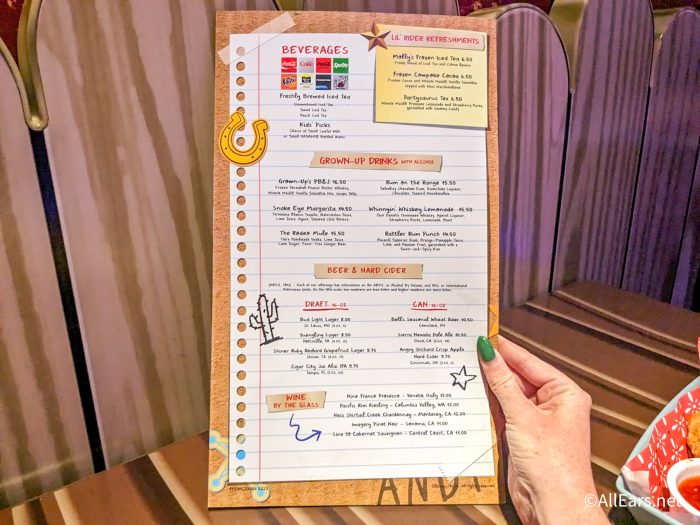 Note this price does not include tax and gratuity.
What that price includes
The price includes all the standard food including bread service (which is The Prospector's Homemade Cheddar Biscuits with Sweet Pepper Jelly), three salads (Rootin' Tootin Tomato Salad, Rex's Romaine and Kale Salad, and Wheezy's Watermelon Salad).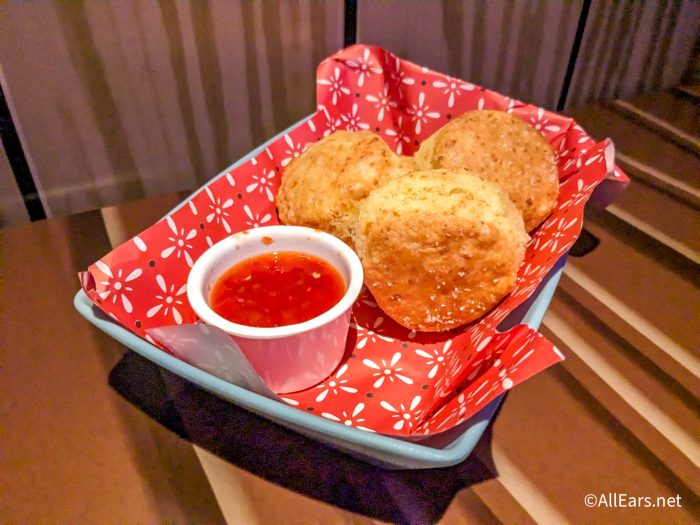 You also have a choice between two entrees: A Platter House-Smoked Meats (Evil Dr. Smoked Ribs, Buttercup's Beef Brisket, There's a Sausage in my Boot – Fire-grilled Pork Sausage, and BBQ Chicken – with Style!) or Trixie's Plant-based Trio (Combat Carloflower with Harissa Drizzle and Walnut Gremolata, Scrumptious Bratwurst, and Rip Roarin' Rib Chop).
You can also select four sides. The selection includes Mean Old Potato Salad, Veggie Slaw, Campfire-roasted Vegetables, Buckin' Baked Beans, The Married Spuds, Force Field Fried Pickles, Slinky Doooooooooog's Mac & Cheese, and Cowpoke Corn on the Cob.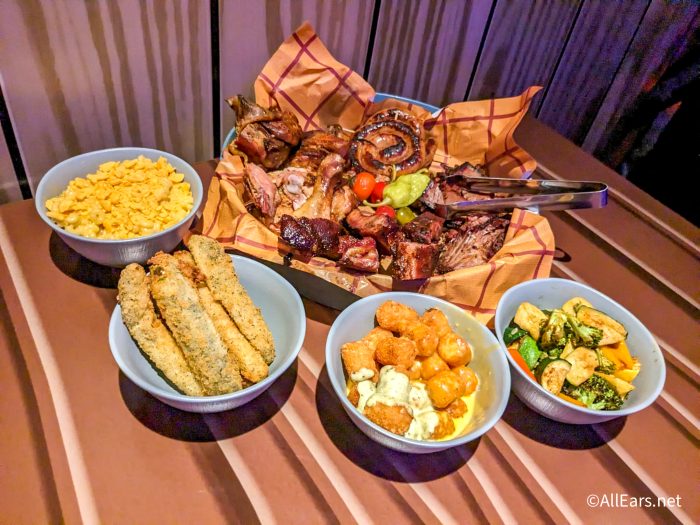 Each guest can also choose one dessert from the following: Bo's Lemon and Blueberry Cheesecake Billy's Silk Chocolate Pie, Goat's Apple Pie, Gruff's Peach-Strawberry Pie, and Cupcake à la Forky.
Finally, the following beverages are included in the price of the meal: Assorted Fountain Beverages and Freshly Brewed Iced Tea (Unsweetened Iced Tea, Sweet Iced Tea, or Peach Iced Tea). Kids can choose between a small lowfat milk and a small DASANI water.
What's not included
Although all the food is included with the price of the meal, as well as some beverages, you can get specialty beverages for an additional price. That includes non-alcoholic specialty drinks, as well as alcoholic cocktails, beer, and wine.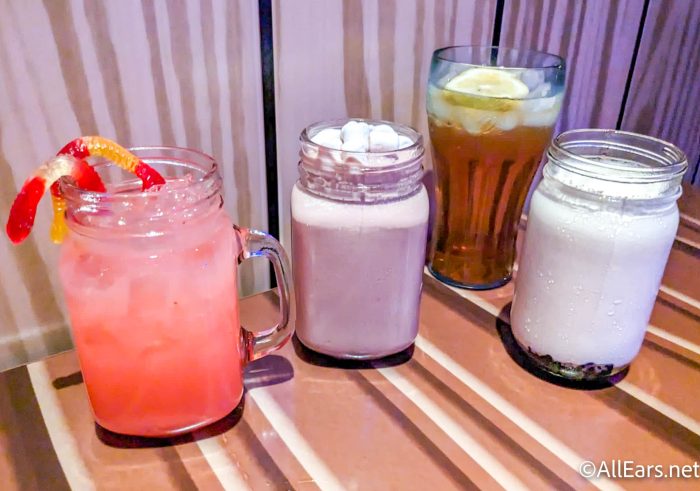 Note that these beverages will incur an additional cost to your meal.
Plant-based and allergy-friendly food options are available
If you're on a plant-based diet or have allergies, be sure to ask about the options available there for you. There is a plant-based entree available, as well as plant-based sides. Gruff's Strawberry-Peach Pie is also plant-based.
If you have allergies, you can get allergy-friendly biscuits, as well as allergy-friendly entrees, sides, and desserts.
You can't use discounts here
If you're an Annual Passholder, you might be wondering if you can use your AP Discount here, and, the answer is "no."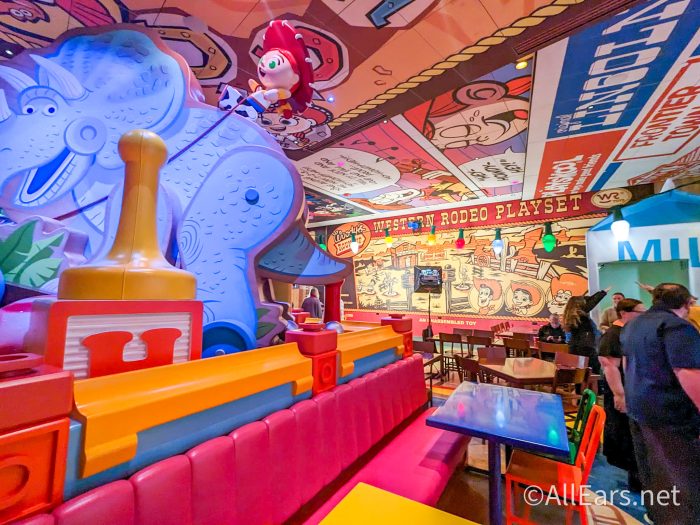 So keep that in mind if you're budgeting for the price of the meal.
Reservations are highly recommended
So this is a NEW restaurant in Disney World, and that means it's going to be HUGELY popular, probably for a long time. So don't expect to just walk up and get in — you'll need to make advance dining reservations as early as you can.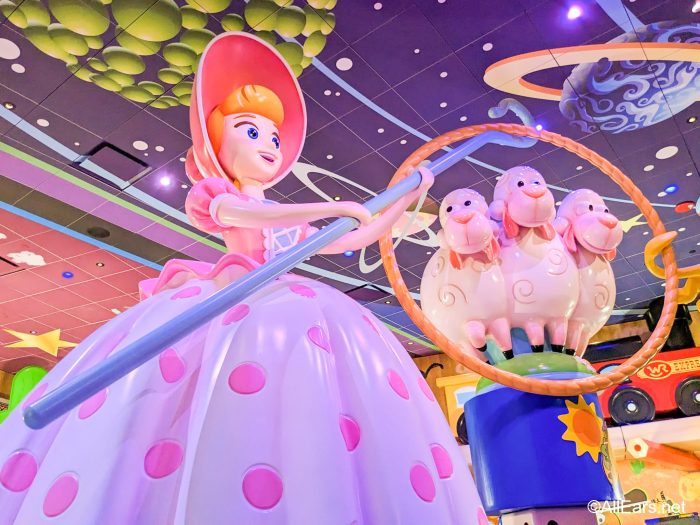 What to do if you can't get reservations
Okay, so you've been trying to get reservations for Roundup Rodeo BBQ and you've had NO luck. Well, you may have another option. When you're at Hollywood Studios, check that Mobile Dine Walk-Up Waitlist on the My Disney Experience app.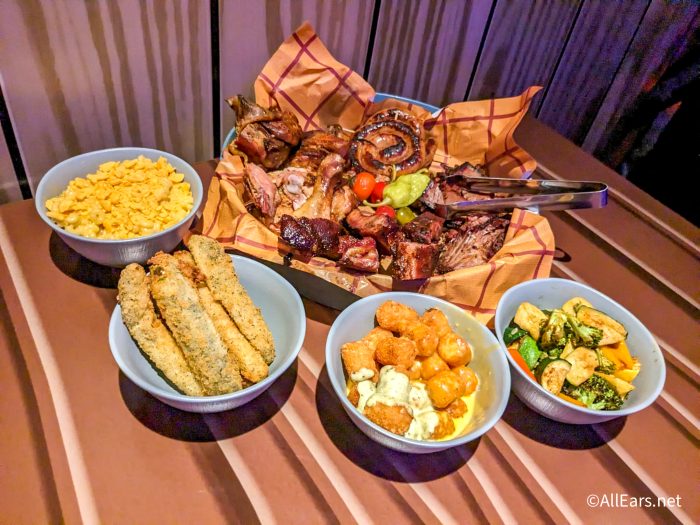 You'll probably have even more luck grabbing a spot this way if you're willing to dine at odd hours (not during peak lunch and dinner times).
This is NOT a character meal
There has been some confusion among guests visiting Roundup Rodeo BBQ. Although you WILL see some familiar characters from Toy Story — that's only in the decor of the restaurant. This is NOT a character dining experience.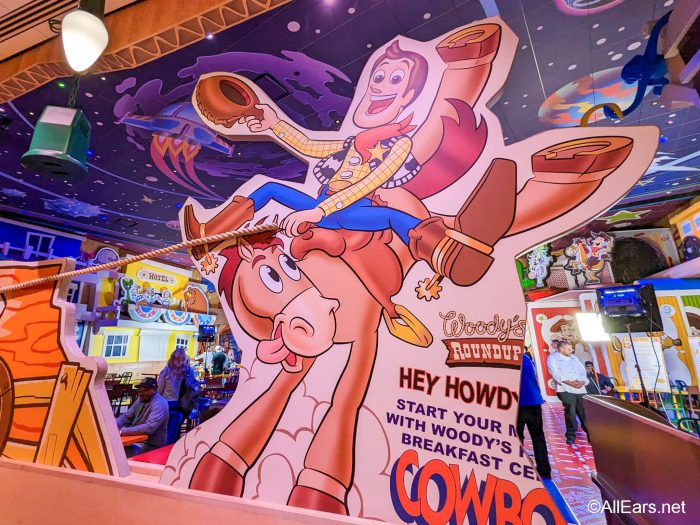 Would it be cool if it were? Well, yeah, but if you're expecting to dine with ACTUAL Toy Story characters, you won't be able to do so here.
Know what to do when "Andy's coming"
Do you remember that urban myth that if you were around Toy Story characters in the parks, if someone yelled "Andy's coming," the toys had to fall to the ground and pretend NOT to be alive? Well, that WAS a myth, but inside Roundup Rodeo BBQ, it's a reality. The only difference is that YOU, the guest, are the toy, and you need to pay attention when someone announces that Andy's on his way.
What happens when Andy's coming? All of the toys FREEZE! #RoundupRodeoBBQ #AllTheDisneyThrills #WaltDisneyWorld #MediaEvent pic.twitter.com/uMBx7Oq80T

— AllEars.Net (@AllEarsNet) March 15, 2023
So be sure to listen for that so you don't miss out on that fun interaction where guests inside the restaurant have to freeze in place.
Best of luck in getting into Disney World's newest — and hottest — restaurant! We hope this helps you with what you should expect with Roundup Rodeo BBQ, as well as help you decide if you and your party want to dine there or not. As always, be sure to check back with AllEars for more Disney news, tips, tricks, and more!
Join the AllEars.net Newsletter to stay on top of ALL the breaking Disney News! You'll also get access to AllEars tips, reviews, trivia, and MORE! Click here to Subscribe!

Will you be making reservations for Roundup Rodeo BBQ soon? Let us know in the comments!