There's nothing quite like seeing Cinderella Castle for the very first time.
But, only a few fortunate folks get the lucky opportunity to actually stay the night in the exclusive Cinderella Castle Suite (yes – there's actually a hotel suite up there!). If you've always wanted to live like royalty by staying in a castle but thought it was out of reach, you're in luck — we're sharing some surprisingly affordable REAL castles you can rent!
Staying in a real-life castle might be more easily accomplished than you think — we've rounded up some relatively affordable, REAL castles you can rent across the globe.
The Monarch
Welcome to Scotland, where there are castles almost everywhere — including this one dubbed The Monarch, or Lomond Castle. For just $140/night, you get access to an entire ground-floor apartment that sleeps up to four.
You'll find two bedrooms and one bathroom in the space, and the castle is located right off Loch Lomond, meaning you're just steps away from a small beach. Sounds like the ultimate regal getaway to us.
Kilcolgan Castle
We're heading over to Galway, Ireland, to take a look at our next casual holiday home — Kilcolgan Castle. Guests stay in a suite that sleeps up to four with two bedrooms and one-and-a-half baths.
This one is a bit pricier at $491/night, but with two bedrooms and multiple bathrooms, it could easily be split between a few people!
Narrow Water Castle
The next castle on our list is just off the Newry River, and is affectionately known as the Narrow Water Castle. The structure dates back to the 1680s, but has been recently renovated and has all the latest amenities.
For $178/night, you'll get a two-bedroom luxury apartment that sleeps up to six guests. There are two-and-a-half bathrooms as well! You'll find the Narrow Water Castle in Northern Ireland!
Seaside Estate
It's time to head back to Scotland to check out a Seaside Estate! This royal apartment features four bedrooms, three bathrooms, and sleeps up to eight guests. This Edwardian historic castle has been restored but still maintains its original charm.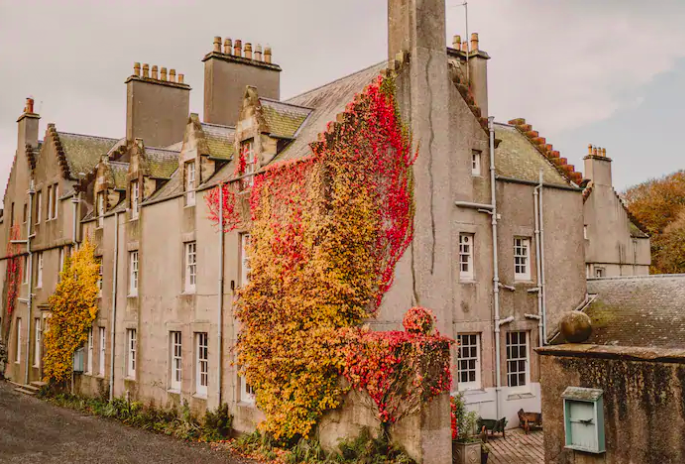 It's $422/night, but depending on how many guests are in your party it could be affordable! You'll be surrounded by two waterfalls, two lochs, and three beaches.
Watermouth Castle
Over in England, Watermouth Castle was fully finished in the mid-1800s, and has been extensively renovated since then. You're located near the water, and have access to a full apartment that sleeps up to six guests.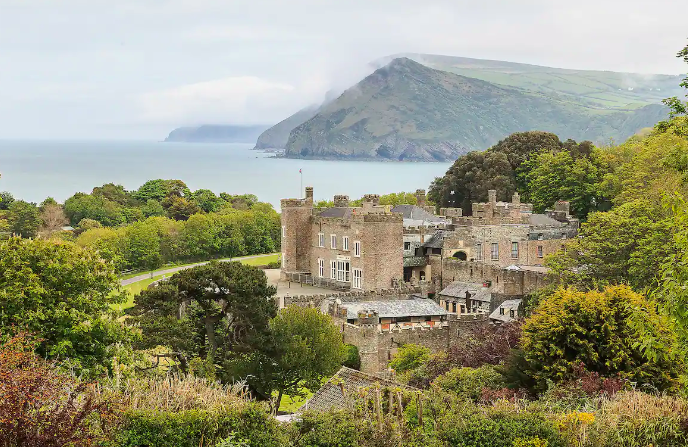 There are three bedrooms and one bathroom, and part of the castle operates as a museum with a Victorian kitchen, musical instruments, a model railway, and an arcade. All that for $149/night!
Caher Castle
Next up on our list is Caher Castle in Galway, Ireland. You don't get quite as much space with this option, but it's one of the oldest castles on our list — it's been standing since the late 1400s.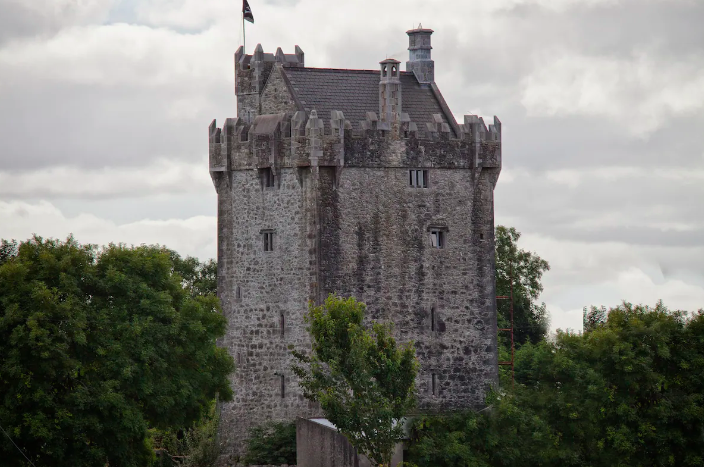 For $173/night, up to four guests can share space in this medieval castle in the primary bedroom, the highest room in the castle. For a true medieval experience, Caher Castle might be the one for you.
Pink Castle
We found a PINK castle in — you guessed it — FLORIDA! On the east coast over in Saint Augustine, you can rent an entire historic castle home. Up to twelve guests can sleep in this place, which makes the $699/night price tag just a little bit more affordable!
There are four bedrooms and four-and-a-half bathrooms, and the 100-year-old Pink Castle features a Billiards and Games room, a "Zen" room, and an office in case you're a workaholic or just need a little space.
The Cave Castle
We found a castle in Canada, too! The Cave is located in New Brunswick, and boasts an impressive 2100 square feet of space. It was built over 100 years ago but has been updated with most of its original details preserved.
The Cave sleeps up to six guests and features two bedrooms and one-and-a-half baths. Don't let its name fool you — the inside is anything but cavelike and has been updated with modern amenities.
So, depending on where you live – you might not be too far away from being able to swing a vacation staying in a REAL castle. From Europe to Canada to the United States, chances are there's a castle closer than you think. And, when all else fails – plan a trip to Disney World or Disneyland to see some of the most iconic castles of all time!
If you are heading to Disney World soon, here are 8 easy mistakes to avoid when planning your trip. Plus, check out a realistic budget for your 2023 Disney World vacation here.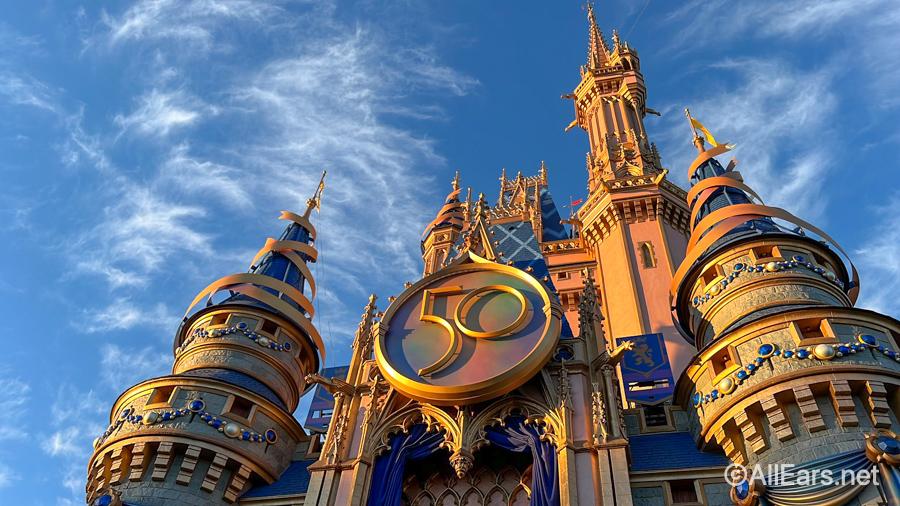 Be sure to stay tuned to AllEars for the latest travel news and more.
Join the AllEars.net Newsletter to stay on top of ALL the breaking Disney News! You'll also get access to AllEars tips, reviews, trivia, and MORE! Click here to Subscribe!

Have you ever stayed in a castle? Let us know in the comments!