Between mishandling THOUSANDS of pieces of luggage, flight delays, cancellations, and other complications, getting from point A to point B via plane might be more trouble now than you'd expect.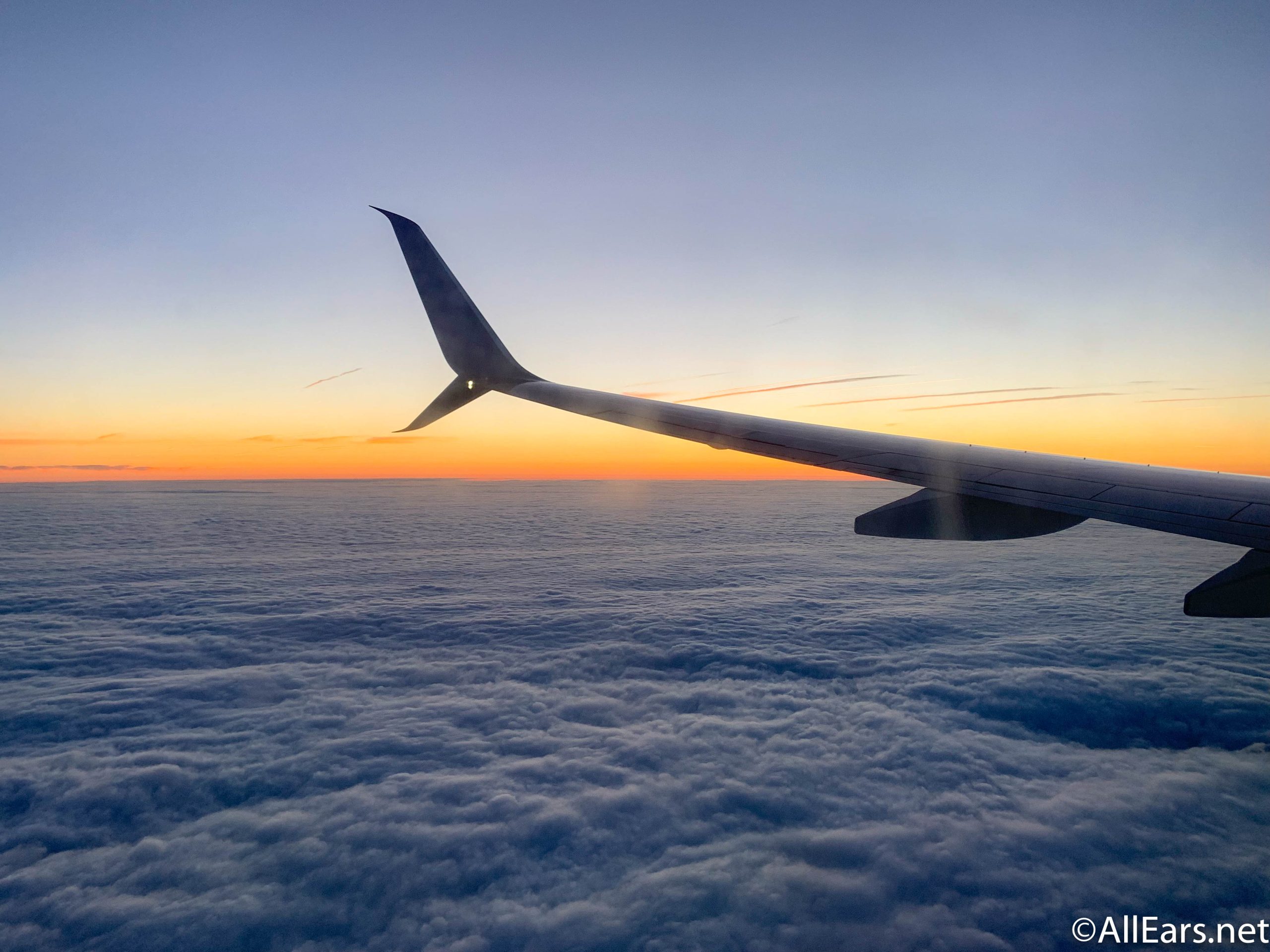 We've already shared a look at what airlines rank the highest for damaged, delayed, stolen, or lost luggage, but what about flight delays and cancellations? Which airlines have the worst record (as of right now) for getting you where you need to be on time? Some data was just released and we've got the info you need to know right here.
Recently, the Air Travel Consumer Report for July of 2022 was released. The report comes from The Office of Aviation Consumer Protection and has been shared by the U.S. Department of Transportation.
The report discusses a number of things including lost luggage, flight delays, oversales, consumer complaints, and more. For this post, we'll be focusing on flight delays.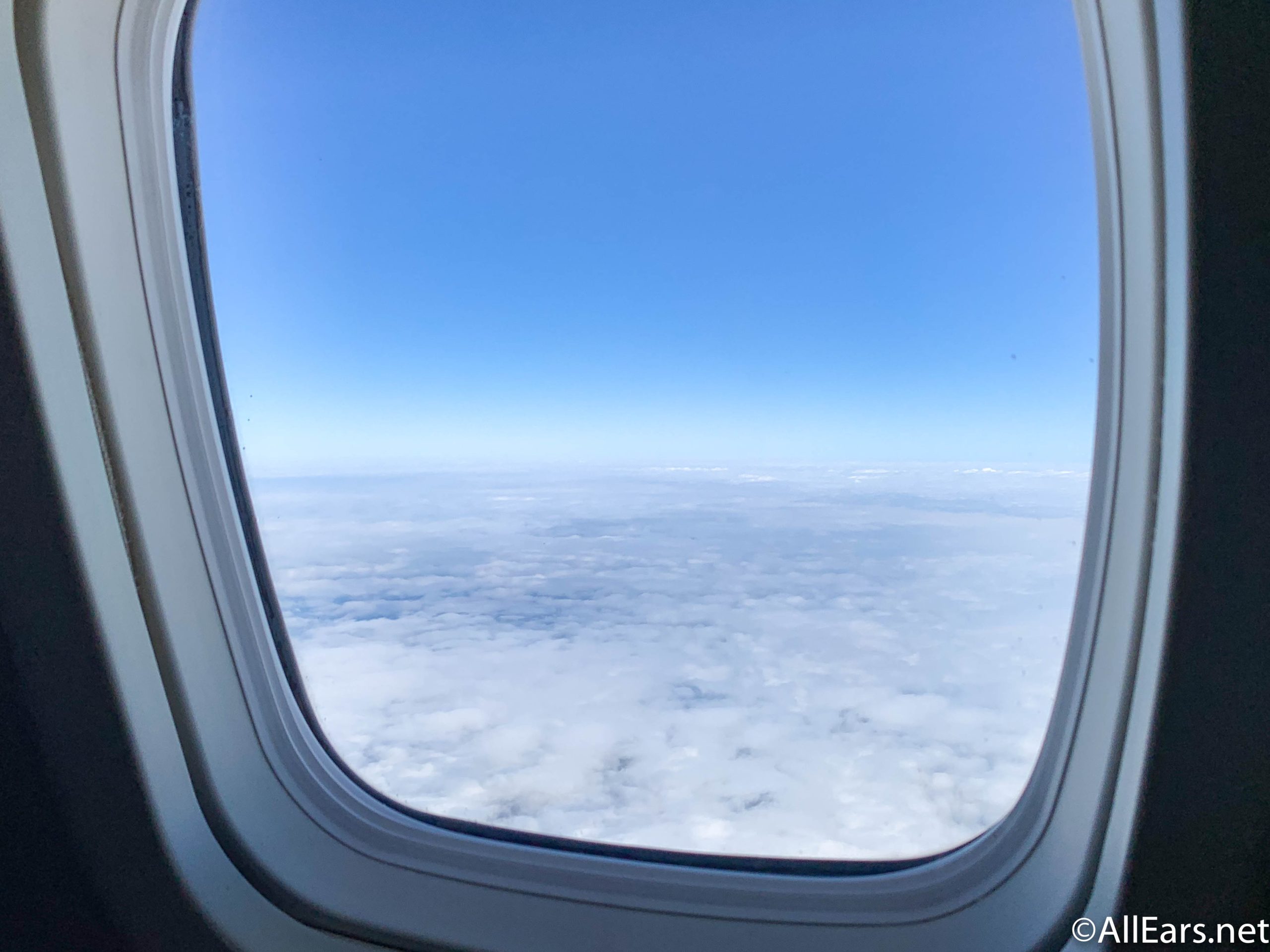 The July report takes a look at flight delays from May of 2022. The section on delays specifically looks at on-time performance, delays, and cancellations, and it's based on data that are filed by the airlines each month with the Department of Transportation.
What counts as "on-time"? According to the Department of Transportation, a flight is "on-time" if it operates less than "15 minutes after the scheduled time shown in the carriers' Computerized Reservations Systems (CRS)."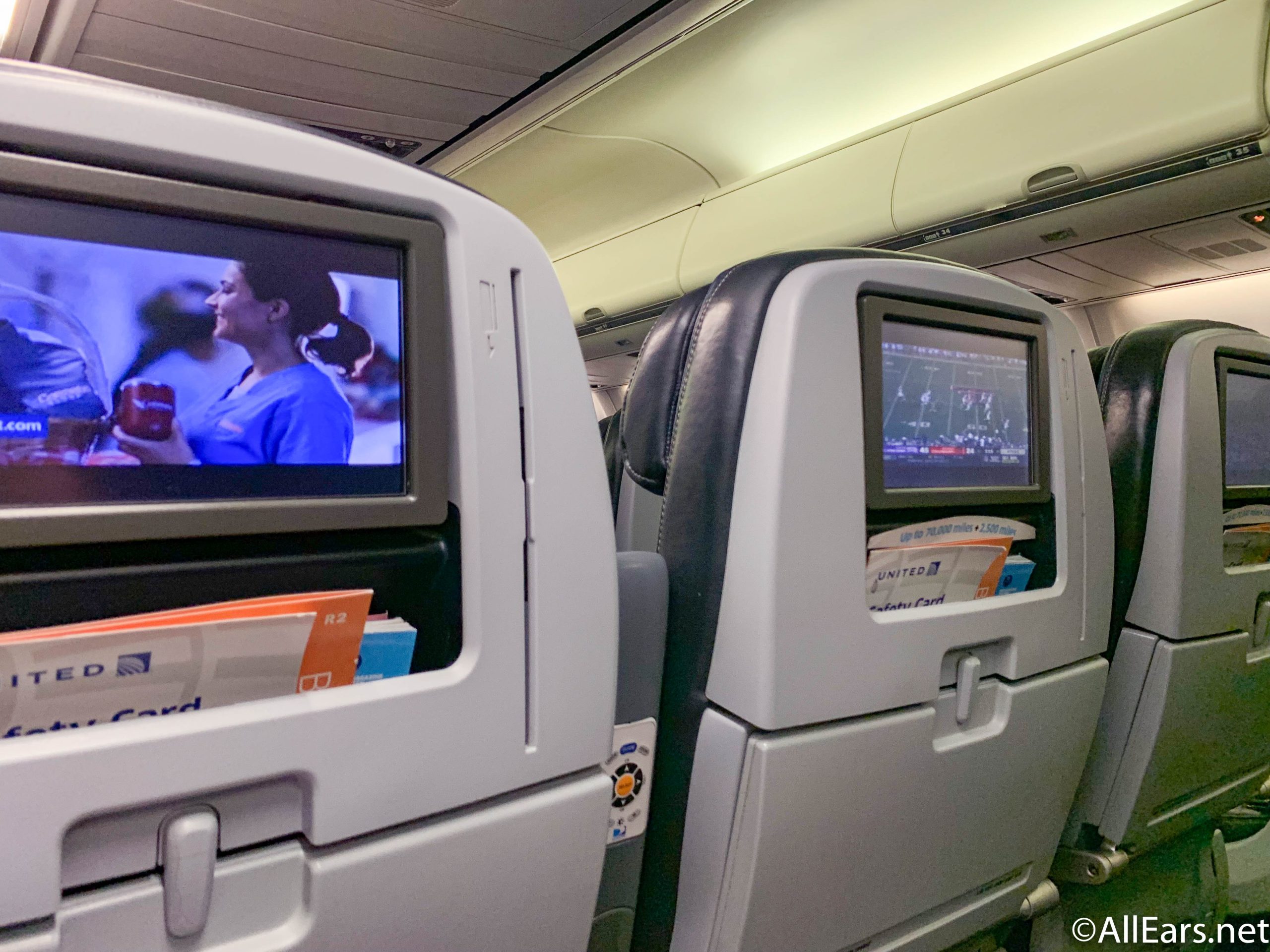 Keep in mind that some airlines have been coupled according to their "main" airline and their branded codeshare partners in some charts.
An operating carrier is the one actually flying the plane, while the marketing carrier is the partner airline that can sell seats on the flights of the operating carrier. That's why you'll see the distinction there.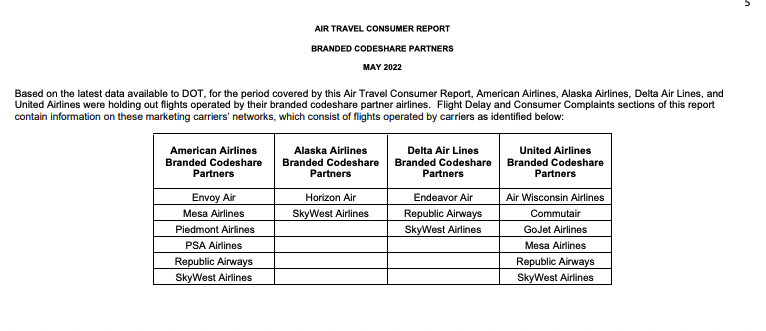 In terms of the overall percentage of flight operations that were reported as on-time by the reporting marketing carrier, Hawaiian Airlines actually ranks 1st with 86% of its flights landing on time. After that was Delta Air Lines and its branded codeshare partners with over 80% of flights having on-time arrivals. That was followed by the Alaska Airlines Network and American Airlines Network.
At the bottom of the group was Frontier Airlines, with an overall percentage of 64.6% of on-time arrivals. Allegiant Air was just above that with 66% of flights arriving on-time, and Spirit Airlines was above that with 68.8% of on-time arrivals.
When we look at the percentages of reported flight operations that arrived on-time by reporting operating carrier (with those branded codeshare partners all split up), things look slightly different. Hawaiian Airlines still takes the top spot, but SkyWest (a branded codeshare partner of United Airlines) takes second.
Delta Air Lines falls to 6th, with Southwest Airlines, American Airlines, United Airlines, JetBlue Airways, Spirit Airlines, and Frontier Airlines all falling under that. Once again at the bottom of the pack is Frontier Airlines.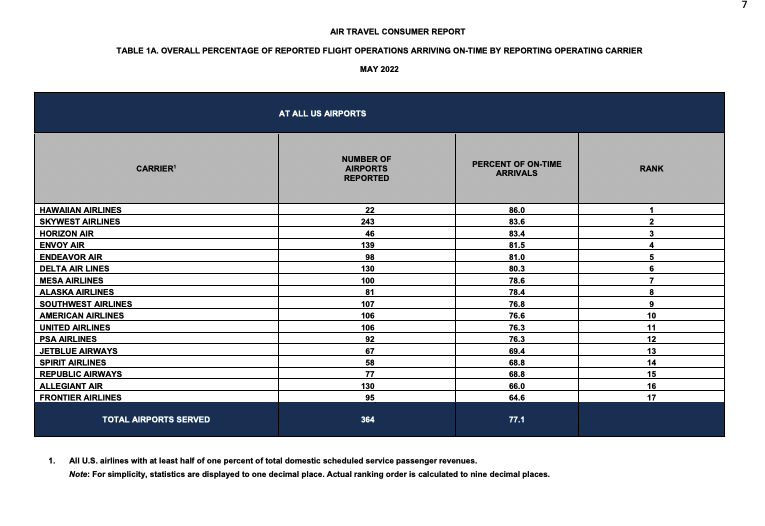 When it comes to flight arrivals by airport, the report showed that the Alaska Airlines Network had 78.3% of on-time arrivals at MCO (Orlando International Airport). Below that was the Delta Air Lines Network with 76.1%, the American Airlines Network with 74.7%, and the United Airlines Network with 74.2%. That's based on the marketing carrier.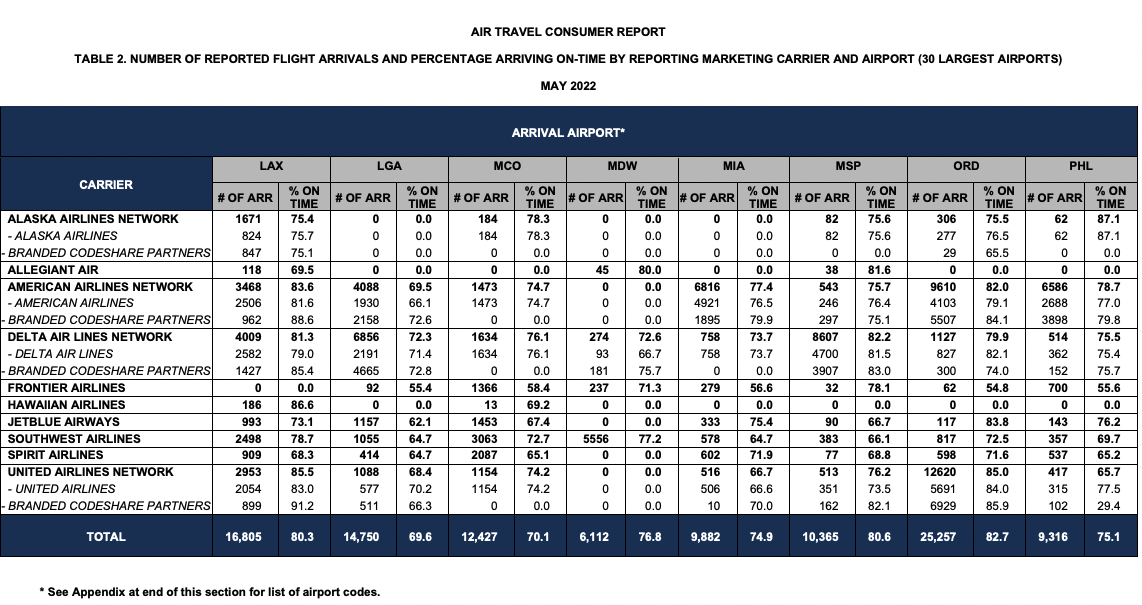 Overall, Orlando International Airport had just over 70% of flights arrive and depart on time based on reporting operating carriers.

What about flight cancellations? Well, the report shows us some info on that too. When divided by reporting marketing carrier, the best airline for May of 2022 was Hawaiian Airlines, with just 0.1 percent of flights canceled in May of 2022. Southwest Airlines was next on the list, followed by Frontier Air Lines and Allegiant Air.
In terms of the worst "offenders," the Delta Airlines Network was one of the "worst" with 2.7 percent of operations canceled. The United Airlines Network was next in line with 2.4 percent of operations canceled, followed by JetBlue Airways with 2.3 percent of operations canceled.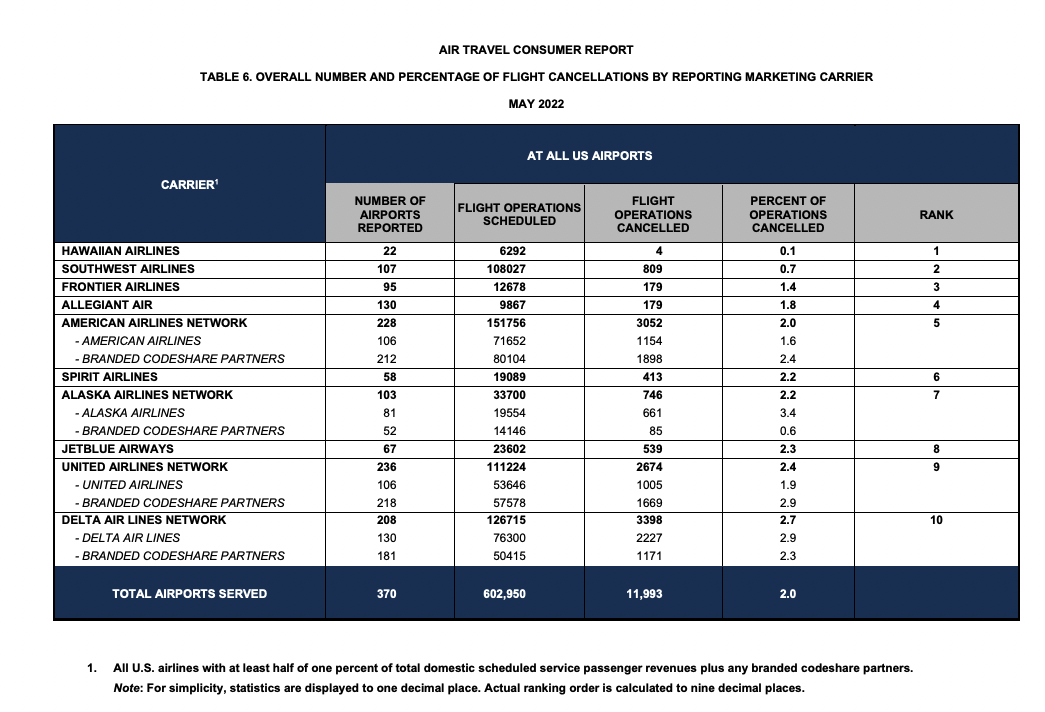 Wondering what's causing the travel delays? Well, it depends. In May, over 70% of flights were on-time. But 7.81% suffered from an air carrier delay (meaning it is something under the airline's control like maintenance, crew problems, etc.). 6.93% of the delays were caused by a late-arriving aircraft (meaning the previous flight with the same aircraft arrived late), and 5.09% were caused by delays with the national aviation system (which includes things like non-extreme weather conditions, airport operations, heavy traffic volume, air traffic control, etc.).
So now that you've seen the data — what should you do? Well, one thing to do is consider this data when booking your flight. If you're between two airlines when picking flights, you may want to opt for the one that has had fewer delays or cancellations (if possible).
If you're already booked on an airline that has had high delay or cancellation numbers, the best thing is to be prepared. Try to make sure you've given yourself plenty of time between connecting flights and lots of time to get from the airport to whatever your ultimate destination is (a.k.a. don't schedule a dining reservation for 30 minutes after your flight is scheduled to land).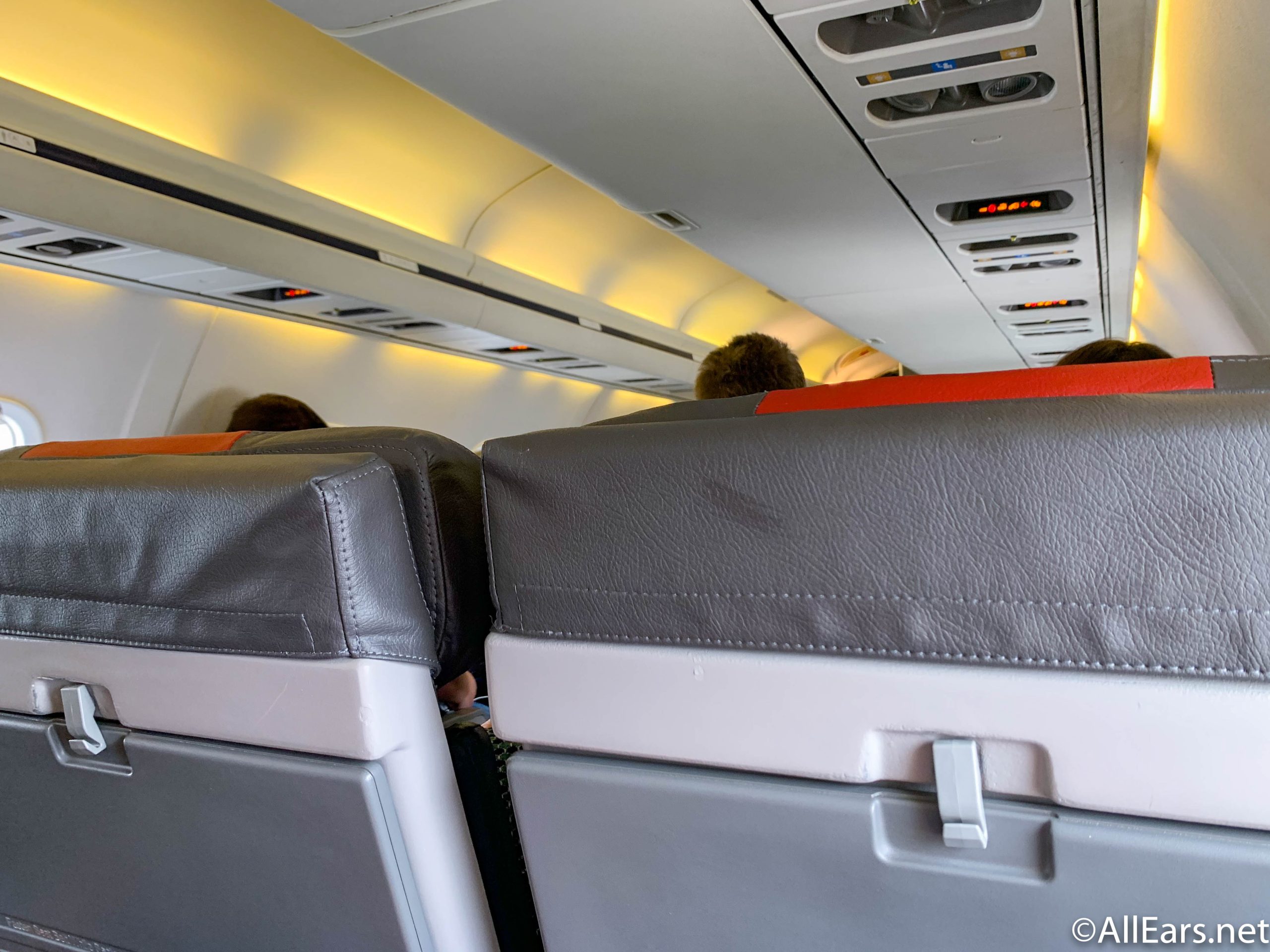 You can also try to get on the earliest flights possible to try and get on before too many delays compile into a big problem, and check your airline for the latest information. Researching whether travel insurance is right for you, downloading your airline's travel app, and being aware of your airline's cancellation and delay policies can also help.
For more travel tips, click here to see the kid-friendly travel snacks you need to take to the airport or click here to learn all about navigating ground transportation when traveling with a baby. Stay tuned for more travel info!
Join the AllEars.net Newsletter to stay on top of ALL the breaking Disney News! You'll also get access to AllEars tips, reviews, trivia, and MORE! Click here to Subscribe!

What is your favorite airline? Tell us in the comments.