DISCLOSURE: This post may contain affiliate links, meaning when you click the links and make a purchase, we receive a commission.
So you have done all of the research, all of the planning, booked your flight, and now it is time for your trip! You made sure to book that flight at an optimal time when your child would either be sleeping or just waking up refreshed, ready to play and giggle.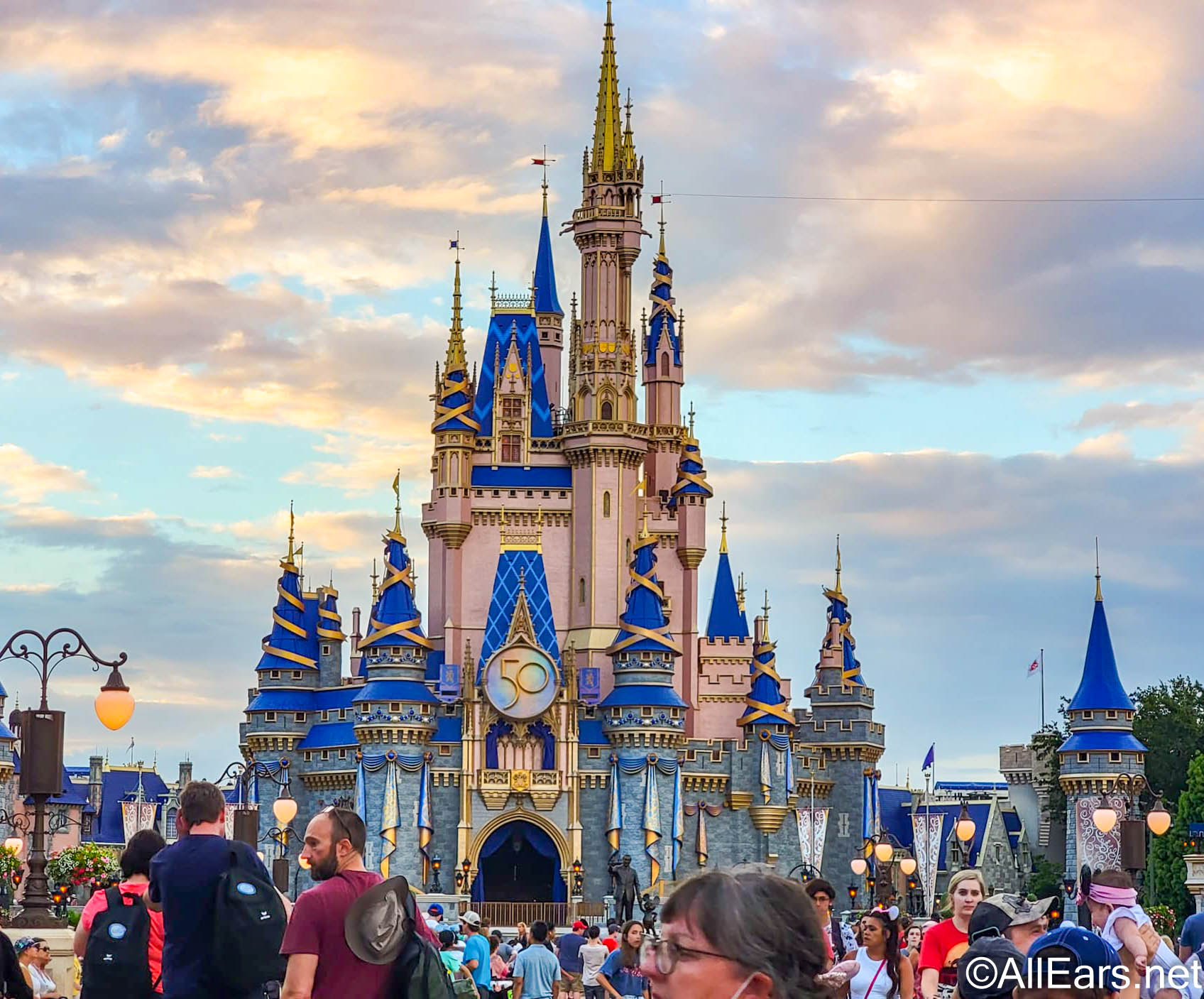 However, anyone who has any experience with kids knows one thing to be true: the unexpected can and probably will always happen, so plan for it. That is where we have you covered! 
Keep that planning momentum going and keep your little one happy with these items and tips to avoid tantrums!
From the time you board that plane to the time you step off of it, you may be on edge hoping with every fiber of your being that your baby holds it together long enough and doesn't have a complete meltdown! Being prepared with snacks, toys, and other activities to keep your kid preoccupied might just be the key to smooth sailing in the sky.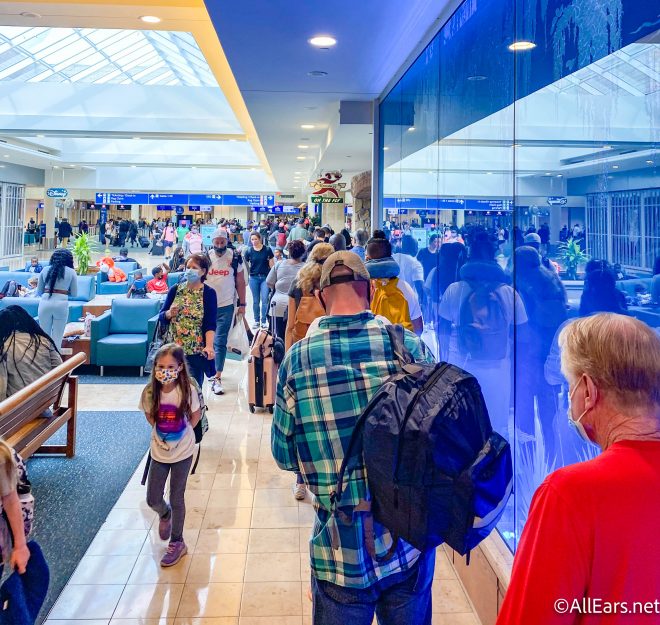 What makes an item better suited than other items when it comes to flying? Obviously making sure it fits the TSA guidelines (for your liquids stick to the 3-1-1 rule), but also think about: 
Compact – you already have a million other things to pack, especially with a young one. There probably won't be enough room for the complete set of Cars characters to be traveling too.  
Lightweight – again your bag is already loaded down, so stick to choices that are lighter and won't make your baggage overweight. Don't forget, you'll most likely be coming back with souvenirs too!
What will create a smaller mess – messes are inevitable, but no need to bring that kinetic sand or finger painting kit, no matter how much your kid loves it. 
Battery operated or needs to be charged – keep that tablet on the charger until the second you get up to board the plane; you know Bluey will be on repeat for both of you guys! If it needs batteries, have back up toys for when the batteries die unless you can find room for 8 AA batteries in your bag or plan on picking some up while traveling.
Noise level – you are on a plane with OTHER people. Be considerate. No karaoke machines or toy cars with loud engine sounds. Bring earphones or headphones for any videos or music they will want to listen to. 
Durability – refrigeration isn't an option (unless you have ice packs for breast milk or formula and got through TSA with them) so stick to non-perishable and resealable snacks (plus you won't have to worry about the snacks going stale!)/
Peanut free – peanuts are allowed on flights, but there may be someone on your flight with a peanut allergy. In this case, there will be an announcement and travelers will be asked to not open any items containing peanuts, so better to just skip them.
With all of those features considered, let's dive into some of our favorite things!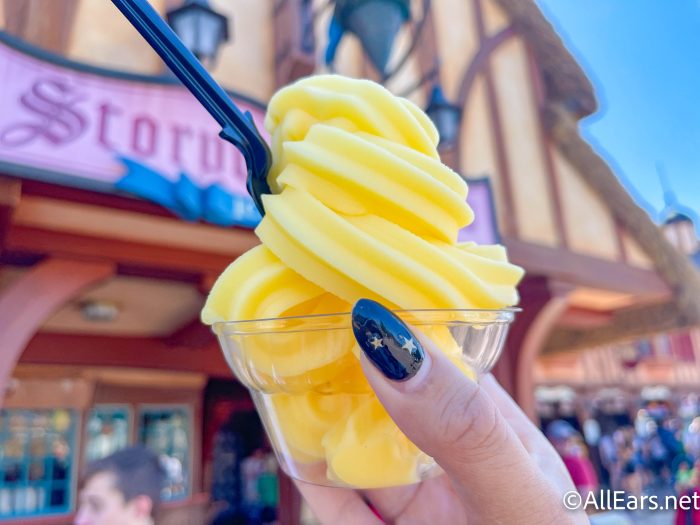 Snacks
We're tackling snacks because food should always come first!
Think about if you want to use your own container or bring prepackaged snacks. If you want to go the container route we have some great suggestions in this article with other items you might want to bring when traveling!
Ensure your kid is still getting a serving of fruit while keeping it clean and not worrying about slices of fruit going bad with these. Plus with the 3.2oz size these fit the TSA 3.4oz rule!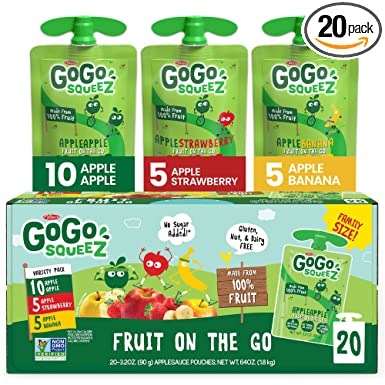 Who doesn't love a Rice Krispies treat! These can also help keep your little one entertained with a place to write a note or draw on the package.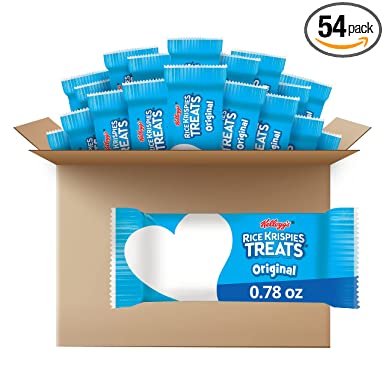 This snack is a healthier alternative to chips (they're baked, not fried) and it is gluten free, peanut free, and tree nut free making it perfect for a flight when a peanut packed snack isn't an option.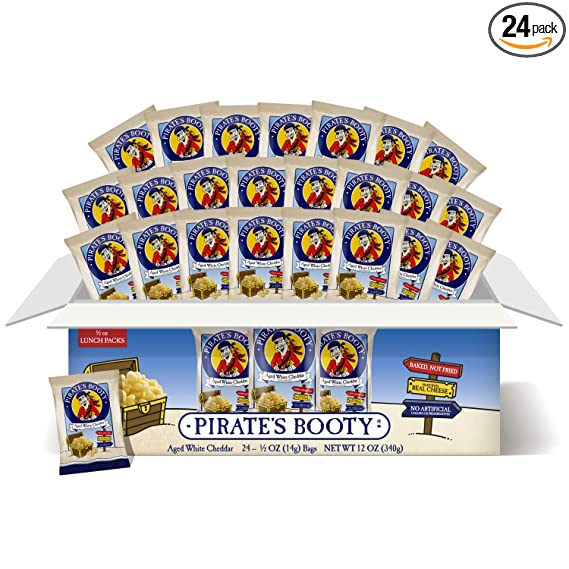 Annie's yummy mix of pretzels, cheddar crackers, and buttery breadsticks are great to go in those snack containers on top of being organic and having wholesome ingredients.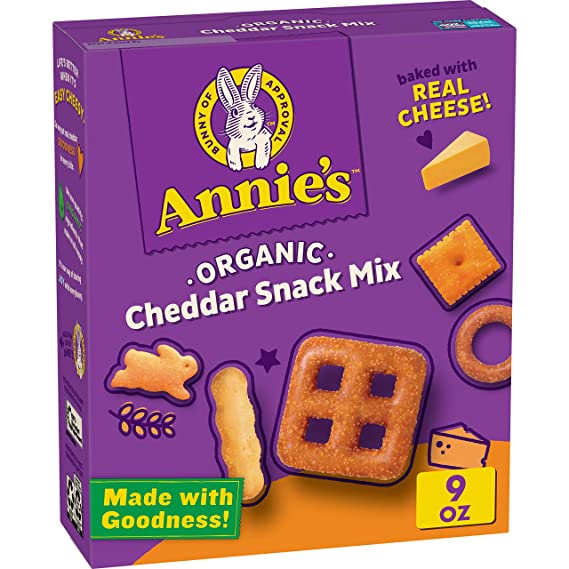 Click here to buy the Annie's Organic Cheddar Snack Mix!
These have been a kid favorite for years. This box offers a variety of 3 flavors (usually a win if you have multiple kids with different tastes): chocolate chip, peanut butter chocolate chip, and oatmeal raisin.  
I love fishes because they're so delicious…need we say more? Get a variety pack with colors, cheddar, or pretzels to keep everyone happy!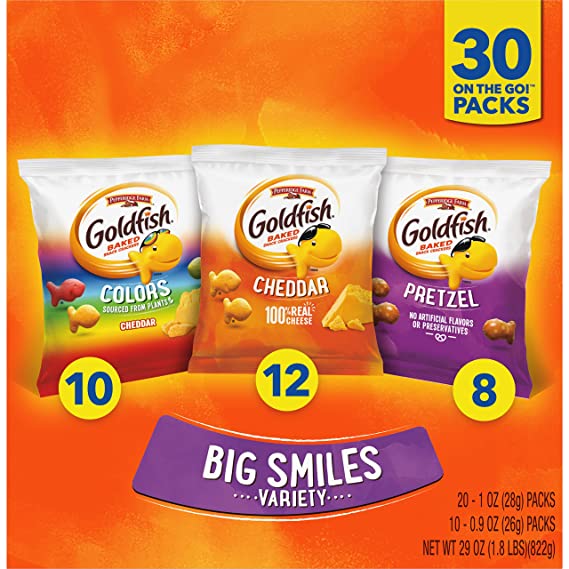 The sweet chewy goodness of this mixed fruit flavor is sure to keep put a smile on your little one's face and keep their tummy happy.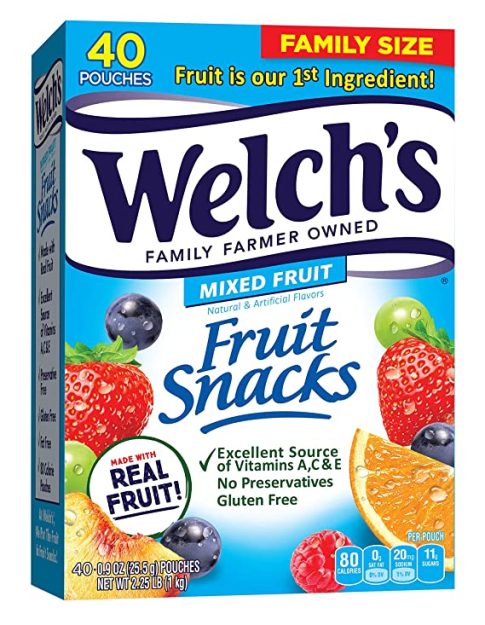 Double duty: snack and activity! Bring a long string or pipe cleaner and create a fun activity while filling a hungry tummy. You can also use Fruit Loops or regular Cheerios.  
Have a kid with a peanut allergy or tree nut allergy? These bars are free from peanuts and tree nuts and are gluten free. In addition to a delicious taste, each bar has a full serving of fruit and vegetables for those caregivers who stress about eating junk while traveling.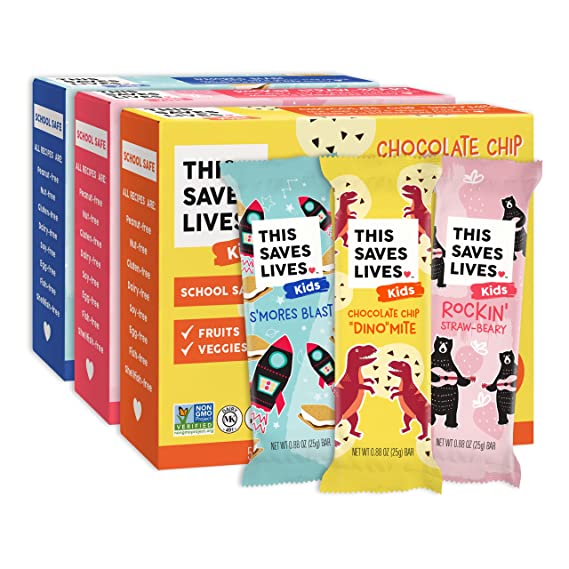 Recommended for 8 months and older, these will keep your little one occupied! There are 2 flavors strawberry apple and banana with whole grains and 5 essential vitamins and minerals with no artificial flavors or sweeteners. A pack includes 4 – 1.48oz of each flavor (8 total).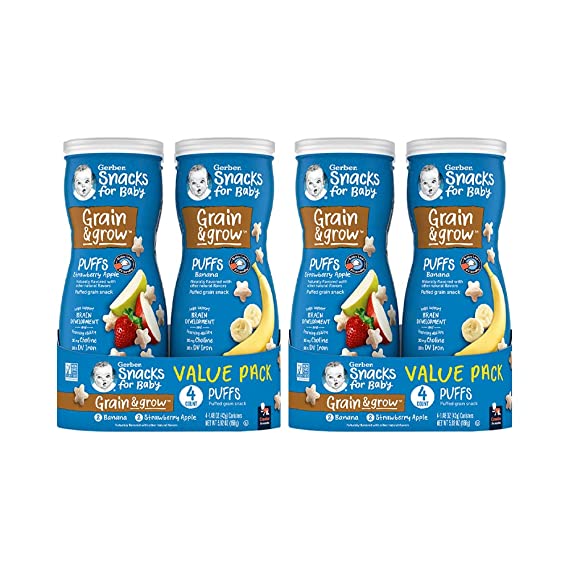 These Gerber treats are recommended for 8 months and older. Made with real fruit and yogurt and no artificial flavors or sweeteners! Your toddler will love grabbing for these.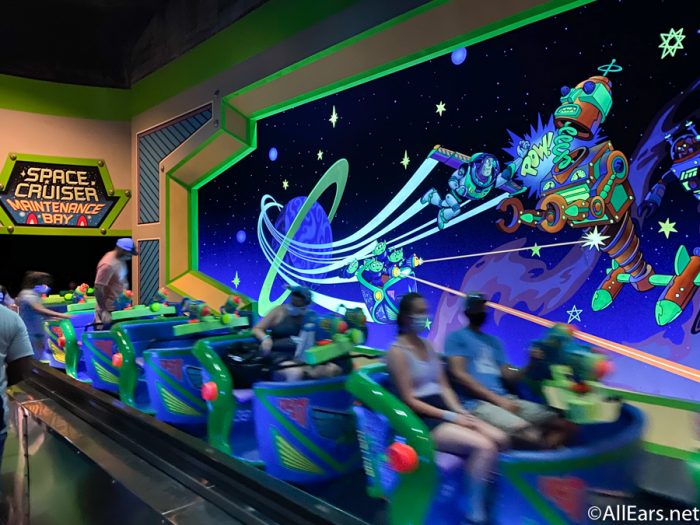 Toys and Activities 
There is a good chance that your little one will get bored or snacking won't be the answer to the fit they are pitching. So the next option is entertainment. 
When you are trying to keep the peace, sometimes that means throwing out the rules of limited screen time! Save the meltdown for the hotel room. A kid- friendly tablet is a must have for a lot of parents out there. This Fire HD 8" tablet comes in a kid-proof case (3 different colors) that is built to withstand bumps and drops.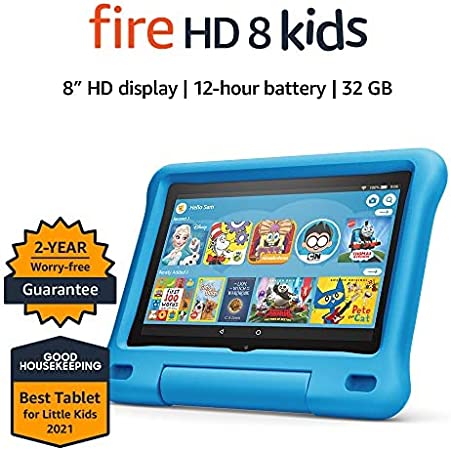 If it does break, there is a 2 year warranty that Amazon guarantees to replace it. Fully charged it can offer up to 12 hours of entertainment with either movies, shows, games, and even some educational options. This can go a long way on a flight!
If you aren't too crazy about your little one being glued to a screen, don't worry here are some other awesome options your kid will love:
Forget worrying about crayons and coloring books; this tablet is basically a mini sketch pad that can be used for drawing, doodling, playing games like tic tac toe, or practicing writing and math. It is waterproof and can stand with the stylus. Let them draw without fear of messes! It also comes in 3 different colors!
These spinners can keep your baby occupied for a while and can be a fun option if you have a window seat!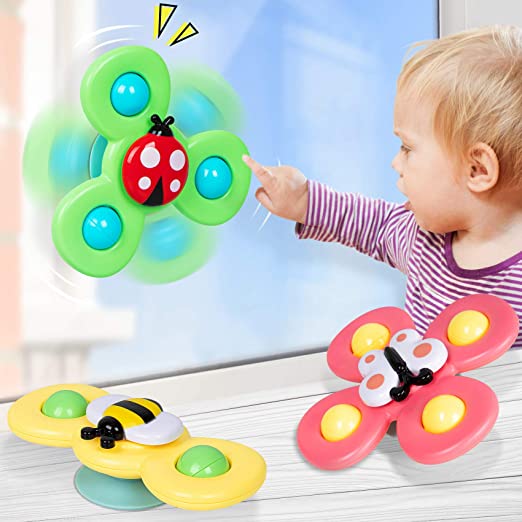 This is small enough to fit in a carry-on bag and yet offers a variety of ways to keep kids entertained! The blocks of different shapes can be played with independently or put through the shape sorter. On the other side of the case, there are crinkly flaps to play with (not too loud) with different pictures and shapes.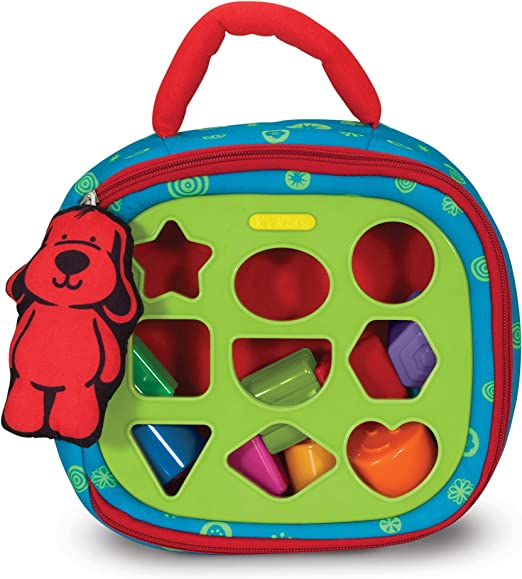 Is your little one starting to learn the alphabet? Keep the learning going and their minds engaged with these alphabet cards. The cards are held together with a ring which makes it travel friendly. On each card, there is a letter with an image that is revealed using the included magic drawing pens filled with water (which you can ask for from flight attendant). The best part is they are reusable!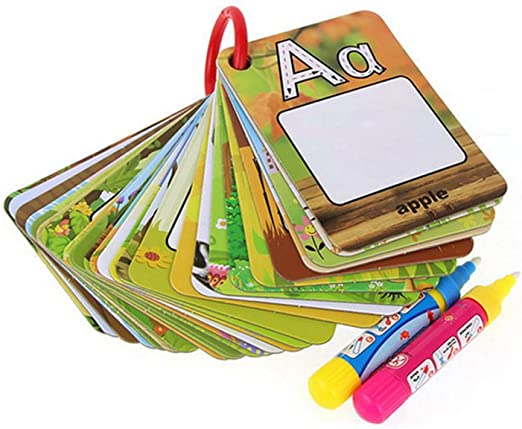 Let your kid's imagination run wild with the unlimited ideas that pipe cleaners can be used to create! This small compact tube comes with 24 sticks and different colors that can make jewelry, stick figures, shapes, or grab an old spice shaker and feed the pipe cleaners in and out of the holes.  You can easily throw these in your bag and don't have to worry about messes or noise.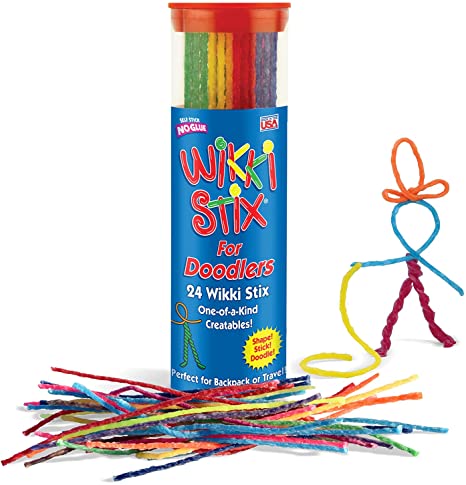 Only a 6 piece set, this minimalistic magnetic block set can make endless creations! The set comes in a felt pouch that is very compact to effortlessly store in a carry on bag and the pouch also keeps the blocks organized and together. Adding these to your packing list each trip will not be a mistake!
Recommended for 18 months and older, the Zippee was designed to help with sensory exploration and fine motor skills while kids have endless amounts of fun. It is made from food grade silicone and easy to clean, so if your baby happens to stick it in their mouth ( it is not a teether, but we all know they love to explore with their mouths!) it won't be hurtful on their gums. With the silicone material, it also easily squishes up in a bag, which is ideal for travel. 
3 magnetic puzzles in one book! The puzzles fold up into the book which is perfect for taking on the go and making sure all of the pieces stay inside. There are 36 pieces in total (12 pieces in each puzzle). The book folds out so your kid can focus on one puzzle at a time or work on all 3. Quiet, organized, and fits great in a backpack or tote makes this item a great choice for a travel buddy!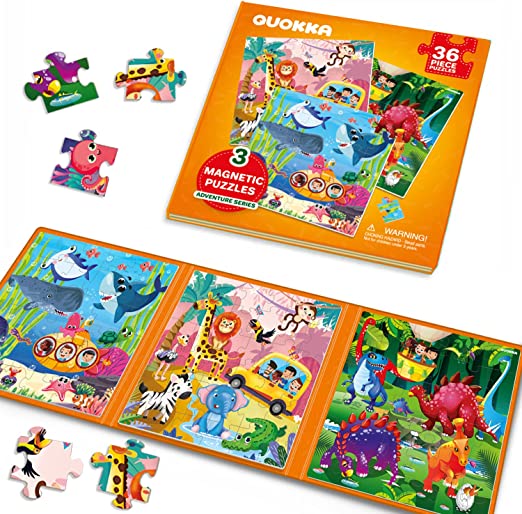 Remember when it comes to flying with a child, anything can happen (just like everyday with a kid). You know your child better than anyone. Do what works for you! Most of our kids travel happier when they are fed and have some stimulation to make the time go by faster, so these are just a few suggestions of products to help that happen!