There are a lot of Marvel Cinematic Universe movies!
They currently have 28 movies, with Doctor Strange in the Multiverse of Madness and Spider-Man: No Way Home being the most recent to hit theaters. They also have a strong lineup of Disney+ original series like Ms. Marvel, Moon Knight, Loki, and WandaVision. There's a lot of Marvel content to catch up on if you don't watch it as it comes out, and we wanna make sure you're as prepared as possible for Marvel's newest movie, Thor: Love and Thunder. The movie hits theaters next month, so here's everything we think you should watch!
Let's go through everything you should watch before you see Thor: Love and Thunder when it comes to theaters July 8th.This list will go from least important to most important, so if you watch at least the first few, you should be good to go!
Thor: Ragnarok
Thor: Ragnarok is a must watch before Thor: Love and Thunder! The 2017 movie was the third installment of Thor movies, and the first to be directed by Love and Thunder director, Taika Waititi. This film was a significant change in tone for Thor, and is one of the Marvel Cinematic Universe's most colorful and funny movies.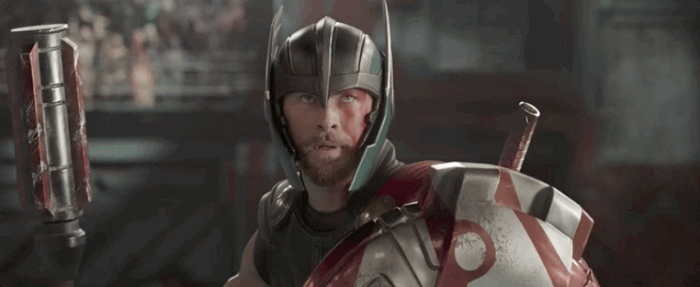 With Waititi directing Love and Thunder, we can expect some of the same humor and levity. This was a huge turning point for Thor's character, and an important watch before the next film. It also introduces Korg and Valkyrie, who we know will appear in Love and Thunder! 
Avengers: Endgame
Avengers: Endgame will likely be very important to Thor: Love and Thunder. This was the last time we've seen Thor, so we're predicting that Love and Thunder will reference the events of this movie and catch us up on where Thor's been. Thor went through a very emotional journey through this film, and we're pretty sure it'll come up in Love and Thunder. 
Endgame is also the biggest MCU event to date, and it's been referenced in nearly every Marvel project that has come out since the movie's release in 2019. Being familiar with this movie is very important for understanding the universe!
Avengers: Infinity War
We would also recommend watching Avengers: Infinity War. Thor has some awesome moments in this movie, like getting Stormbreaker and meeting the Guardians of the Galaxy for the first time. We know the Guardians will be in Love and Thunder, and this is the origin of their relationship!
Thor also experiences a lot of loss in this movie, which have greatly impacted his development as a character, so this is definitely not the one to miss!
Guardians of the Galaxy: Vol. 2
Guardians of the Galaxy: Vol. 2 was the last Guardians movie to be released. While we've seen them since in Infinity War and Endgame, the second movie in their lineup is very important to the dynamics of the group.
Throughout this movie, we see the Guardians bond and grow as a group, and because we'll be seeing them in Love and Thunder, it's nice to know which events created their dynamic.
Thor: The Dark World
Okay, we'll admit it. We don't like the first two Thor movies as much as Thor: Ragnarok, but these movies still set up important aspects of Thor's story. The Dark World in particular shows important moments in Thor's relationships with Jane Foster and Loki.

Natalie Portman will be returning as Jane Foster in Thor: Love and Thunder, and The Dark World was the last time she was in the MCU, so we're excited to see what she's been up to all this time!
Thor
If you haven't seen the first Thor movie, it shouldn't be too detrimental to your understanding of Thor: Love and Thunder, but it's still important to Thor's storyline!
This movie is where we meet Thor, Loki, Jane, Odin, and more, and with Marvel, you never know when they're gonna throw in a deep cut reference from another movie.
The Avengers
Apart from being one of the most iconic Marvel movies of all time, The Avengers has some huge moments between Thor and Loki! The brothers are pitted against each other as the Earth's Mightiest Heroes defend New York City from an alien invasion.
This movie is also the first time Thor meets Captain America, Black Widow, Iron Man, and the Hulk (he had a brief run-in with Hawkeye in the first Thor movie.) Most notably, Thor's relationship with Bruce Banner, a.k.a. the Hulk, which was central to the story in Thor: Ragnarok, started here.
Guardians of the Galaxy
If you want to know how all of the Guardians of the Galaxy met before seeing them in Thor: Love and Thunder, then 2014's Guardians of the Galaxy is the place to go. This is the origin movie for the unlikely bunch, and a super fun watch.
The Guardians of the Galaxy have such a fun, found family dynamic, and this movie explains how they all met!
Loki
2021's Loki series, which premiered on Disney+, takes place pretty separately from Thor's story. In this series, Loki from 2012 wrongfully uses the Tesseract to time travel and is caught by the Time Variance Authority, or the TVA. The rest of the series is pretty contained, and while the end of the series has huge implications for the future of the MCU as a whole, we're not sure if any of it will come up in Love and Thunder. 
The Love and Thunder characters would have no idea about the events of Loki because their Loki is a different Loki from the one in the show. Pretty straightforward, right? From what we've seen in the trailers, Thor: Love and Thunder doesn't seem to have any multiverse or TVA implications, but if you love the character, it's still worth watching!
Team Thor and Team Daryl Shorts
The Team Thor and Team Daryl shorts are just fun! That's all! They're super funny shorts that you can find on Disney+, and they have a similar humor to Waititi's Thor.
If you love Thor, then these are a super fun watch, but it is very very unlikely that these will have any major effects on Thor: Love and Thunder.
Those are all of the movies, shorts, and shows you should watch before seeing Thor: Love and Thunder! Again, these are ranked from least to most important, so if you only get through the first few, you should still be able to understand Love and Thunder! Stay tuned to AllEars for more Marvel updates!
Join the AllEars.net Newsletter to stay on top of ALL the breaking Disney News! You'll also get access to AllEars tips, reviews, trivia, and MORE! Click here to Subscribe!

Which is your favorite movie on this list? Let us know in the comments!