It's officially Christmas week, and that means that guests are flocking to Disney World for the holiday season!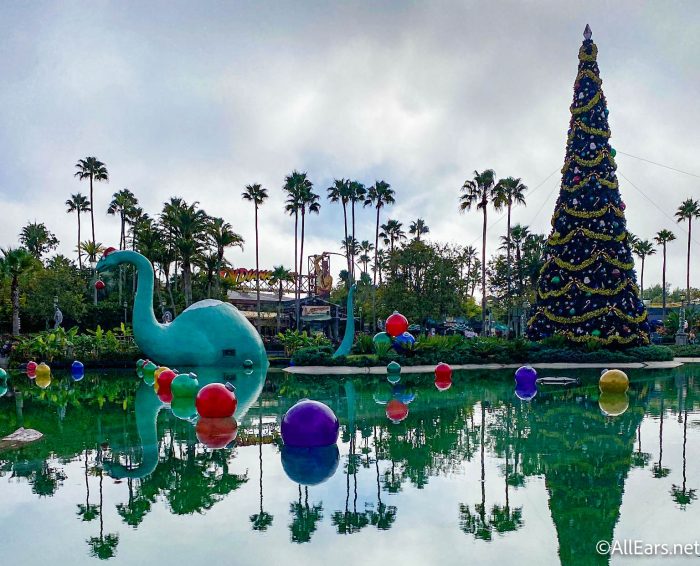 Many people around the country (and the world) have a few days off of work to celebrate, and they're spending that time at The Most Magical Place on Earth to check out special snacks, holiday decor, unique entertainment, and festive "magic" all around. You may be wondering what the crowds look like during such a popular week, so don't worry — we've got you covered!
Monday
Starting off on Monday, December 20th, let's see what things are like around Disney World.
Magic Kingdom
Let's kick things off in Magic Kingdom, the park known for its shoulder-to-shoulder crowds during the holidays. Things were already busy when we arrived this morning, with guests lining up at the entrance.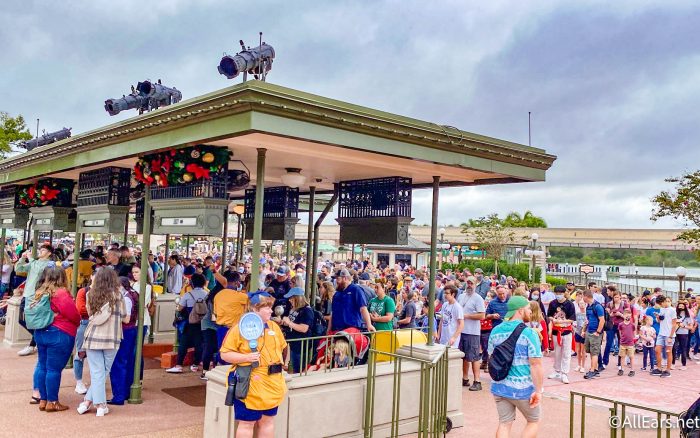 Once we got on Main Street, U.S.A., things weren't much better. It was already really packed early in the morning!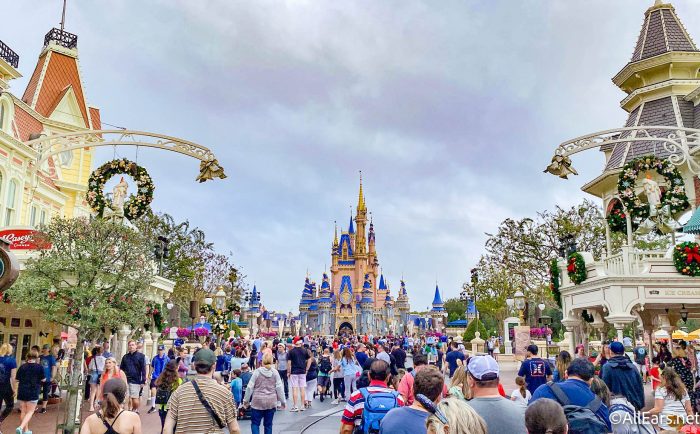 Just see how many guests are crowding the castle hub! You may have to wait until later in the day to get those Cinderella Castle pics.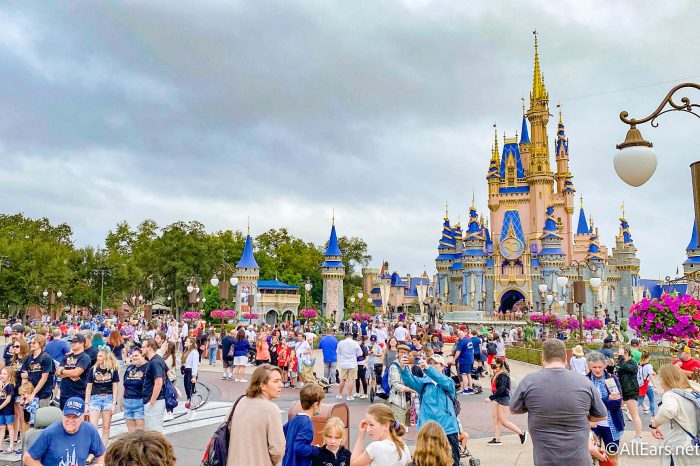 The other lands around the park were feeling the crowds as well. Even though it's December, the line was packed for Splash Mountain. Guess people don't mind getting wet when it's a cloudy 75 degrees out!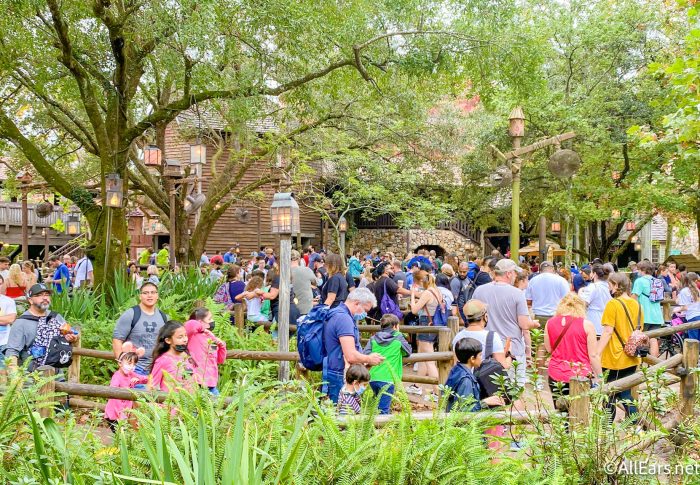 Fantasyland is typically one of the places that get the most bottlenecks in the park, and today we found that to be VERY true. It gets incredibly "snuggly" when you're in between Peter Pan's Flight and "it's a small world" so make sure to be aware of your surroundings when walking through here.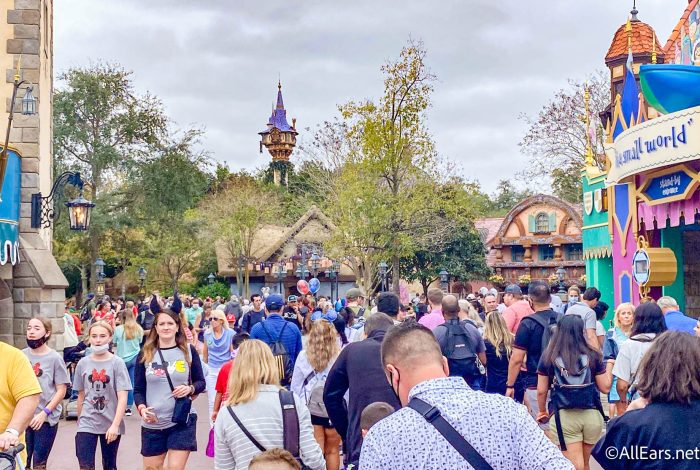 Hollywood Studios
Over at Hollywood Studios, we ran into a similar issue. While it wasn't as busy as Magic Kingdom, Hollywood Boulevard was still full of guests early in the AM.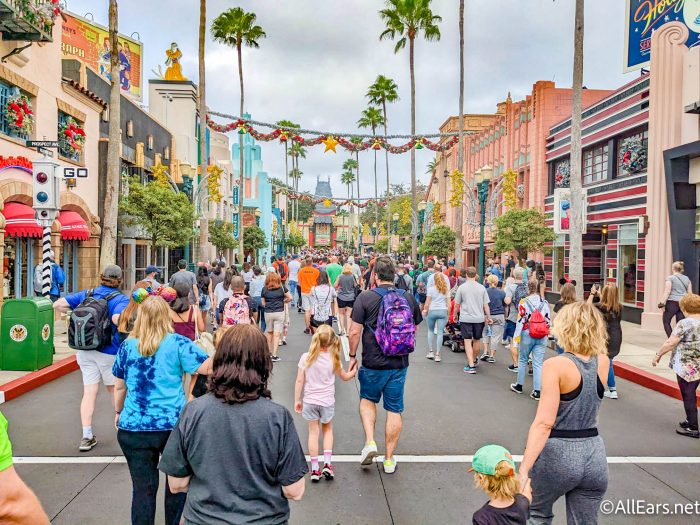 Mickey & Minnie's Runaway Railway was pretty popular right off the bat!
And we hope you weren't planning on grabbing coffee this morning. The lines at the Joffrey's stands AND at the Starbucks location were all pretty long.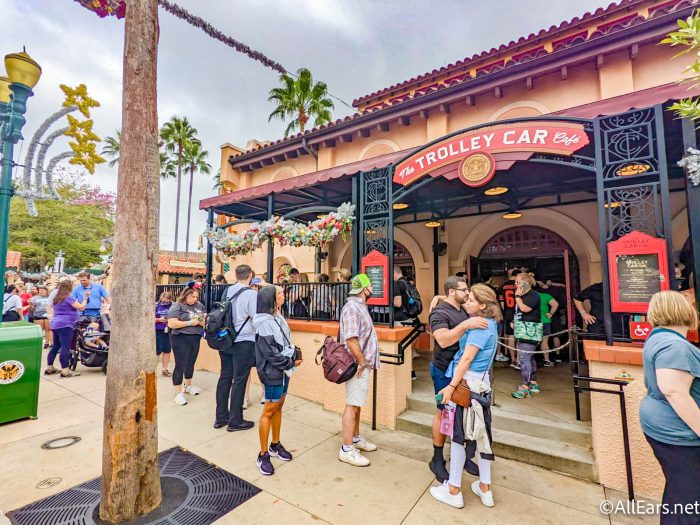 In general, we just encountered large groups of people everywhere we went. If you're visiting this week, make sure to pay attention to where you're walking.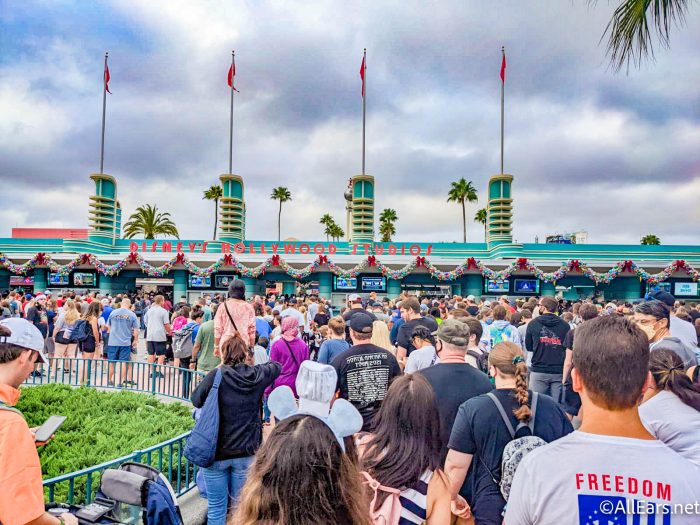 Tuesday
Wondering what things were like on Tuesday, December 21st? Well, it was quite the rainy day in Disney World, which had an impact on crowd levels. Here's what we saw.
Magic Kingdom
On Main Street, U.S.A. the rain had thinned out some of the crowds, giving guests a bit more space to walk around. Just be sure to watch your step — it's slippery out there!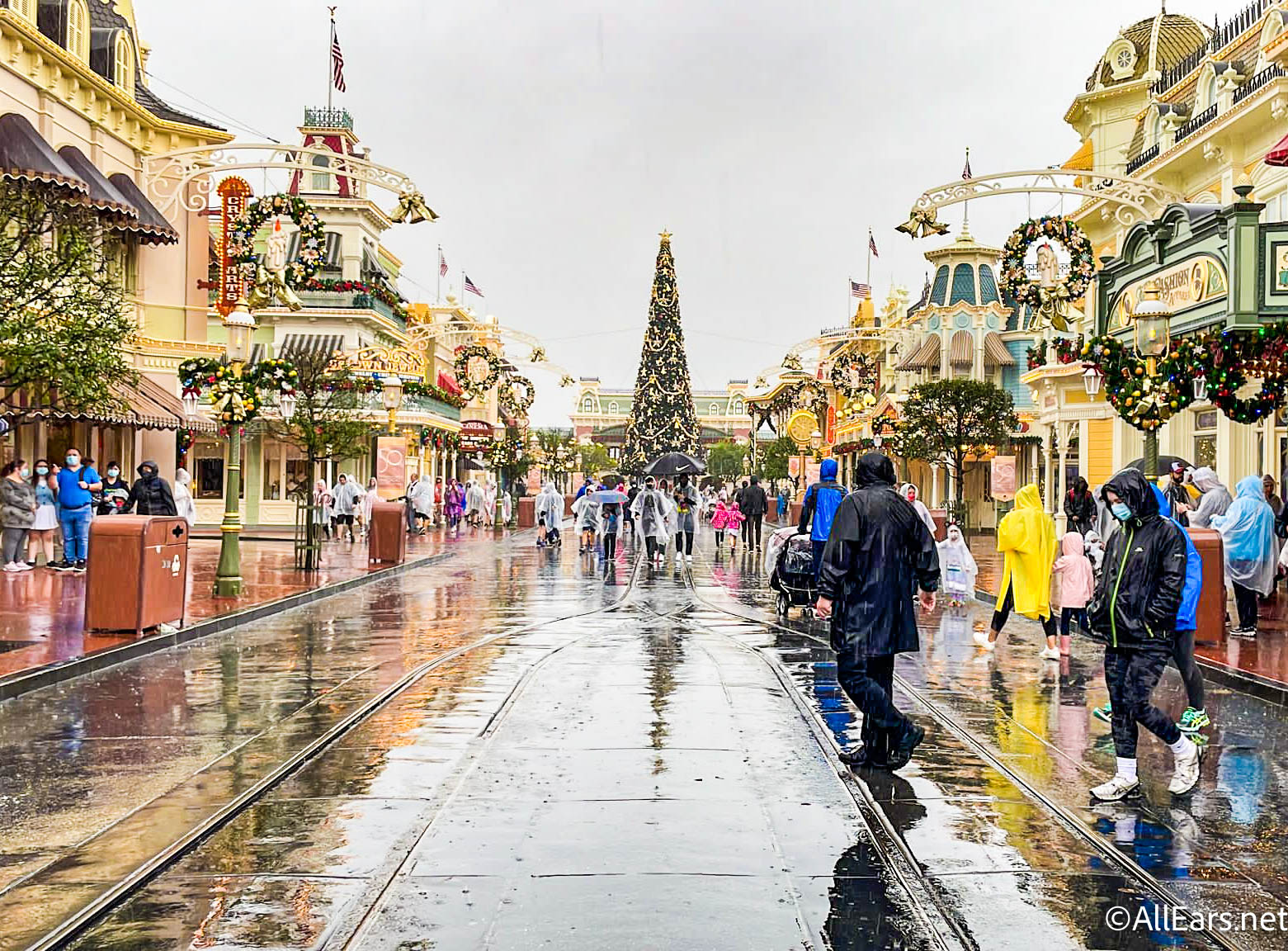 While the crowds on Main Street weren't bad…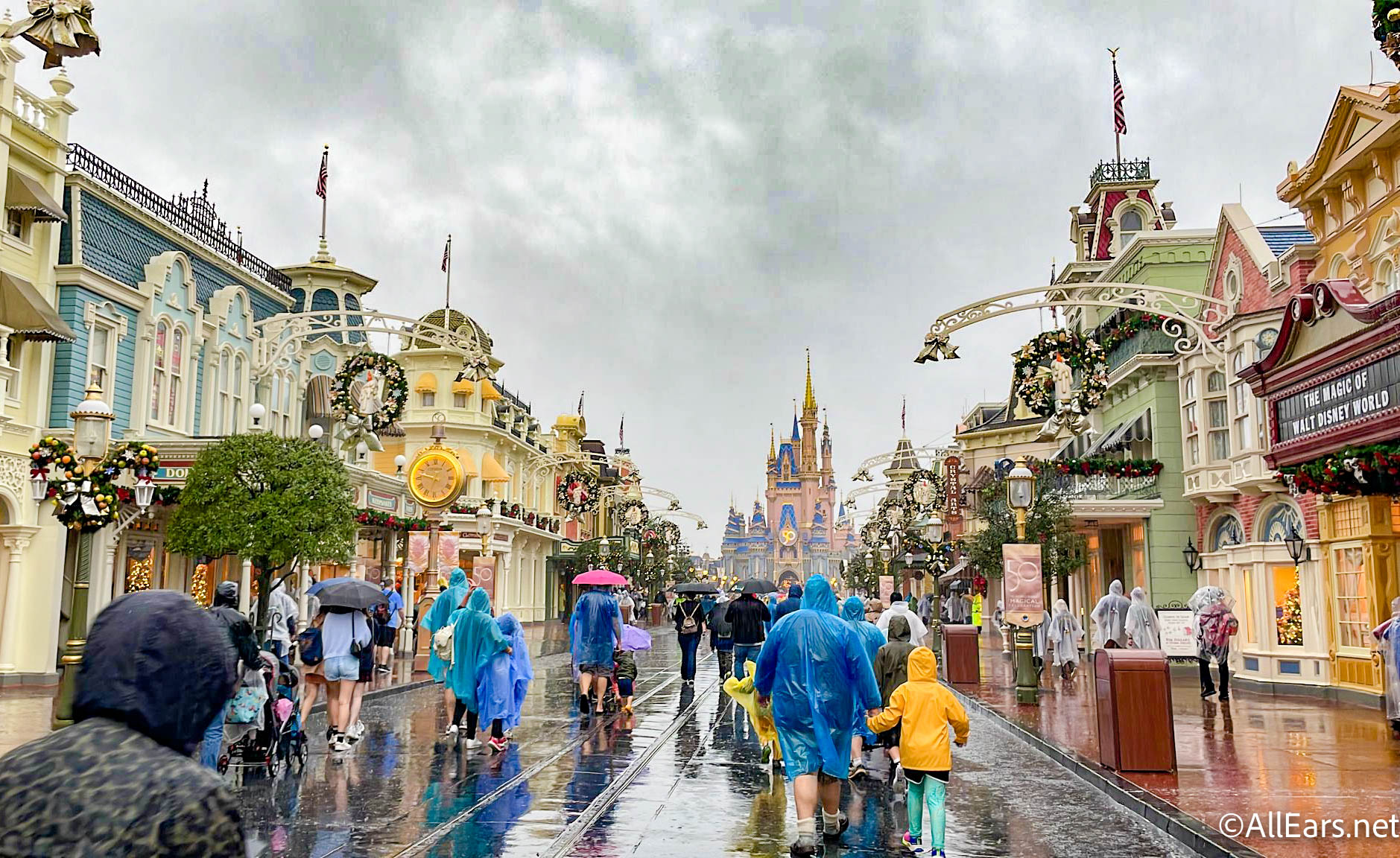 …we did see more people in other areas of the park, like over in Adventureland…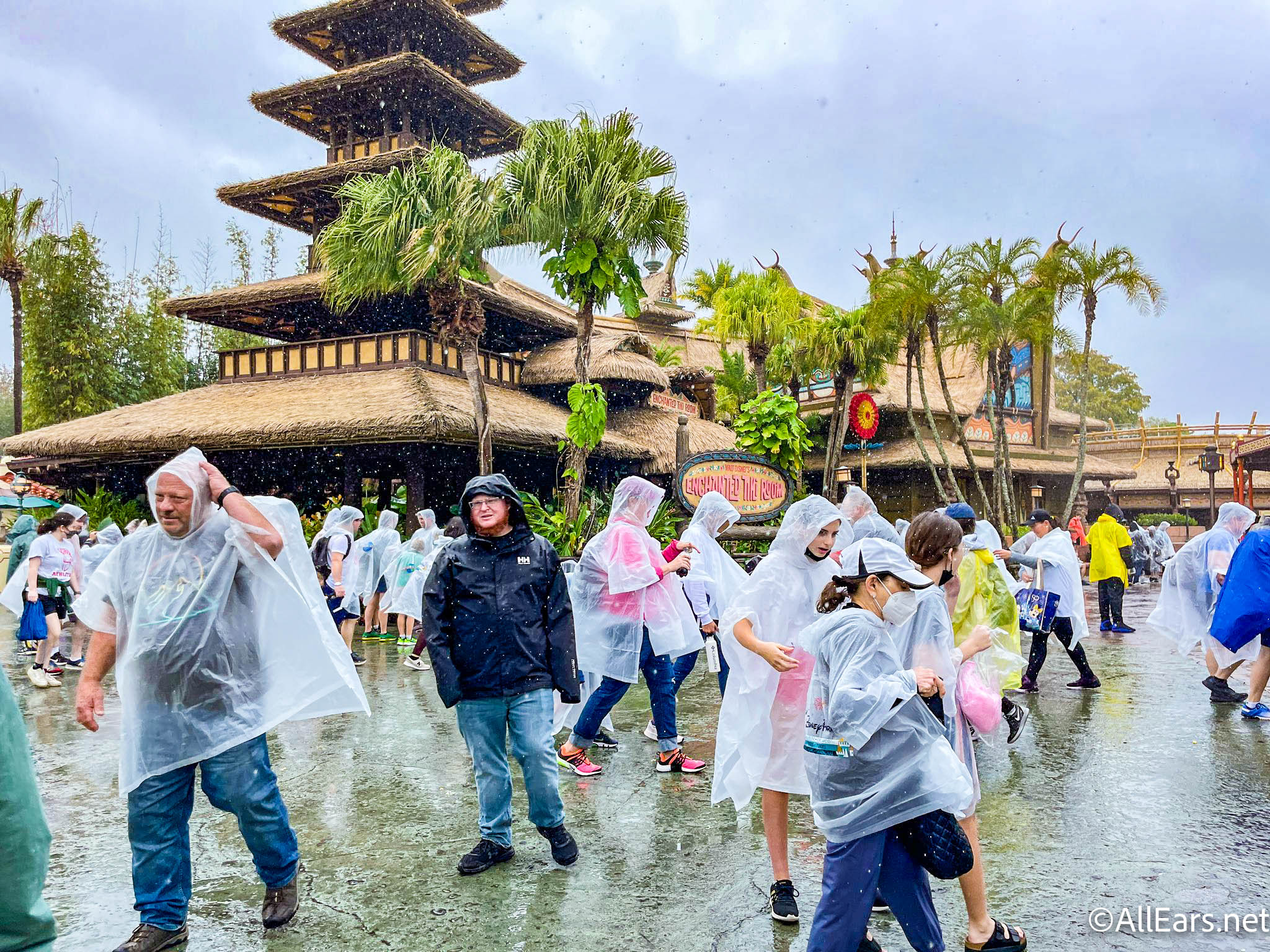 …and Fantasyland.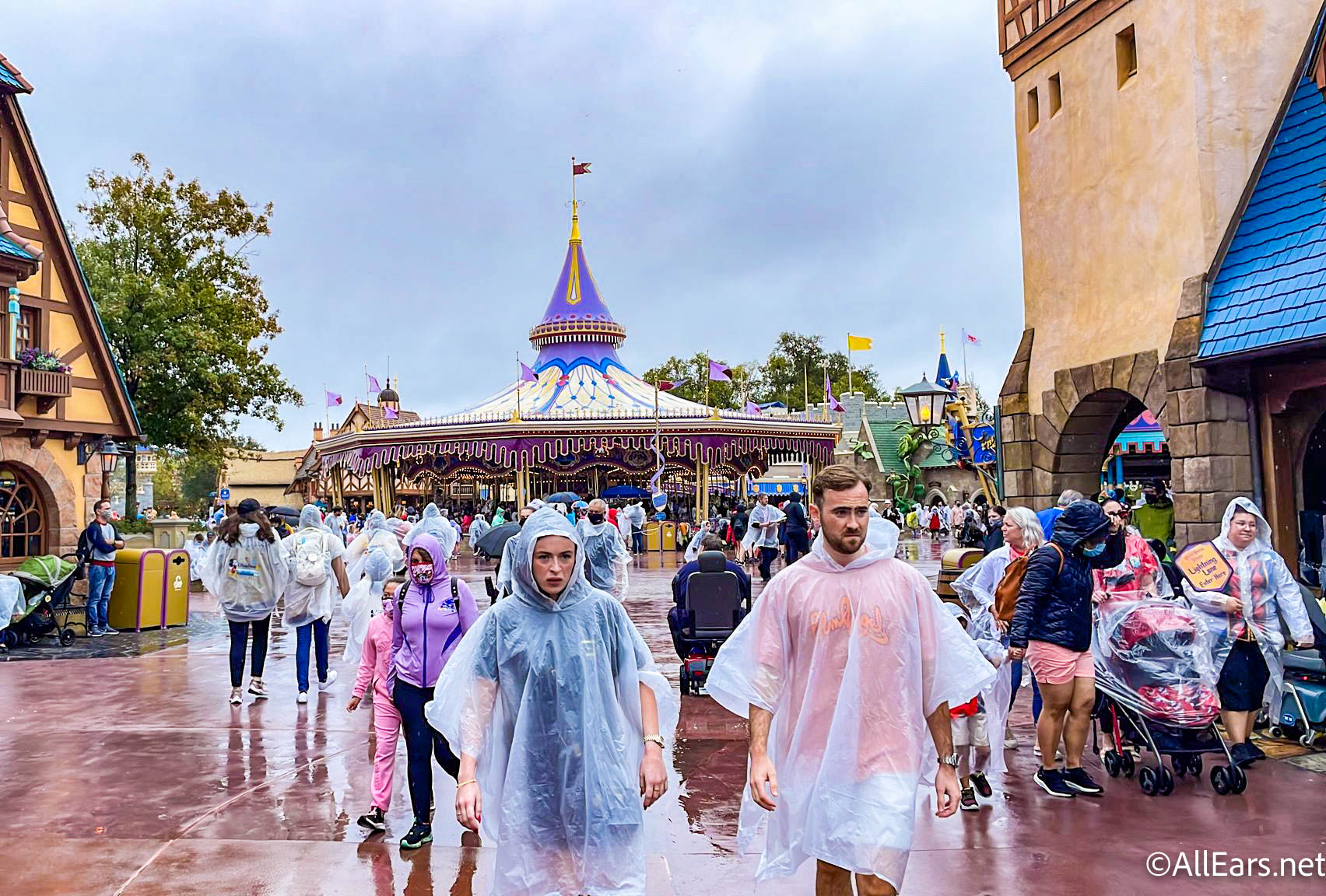 There were also some more people over in Frontierland.
The rain did seem to thin out those crowds pretty substantially in some parts, so if you will be visiting Disney World during a busy time when rain is expected, be sure to pack that poncho so you can stay in the park and continue to enjoy the rides and snacks!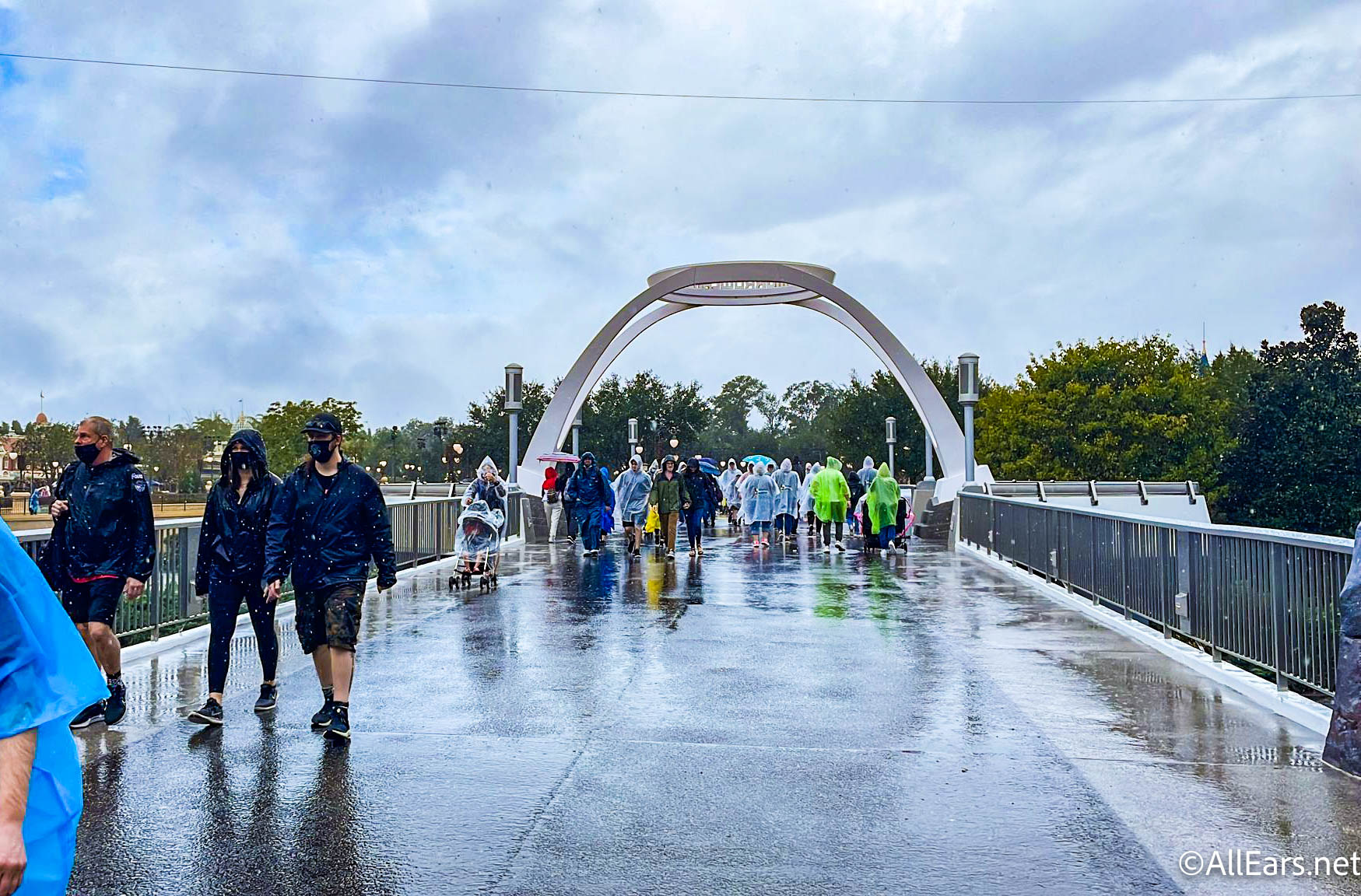 Hollywood Studios
Over at Hollywood Studios, the crowd levels varied depending on where you were in the park. Over at Star Wars: Galaxy's Edge, there were some substantial crowds — no surprise!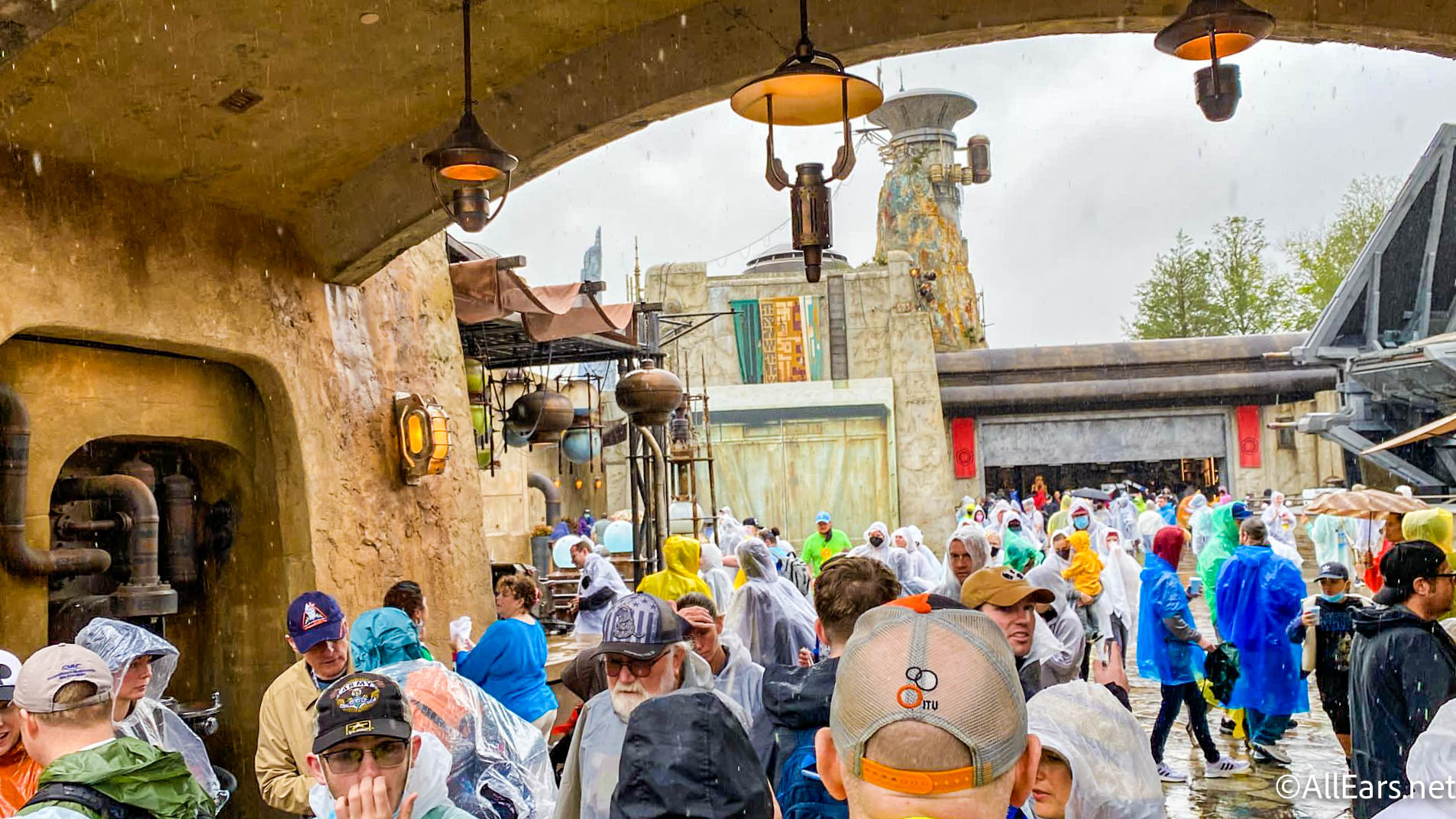 But even in this area, there were some spots with more pockets of empty space.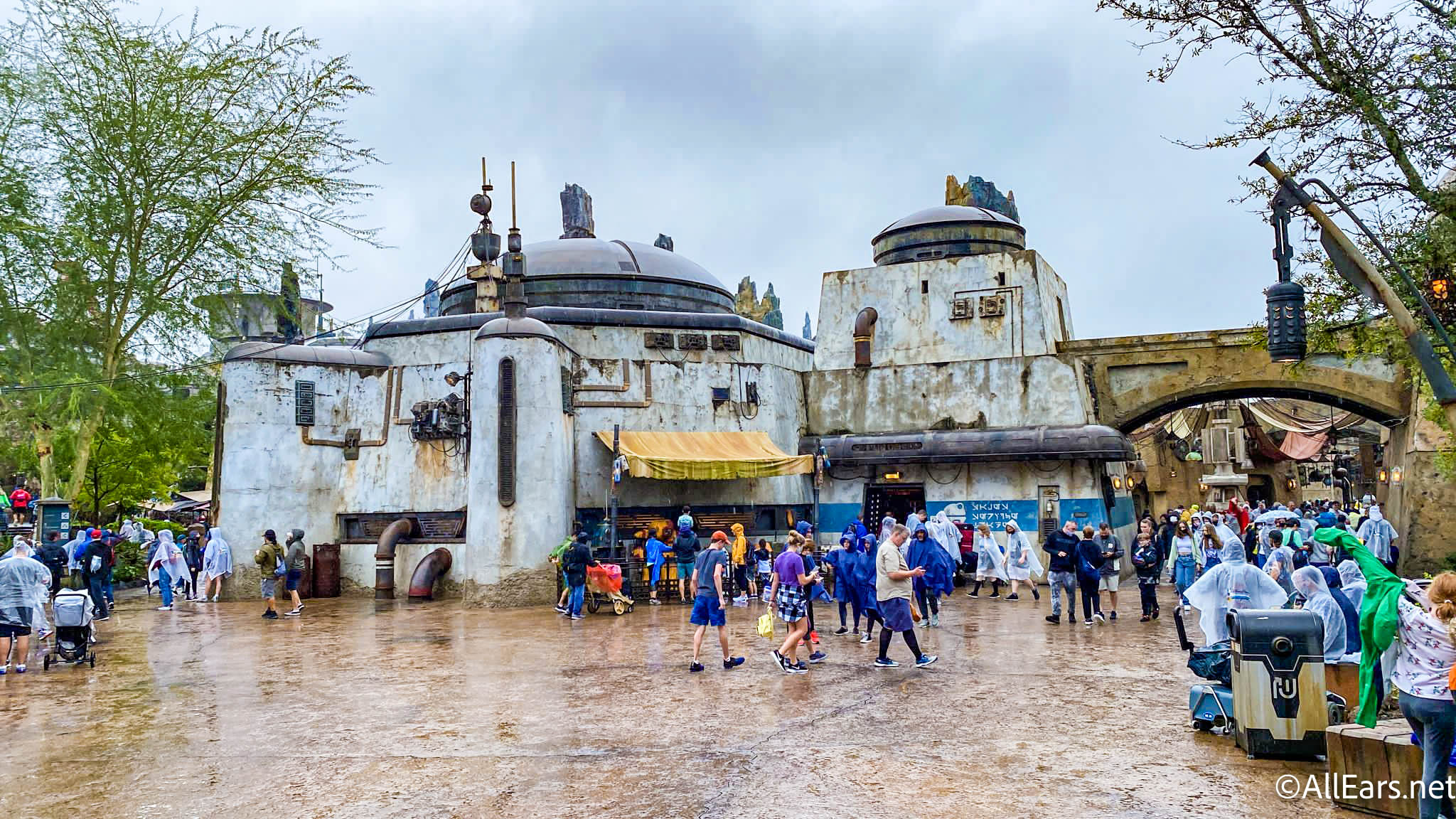 Elsewhere in the park, we found ourselves surrounded in a sea of ponchos.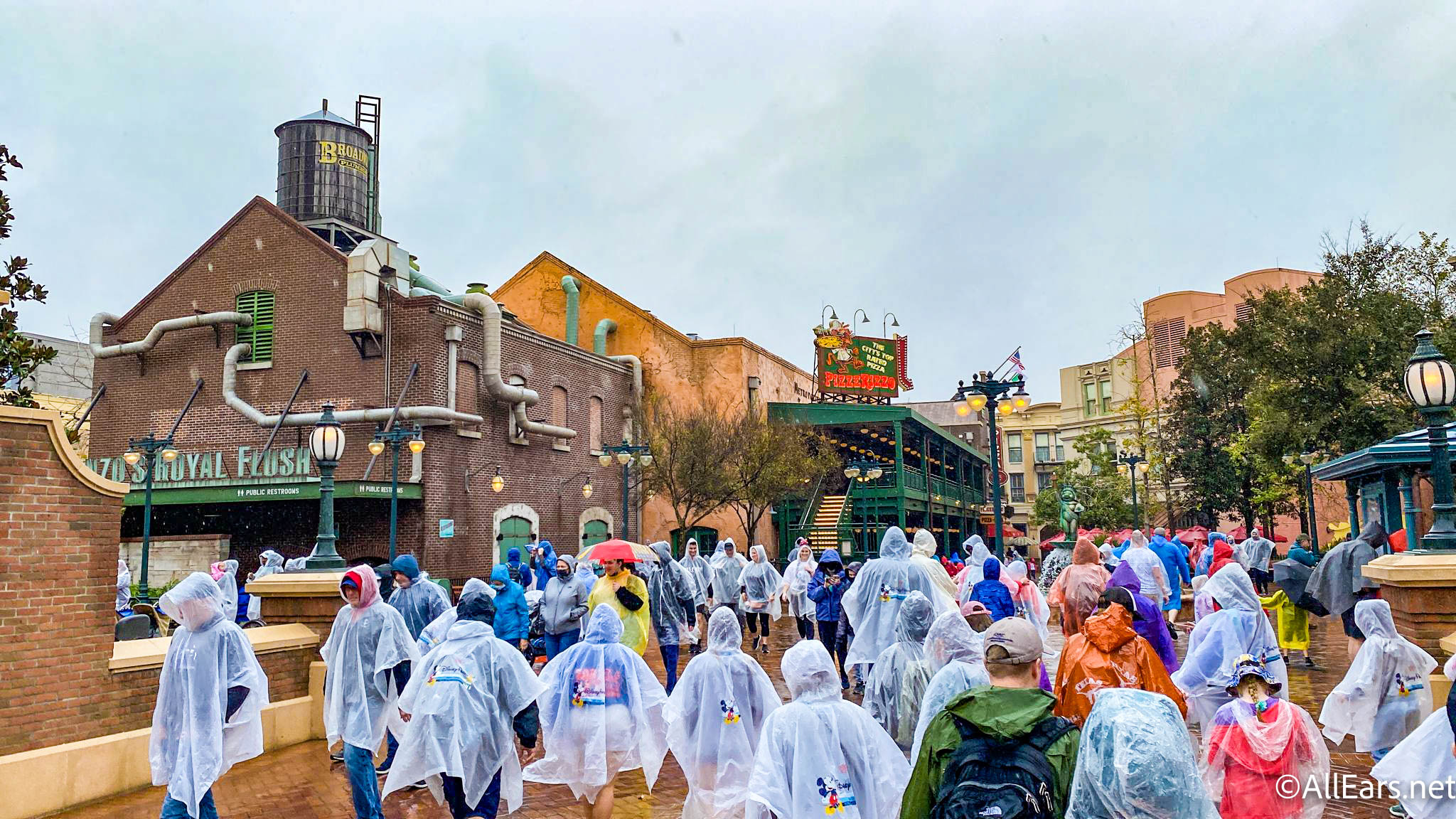 Over in Toy Story Land, there were some decent crowds as well, but still quite a bit of space.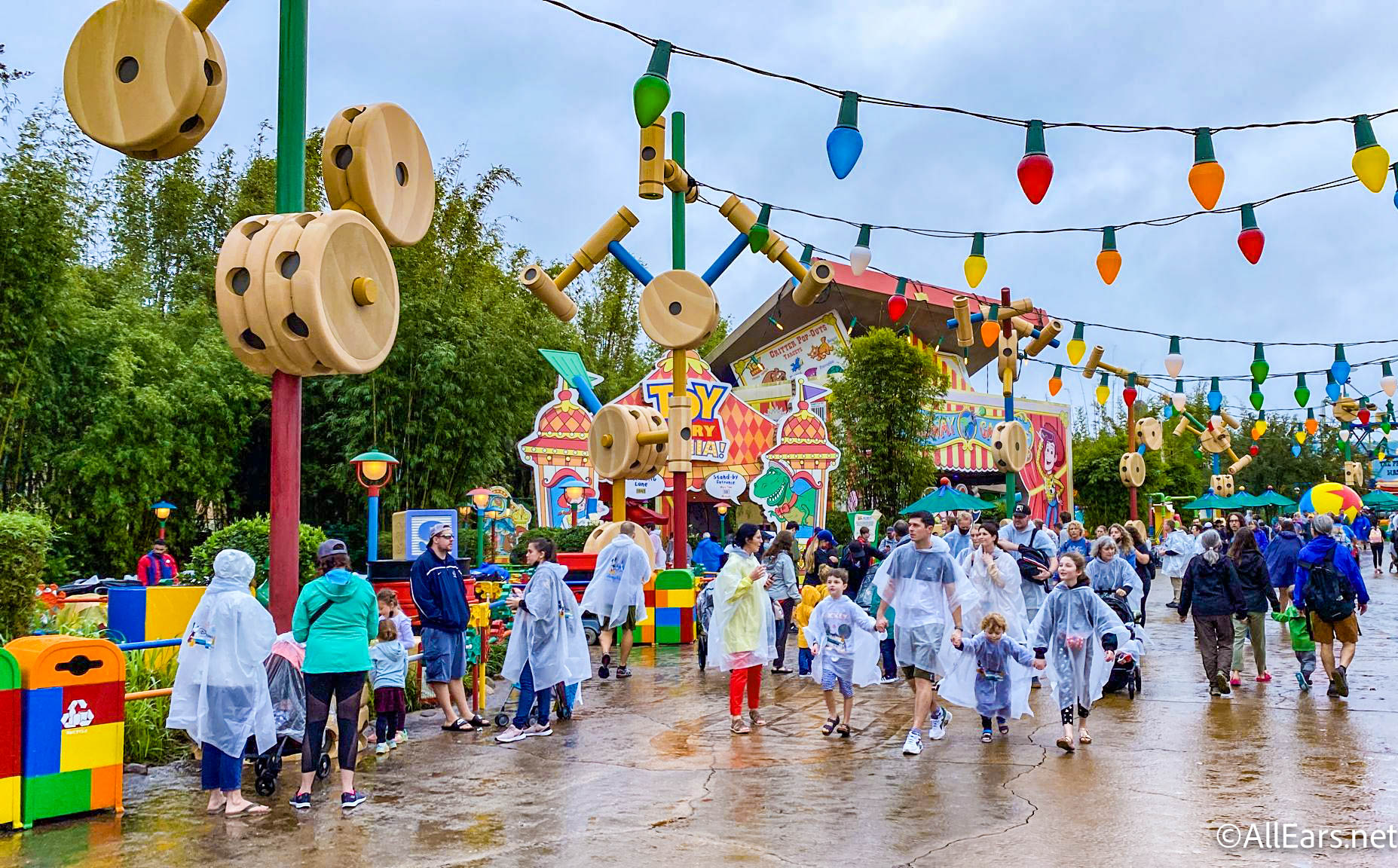 During rainy days in Disney World, you'll particularly find crowds in covered areas and sometimes indoor shops/restaurants as guests seek shelter from the weather, so keep that in mind.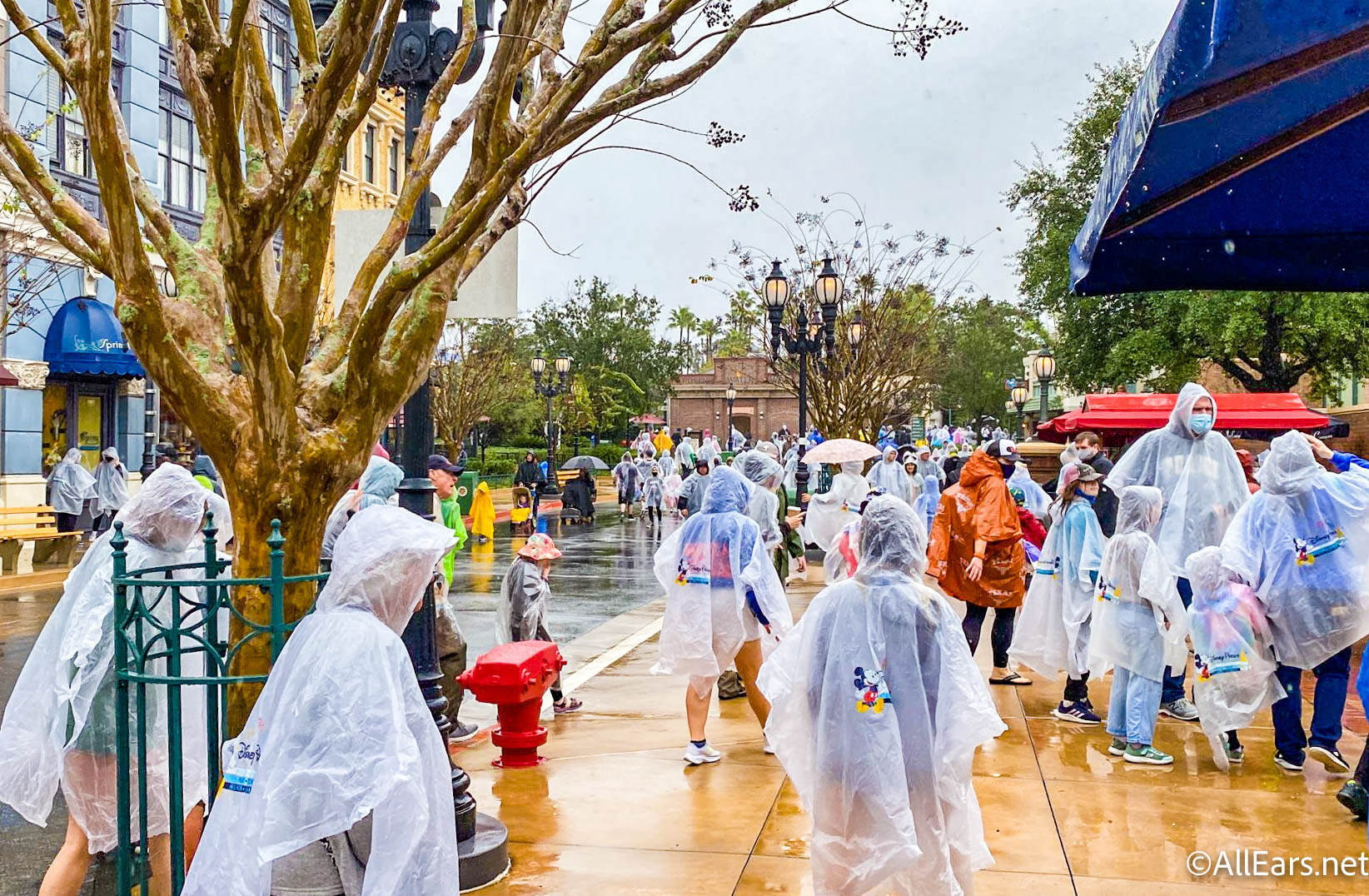 Animal Kingdom
By the time we reached Animal Kingdom, we could see some more blue skies peeking through the clouds! There were areas with more crowds, particularly on Discovery Island.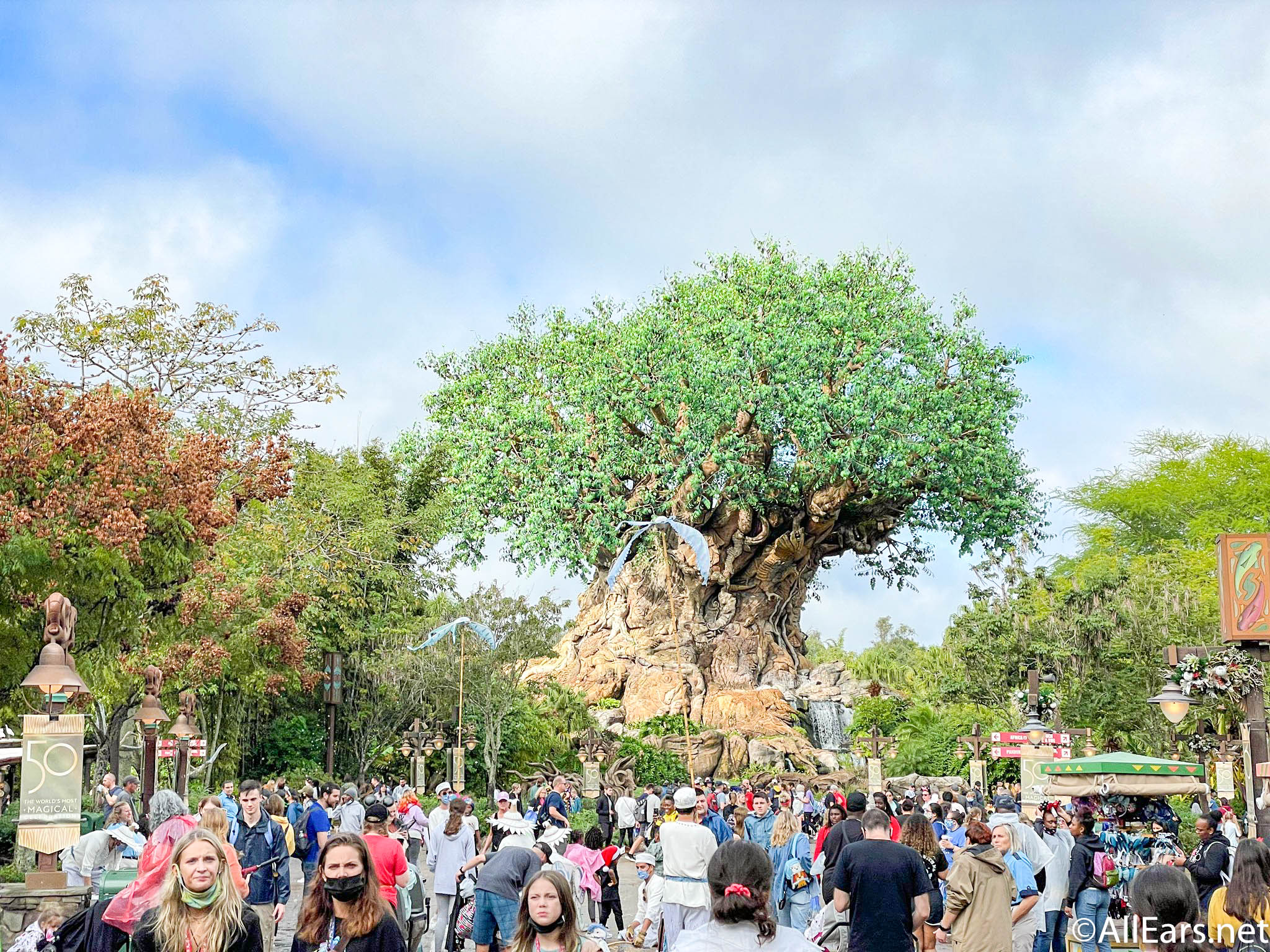 But other parts of the park had a bit more space.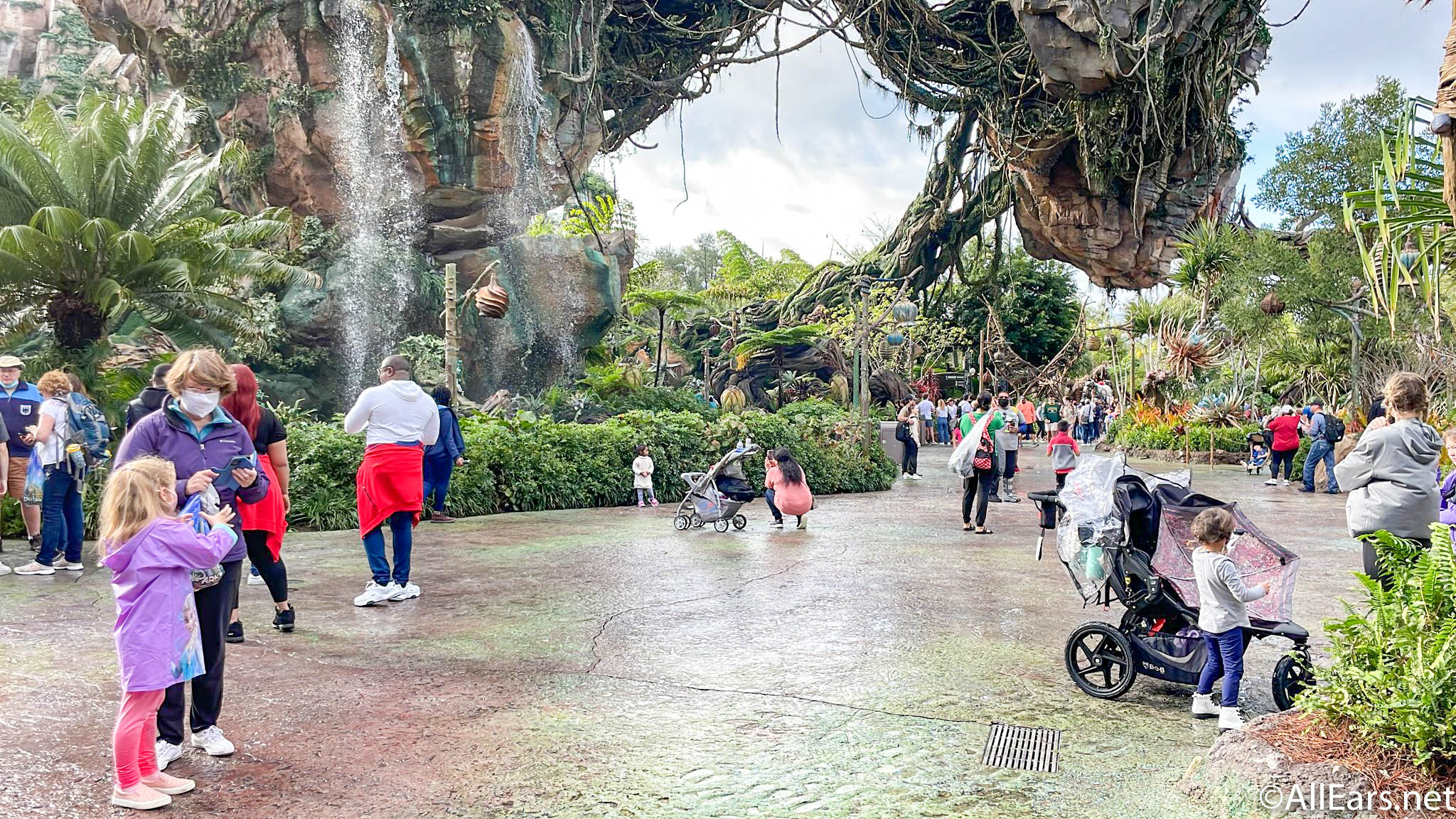 Over in Pandora — The World of Avatar, there were some guests around, but also plenty of pockets of space.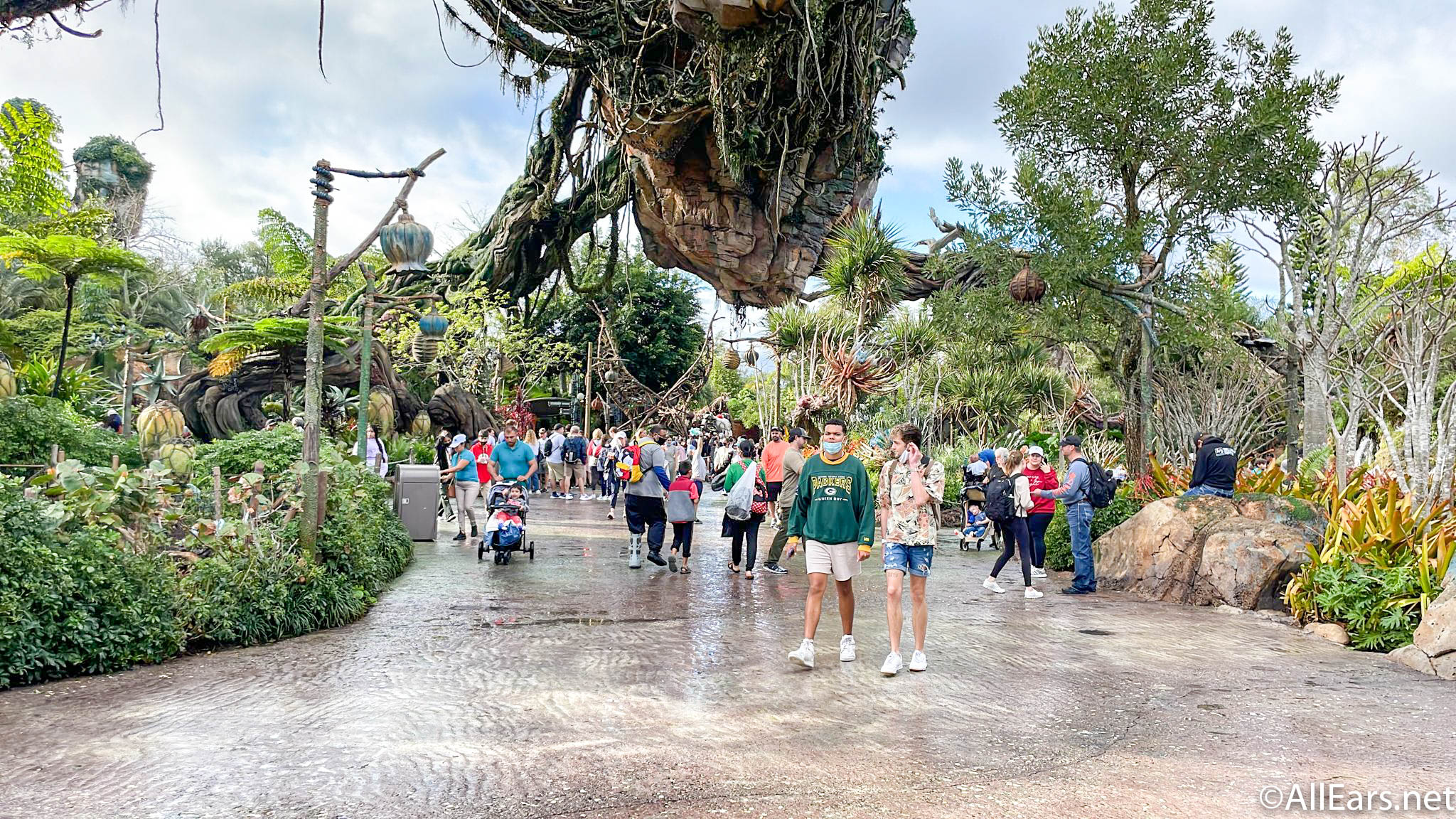 EPCOT
In EPCOT there were again some places with lower crowd levels…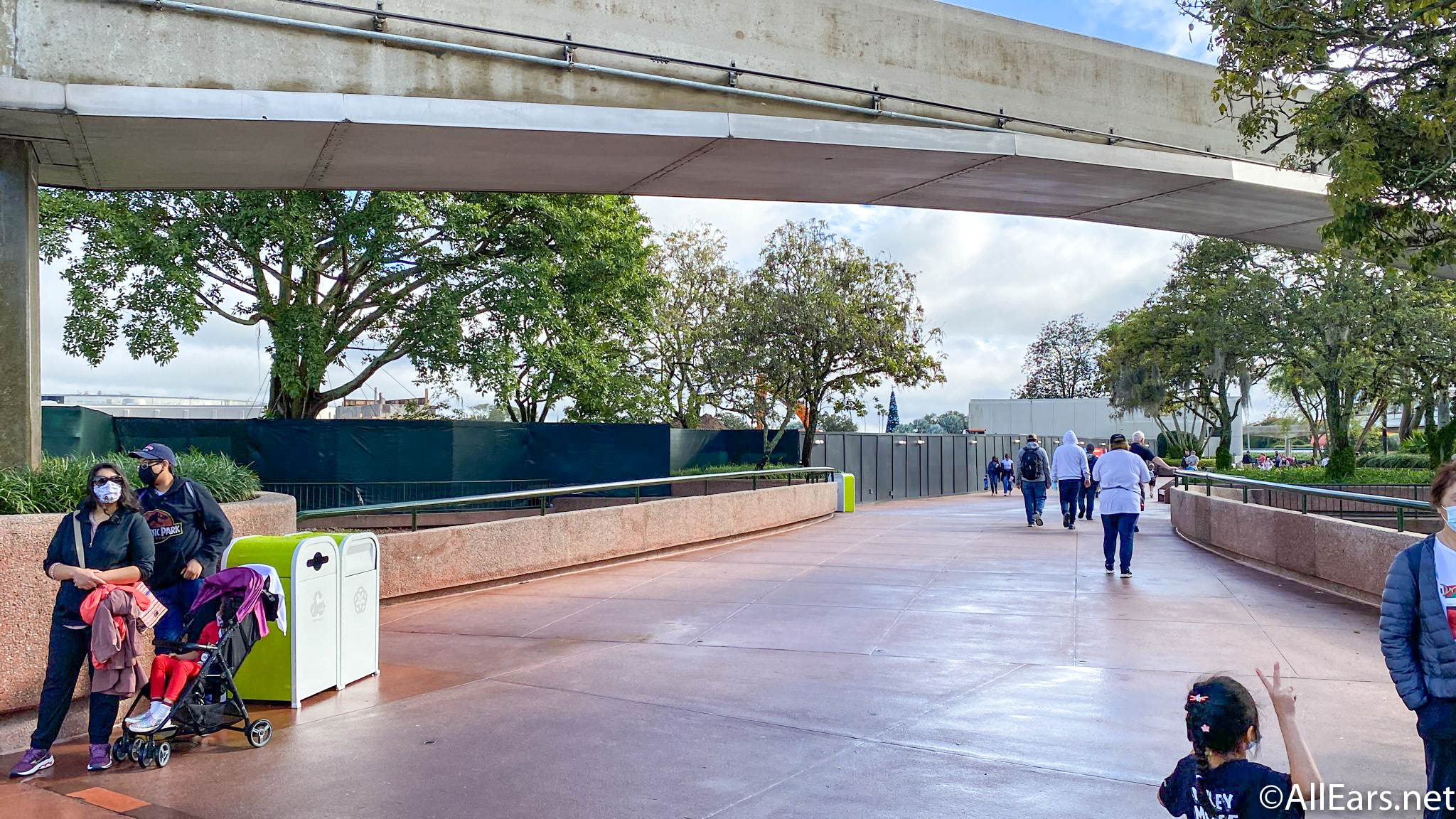 …and some spots with more guests.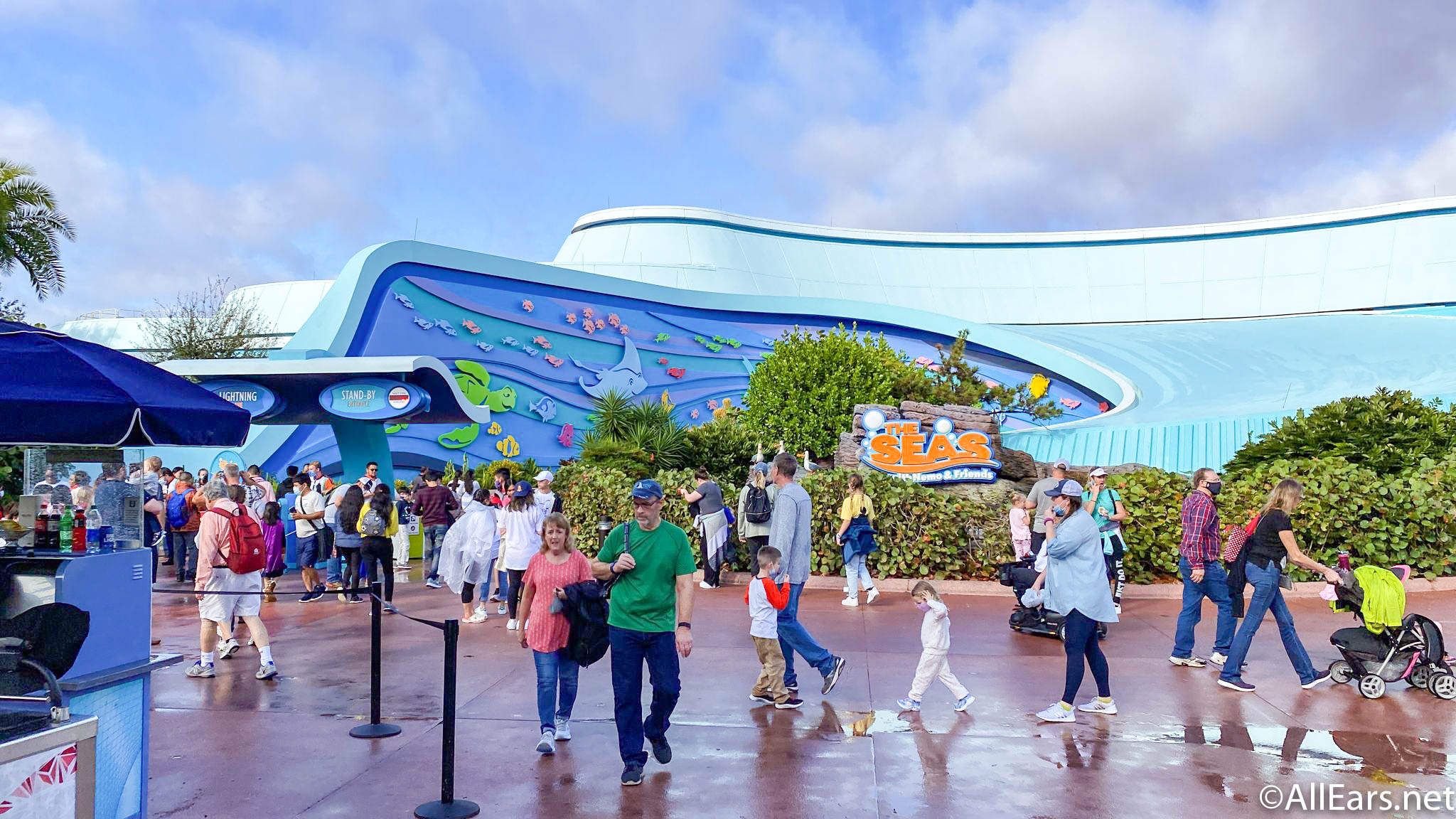 Over in World Showcase, there were some more crowds, as people made their way around the countries for fun, food, and more.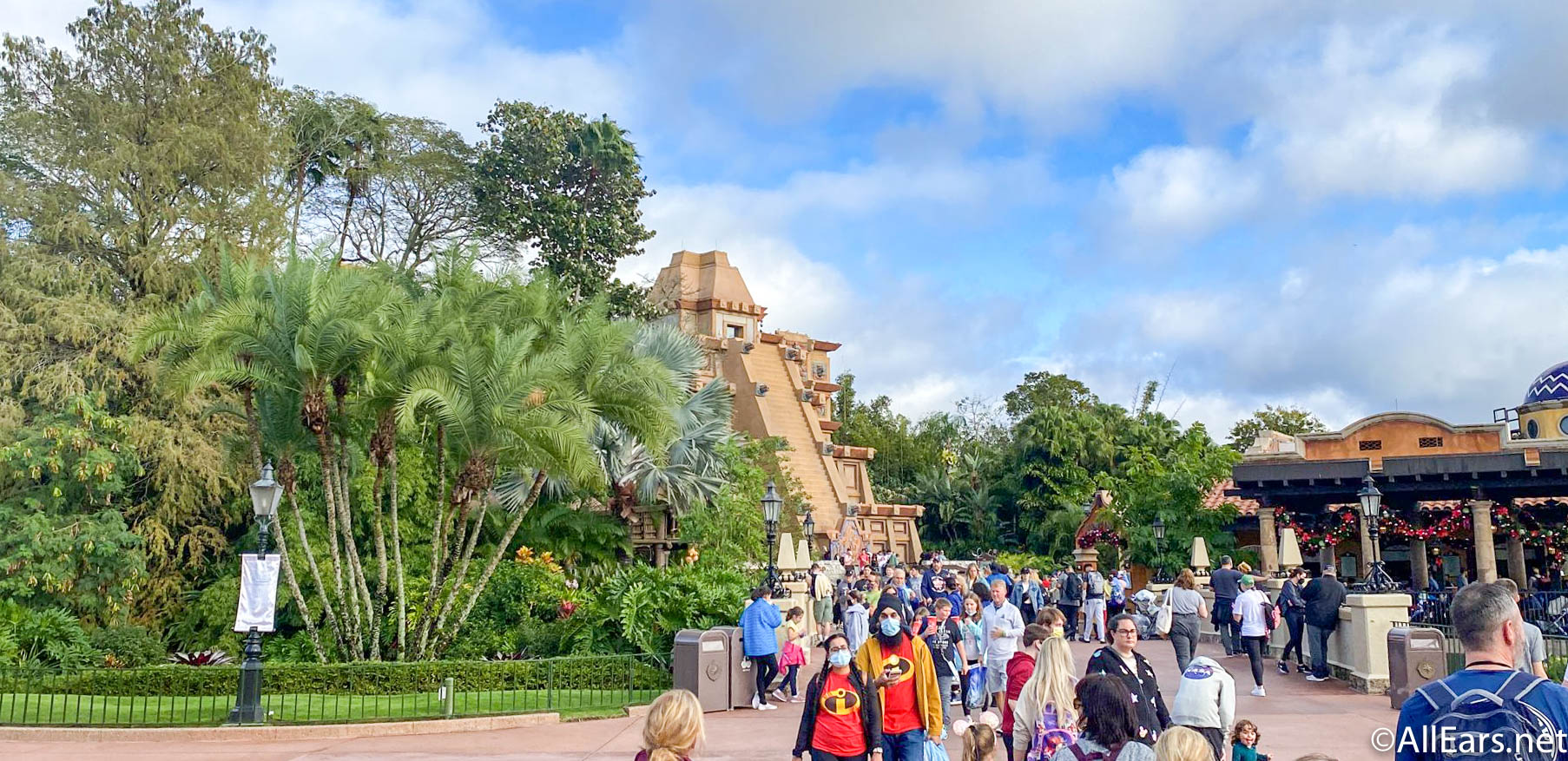 There were some crowds over in the Norway pavilion near the Frozen Ever After ride, but still some space too.
Again, being prepared for the rain can really help you take advantage of the effect it can have on crowds.
Wednesday
The rain cleared out and left us with a chilly Florida winter day for December 22nd, but that didn't stop Disney-goers from flocking to the parks. Here's what the crowds were like just days before Christmas.
Magic Kingdom
Just walking into the park in the morning, we knew that it was going to be packed with people because it was hard to find any open space on Main Street, U.S.A.
And, a busy day it was! The spot in Fantasyland that tends to be filled with people shoulder-to-shoulder was crowded once again.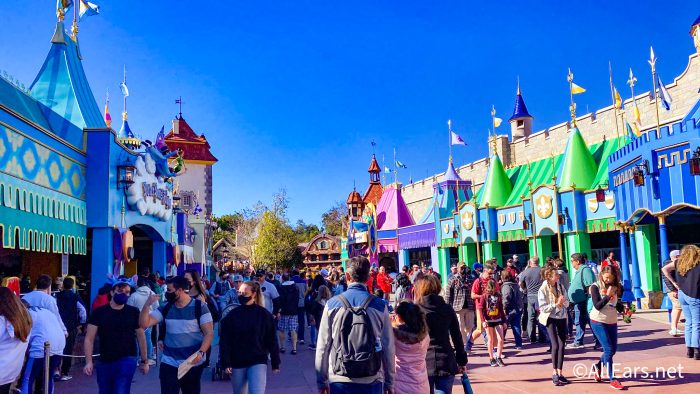 But, the REAL crowds came out to Main Street for the first daytime showing of Magic Kingdom's FULL holiday parade — Once Upon a Christmastime Parade. Just look at how many people headed to the hub in front of Cinderella Castle for the 12PM showing!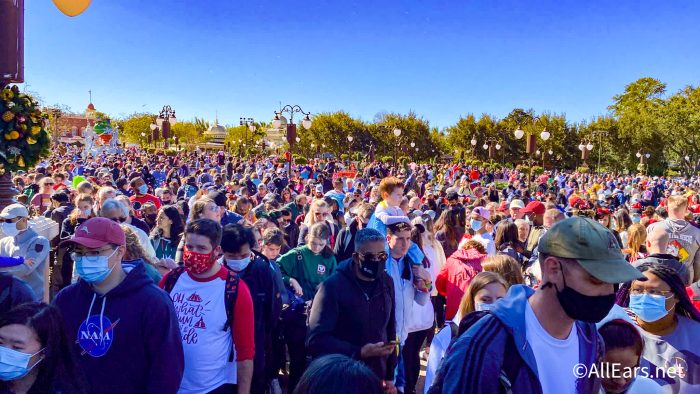 The parade makes its way from Frontierland, through Liberty Square, and up Main Street at both 12PM and 3:45PM now through December 31st, but you'll want to be prepared to be watching it with you and thousands of your (physically) closest friends.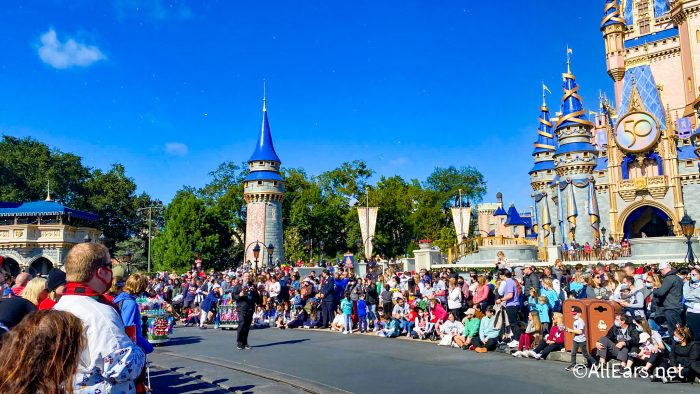 EPCOT
It wasn't just Magic Kingdom that was filled with holiday vacationers. We weren't even inside of EPCOT yet when we stumbled upon the first long line of the day — the entrance!
But, as we made our way through the park, there was a bit more space to move around.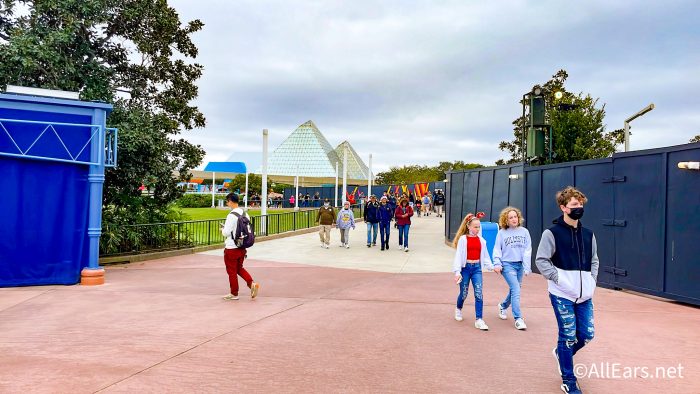 World Showcase by far had the most people in the park, but it was still manageable with some areas less crowded…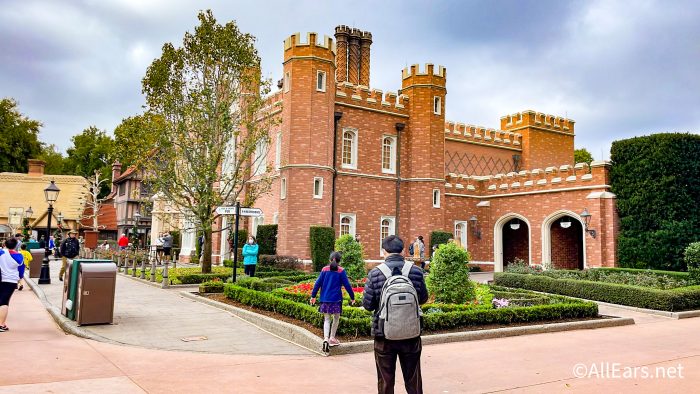 …and others more congested.
The lines for the EPCOT Festival of the Holiday food booths were pretty comparable to the crowds we tend to see on the weekends too.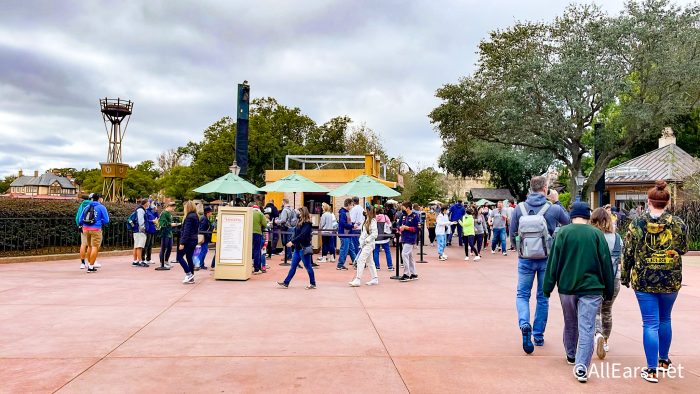 So, while the crowds are certainly high throughout the parks, there are still some ways to avoid them by visiting the lesser trafficked areas.
Thursday
And, things only got more congested as crowds continued to flock to the parks the day before Christmas Eve on December 23rd — here's what we saw!
Magic Kingdom
We got to Magic Kingdom bright and early once again for another full day in the park and it turns out that everyone else did too! Main Street, U.S.A. was PACKED with people shoulder-to-shoulder making their way into the park. So, whether you looked up towards the front of the park…
Lots of people here today to celebrate the holidays! 🎄 pic.twitter.com/PsIRq2lG81

— AllEars.Net (@AllEarsNet) December 23, 2021
…or down towards Cinderella Castle, it was just one big sea of people.
Crowds in front of the castle 🏰 pic.twitter.com/C0W6ZGdf3S

— AllEars.Net (@AllEarsNet) December 23, 2021
On days like this, it can be hard to find any space to relax in the park, but doing what you can to avoid Main Street for the first few hours and during parades can help to decrease the number of crowds you run into.
Disney's Hollywood Studios
Things were a little more relaxed over at Disney's Hollywood Studios when we arrived in the morning, though! There were certainly lots of people making their way in, but there was some room to spread out down Hollywood Boulevard and snap a picture.
Plus, some of the more crowded parts of the park even remained pretty open throughout the day. Here's a look at Toy Story Land, which is one of the areas that tend to have congestion issues.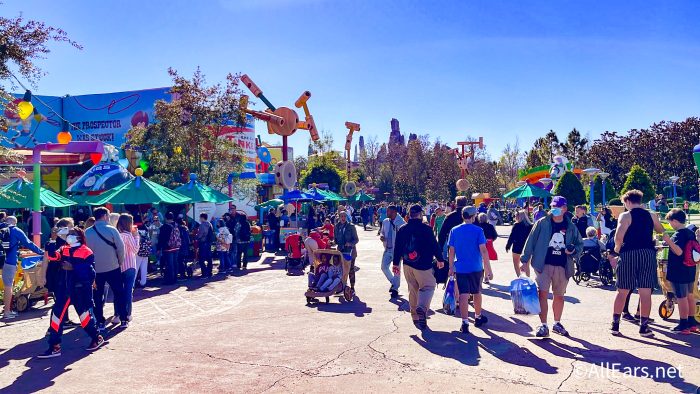 There was also some room to spread out down Sunset Boulevard!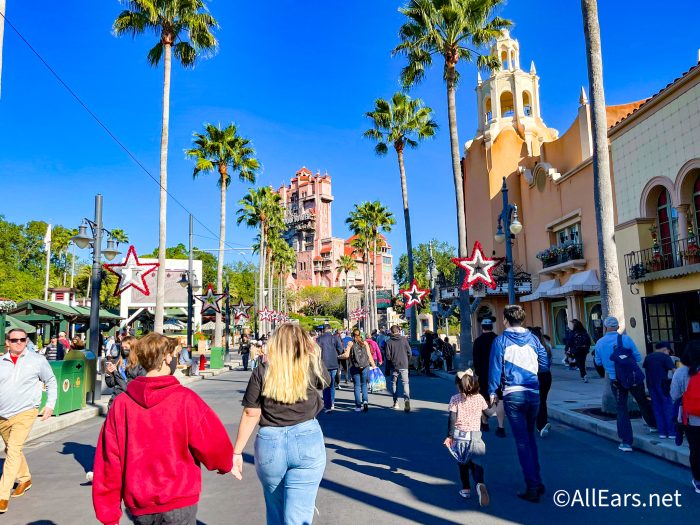 We also stopped into Black Spire Outpost in Star Wars: Galaxy's Edge and were surprised to see so much empty space.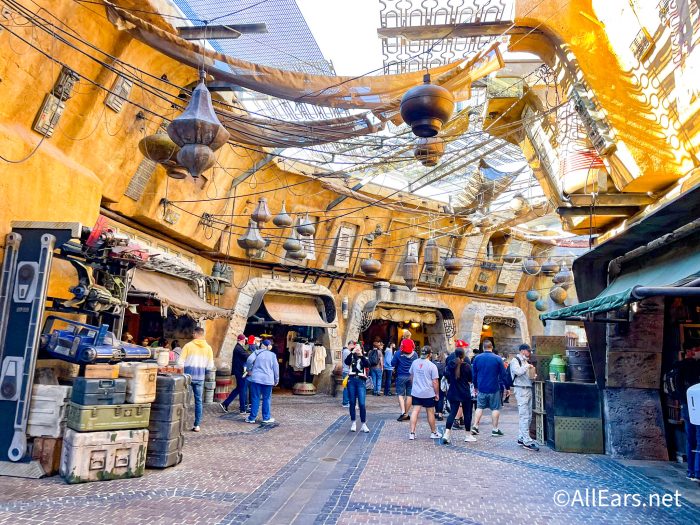 But, we really came to find that it was certain parts of the parks where you'd find bigger crowds. For example, around lunchtime, ABC Commissary had quite a few people standing around outside waiting for mobile order windows to open up.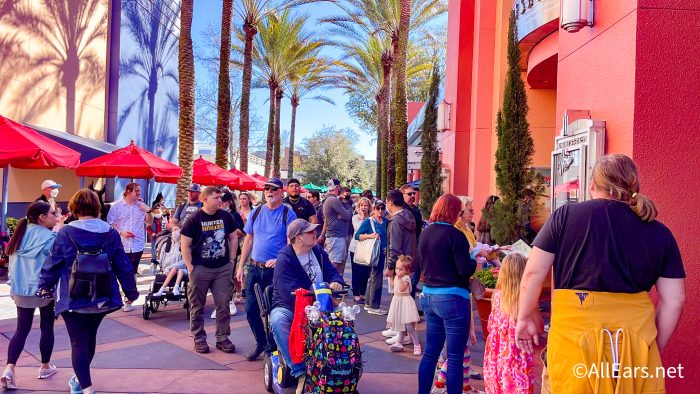 And, the rest of the crowds seemed to be waiting in lines for attractions! Wait times for popular rides stayed well above 60+ minutes throughout the day and many guests were taking full advantage of their Disney Genie+ purchase.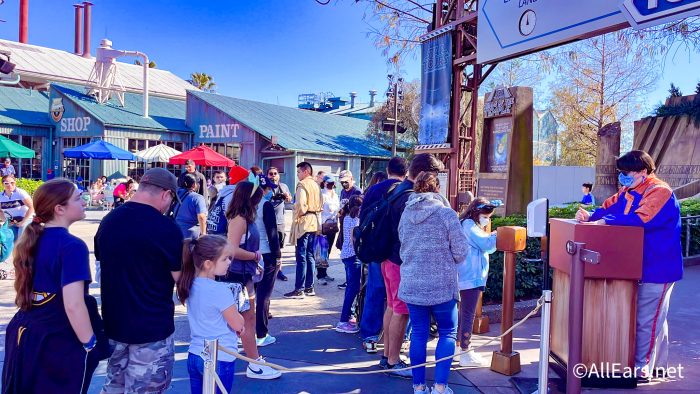 Disney Springs
The parks aren't the only places that you need to worry about crowds around the holidays in Disney World — Disney Springs can also get pretty busy too! We stopped by in the morning along with all the other holiday shoppers.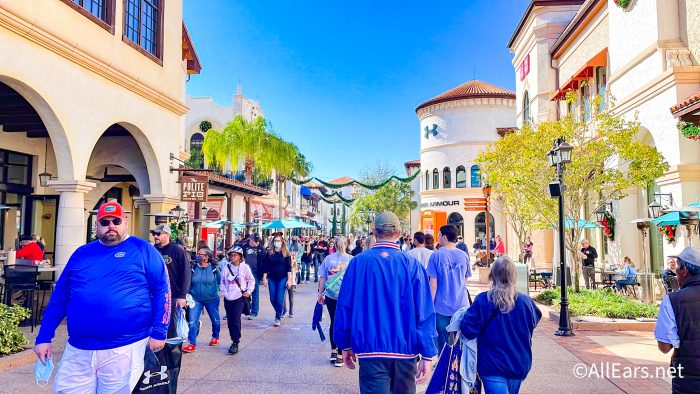 And, if the walkways weren't enough evidence of the crowd levels, many stores had long lines just to get in (as capacity limits are still in place at some locations).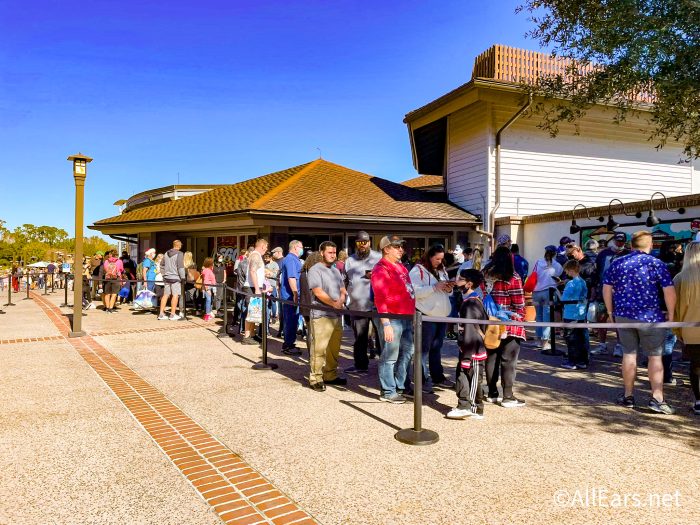 But, the sweet spot seemed to be over on the West Side. There aren't as many shops in this area, but if you're just looking to enjoy the Disney atmosphere around the holidays, this can be a great place to be!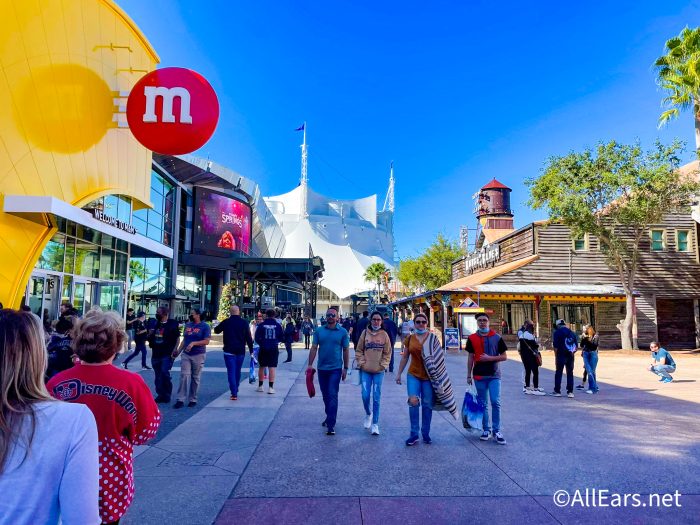 We definitely saw a lot of crowds today, but there are still spaces to breathe.
Friday
Christmas Eve finally arrived! We didn't make our way into the parks themselves on Christmas Eve but we did get a glimpse at what the Disney Springs crowds looked like.
Disney Springs
For the last shopping day before Christmas, Disney Springs was pretty empty when we visited, though we were there pretty early in the morning!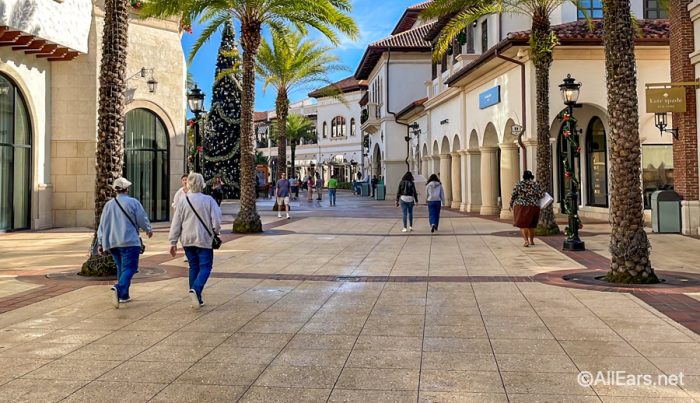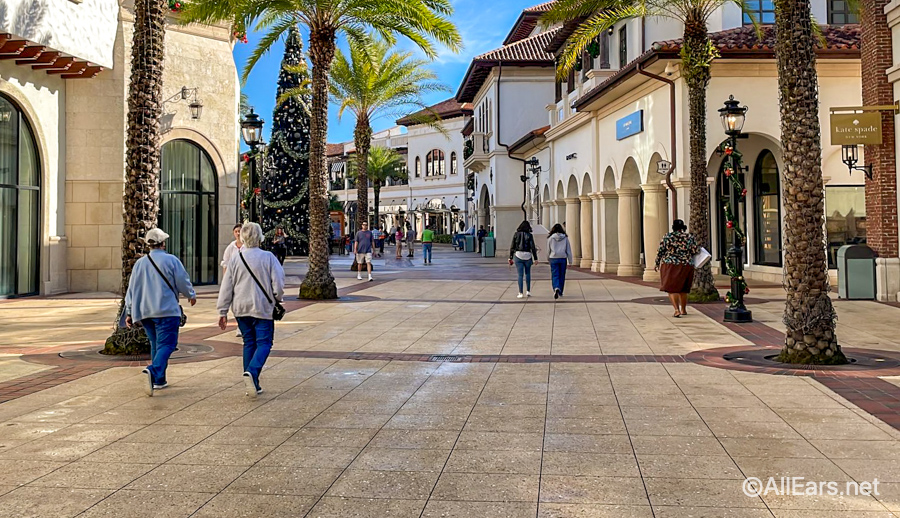 There was plenty of room to walk, and while there was still a line to get into World of Disney, things weren't too bad.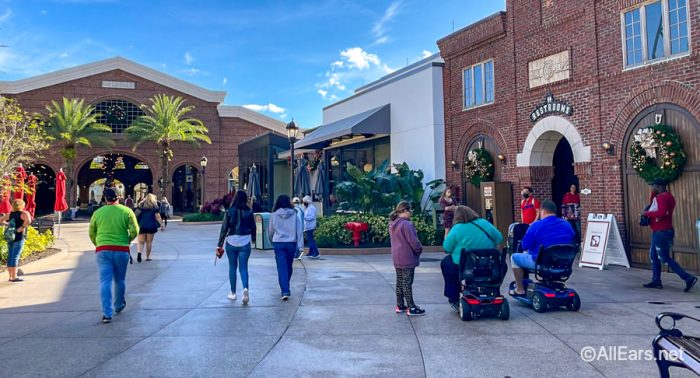 Note however that this was our experience early in the day, so things may have very well gotten more packed as the day went on.
Sunday
What were the crowds like on the day after Christmas? Here's what we saw.
Transportation and Ticket Center
The Transportation and Ticket Center had some BIG crowds when we first arrived. There was a seriously giant line of guests leading to the transportation that would get them all to Magic Kingdom, but thankfully things started to move fairly smoothly.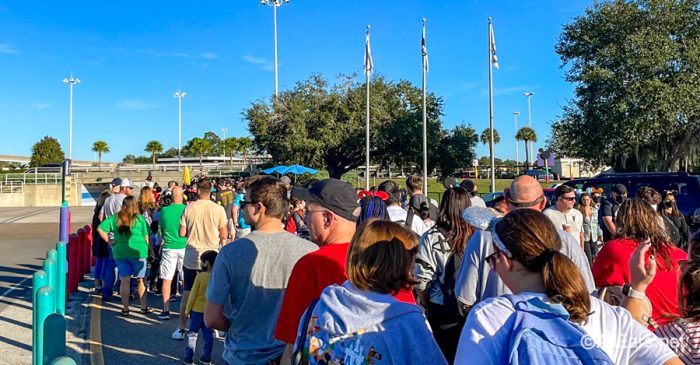 Ultimately, we were able to get to the Monorail without too long of a wait, so it's possible guests were just being held or managed in a specific way that caused this long line.
Magic Kingdom
In Tomorrowland, there were some pretty open spaces this morning! It was fairly easy to get around, and wait times for attractions weren't too long early in the day.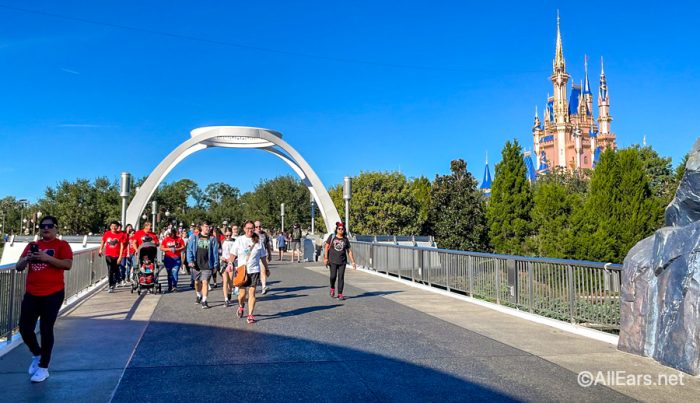 Space Mountain had a 20 minute wait this morning, which is a great find on the day after a major holiday.
Over in Adventureland we saw a little more congestion, but nothing terribly bad considering the other crowds we've seen this week.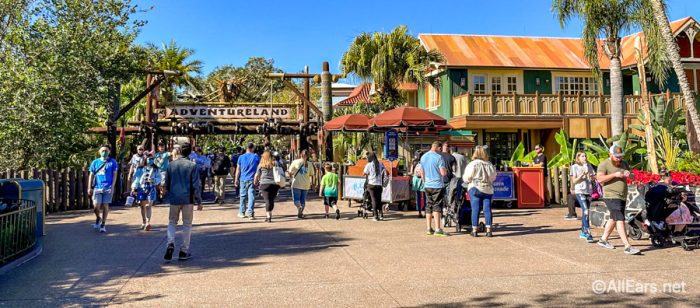 Lines to grab a coveted Magic Kingdom spring roll were super short! Overall, the crowds seemed to come in waves today. There were portions that would get very busy for a period of time, and then later would open up.
A peek into the post Christmas crowds today! pic.twitter.com/ooDMQAYksH

— AllEars.Net (@AllEarsNet) December 26, 2021
That was our experience, at least, in the morning hours of the 26th.
We'll keep updating this post more crowd information, so stay tuned to AllEars for the latest news!
Have you ever been to Disney World during the holiday break? Tell us in the comments!