If you're planning a trip to Universal Studios in Florida and are wondering what plant-based options will be available around the property, we can tell you one thing for sure: they're not as crummy as you might expect from a theme park!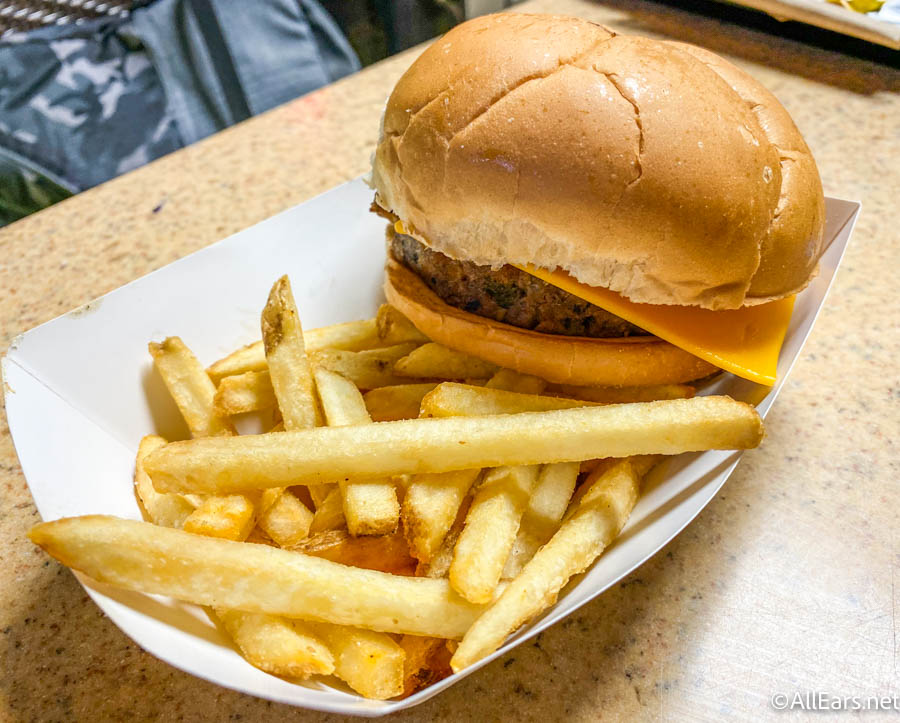 Universal Studios has a variety vegan options in its two parks and City Walk, and we're going to talk about five options that give us heart eyes.
Beyond Burger at Richter's Burger Company
Richter's Burger Company over in Universal Studios Florida really doesn't get enough love. This two-story restaurant is themed around earthquakes. You're going to see columns toppling over and counters split in half.
And the burgers are for everyone — even those who eat a plant-based diet.
The Plant-Based Beyond Burger Platter features burgers made of — you guessed it — plant-based patties instead of meat-based patties for $13.99. The platter also comes with a side of fries.
What we really enjoy about Richter's are all the add-on options that make these burgers much more flavorful. If you're ordering the Beyond Burger and want to add more veggies to your meal, we recommend ordering the sautéed onions and sautéed mushrooms for an extra $1.19 each.
The Tree Hugger Specialty Roll at The Cowfish Sushi Burger Bar
Burgers? And sushi?? Such an interesting combo, but we're so here for it. (See why Molly says this is the best dining in City Walk!) The Cowfish Sushi Burger Bar, located in City Walk, has a lot of unique surf n' turf options on its menu, but our favorite vegan option is The Tree Hugger Fusion Specialty Roll for $14.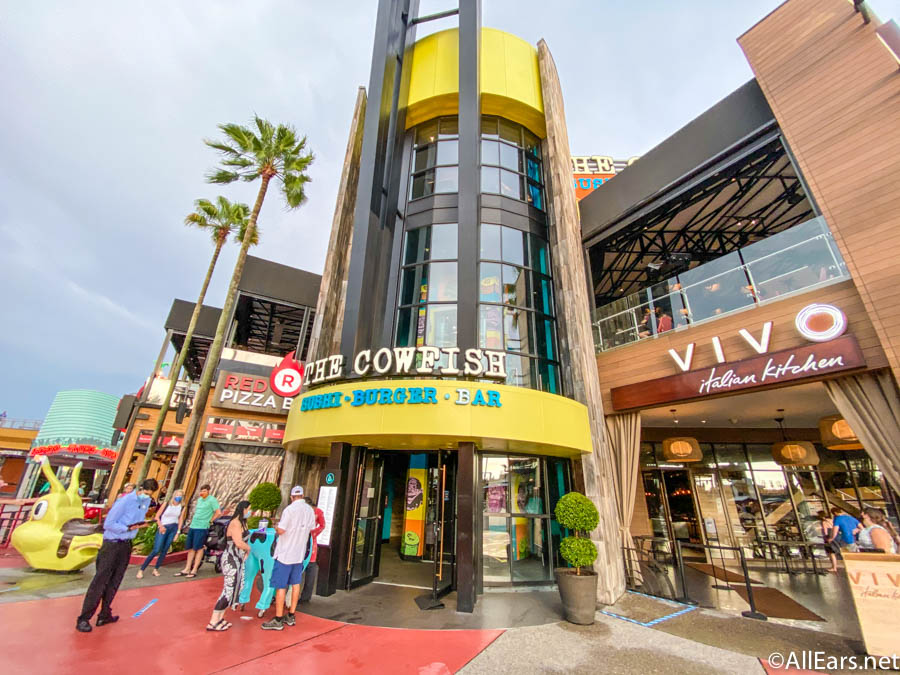 The Tree Hugger is made of Shiitake mushrooms, fried portabella, red pepper, cucumber, red onion, and basil. It's also served with a side of wasabi yuzu dipping sauce, which gives the tame flavors of the veggies a nice little spicy kick (if you're a spice-lover, that is).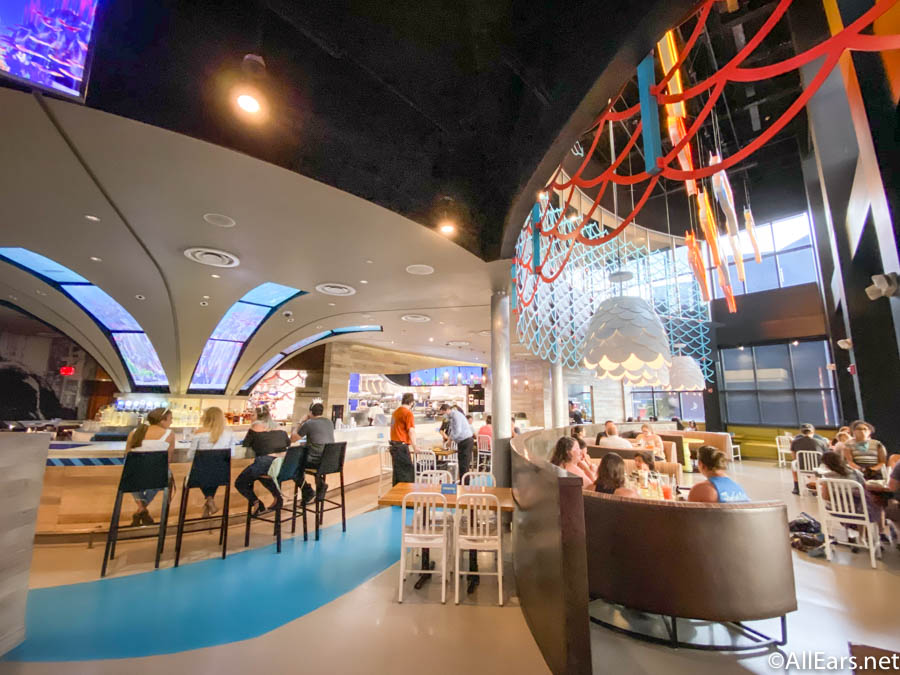 Every time we've ordered this roll, we've had a nice, equal amount of each of the veggies all rolled into one hearty roll. (Though we could probably eat a whole plate of the Shiitake mushrooms alone!)
Pad Thai at Mythos
Mythos has been a fan-favorite Table Service restaurant in Universal's Islands of Adventure for a while now — and for good reason. It offers not only an immersive ancient grotto atmosphere but also a full menu of award-winning Mediterranean options.
One of the most popular dishes is the Pad Thai for $25. It's not labeled as a vegan option on the menu, but you can order it with crispy tofu instead of chicken and shrimp and also request the vegan peanut sauce, which will bring down the price to $21.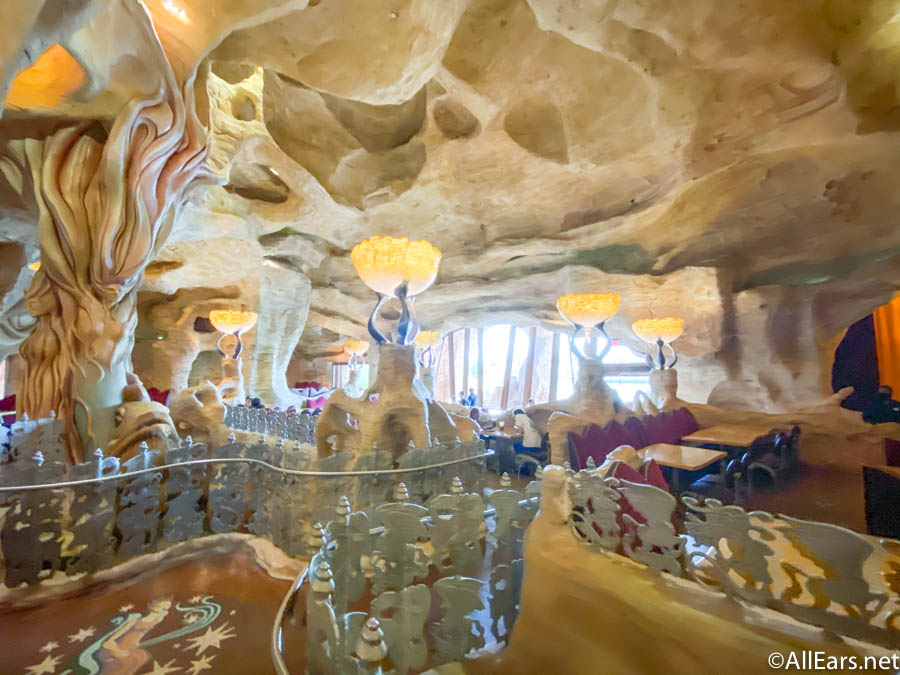 The rice noodles and veggies are plentiful and savory. And that peanut sauce? UGH. Just keep it coming!
Vegan Sausage Crepe at Central Park Crepes
Yes, we love a crepe! This time savory option can be found over at Central Park Crepes in Universal Studios Florida — the Vegan Sausage Crepe.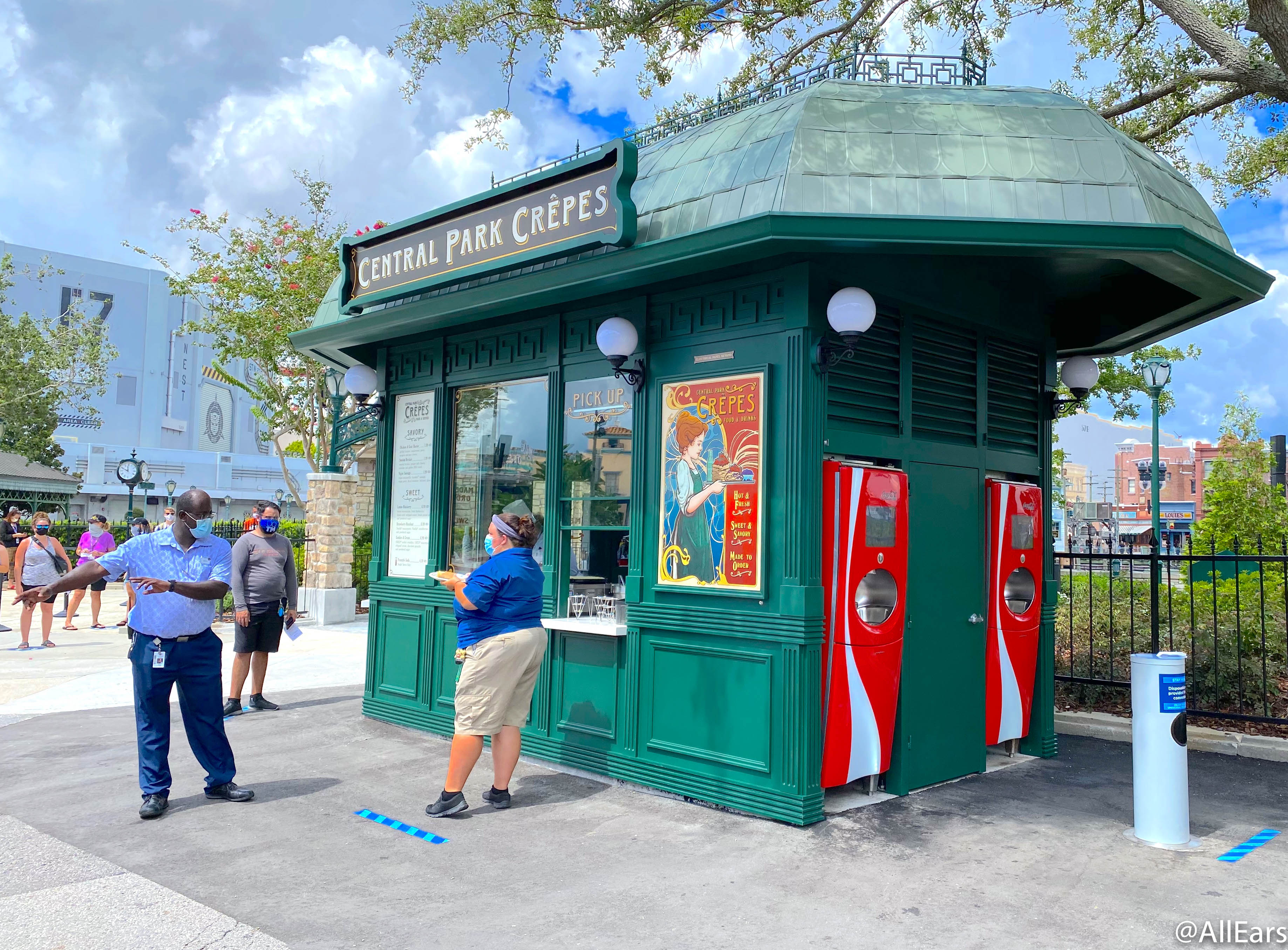 The Vegan Sausage crepe is made with vegan mozzarella, Gardein plant-based sausage, vegan pesto, diced tomatoes, and balsamic glaze — all for $7.99.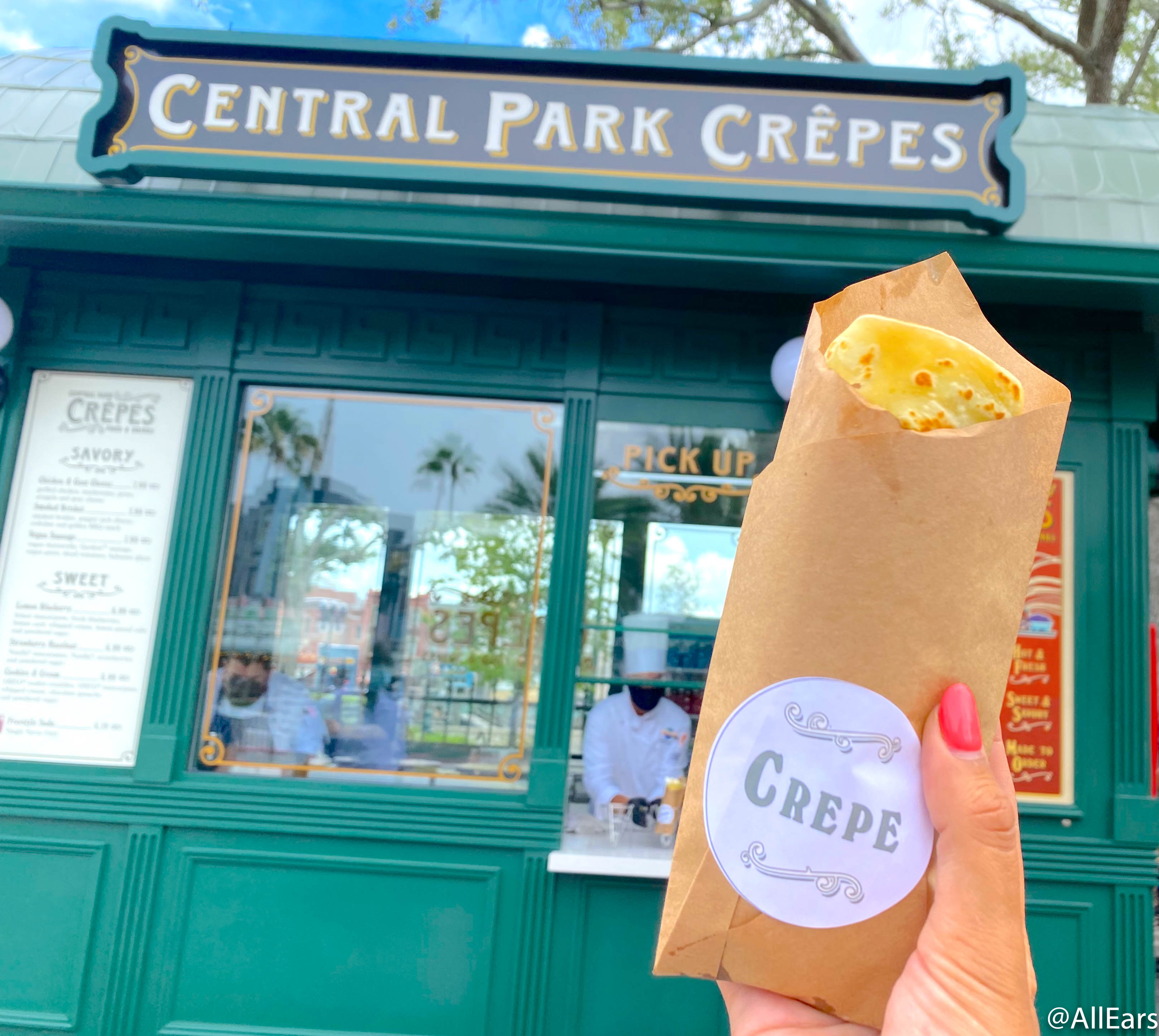 Sometimes, balsamic can become too overpowering on items like this, but we found the glaze to be a nice, sweet complement to the tender sausage patty.
Vegan Voodoo Dozen Doughnuts at Voodoo Doughnuts
It's doughnut time! But why just get *one* vegan Voodoo Doughnut from City Walk when you could get thirteen? (We know a dozen is 12, but at Voodoo Doughnuts, it's lucky number 13!)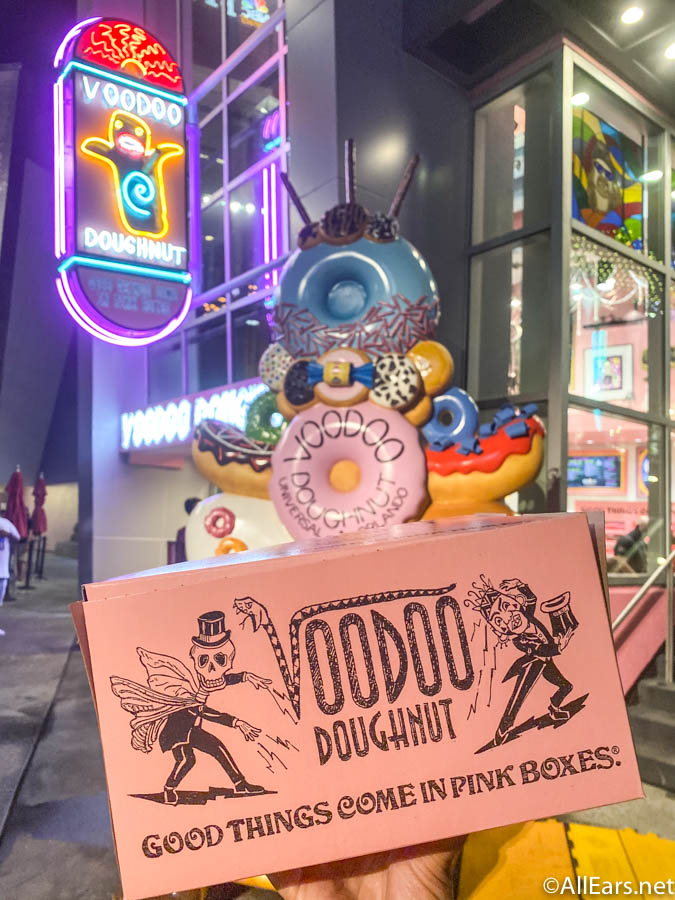 These are the flavors featured in the Vegan Voodoo Dozen:
Two Chocolate Rings
Two Dirt Doughnuts (with vanilla frosting and Oreo cookies)
Maple Bar
Maple Cream
Old Dirty Bastard (with chocolate frosting, Oreo cookies, and peanut butter)
Portland Cream (with Bavarian cream, chocolate frosting, and candy eyeballs)
Two Raised Glazed
School Daze (with raspberry jelly, peanut butter, and peanuts)
Voodoo Doll (with raspberry jelly, chocolate frosting, and a pretzel stake stabbed through the signature voodoo-shaped doughnut)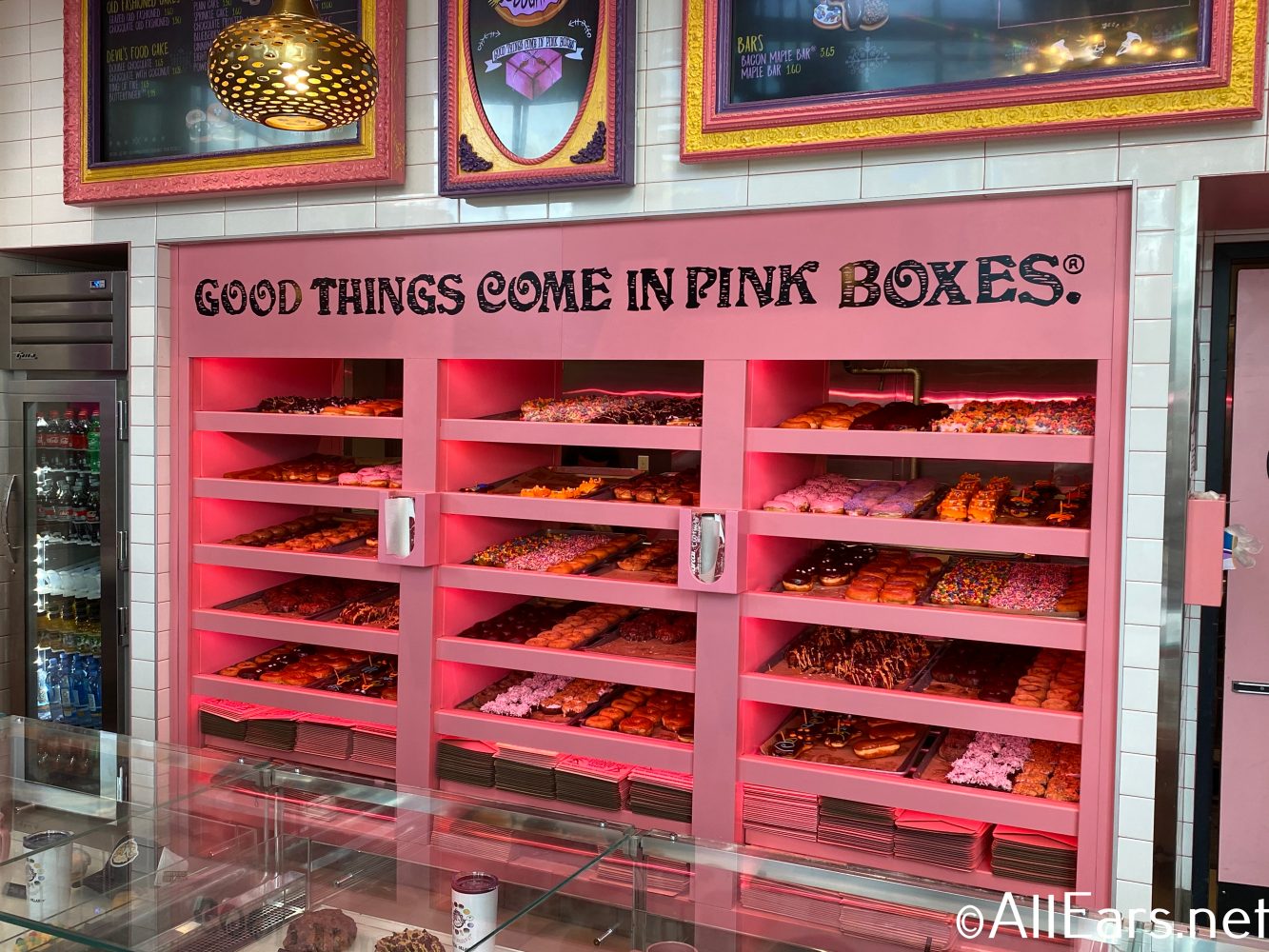 So much sugary goodness, right? And you can get these 13 doughnuts for $27.95! (We'd recommend you share them though because — yikes — that's a TON of sugar!)
Whether you live on a plant-based diet or not, these five vegan options are worth trying at least once. (Or twice. Or three times. Or four . . . )
Join the AllEars.net Newsletter to stay on top of ALL the breaking Disney News! You'll also get access to AllEars tips, reviews, trivia, and MORE! Click here to Subscribe!

What are your favorite vegan options at Universal Studios Resort in Orlando? Let us know in the comments below!