When you gotta go at Walt Disney World, you GOTTA go.
Some restrooms are incredibly themed, and some are just the best (big, clean, and easy to get to). But some bathrooms at Walt Disney World are just the WORST. You know the ones we're talking about. These are the bathrooms you DREAD having to go to. The ones that are tiny, inconvenient, or always super busy.
Today we're breaking down some of the WORST bathrooms in all of Disney World.
Magic Kingdom
Tangled Toilets
We start in Magic Kingdom at what is both one of the best and the worst restrooms — the Tangled Toilets. These are the Tangled-themed restrooms back in Fantasyland. They are certainly one of the best themed restrooms in all of Disney World, which is part of what actually makes them one of the worst restrooms overall.
Because of their incredible theming and their location right at the end of that bottleneck point in Fantasyland, where families are looking to use the restroom before hopping in line for Peter Pan's Flight or "it's a small world," these bathrooms can get incredibly crowded.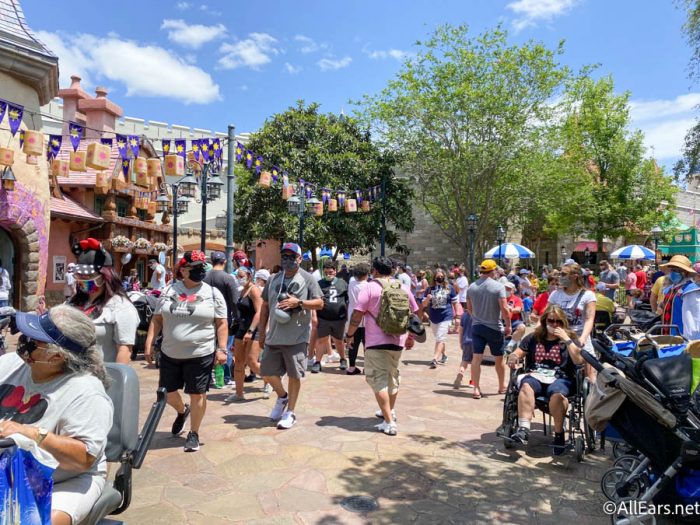 Still, we think their theming makes them worth a visit, but you might want to see if you can visit when there aren't swarms of people there.
Tomorrowland
Next on our list of some of the worst restrooms in Disney World are the restrooms between Star Traders and Auntie Gravity's Galactic Goodies in Tomorrowland.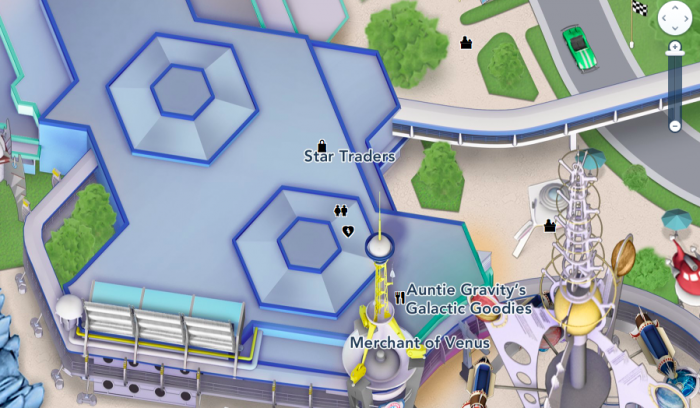 Again, the benefit and downfall to this spot is its location. Because it is near several restaurants/snack spots, a store, the Tomorrowland Speedway, and more, it can be very crowded at times. You might want to opt instead for the restrooms further into Tomorrowland, closer to Space Mountain. Those can get busy, too, but they are quite large!
Adventureland Breezeway Restrooms
Finally, we end our list of some of the worst restrooms in Magic Kingdom with the Adventureland Breezeway Restrooms.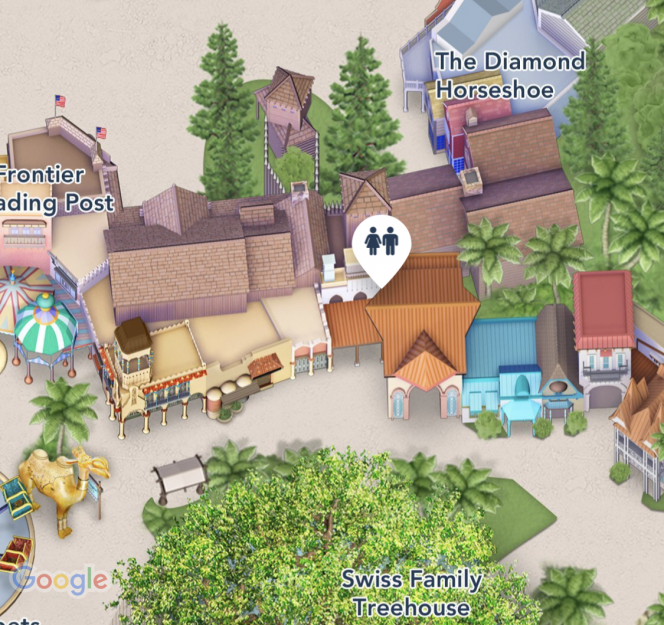 Again, these suffer from their location. Because they are conveniently located in that breezeway between Frontierland and Adventureland, they can become a popular spot for people to stop, making them very busy. If you've gotta go here, then you've gotta go! But if you're looking for a quieter restroom in Adventureland, head over to Pirates of the Caribbean and the restrooms tucked away by the Plaza del Sol shopping area. Those are a bit more hidden and typically not as busy.
EPCOT
Japan Pavilion
Over in EPCOT, one of the absolute worst restrooms is in the Japan pavilion by Katsura Grill. These restrooms are tucked over by the very back of the outdoor seating area for this restaurant, and they are VERY small.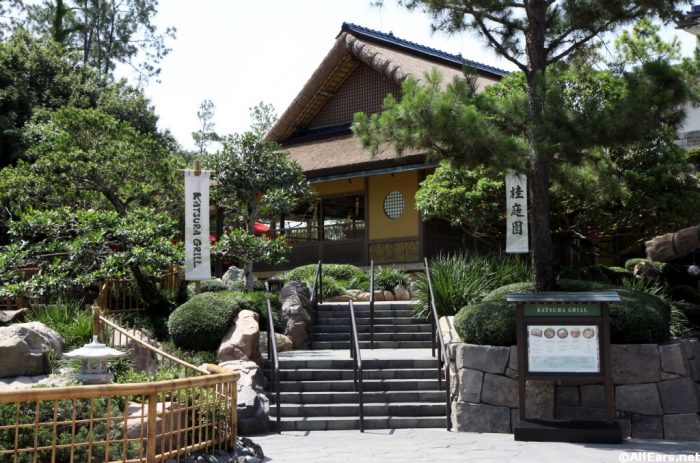 You're much better off heading to the American Adventure pavilion to use the extremely large restrooms they have there!
Spaceship Earth
Near Spaceship Earth you'll find two sets of restrooms — one on the west side, and one on the east side. Because these bathrooms are close to the front of the park and near the first attraction you'll see as you enter the park and the last one you see as you head out, they can be incredibly crowded and loud.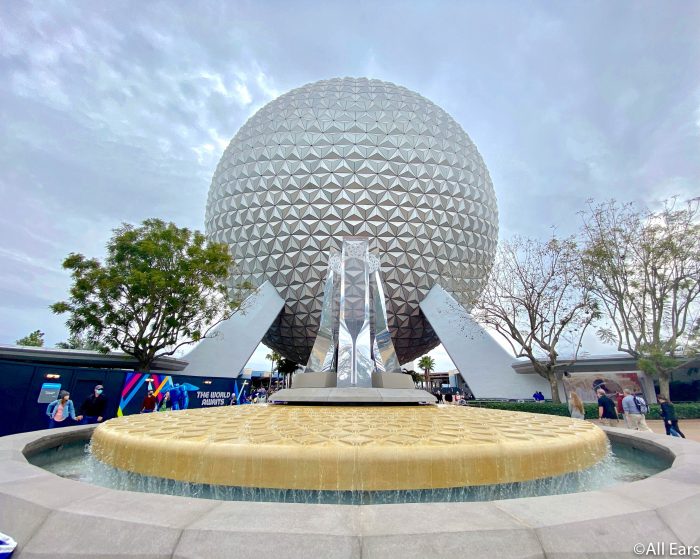 You might be better off heading toward the restrooms near other attractions that are a bit further away from the hustle and bustle of the main entrance.
Mexico pavilion
The Mexico pavilion is quite large, particularly inside the pyramid building which is full of merchandise, the Gran Fiesta Tour ride, a Table Service restaurant, La Cava del Tequila, and more. But inside the pyramid, the only restrooms really available for use are the ones inside San Angel Inn Restaurante.
It can be awkward to have to walk through there, and the bathrooms aren't the largest. If you're looking for some bigger bathrooms that are more easily accessible, the ones in Norway are great and well themed. But you'd have to walk all the way out of the Mexico pavilion to get to them, which can be really inconvenient.
China pavilion
The China pavilion suffers from a somewhat similar situation. If you're looking for the restrooms there, you'll actually want to head to the seating area for Lotus Blossom Cafe (the Quick Service restaurant in China). The restrooms there actually connect into the ones used by the guests at Nine Dragons Restaurant (the Table Service restaurant in China).
In a way this is kind of cool as you get to see those Table Service restaurant restrooms. But for the Nine Dragons guests (and the Lotus Blossom Cafe guests), it means you're sharing one restroom (which, again, isn't the largest restroom in Disney World) with a whole bunch of other people. Not ideal.
Disney's Hollywood Studios
Tower of Terror & Sunset Boulevard
Perhaps it's no surprise that over in Hollywood Studios, some of the worst restrooms are the ones near rides. These restrooms in Disney World (in general) tend to be among the worst as they are often the ones most frequently used by families who see them JUST before they get on the ride.
In Hollywood Studios, the Tower of Terror restrooms (the ones that are located on Sunset Boulevard near Rock 'n' Roller Coaster as well) are usually VERY busy.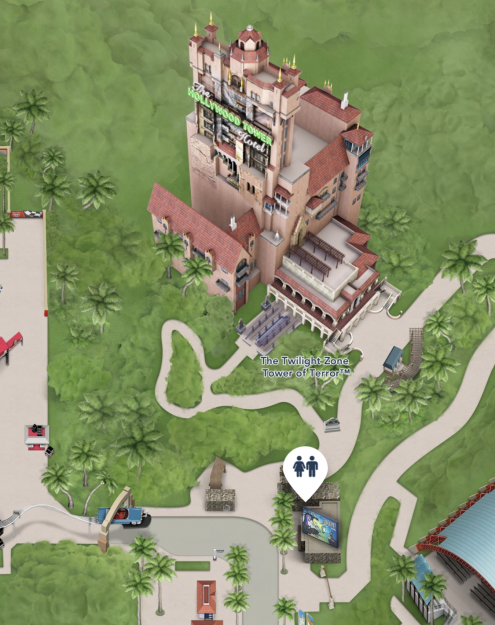 And unfortunately the ones part-way down Sunset Boulevard aren't that much better. These can also get really hot and crowded. Try, if you can, to visit these when they're less crowded or opt for some slightly further away from these two big rides.
Toy Story Land
The bathrooms in Toy Story Land are much like the Tangled Toilets. They are INCREDIBLY themed and definitely worth a visit, even if it's just to look around and find all the fun details.
But because these are wonderfully themed and are in a pretty crowded (and tight) area, they can get very busy and be quite the nightmare.
If you've gotta use these restrooms and they're busy, at least you'll get to enjoy all that cool theming while you wait on the outside and once you get inside, too!
Disney's Animal Kingdom
Expedition Everest
Next, our tour of some of the worst bathrooms leads us to Disney's Animal Kingdom Park. There are quite a few bathrooms here that are pretty small and could be added to this list. But for purposes of our post today we'll focus on the restrooms near Expedition Everest.
Just like some of the other restrooms on this list, these restrooms are located fairly close to one of Animal Kingdom's most popular attractions. Many families walking over to experience Everest will likely stop at this spot on the way to make sure they're ready to ride without any need to leave the line part-way through for a bathroom emergency. These restrooms can get quite crowded so that's something to consider as you're on your way to say hello to Disco Yeti.
Restrooms at Disney World's Water Parks
And finally we couldn't make this list without at least mentioning the restrooms at Disney World's water parks. These restrooms are honestly in a league of their own.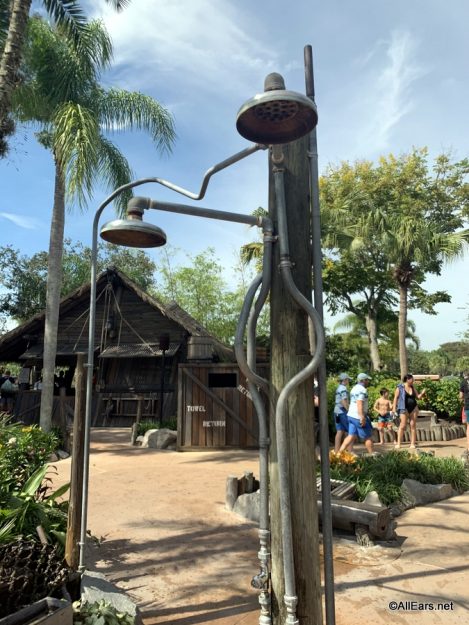 There's just something particularly uncomfortable or strange about a bathroom at a water park, with all those guests coming in and using it while still wet. That's just something you'll need to keep in mind if you decide to head to Disney's Typhoon Lagoon Water Park this summer.
And that concludes our list of some of the WORST restrooms in all of Disney World. When you gotta go, you gotta go, and any of these restrooms will do (of course), but if you can avoid some of them when they're particularly crowded, you might have a better experience overall.
What do you think is the worst restroom in Disney World? Tell us in the comments!
Join the AllEars.net Newsletter to stay on top of ALL the breaking Disney News! You'll also get access to AllEars tips, reviews, trivia, and MORE! Click here to Subscribe!