We need to talk about WandaVision.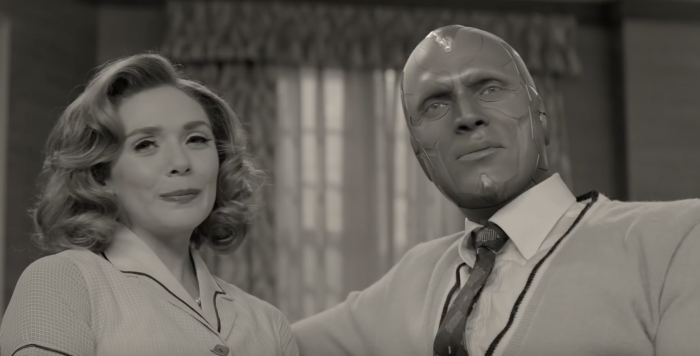 Sure, there's lots to say about the mysterious bent reality the duo is living in and plenty of hidden details to jabber about, but we've got something else in mind. This show has also brought us some serious romance!
Be warned! This post has mild spoilers for the first two episodes of WandaVision on Disney+! It'll also make a lot more sense if you've seen the show so head on over and watch before reading on.
Here are
nine times Wanda and Vision were couple goals in the two-episode premiere of the new Marvel show

!

P.S. I don't care what Molly says, Wanda and Vision's love is adorable even if he is a robot.
1. When they joke about Wanda hitting Vision with a plate.
Vision jokes about his wife and her flying saucers, and Wanda jokes about her husband and his indestructible head. I'm not saying it's romantic to hit your partner with a plate, but when he's a robot it's pretty cute!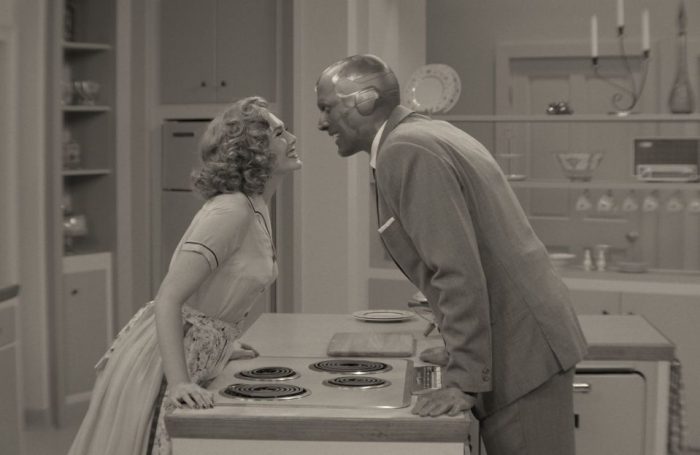 2. When they forget the reason for the special date.
It's so classic sitcom for Vision and Wanda to both pretend to know what special date they forgot — and it's so adorable that they let each other get away with it.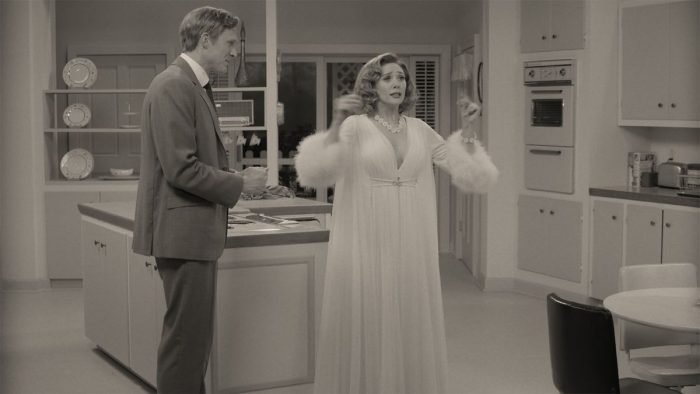 3. When Vision started singing to cover for Wanda. 
If my partner wouldn't sing "Yakety Yak" to cover for me using telekinesis to cook a three-course meal in our kitchen to impress his boss, then I don't want them.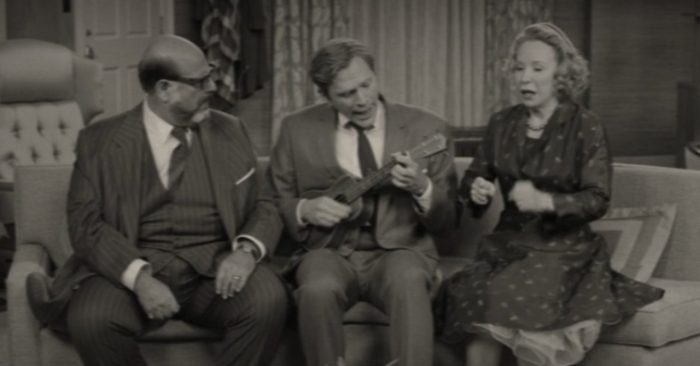 4. When they come up with an excuse for Agnes coming to the door. 
I don't think it ever really happens in real life — but it's totally romantic when couples give two different answers to a question and mesh them together. Yep, that was definitely "a man selling telegrams."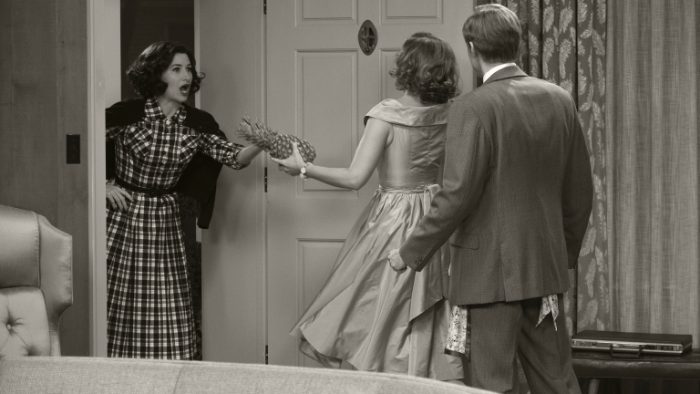 5. When they pick an anniversary and couples song. 
This is a big one! It is so, so, so romantic when Wanda mentions they don't have an anniversary or song so Vision helps her to pick one right then and there. My heart!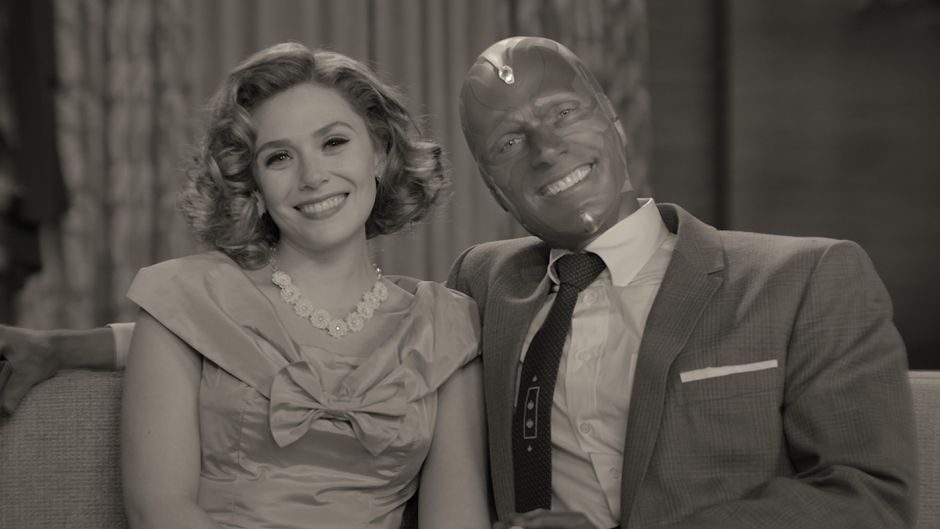 6. When Wanda makes them wedding rings. 
And you're gonna follow that up with Wanda making them wedding rings?! I don't care if he's a robot, Molly, that's the sweetest thing I've seen this week.
7. When Wanda pulls their beds together.
Okay, on to episode two! It was very cute when Wanda pulled their separate beds together because they both got scared when something went bump in the night. Sure they're both mega-powerful and could probably handle anything, but who doesn't like cuddling up when they feel a little frightened?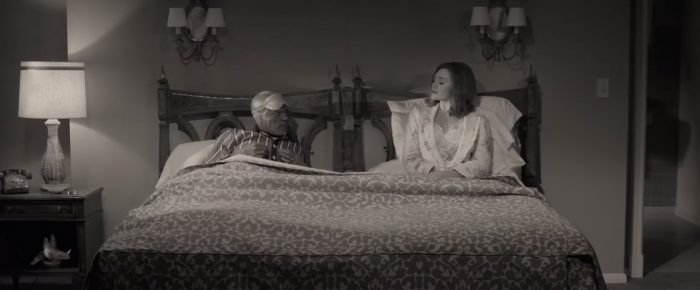 8. When they put on the perfect magic act.
Alright, maybe it's a stretch to say their magic act was perfect since Vision got gum in his gears and pretty much showed up drunk — but still! Wanda was such a knight in shining armor by coming to his rescue every time he did something a little silly.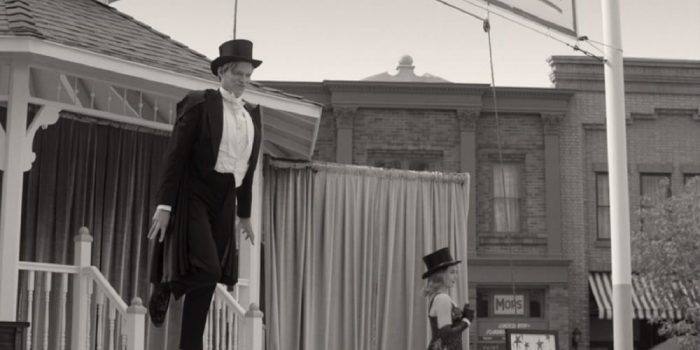 9. When they celebrate their success when they get home. 
And they were so excited when the show went well. And yep, it's weird that Wanda was suddenly pregnant but I was still swooning at how excited they both were — barring scary beekeeper man and mysterious sword symbol everywhere.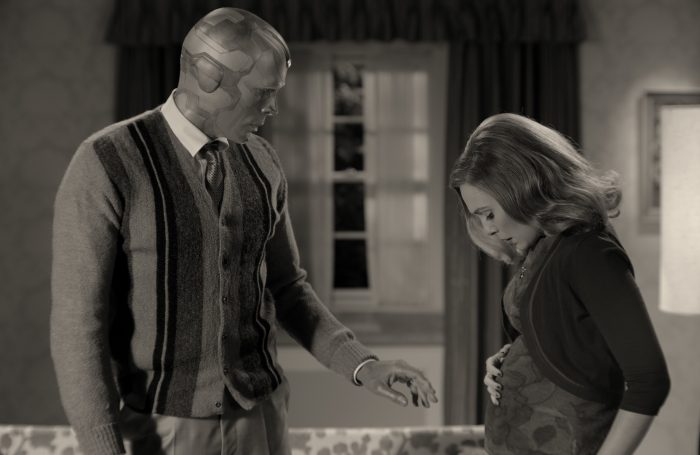 Basically, Wanda and Vision are my new favorite couple, and I'm scared this show is going to break my heart.  One thing's for sure, I'll definitely be tuning in every week!
What did you think of WandaVision? Tell us in the comments!
Join the AllEars.net Newsletter to stay on top of ALL the breaking Disney News! You'll also get access to AllEars tips, reviews, trivia, and MORE! Click here to Subscribe!