When we dream of a getaway or a staycation, the Disney Resorts are some of the first spots that come to mind with unique atmospheres for all Disney fans.
But, you might want to keep a brand new resort on your radar over the next few years!
Dart Interests is in the process of constructing the Evermore Orlando Resort near Walt Disney World, which will be 1,100-acre resort complex when it is finished. The comprehensive redevelopment of the previous Villas at Grand Cypress will be transformed to combine both the Conrad Hotels and Resorts and Hilton brands together for Evermore Orlando.
President of Dart Interests Christopher Kelsey stated that "We are creating the first-ever wholly owned, large-scale community of purpose-built vacation rental homes and operating them with hotel-quality standards and world-class resort amenities […] Almost all vacation rentals are owned by individuals, each with their own unique tastes and willingness to maintain the properties. Our centralized ownership model makes it possible for our guests to be certain that they are getting a first-class home with superior safety standards. Our scale also means that we can deliver a wider array of services to our guests making their visit easier and more enjoyable. Plus, our range in sizes – from 2 bedrooms to 11, makes us the perfect destination for any group, including large multi-generational or multi-family gatherings."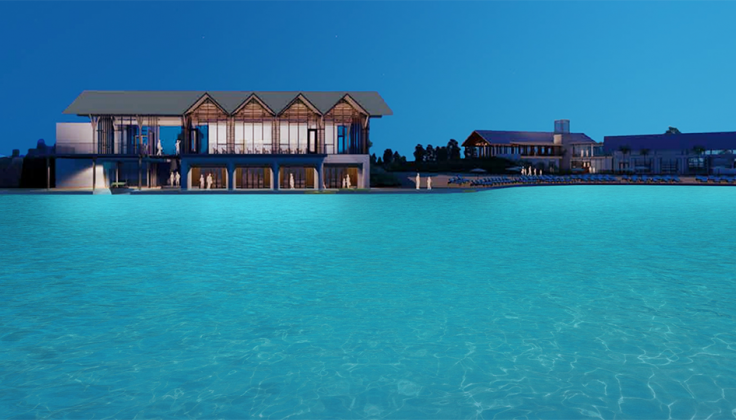 The expansive resort will include hotel guestrooms, flats, villas, and single homes for guests to stay in. Currently, the plans detail 1,500 bedrooms spread among the 69 houses ranging from 5 to 11 rooms, 76 four-bedroom flats, 41 two and four bedroom villas, and luxury Conrad hotel. The Conrad Orlando at Evermore will have 433 rooms that include 51 suites and 10 family suites, as well as a spa, 40,000 square feet of indoor meeting space, and dining locations inside the resort and the rooftop. The Evermore Orlando will feature 150,000 square feet of indoor and outdoor event space for visitors to use for meetings, parties, and more.
Plus, Evermore Orlando will have 20-acres of beaches and Evermore Bay, which is an 8-acre crystalline water amenity by Crystal Lagoons. The design incorporates environmentally sustainable technology to uses 100 times less chemicals and only 2% of the energy used by swimming pool filtration systems. This will allow guests to enjoy Evermore Bay year-round with zero entry swim areas, bars, cabanas, private fire-pits, and an aquatic adventure area with a waterslide, rope swing, and watersports.
Guests will also be able to enjoy a lively food hall, gourmet market, casual resort restaurant with golf course and bay views, and a two-story Boathouse for weddings and private events. The Scottish links style 'New Course' will open with an 18-hole Nicklaus Design course as a nod to the golf experiences at Grand Cypress. Bookings at Evermore Orlando Resort are set to become available in 2022 with its grand opening slated for summer 2023.
Will you be staying at Evermore Orlando Resort when it opens? Let us know in the comments below!