As we've discussed numerous times, unbuilt attractions are an integral part of Disney Parks lore. There have been attractions, lands, and even full theme parks that have been left in the "blue sky" phase, allowing generations of fans to fantasize about what might have been. However, there are definitely some of these unbuilt attractions that deserved to be built more than others.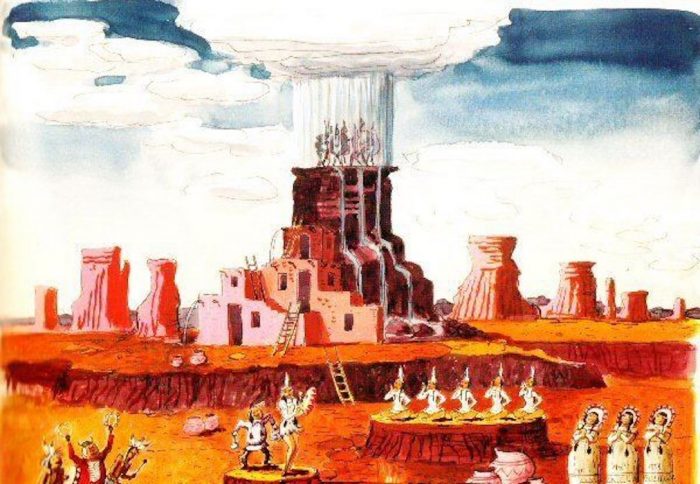 These are four of the unbuilt Disney attractions we really wish would have come to fruition.
Western River Expedition
The Western River Expedition was to be legendary Imagineer Marc Davis's magnum opus. The attraction itself would have essentially been a cowboy-themed version of a Pirates of the Caribbean boat ride (which had been left out of the Florida park's planning due to the state's proximity to the real Caribbean) on steroids that headlined Frontierland in Walt Disney World's Magic Kingdom. 
The huge musical dark ride (scheduled to be full of hundreds of animatronics, dazzling set pieces, and classic songs) was to be set inside a massive show building complex disguised as a mountain range known as Thunder Mesa, which would also feature a runaway train roller coaster. Davis put his heart and soul into the attraction, aiming to top his previous efforts at Disneyland, including Pirates of the Caribbean and The Haunted Mansion. 
Disney was initially very excited about Thunder Mesa, and though it was scheduled to be built as part of Walt Disney World's "phase 2" in the mid-70s, the ride was included on promotional material available at the Vacation Kingdom's 1971 opening. However, what neither Disney nor Davis counted on was the desire of Disney World guests to "ride the pirate ride" that they'd seen on the Disneyland TV show for years. In fact, it's been said that the most frequent complaint to Guest Relations in the early years of the park where "Where are the Pirates?"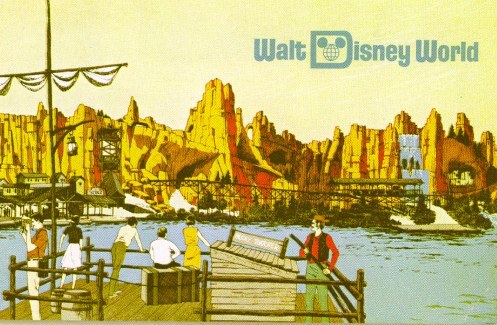 Much to Davis's chagrin, Disney immediately shifted Western River Expedition's budget to a truncated Walt Disney World version of Pirates, which opened in 1973. While the attraction and overall Thunder Mesa complex wasn't outright cancelled at that point, it never came close to being built, and the land it was set to occupy is now home to Splash Mountain and Big Thunder Mountain Railroad (which was inspired by the coaster that was initially set to be Thunder Mesa's secondary attraction). 
While we love Pirates of the Caribbean, Splash Mountain, and Big Thunder Mountain Railroad, we can't help but wish Thunder Mesa would have been built instead. For starters, having the full-scale Western River Expedition instead of a shortened Pirates would have gone a long way in differentiating the Magic Kingdom from Disneyland. Furthermore, the enormous Thunder Mesa show building complex would have given Frontierland a beautiful backdrop that would have been unlike any other version of the land in the world. 
Rhine River Cruise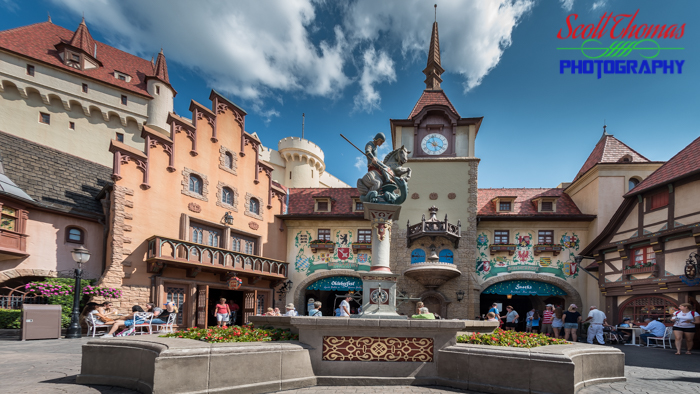 Over the years there have been many planned attractions for EPCOT's World Showcase that haven't been built for one reason or another. However, few of them came closer to construction than the Rhine River Cruise in the park's Germany pavilion. 
As described in Disney's 1976 annual report, the then-scheduled-for-opening-day attraction was to be "… a cruise down Germany's most famous rivers — the Rhine, the Tauber, the Ruhr, and the Isar. Detailed miniatures of famous landmarks will also be seen, including one of the Cologne Cathedral."
The attraction was still on schedule to be built as EPCOT was under construction, to the point where the load/unload portion of the ride's show building as well an entrance gate to the queue was built. However, budget issues led to the ride being postponed to EPCOT's "phase 2." As usual when a project is pushed ahead in such a way, the attraction was eventually quietly cancelled. 
We really wish the Rhine River Cruise had been constructed, as Germany is often a pavilion guests pass by rather than stopping in to explore. Plus, the description of the attraction sounds like something the park's original Imagineers would have knocked out of the park. 
Indiana Jones and the Lost Expedition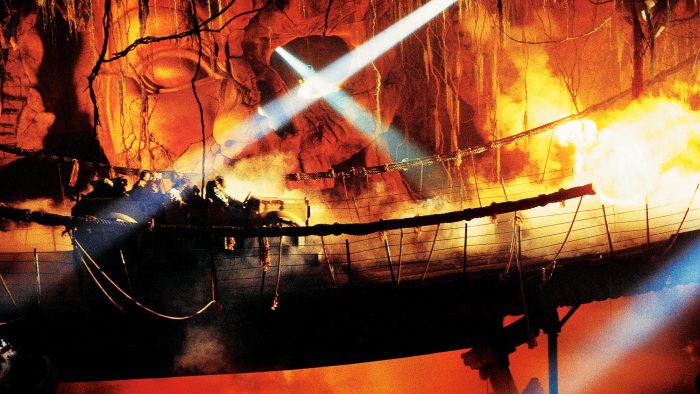 While the Indiana Jones Adventure is currently one of Disneyland's most popular attractions, Imagineering's first plans for Indy in Adventureland were even more spectacular. 
Initially, they hoped to build a massive show building that would feature two brand new experiences: a "jeep ride" similar to the current attraction and a "mine car roller coaster" inspired by the iconic chase scene in Indiana Jones and the Temple of Doom. In addition, the Jungle Cruise and Disneyland Railroad would have been rerouted to travel partially though the structure as well, with all four rides converging at one point as part of a grand scale set-piece in a lava chamber. The Lost Exhibition was a victim of numerous budget cuts, with the final axe falling thanks to the initial failure of EuroDisney in the 1990s.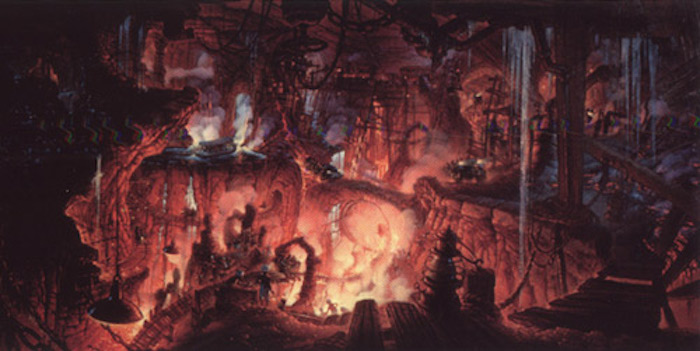 While we love the Indiana Jones Adventure that was built and find it to be one of the best E-Ticket attractions in Anaheim, we still wish the Lost Exhibition would have been built. The concept of four thematically-linked attractions intersecting in one massive show building sounds amazing, and we'd love to have seen it. 
WestCOT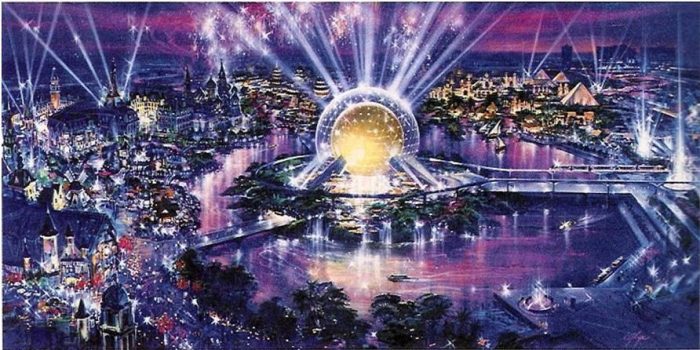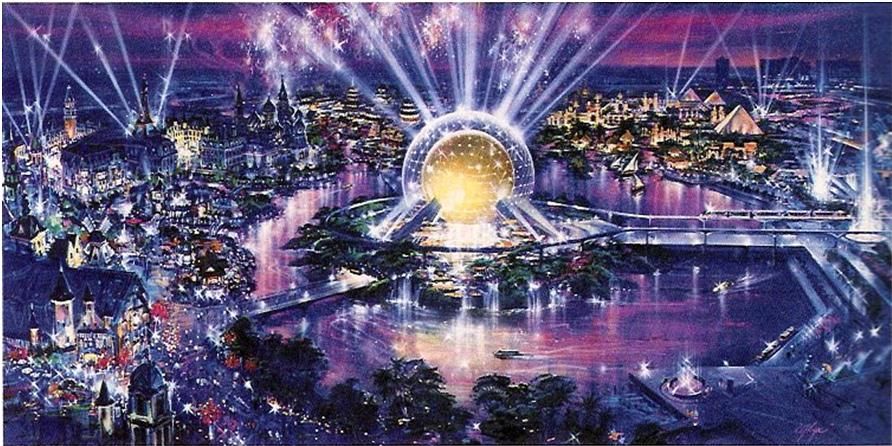 In the early 1990s, Disney announced two competing designs for a second gate park to compliment Disneyland in California. We've discussed the first, Port Disney in Long Beach, at length in the past. However, if we're honest, the one we really wish had been built is WestCOT in Anaheim. 
As the name implies, WestCOT was designed to be a larger version of EPCOT on the west coast. Like the original, WestCOT would have been split into two major sections: Future World and World Showcase. The former would have featured a gold-painted, double the height version of EPCOT's iconic Spaceship Earth known as Spacestation Earth. In addition, Future World would have featured improved variants of attractions including Adventure Through Inner Space (called Cosmic Journeys), Horizons, World of Motion, Journey Into Imagination, Universe of Energy, The Living Seas, Wonders of Life, and The Land.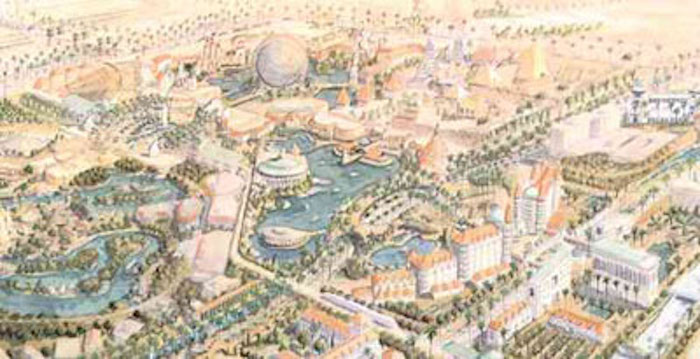 WestCOT's World Showcase was to feature a 45-minute boat ride through its lagoon know as World Cruise. This attraction would have featured animatronics depicting famous scenes in world history and four ports of call where guests could disembark or re-board, similar to the Disneyland Railroad. The Showcase itself would feature pavilions based on London, New York, Africa, Asia, Paris, Tokyo, China, and Toronto. Like their EPCOT counterparts, these pavilions would have featured attractions, shows, restaurants, and shops themed to their respective areas. In addition, there would have been themed hotel suites scattered throughout the park. 
WestCOT was eventually cancelled due to its enormous budget, as well as political disputes with the city of Anaheim. In its place was built California Adventure, which while we do love it now, I think we can all agree that WestCOT would have been far superior to the 2001 version of DCA. 
Beyond simply being better than California Adventure, there is another major reason we wish WestCOT had been built. Had the park been constructed as designed (even with the inevitable budget cuts that would have come), classic EPCOT attractions like Horizons, the original Journey Into Imagination, and World of Motion would have been cloned and likely still exist in California. Plus, it seems likely that their Florida counterparts might have been plussed-up and remained open.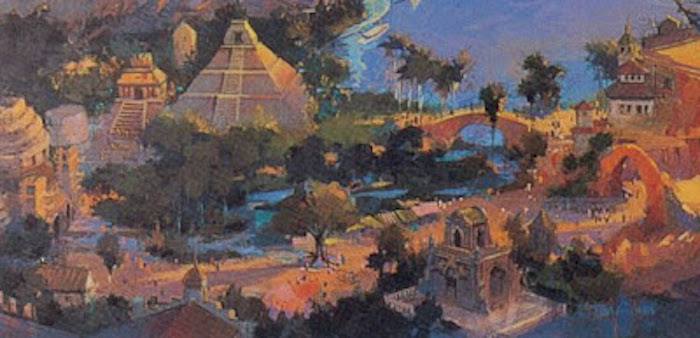 Do you wish these Disney unbuilt attractions had been built? Are there other mythical Disney attractions you dream about more? Let us know in the comments below. 
Join the AllEars.net Newsletter to stay on top of ALL the breaking Disney News! You'll also get access to AllEars tips, reviews, trivia, and MORE! Click here to Subscribe!