To all who come to this photo trivia game, welcome! Along the way, the photos can make us relive memories and see details that Walt's Imagineers put into everything we love in Walt Disney World!
The 12th Day of Christmas is 2 days away and that means the full Christmas celebration in many countries. So Merry Christmas!

And now: Challenge #669:
And here's the answer:
The iconic design of Conservation Station at Disney's Animal Kingdom.
The Kertes family was just there! I hope you're having a great trip!
Tom Patton was the first to send in the correct answer! Congratulations to Claire and all our winners this week! Brian Gallant, Emily Robinson, Martha and Justin Collins, Team Hill, Phyllis, Ken Savage, Sue Bridges, Karen Fichter, Ward Conolly, Sandra Debow, John Debow, Grumpys Groupies, Sherry Knoster, Deb Ragno, John Garrity, Linda College, Gloria Martin, Joseph M. Zafia, Michelle Fure, Josh Weiss, Emily hudson, Pam Schelkun, Tony Bivens, Andy Hickey, Aljaneen Curtis, Brooksbunch, Kerry A., Sue and Ed Adams, Ronnie Alvarado, Laurie Walker, The Kertes family, Paul and Kelli Grundman, JoAnn Albrecht, leach family, Kiersten, Adolph and Kimberly Timm, Mis Jamie Marie, Andreas Beer, Samantha B, Axel Beer, Stacy Sanders, Vicki Britt, Emily hudson, David G Crockett, Vera and Izzy Williams, Theresa Maradei, Greg, Arlene Vicek, The Kuroly Family, Dee Dee Kenney, Kim Derr, Jim & Lorie Sonnen, Sandie Albrecht, Jessica Gruhlke, Roxann Gallegos, Claire Gregory, Dawn Ottman, Luis Rodriguez, Bruce Tetlow, jennifer petix, Christopher DAgostino, Beau Harrison, Melissa McGinnis, Amanda Crowell, Richard Long, Linda Hoffman, The Kertes family, Kenny Stange, Vicki Britt, Jennifer Hess, Jeff Blank, Lori, Michael P Weeman, theresa rucando, Heather Wisnoski, Linda Ranatza, Debby Stailey, Cheryl Costello, Bob, Janet T Thorn, Melody ODonnell, The Wolfe Family, Michael Uptmore, Mike haeberle, Shannon Benton, Elizabeth Kinnear, Louise Theabo, Fred Terluin, Beth Wolf, Scott Cerino, Robert Wescovich, Donald Purney, Laura Sponaugle, Jane Johnson, George Mundy Jr, Brandon Blair, Sherri Pell, John Grosz, The Gunnels Gang, Vincent DeGasperis, and Tracy Discher!
You probably noticed that we need to draw 2 winners today: one for November and one for December. I didn't forget either. 🙂 So! Our final winners for 2020 are: Wayne Chadourne and Team Bonnie Sue!
______________________________________________________
Challenge #670 for January 3rd, 2021 Where in the world is this?
Switching parks! Yes, it's an easy one and I should have done it last week. But it is the first Challenge of January and I'm posting on New Year's weekend. 🙂
But while I have you here: do tough challenges bother you or do you like one once in awhile? Does it bother you if you didn't guess right on a Challenge?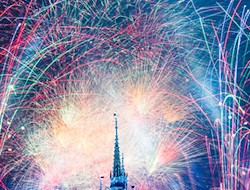 Do you know? Do you have a guess? Send in your answer before the end of the day on Thursday, January 7th by clicking on the blue box below. Please do not post your answers on this blog post.
See you soon, Players!

_____________________________________________________________________
Everyone who sends in a correct answer to a Where in the World Challenge this month will be entered in a drawing at the end of the month for some special AllEars® goodies!
Be sure to follow @allearsnet on Instagram and Twitter!
Check out our YouTube Channel for reviews, news, information, and more!
Click below to subscribe to the AllEars® Newsletter so you don't miss any of the latest Disney news!