For nearly 70 years, Walt Disney Imagineering has been the creative engine behind Disney's theme parks. Over the years, countless individuals have stepped through the organization's doors, using their talents to quite literally create magic all-around the world. However, it can be argued that one man's name looms largest in the annals of history as the Imagineer who laid down the path to what Disney theme parks are like today: Marc Davis.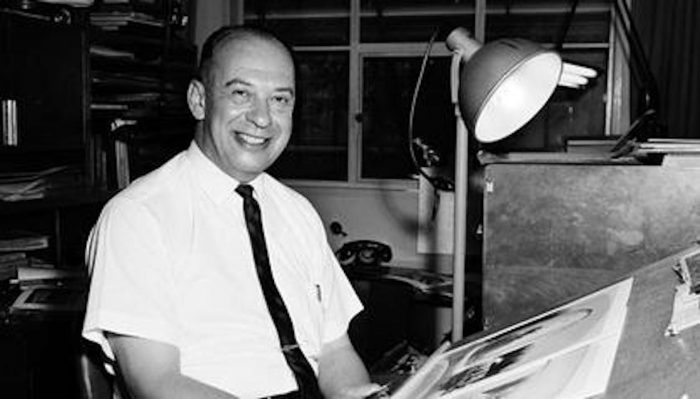 Marc Davis began his career with Disney as an apprentice animator in 1935, with his first assignment being the title character in Snow White and the Seven Dwarfs. Over the next two and a half decades, Davis put together a prolific body of work, lending his talents to classic films including Bambi, Cinderella, Alice in Wonderland, Sleeping Beauty, Peter Pan, and 101 Dalmatians. 
Davis became particularly well known as a "ladies man" thanks to his work on female characters such as Tinker Bell, Aurora, Maleficent, and Cruella de Vil. He would eventually be recognized as one of Disney's "Nine Old Men of Animation", the core group of animators responsible for the company's classic films through the 1970s. However, In the early 1960s, Davis was summoned by Walt Disney himself for a very special task. 
By Disneyland's fifth birthday, the theme park was an unqualified smash, beyond that the dreams of nearly everyone at the Disney. However, Walt Disney himself was feeling a bit restless. Despite its success, he felt something was missing from his crown jewel. So Walt called in Marc Davis.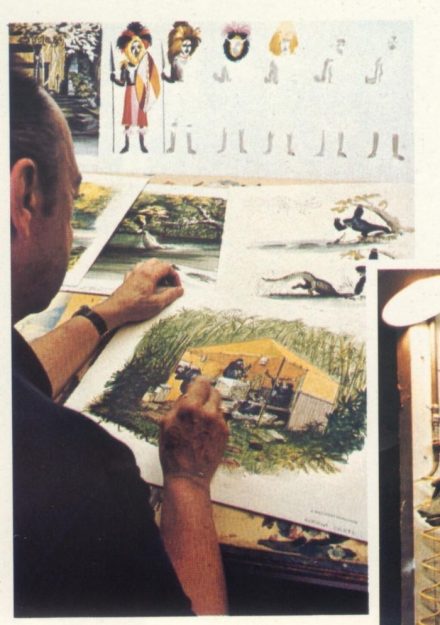 As explained by Eddie Soto (an Imagineering legend in his own right), "Disney sent Marc down to Disneyland to look at what could be added to make the Nature's Wonderland outdoor train ride attraction more fun, although it had just opened." Soto goes on to explain that Davis "…responded with an office full of watercolors, with many funny situations between the animals and nature."
Davis' comedic and visual approach to storytelling and character design (quite helpful for a park that was bringing in more and more international guests who didn't speak English) appealed to Walt, and he was brought over to WED (the precursor to modern Imagineering) full-time following his additions of comedic animals and singing cacti to the Mine Train through Nature's Wonderland. 
His best known early project was a soft-retheme of the park's iconic Jungle Cruise attraction. Davis created the iconic elephant pool and trapped safari sequences, which paved the way for the Jungle Cruise's transition from serious True Life Adventures to the pun-filled, comedic masterpiece we love today. 
Over the next several years, Davis became one of the key figures at WED, showing off a diversified skill set. He infused the Enchanted Tiki Room and its singing birds with his love of tropical culture. From there, Davis was a key player in the development of all three of Disney's 1964 World's Fair attractions: It's a Small World, The Carousel of Progress, and Great Moments With Mr. Lincoln.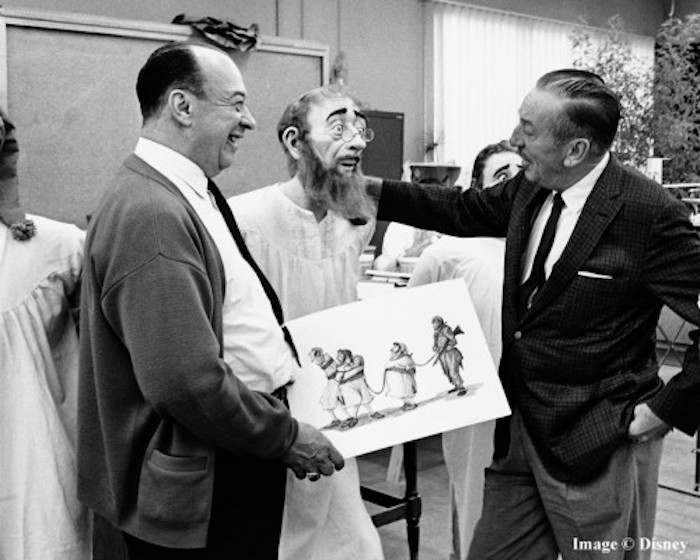 Following the Fair, Davis completed work on the attraction that would in retrospect become his magnum opus: Pirates of the Caribbean. Various versions of a pirate-based attractions had been considered for Disneyland, including a wax museum and small scale boat ride. In fact, a large "basement" had been constructed under New Orleans Square in preparation. However, following the massive success of It's a Small World, the concept was expanded into a large-scale, people-eating boat ride.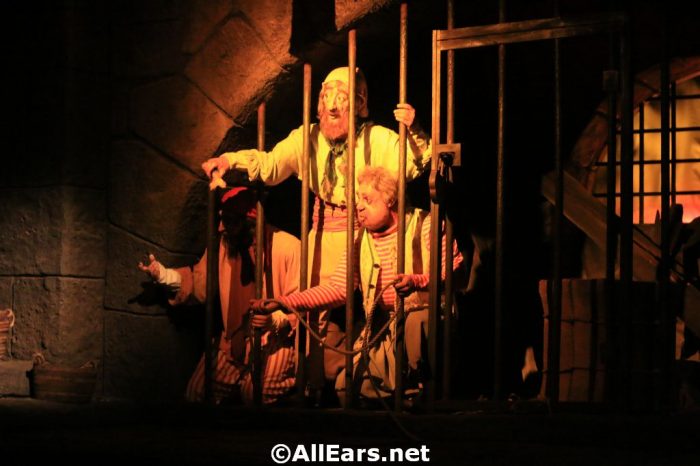 The attraction as it opened was a total distillation of Marc Davis's theme park aesthetic. Over 100 animatronics staged in comical and lighthearted scenes of piracy, larceny, and of course drinking. These vignettes depended on visual gags that transcend all languages and were easily communicated to each and every boat that passed by. POTC was an instant smash and became the blueprint for large-scale E-Ticket attractions that Disney still uses today. 
Davis went straight from Pirates to an equally-iconic attraction: The Haunted Mansion. Like POTC, various versions of a haunted attraction had been in the works for years, with a facade having been built in the early 60s. Many Imagineers had contributed to ideas, but none had proven completely feasible, so Walt Disney paired up Marc Davis and Claude Coates to finally push the Mansion to completion. 
Initially, Coates and Davis clashed on the attraction's theme, with the former preferring a spooky and scary setting while the latter wanted to use his aforementioned comical vignette style to poke fun at the concept of death itself. Eventually the two compromised, with Coates' spooky atmosphere making up the first half of the attraction, while the second half focused on Davis's visual gags and jokes, evident in the ballroom and graveyard scenes specifically. 
Following the massively successful (noticing a pattern?) opening of The Haunted Mansion, Davis – like most of the company – turned his attention to Walt Disney World. Marc dusted off plans for a "singing bears" show that he'd originally designed for the never-built Mineral King Ski Resort Walt Disney had planned for Northern California. Davis expanded the concept into the Country Bear Jamboree, a show many fans still consider the apex of Disney animatronic entertainment.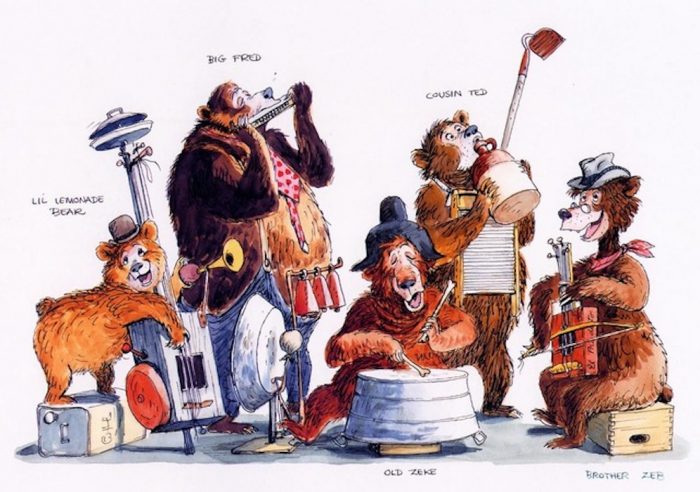 While the Country Bears were Davis' main opening day contribution to the Magic Kingdom, that wasn't the initial plan. In the planning of the park, Davis designed the attraction that he'd planned to be his piece de resistance: The Western River expedition.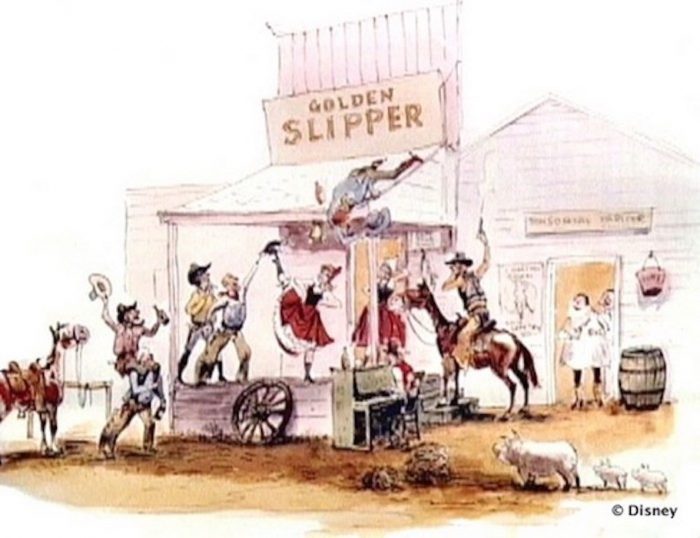 The attraction was planned to be a massive E-Ticket boat ride, a la Pirates of the Caribbean (which was initially left out of the plans for Orlando since many at Disney thought the pirate attractions Florida had outside of Disney would mean they'd have no interest in more), featuring hundreds of cowboys, Native Americans, and animals telling the story of the American West in Davis' style of comedic vignettes. 
Furthermore, the attraction was meant to be housed in a gigantic show building known as Thunder Mesa. The Mesa was scheduled to take up a whole corner of Frontierland and feature a mountain range and mine train roller coaster attraction on its exterior. Due to budget issues, the Thunder Mesa project was moved to Phase 2 of Walt Disney World's construction, scheduled to open 3-4 years after opening day. However, Davis' dream project would be crushed… by his previous greatest achievement.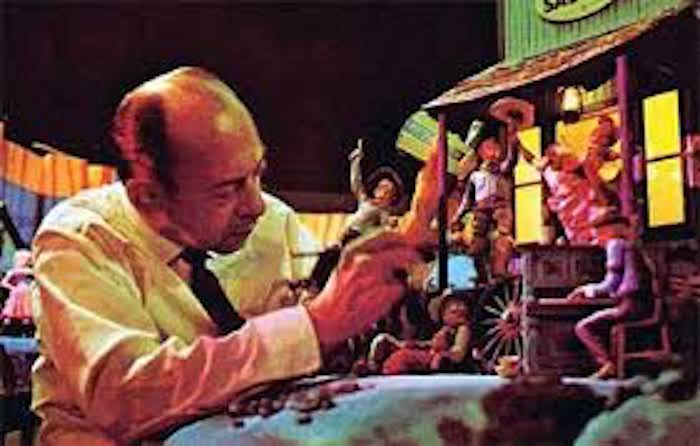 As we've discussed in the past, guests had one major complaint:  "Where are the pirates?" You see, east coast Disney guests who'd grown up with the Disneyland television series weren't bored by the concept of pirates at all. In fact they desperately wanted them. Much to Davis' chagrin, Disney quickly green-lit a truncated clone of Pirates of the Caribbean, using the budget previously set-aside for the Western River Expedition to build it. At the time, Disney said that Thunder Mesa, which they had already begun advertising, was still still coming. However, it wasn't meant to be. 
In the mid-1970s, Davis worked on the America Sings animatronic show, all the while continuing to push for the Western River Expedition to be built. However the energy crisis, a slump in tourism, and worry about the political correctness of the attraction's portrayal of Native Americans continued to push the project back. The final nail in the coffin of the WRE came when Tony Baxter (who'd once been Marc's protege) designed the Big Thunder Mountain Railroad for the plot of land Thunder Mesa was once set to occupy.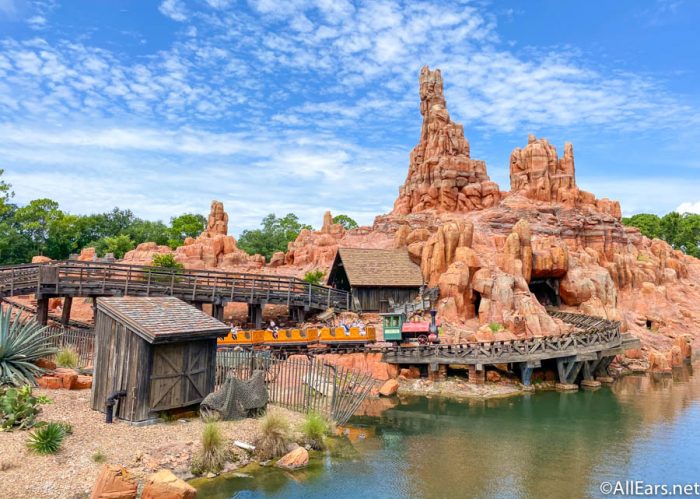 Davis was apparently enraged that his protege had "betrayed" him, especially since Big Thunder seemed to be a larger scale version of the mine train coaster that was supposed to Thunder Mesa's secondary attraction. Supposedly, Davis held a grudge for the rest of his life.
Marc Davis retired from the Walt Disney Company in 1978 Though he would occasionally return to consult on projects such as EPCOT and Tokyo Disneyland, Davis mostly spent the rest of his life with his wife of 44 years, Alice Davis (herself an Imagineering legend thanks to her brilliant costuming work), before passing away in 2000. 
Marc Davis left an indelible mark on the history of Walt Disney Imagineering. His ability to craft memorable visuals led to the development of some of the company's most famous attractions, and in turn laid a blueprint that Disney follows to this day. 
What is your favorite Marc Davis attraction? Let us know in the comments below.