As we've covered in the past, the Disney's Imagineering archives are full of projects that, for one reason or another, never came to fruition. While these plans range from full theme parks (like Disney's America), theme park lands, and Resort hotels, none spark the mind quite like unbuilt attractions. These "rides that never were" have inspired books, websites, social media posts, and most importantly the imaginations of Disney fans for decades. 
While there are quite literally thousands of unbuilt attractions to choose from, we've culled together information on some of the proposals that many Disney aficionados still salivate over to this day. 
Western River Expedition:
There is arguably no more famous unbuilt Disney attraction than the Western River Expedition. Largely designed by legendary imagineer Marc Davis in the late 1960s, the attraction was meant to take the place of Pirates of the Caribbean (also a Davis-led attraction) at Walt Disney World's Magic Kingdom, as Disney executives felt that local visitors wouldn't find pirates interesting since the Florida area was already ripe with pirate tales and attractions. 
The attraction, often described as Davis' potential magnum opus, was meant to be a boat ride similar to Pirates of the Caribbean, but based around wild west iconography including cowboys, Native Americans, bandits, and saloon girls, all narrated by Animatronic owl Hoot Gibson. The attraction was meant to be housed in a large structure known as Thunder Mesa, located roughly where Splash Mountain and Big Thunder Mountain Railroad are located today.
Much more than a typical show building, the Mesa was planned to include pack mule rides and trails, a runaway train roller coaster (sound familiar?), and a tableau of rock work that was meant to serve as a stunning backdrop to Frontierland. 
Plans originally called for the WRE to be an opening day attraction at the Magic Kingdom. However, budget cuts led to the entire Thunder Mesa complex being pencilled in for the park's "second phase" of construction. In fact, the company was so sure that they would be adding Thunder Mesa by the mid-1970s that they included the attraction in numerous promotional materials and other "previews" of what was to come. There was just one problem…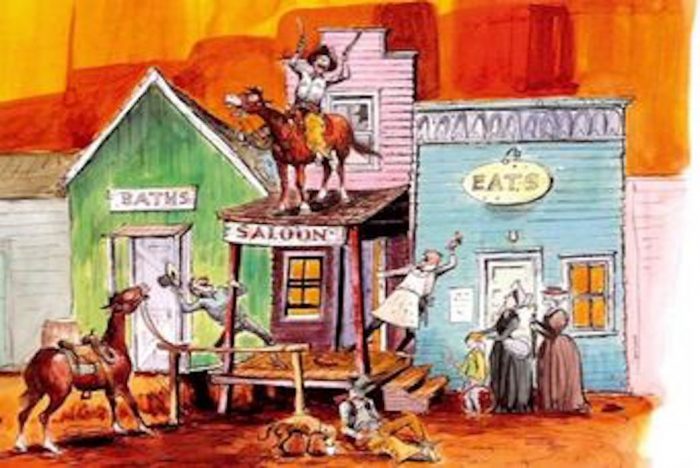 …When Walt Disney World opened in October 1971, the #1 complaint to guest relations was "Where are the pirates?" You see, east coast visitors who had grown up watching Walt Disney gleefully hype Disneyland's Pirates of the Caribbean on television wanted to see what all the fuss was about. These complaints led to Disney fast-tracking a shortened version of Pirates of the Caribbean – using the budget originally earmarked for Western River Expedition – into the Magic Kingdom, much to Davis' chagrin.
While the opening of Pirates didn't completely kill Western River Expedition, it did put the attraction on the back-burner. As the 1970s wore on, other factors including the gas crisis, a tourism downturn, the desire amongst Disney management to build thrill rides, money allocated to an expansion of Tomorrowland, and fears that its depictions of Native Americans would be controversial continued to hurt the attractions chances to be built, despite continued petitioning from Davis.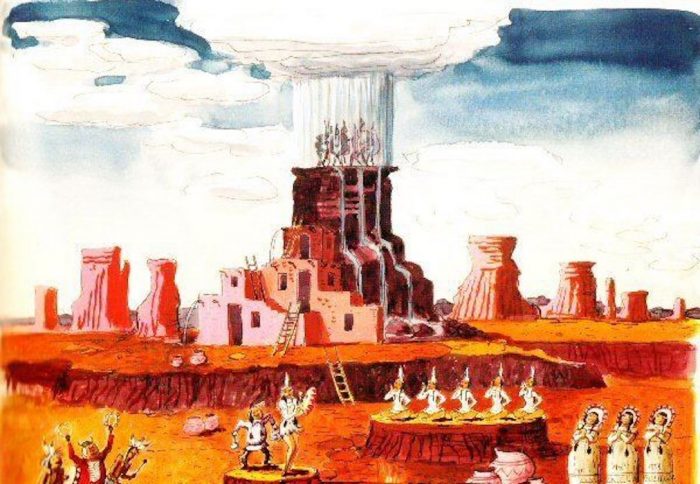 The final nail in Western River Expedition's coffin came in 1979, when ground was broken on the aforementioned Big Thunder Mountain Railroad (which was allegedly based on the coaster portion originally planned to be Thunder Mesa's secondary attraction) on the spot where Thunder Mesa was supposed to be built. However, former Marc Davis protege Tony Baxter, who led the BTM project, included numerous references to WRE in tribute to Davis's lost masterpiece. This became somewhat of a tradition among Disney Imagineers, and references to the attraction were included in several other Disney projects over the years including Splash Mountain, Expedition Everest, World of Motion, Living with the land, and the entire Westernland portion of Disneyland Paris, which is known in story as Thunder Mesa.
Dick Tracy's Crime Stoppers:
In the early 1990s, Michael Eisner announced what he termed the "Disney Decade", a series of a major additions planned for Disney's theme parks around the world. While some did get built, many didn't due to the initial economic failure of EuroDisney.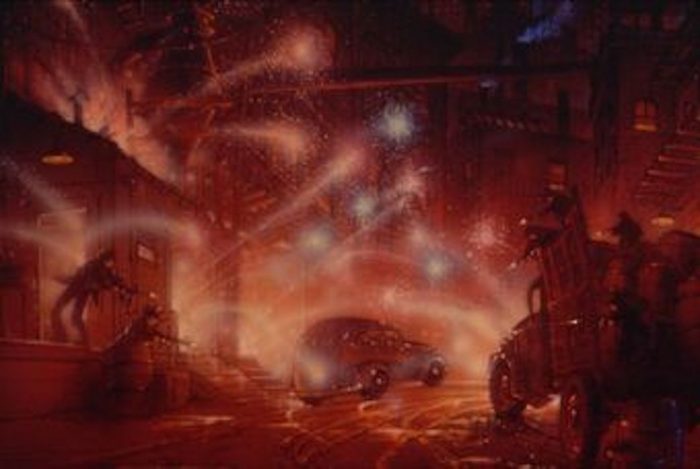 One of the major attractions that didn't see the light of day was Dick Tracy's Crime Stoppers, a large E-Ticket attraction planned for the park then known as Disney/MGM Studios. The attraction would have taken guests through the streets of Chicago on an enhanced motion vehicle, allowing them to use laser-guided "Tommy guns" to assist Dick Tracy. 
Development on the Crime Stoppers attraction was halted thanks to a cocktail of financial issues in the wake of EuroDisney, the underwhelming box office returns of the Dick Tracy film, and worries amongst some Imagineers at the idea of "arming" guests with realistic-looking "guns." Elements of the attraction later made their way into the Indiana Jones Adventure, Buzz Lightyear's Astroblasters, and Toy Story: Midway Mania. 
Roger Rabbit Attractions:
Dick Tracy wasn't the only early 1990s Disney IP that was once planned for MGM Studios. In addition, Disney planned to capitalize on the popularity of Roger Rabbit by building a mini-land dedicated to the character's Toontown home. The land was billed to include three attractions based on Roger. These included:
-Baby Herman's Runaway Baby Buggy, a dark ride which would feature guests in "baby carriage-shaped" ride vehicles riding through the set of a Baby Herman film.
-Toontown Trolley, a simulator ride that would be based around Roger taking guests on a "madcap" trolley tour of his cartoon world. 
-Benny the Cab Ride, a dark ride concept that would eventually evolve into Roger Rabbit's Car Toon Spin, which is currently in operation at Disneyland and Tokyo Disneyland. 
The Roger Rabbit attractions fell victim to both budget cuts, as well legal battles between Disney and Amblin over control of the Roger Rabbit characters.
Geyser Mountain:
In the late 1990s, Disney Imagineers began work on a project known as Geyser Mountain for Disneyland's Frontierland. Guests would ride in a "huge drilling machine" to the center of a geyser, which would then "catapult them to the surface" using a version of the Twilight Zone: Tower of Terror ride system. The attraction would have been the first E-Ticket attraction added to Disneyland since the Indiana Jones Adventure. So why did Geyser Mountain never come to be? The short answer is California Adventure. 
You see, the entire reason Geyser Mountain was designed in the first place was that Disney believed a new attraction would be needed to lure guests back to Disneyland once the then under-construction California Adventure theme park opened, as they believed it would be so successful that it would siphon guests from Disneyland. Suffice to say, that didn't happen. In fact, California Adventure was such a relative failure that the proposed budget for Geyser Mountain was shifted to that park, where it was used to construct a version of the Tower of Terror (now Guardians of the Galaxy: Mission Breakout). 
The Original Space Pavilion Renovation:
As we've discussed in our piece on the original Horizons, it was decided to replace the now-legendary EPCOT attraction in the 1990s. Initially, plans for Horizons' replacement called for a refurbishment of the existing attraction into a space-based ride that would make use of the preexisting OMNIMAX screens.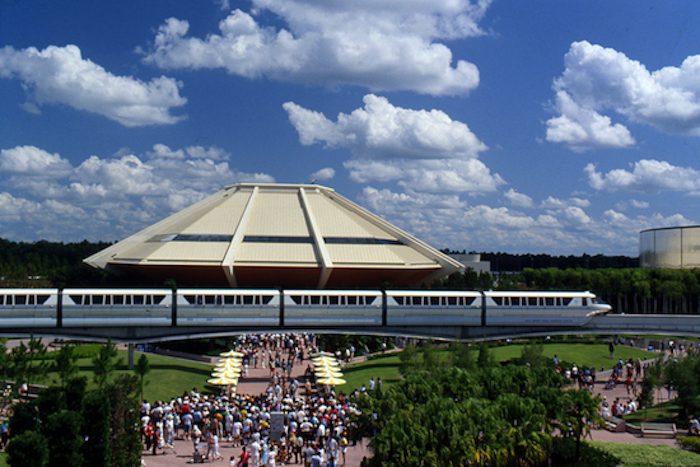 However, a sinkhole underneath the building – or the desire to add a thrill ride, depending on who you believe – led to that plan being scrapped, and the whole Horizons show building being torn down and replaced with Mission Space. 
Around the World Showcase:
Over the years, there have been many plans for EPCOT's World Showcase that have gone unbuilt. In addition to numerous full international pavilions that haven't been built, there have been numerous planned attractions that have been left on the drawing board. Each of these attractions was cancelled due to budget cuts. These include: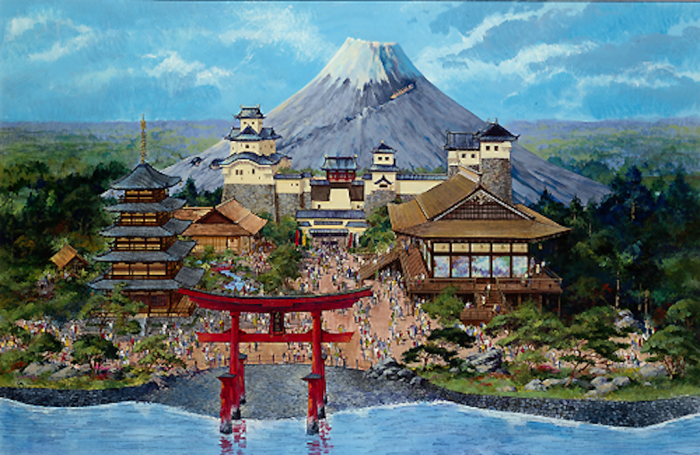 -A large-scale roller coaster set in a massive recreation of Mt. Fuji set to be built behind the Japan pavilion.
-A Bullet Train simulator also scheduled for Japan, at least one potential version of which was paneled to include the Toei character Godzilla. 
-A Rhine River Cruise dark ride  through German history set to be included in the Germany pavilion. This attraction came so close to being built that the area that would have served as its queue was built, and is still visible at the back of the German pavilion. 
-A Thames River Cruise dark ride in the United Kingdom pavilion that would bring guests past the Tower of London, Big Ben, and the Houses of Parliament.
Which of these unbuilt Disney attractions do you wish had made it into the theme parks? Any other blue sky concepts you'd like to read about? Let us know in the comments below.