Disney movies are the gifts that just keep on giving!
One of the things that make Disney movies so great is the incredible attention to detail that goes into creating them. In fact, the animators often hide Easter eggs throughout the films, which can make rewatching them endlessly entertaining.
Here are 14 details you probably missed in some of your favorite Disney and Pixar movies!
Unredeemable Monster
It seems Hans from Frozen is universally known as a baddie. In this police station scene from Big Hero 6, Hans is shown on a "Wanted" poster pinned on the bulletin board!
Shake it Off
Does anyone know how long the flight is from Agrabah to New Orleans?? In this opening scene from The Princess and the Frog, a woman is shaking out a carpet that looks just like the magic carpet from Aladdin!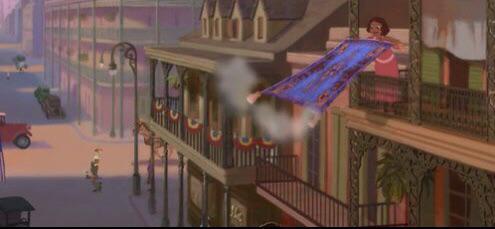 Let's Get Down to Business
There are several references to the 1998 film Mulan in the 2002 movie, Lilo & Stitch. You can spot a Mulan poster hanging on Nani's bedroom wall…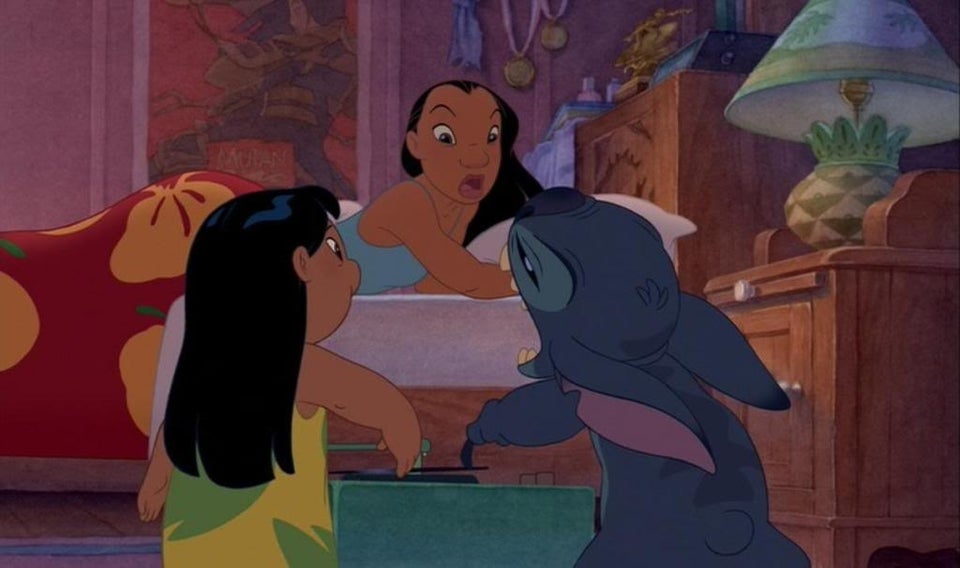 …plus, Nani, Lilo, and Stitch walk past a restaurant named Mulan Wok!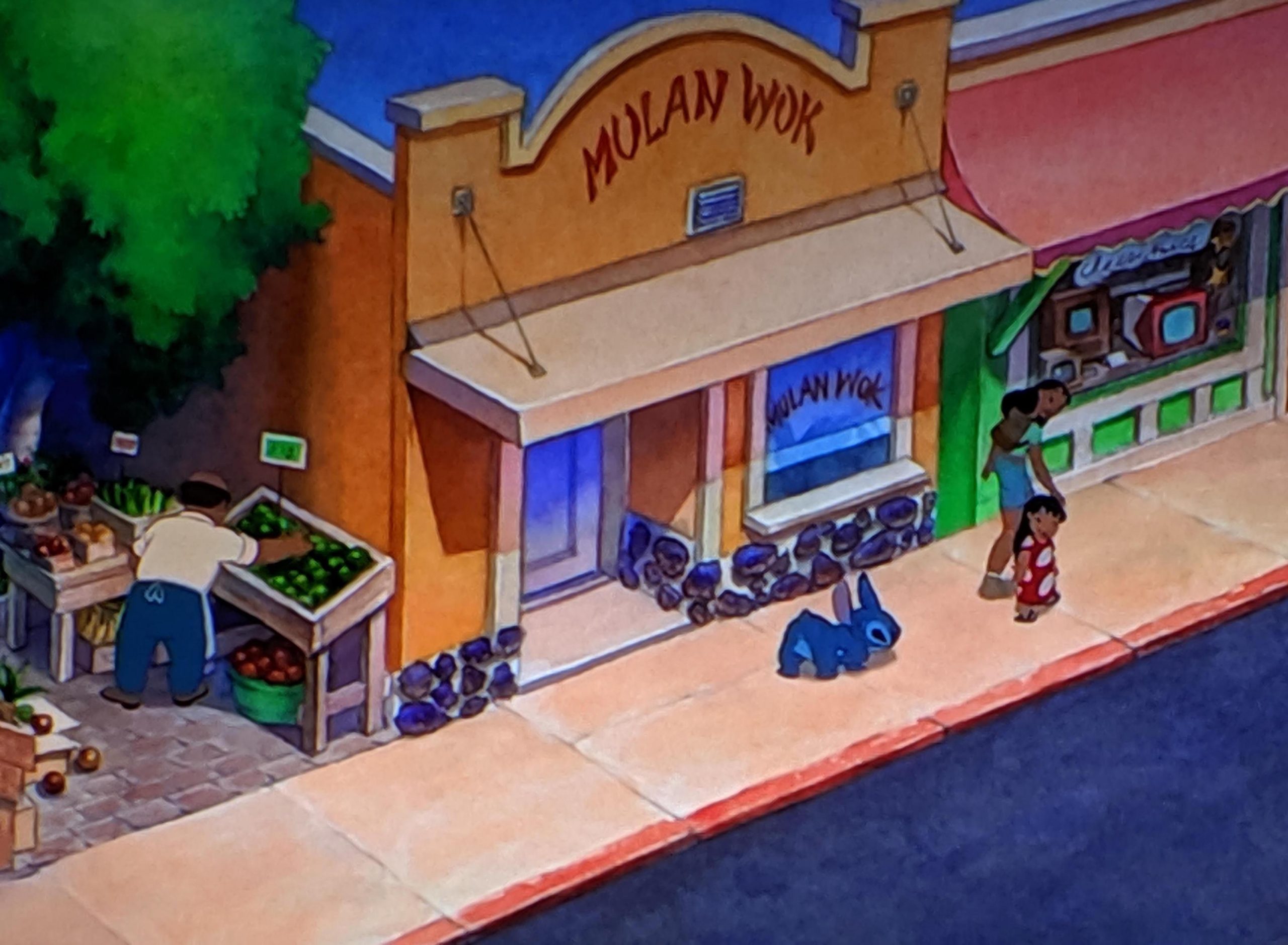 Cali Bound
In the Beauty and the Beast scene where Maurice finds himself lost in the woods with Philippe, they come across a sign with faded lettering. Take a close look at the lowest two markers on the sign. One reads "Valencia," which is home to CalArts, where many Disney animators have studied. And the other reads "Anaheim," which is, of course, the location of Disneyland Resort!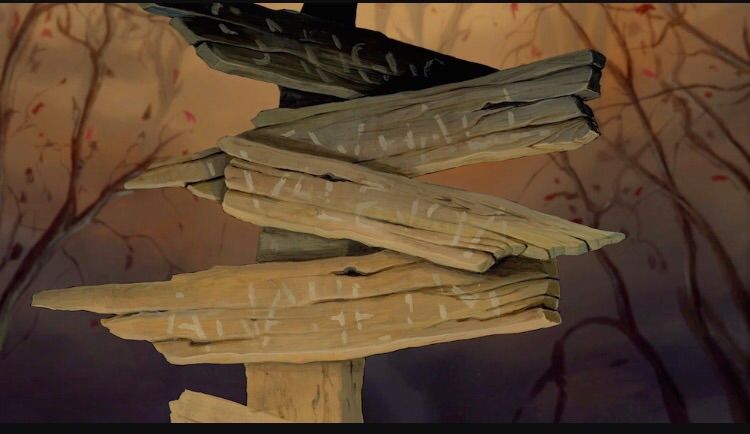 No Glass Slipper in Sight
Ever wonder who showed up for Vanessa (AKA, Ursula-in-disguise) and Prince Eric's almost-wedding in The Little Mermaid? Upon closer inspection, you might notice two familiar guests! The King and Grand Duke from Cinderella make an appearance right behind Max in this scene.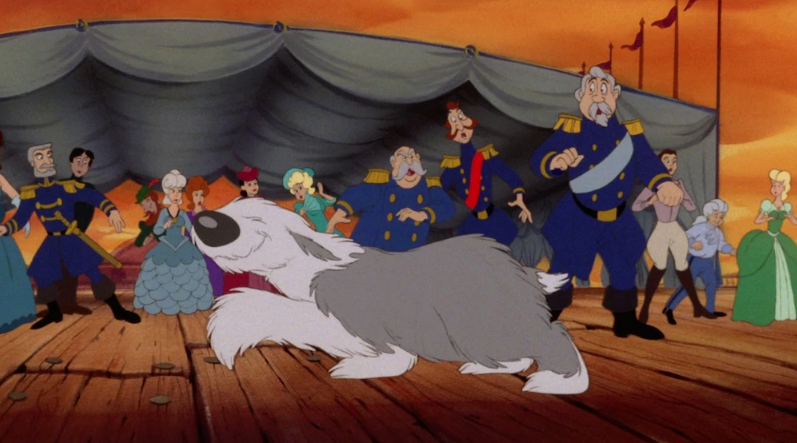 You Spin Me Right 'Round
What happened to the spinning wheel from Sleeping Beauty after the kingdom was restored to order? It looks like it made its way all the way to Rapunzel's tower in Tangled!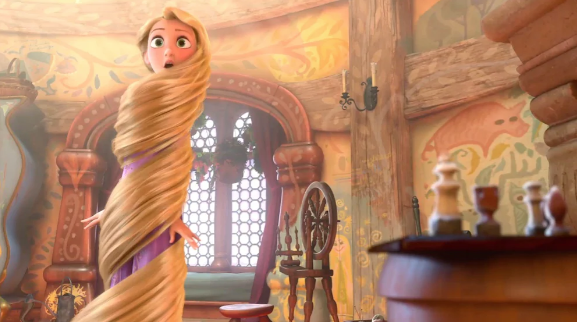 The Nose Knows
And there's another Tangled Easter egg you might have missed on the first watch! Can you spot Pinocchio up in the rafters of The Snuggly Duckling above Flynn Rider/Eugene Fitzherbert??
There's No Monster in Here… Well, Now There Is
Look who popped up in the witch's wood carving shop in Brave…it's Sulley from Monsters, Inc. down in the corner!
Squirrel!
In an early Ratatouille scene, Remy is searching for the perfect ingredients when he almost comes face-to-face with a dog. A dog whose shadow looks a lot like Dug from Up!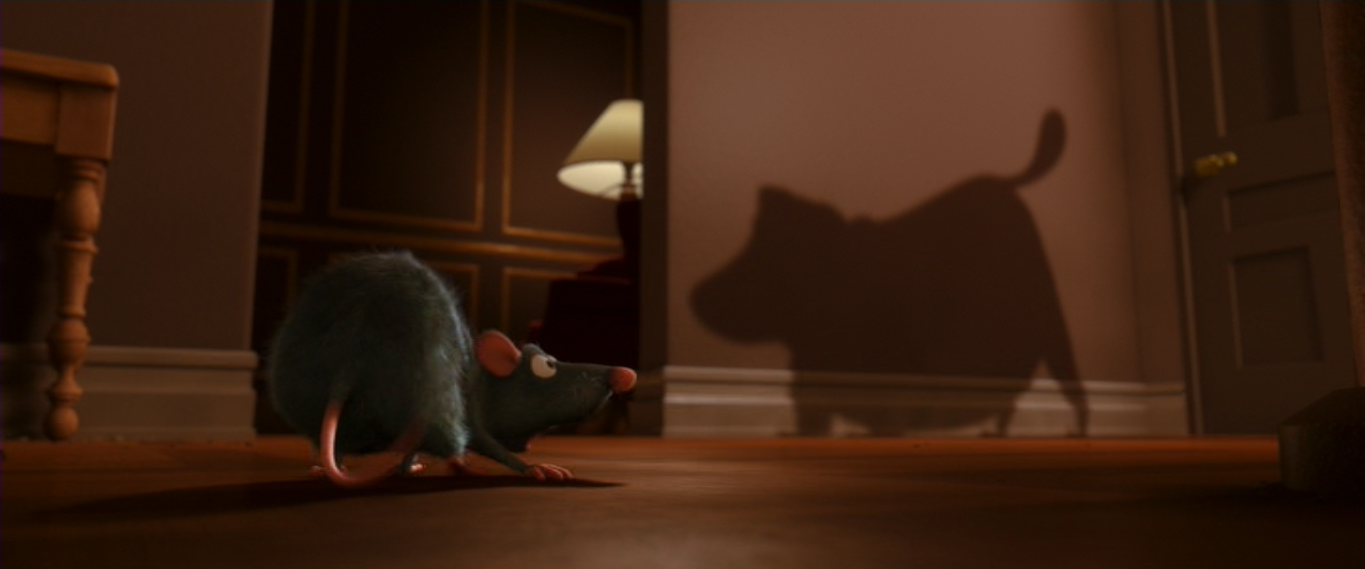 Grim Grinning Ghosts Come Out to Socialize
When the Muses are singing along to "I Won't Say I'm in Love" with Meg in Hercules, they appear as busts during one part of the scene. And the arrangement of the busts is far from random…
…it's the same arrangement of the busts on the Haunted Mansion!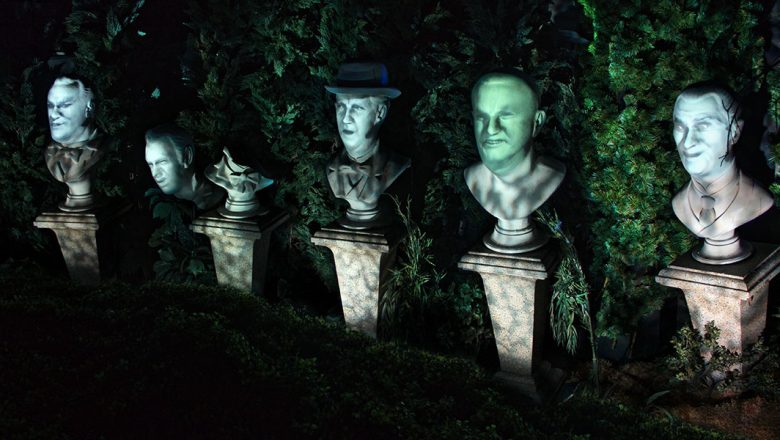 More Power!
In addition to voicing Buzz Lightyear in Toy Story, Tim Allen is also known for his lead role in the sitcom Home Improvement. The Pixar animators worked in a nod to the show in the form of this toolbox from Binford Tools, the fictional hardware company from the television series!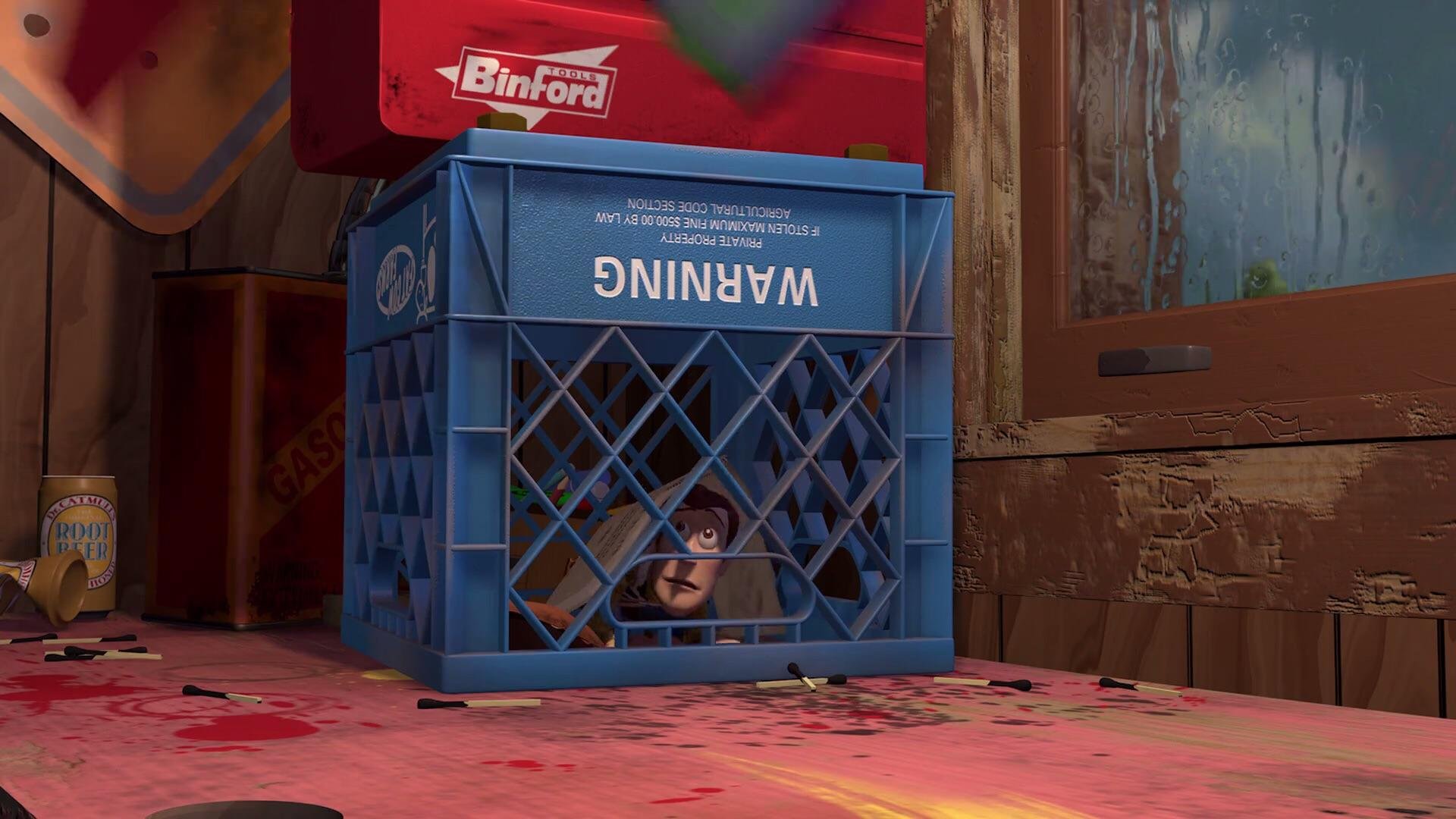 B-E M-Y P-A-L
In Monsters, Inc., Randall mentions "the winds of change" to Mike and Sulley while arguing that he's going to overtake them to break the scare record. In the follow-up film, Monsters University, we see that this has been a long-time mantra for Randall — he has a "winds of change" inspirational poster hanging in his dorm room!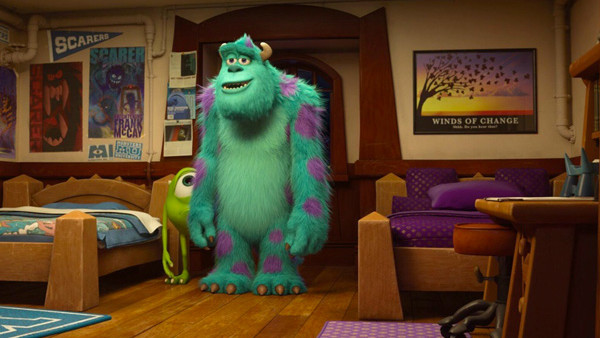 Try Everything
And last but not least, take a look at the artists on Judy Hopps' MP3 player the next time you watch Zootopia. You'll spot some super punny names like Fleetwood Yak, Guns N' Rodents, and Mick Jaguar. That's giving us some serious Kitchen Kabaret vibes!
There's a lot to love about Disney movies. The timeless storylines, lovable characters, incredible music…and, of course, all the hidden details! These are just a few of the sneaky secrets you'll spot if you watch these movies a little extra closely. Ready for an Easter egg hunt? Head on over to Disney+ and check 'em out!
How many of these hidden Disney movie secrets have you spotted before? Let us know in the comments!
Join the AllEars.net Newsletter to stay on top of ALL the breaking Disney News! You'll also get access to AllEars tips, reviews, trivia, and MORE! Click here to Subscribe!