Now coming to Disney+ this Christmas is Disney/Pixar's latest film from director Pete Docter, Soul.
Soul centers around middle-school band teacher Joe Gardner (voiced by Jamie Foxx) who has always aspired to play jazz with the greats, but whose life has turned out more like that of George Bailey in It's A Wonderful Life — a tribute to self-sacrifice and delayed gratification.  Just when Joe appears to have a chance at the Big Time, one misstep removes him from this plane of existence and forces him to team up with a cynical, disembodied soul "22" (voiced by Tina Fey,) who is as reluctant to join the world of the living as Gardner is desperate to get back.
Continuing on from the first half of our virtual press day, we heard from the talented artists who contributed to Soul's story, animation, and music.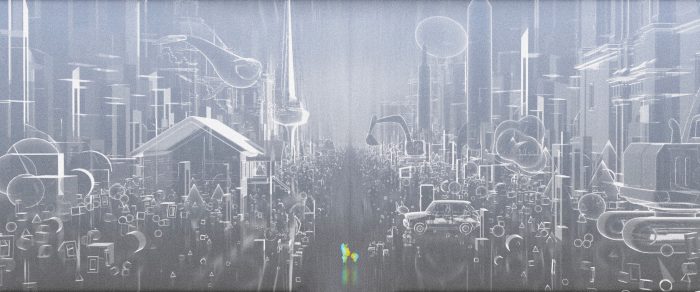 Story
In the Story Department presentation, Kristen Lester (Story Supervisor) Michael Yates (Story Artist), and Aphton Corbin (Story Artist) took us through the development of the poignantly insightful "Hall of You" scene, in which Joe walks 22 through a museum exhibit of his life and relives the various detours and bumps that make up a life.
The main question the writers sought to address in this scene was, with all his love for jazz, why had Joe never succeeded in becoming a professional musician?  To develop this scene, they generated a ton of ideas and artwork that did not ultimately make it into the final film, but helped to further delineate Joe's character.  In one of these sequences, they created a montage of moments in Joe's life where his responsibilities as a son or a teacher or just bad luck continually conspire to keep him from making the important auditions or gigs that might open the door to his musical success.
Ultimately, the scene in the film became that of the Hall of You where souls can run through a personally tailored exhibit of their lives in a museum-like setting.  While the purpose is ostensibly for mentors to show new souls their brilliant successes to inspire their future life on Earth, Joe's life displays a little differently.  The mentor he replaces (Bjorn Borgenson) has an exhibit filled with awards and professional recognition.  In contrast, Joe's reveals one rejection after another as his life passes by, with Binaca spray mounted on pedestals instead of Bjorn's medals.  By pushing the notion of Joe's life as one of unfulfilled dreams, the story artists made him sympathetic to the audience, and ramped up Joe's urgency to get back to Earth for his one last shot at the Big Time.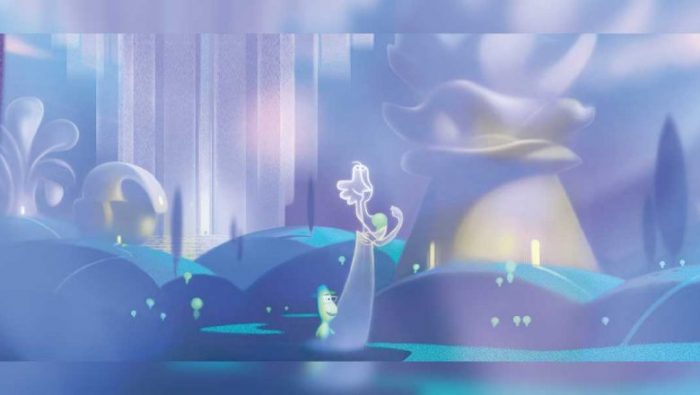 Animation
To talk about some of the challenges animating Soul faced, were presenters Bobby Podesta (Animation Supervisor), Jude Brownbill (Animation Supervisor), and MontaQue Ruffin (Animator.)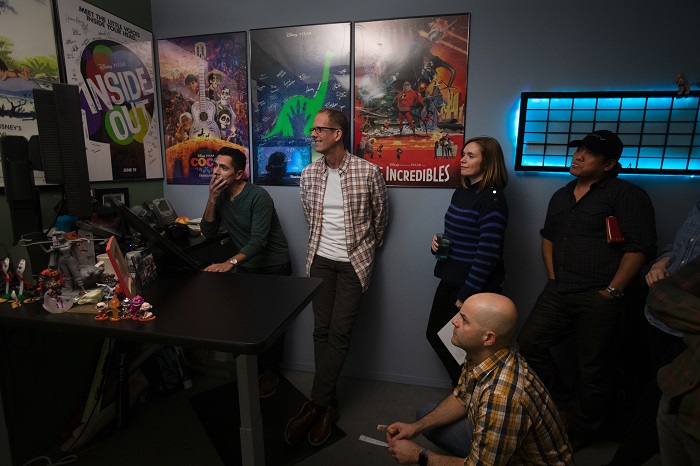 One of the first influences on developing how the characters look and act and move are real life references–video references of both the animators themselves and the voice actors–Tina Fey and Jamie Foxx.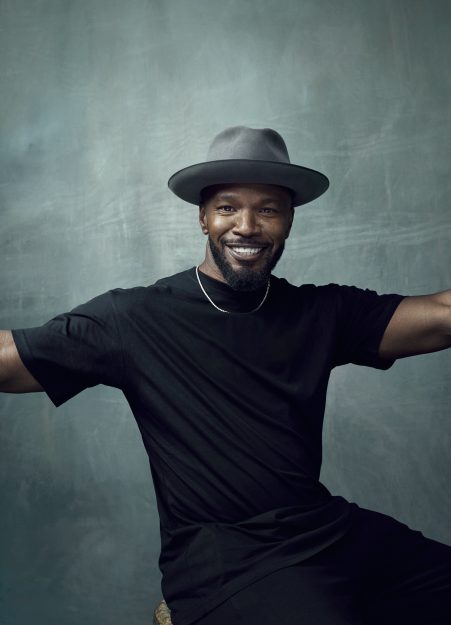 Before delving into the specificity of the characters however, the animators needed to develop general design elements of the souls.  New souls are simple, round shapes with no distinguishing characteristics because they lack any of the experience or identity that living molds them.  The mentor souls, on the other hand, are an abstraction of how they saw themselves on Earth who move as if they were still subject to gravity instead of the weightless bobbing of newbs.  This helps give Joe a visual identity when he exists in the Great Before as he retains his hat and glasses and allows viewers to pick him out of a crowd.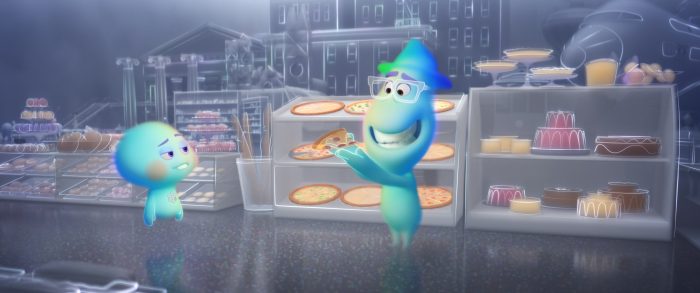 The next character design challenge was that of the Counselors of the Great Before, who are basically manifestations of the universe presented in a form that humans can comprehend.  After countless attempts at creating a being that was both unique but which also allowed for clarity of acting, the concept of them being a living line came to the forefront, as displayed by concept wire sculptures.

Even animating Joe as a regular human had its degree of difficulty as they felt animating Joe's hands playing piano authentically was key to showcasing his talent and passion for Jazz.  They recorded video reference of Jon Batiste's hands as he played and used it as a visual roadmap to show Joe's hand movement and finger articulation frame by frame.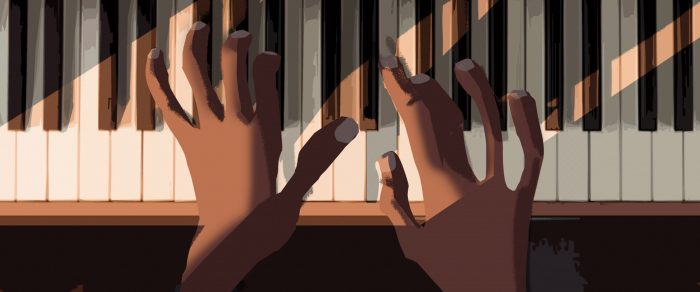 Jazz
For a film that revolves largely around a character's lifelong passion for jazz, the music was of paramount importance.  One of the main resources the filmmakers used to help them understand and accurately present jazz was the great Jon Batiste who wrote and arranged all the jazz music in the film.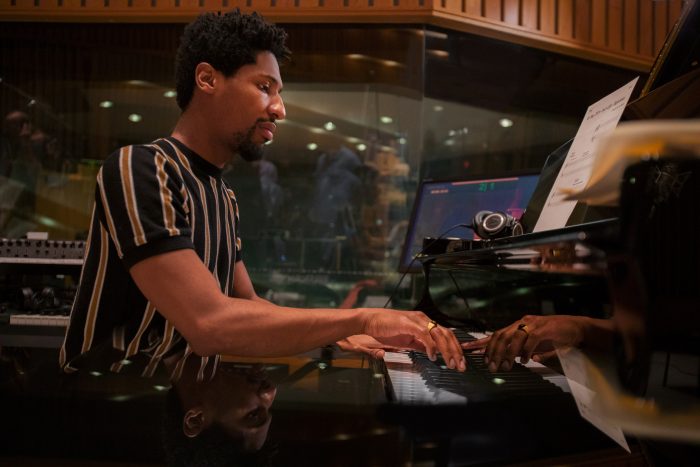 Batiste on finding the tone of the music:  "The film has this ethereal air because it's going between the real world in New York City and, the Great Beyond, which is where souls are born, and where they figure out their purpose, and where the souls go once a person's soul leaves their body in their death. 
"I wanted to find some jazz music that had an ethereal and very universal, accessible form with melodies and harmonies that had that same spirit.  So, if you listen to these kind of chords…there's an optimism in them, and it's also a bit melancholy at the same time…Every song has those kind of harmonic, melodic, and rhythmic textures, and it brings you to a place spiritually."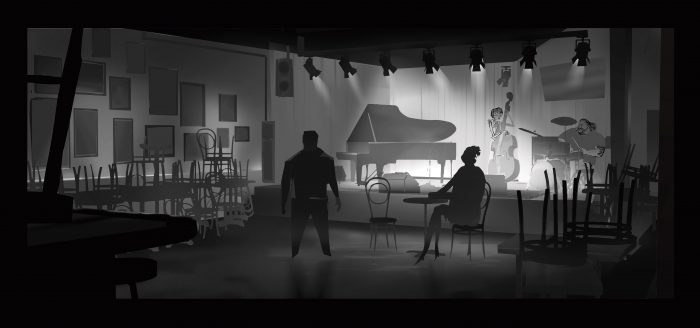 Batiste on creating an authentic jazz club sound:  "We channeled all of the greats that I had the pleasure of playing in jazz clubs with around the world, as well as the ones who I've listened to for years since I was a little boy, like Joe when he walked in the club…I wanted to channel their spirit through the types of compositions.
"You know, kind of like the first thing that Joe hears when he walks into the club, the "Born to Play."  That's kind of a swing feel with some of the different harmonic textures that you would hear maybe in, like, a Kenny Kirkland record or a Branford Marsalis record from the '80s.  So, I imagined he was walkin' in the club, it was probably around that time, you know, the '70s or the '80s, and the cats were playin' in that way.  It was the neo-traditionalist movement during that time."
Soul begins streaming on Disney+ on December 25th, 2020.
Questions?  Comments?  Suggestions?  Drop us a line below.
Be sure to follow @allearsnet on Facebook, Instagram and Twitter!
Check out our YouTube Channel for reviews, news, information and more!
Click below to subscribe to the AllEars® newsletter so you don't miss any of the latest Disney news!

Are you excited for Onward? Let us know in the comments!