New for this winter on Disney+ is the latest collaboration between Lucasfilm and LEGO, the LEGO Star Wars Holiday Special.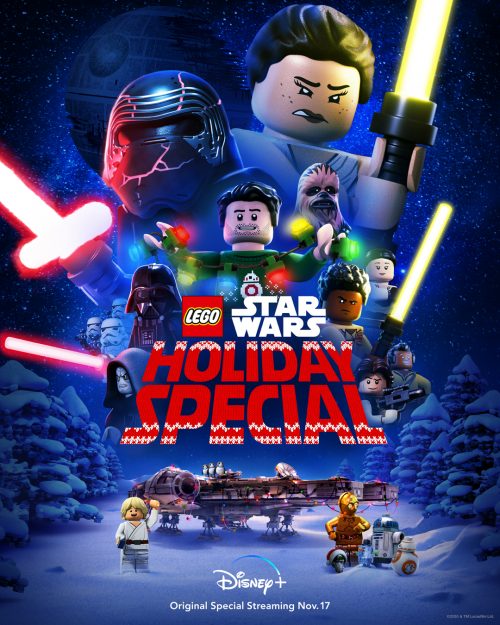 The LEGO Star Wars Holiday Special, a spiritual successor to the infamous 1978 Star Wars Holiday Special, takes place immediately after the events of Star Wars: The Rise of Skywalker.  While the happy band of Rey, Finn, Poe, Chewie, Rose, and the droids get ready to celebrate Life Day, their preparations are set askew when Rey abruptly leaves to investigate a prophecy that might be a key to advancing Finn's Jedi training.
This launches our characters into a madcap adventure through time and space and introduces Rey and BB-8 to legendary personages from all nine Star Wars legacy films and Poe to the horrors of burnt tip-yip.
To discuss the new special and his long career with the Star Wars universe, Anthony Daniels (C-3PO) joined us for a virtual press conference.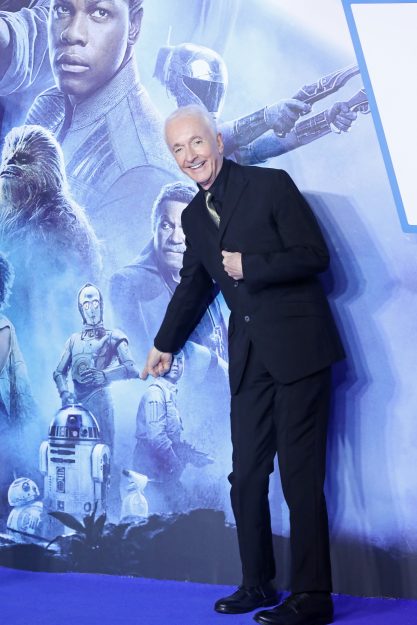 Anthony Daniels Press Conference highlights:
On the 1978 holiday special:  "Right…I'm sure you have read my book I am C-3PO: The Inside Story…one of the most amusing chapters possibly…refers to the original holiday special in 1978, which was remarkable in so many ways.  First of all, filming it on the set in LA was a dismal, dismal experience–and bear in mind, this is meant to be the happiest day in the life of an Ewok.  Not Ewok.  What are the big ones called?  The Wookies.  They will get together, every religion has its festival days and Life Day is for the Wookies, and there we were meant to be celebrating this event and there's Mark and Carrie and Harrison and me in this very dark, basically black drapes.  It was like a funeral.  It was dreadful.  And then you watched it and you thought, 'I didn't realize it was as dreadful as that.'  Well, it was.
"So when the producers came to me and said, 'We're going to make a holiday special,' I laughed.  But as you will find out, it's very, very different and it's charming and it's LEGO that I adore.  And Threepio has seen all sorts of things over the years.  He's been on the Donny & Marie Osmond Show and the Muppet Show and he's used to crazy experiences that bring out certain qualities in him. And so long may that go on."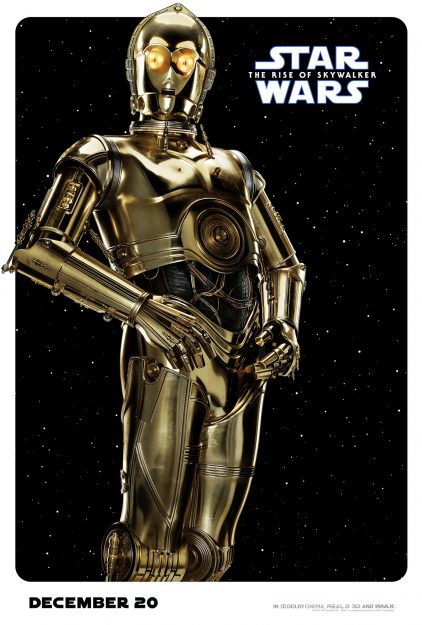 On the responsibility for keeping C-3PO true to himself:  "You know, I like being employed, I like working, but one reason it's important that I feel I stay with Threepio is sometimes writers or producers, whatever, get a bit distant from the basic, I would say truths if you like, of the original film.  That you meet C-3PO and he's very important in the minds of many, many people because he's the first voice in that first film.  He has a kind of quality that stayed with people and therefore, you have to stay with that quality, whatever the new iteration is, whether it's a film or an animation or it's a LEGO film.  And I can do that, not without being crazily controlling about it but I can say, 'that's not how he would put things' or 'that's not how he would behave in character,' because it's very important he stays in character.
"And sensible and clever and intelligent producers and writers and directors listen to me.  Others, I don't work with them."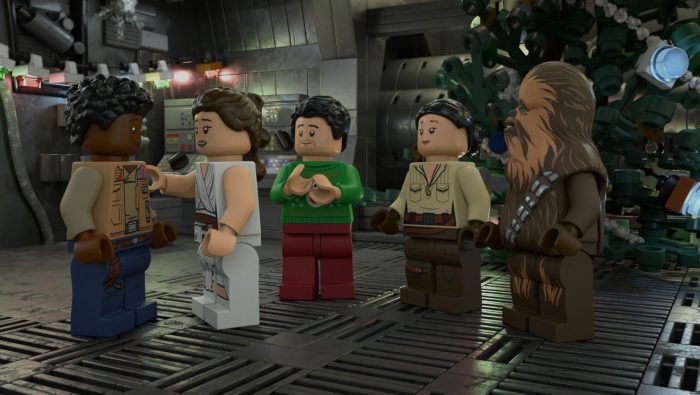 On recording in the time of COVID:  "I got some acoustic panels in my office here and I made a tent around the screen and the microphone and it had a lid on it and everything.  And it had a light, so I could see scripts.  And I did a one hour recording by which point, the sweat was just pouring down my…I wasn't even in the suit, for Heaven's sake–it so replicated my experience on the set in the costume.  And I realized that I couldn't do this, because then a four-hour recording session came up and I knew that wasn't going to work.
"So now what happens, in lockdown, in COVID, people are very sensible.  I now walk out to a studio.  I'm buzzed in.  I don't have to speak to anybody.  They tell me the number of the room I'm going into it, and there I am alone with a microphone that has been sanitized.  And behind at least two sheets of glass is the engineer, so he is safe from me, I am safe from him.  The producer/director is normally on a screen in front of me, often from Los Angeles (I'm generally in London) and we are all totally safe.  I come out.  I press, with my elbow, the door-release button.  I put on my mask.  I walk into the street.  I come home.  I take off my mask.  So everything's safe.  And please, everybody who's listening–I have made a career out of wearing a mask and I'm going to say something I've not really said before:  I've made a career out of wearing a mask.  I want you to save your life by wearing a mask and maybe save the lives of others by wearing a mask.
"End of preaching it.  But I mean it. I'm serious about COVID.  I'm serious about taking precautions and you can quote me:  3PO wears a mask.  You wear a mask."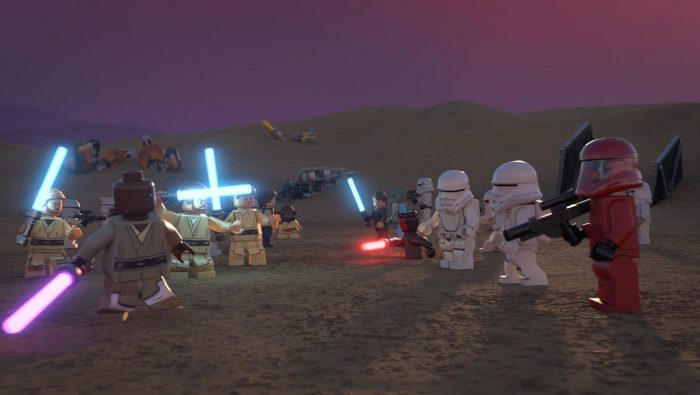 On C-3PO's future:  "I think his story is far from over.  I am delighted to say the new Star Wars Holiday Special is the latest iteration, not the last I have to tell you, but my lips, I mean, Threepio's lips are sealed.  He doesn't have lips…does he have lips?  Anyway.  There are other things coming up, not major movies but stay tuned.  Threepio is too important a character to disappear and I don't believe fans will allow him to disappear.
"And of course, the important thing is to remember, as somebody was saying earlier about Fritz Lang's Metropolis and the robot there and the wonderful Tin Man in The Wizard of Oz, those characters stay alive forever and ever and ever."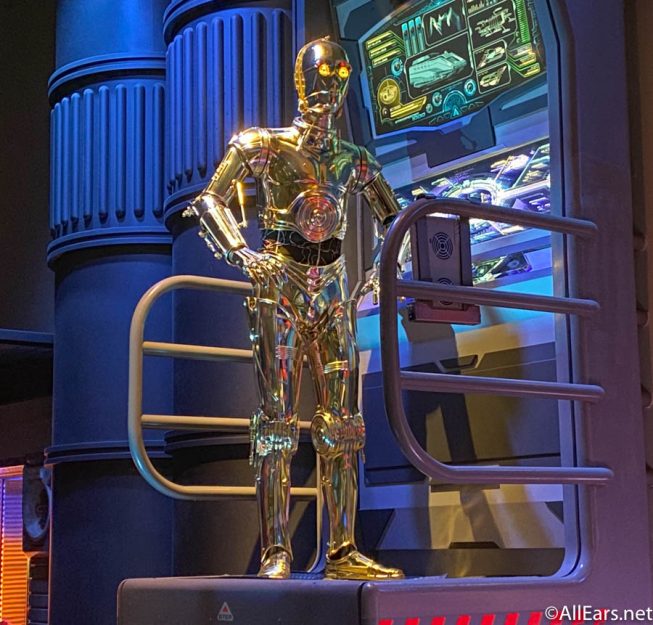 On depicting the state of the galaxy after Rise of Skywalker:  "Well, it's interesting that the original film was called A New Hope and these days, we need to feel there is hope and there is lightness, and fun, and joy in life.  And without realizing it I think the producers of this film, this LEGO special, have hit the right moment to bring this out because we need, this year, right now in the holiday season, to be reminded that there are good things in life, there are good things to celebrate.  It's difficult right now for many, many people in all sorts of different circumstances, and this will, I think, begin a new beginning.  I think there will be a holiday special next year.  Please can I be in it?  I don't know.  But this is a little launchpad for a new series.  And I said it first, so I want to be there.  There's so much for a family to enjoy and if you're not there with a family there is so much warmth in the program that you can relax, be there. Just stop looking out of the window for a moment and just sink into this program. And you'll feel better, I think."
The LEGO Star Wars Holiday Special premieres Tuesday, November 17, streaming only on Disney+.
In case you've missed it, here's a trailer for the upcoming special:
Questions?  Comments?  Suggestions?  Drop us a line below.
Be sure to follow @allearsnet on Facebook, Instagram, and Twitter!
Check out our YouTube Channel for reviews, news, information and more!
Click below to subscribe to the AllEars® newsletter so you don't miss any of the latest Disney news!