Just picture it: you wake up on Thanksgiving Day or Christmas Day or the day of any other big holiday you and your family celebrate, and instead of nervously sticking a turkey in the oven and crossing your fingers that it turns out okay (and then cleaning up ALL the mess later), you just show up at a restaurant in the Most Magical Place on Earth and enjoy a delicious meal!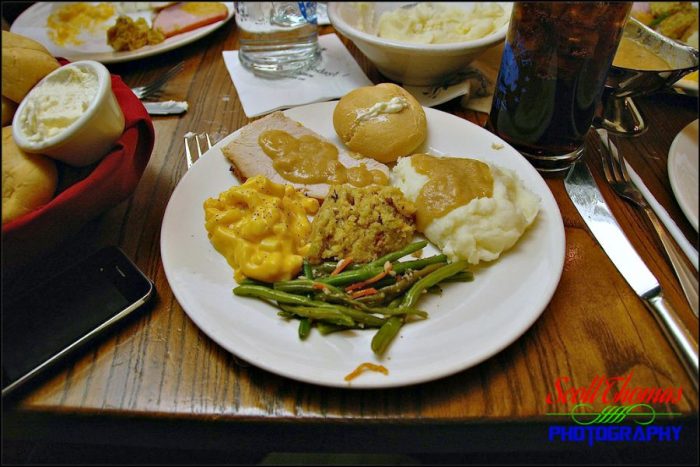 No cooking, no cleaning, no stress…just magic (and yummy food)!
This dream can totally become a reality if you decide to enjoy your next holiday meal in Walt Disney World, and today we're sharing the TOP spots you should check out!
Disney World is full of amazing restaurants and classic food items. For some, grabbing chicken nuggets and fries along with a Mickey Premium Bar may be the ideal Thanksgiving — and hey, we won't really argue with you there. But if you're looking for a nice, Table Service restaurant where you and your family can enjoy a holiday meal, here's our list of the TOP 10 spots!
Theme Park Restaurants
1. Liberty Tree Tavern — Magic Kingdom
We start our food tour in Magic Kingdom — one of the most iconic parks around the world and possibly one of the most unique spots to spend your holiday. Liberty Tree Tavern is an easy choice for this list because its menu is made up of TONS of holiday favorites!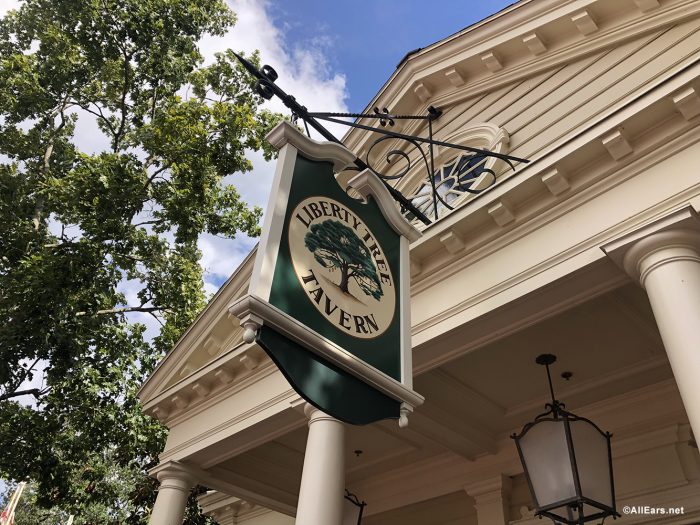 There's a mixed green salad, roast turkey breast, pot roast, oven-roasted pork, mashed potatoes, vegetables, stuffing, mac & cheese, and the pièce de résistance…
…the Ooey Gooey Toffee Cake!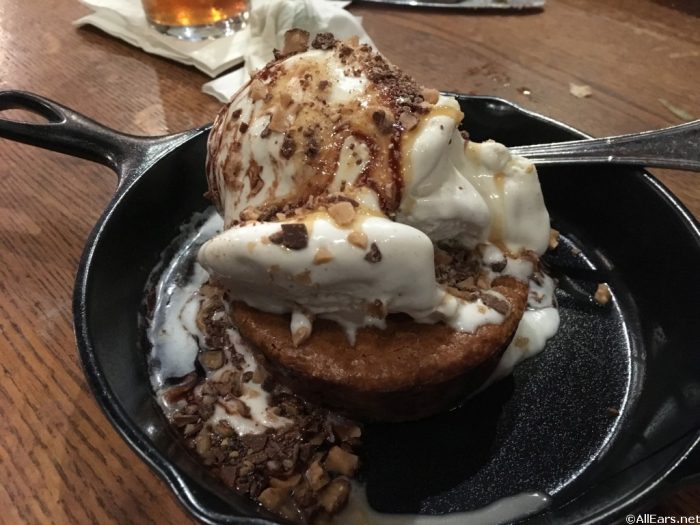 There's also a plant-based menu for those looking for meatless options.
The meal is served family style, which makes it feel even more like you're having a true holiday feast at home. Overall, if you're looking for something truly traditional, this is one of the very best spots to check out.
2. Biergarten Restaurant — EPCOT
The atmosphere and food at Biergarten Restaurant, located in EPCOT's Germany pavilion, make it another great choice for a holiday meal. Step inside this restaurant, and you'll be swiftly transported to a German town with lots of adorable decor throughout. You'll truly forget that you're surrounded by rides and crowds. For the duration of your meal, you'll just feel as though you're in a quaint town enjoying scrumptious food.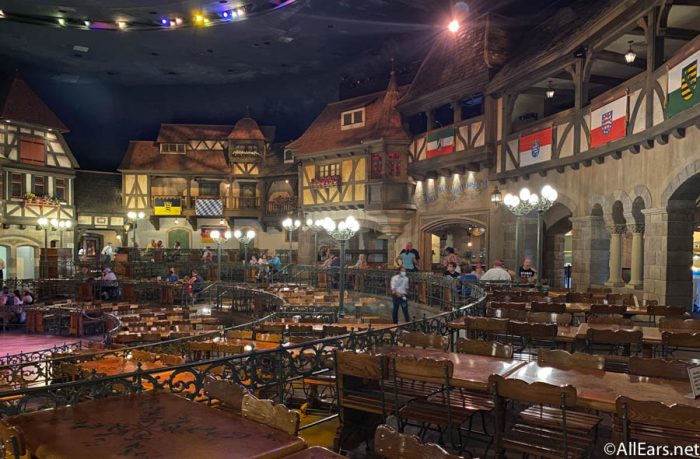 And speaking of scrumptious eats, let's talk about the amazing food here! The meal is currently served family style but includes all of those classic favorites from the buffet including meats and sausages, Spätzle…
…and of course a delicious set of desserts!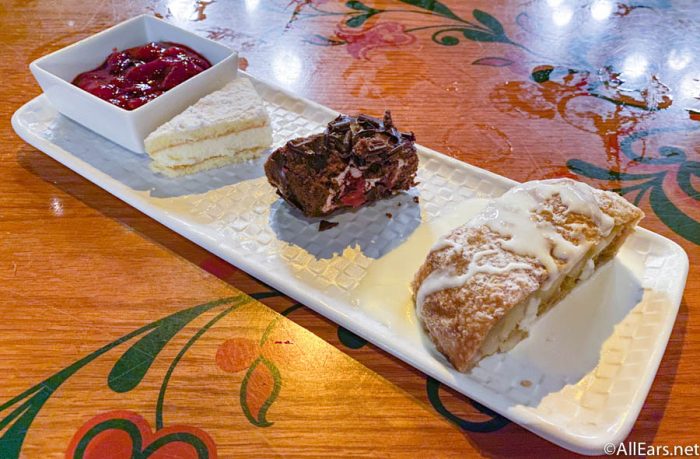 But the sights (and food) aren't the only things that make this spot special — there's also some fantastic entertainment that's sure to get you and your family members excited for the holidays! You'll be singing (or shouting) and clapping along, clinking your glasses, and just having a holly jolly time!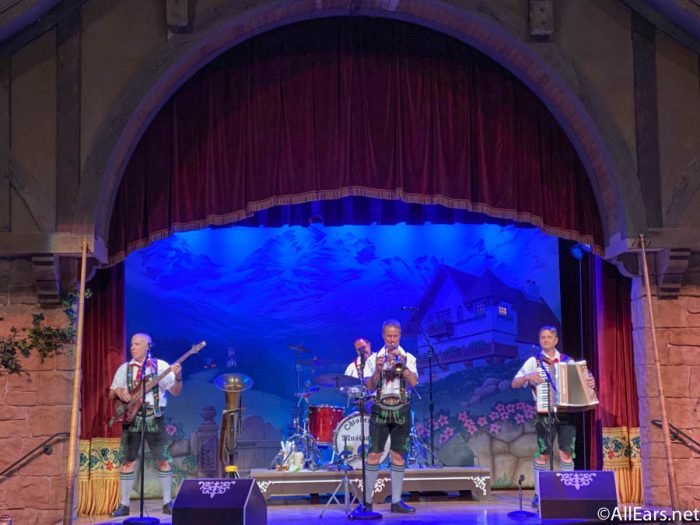 Again, it's a hearty, family-style meal so although the food may be more unique than what you may normally eat at home on any of the upcoming holidays (no turkey or stuffing here), it will still remind you of the joy of sharing a meal with people you love, passing the plates to one another and pointing out your favorite dishes, and just enjoying time together.
3. Garden Grill Restaurant — EPCOT
If you're still looking for something a bit more traditional in terms of holiday flavors, you can head over to Garden Grill Restaurant, located in The Land Pavilion in EPCOT's Future World.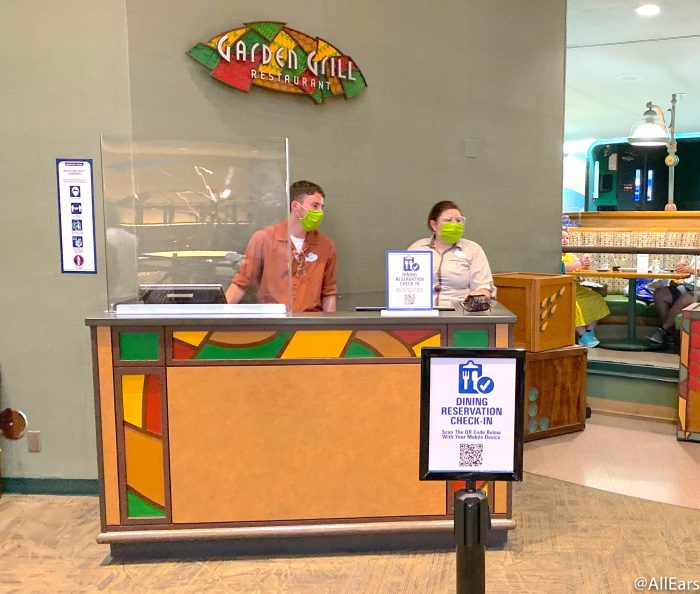 We love this spot for SO many reasons. First, the food here is consistently yummy, and the options will make you feel like you're having a fairly traditional holiday meal. The meal is served family style, which again gives you the chance to chow down on ALL your faves including bread rolls, a harvest-inspired salad, turkey breast, mac & cheese, stuffing, grilled beef, mashed potatoes, vegetables, and a Berry Short Cake for dessert!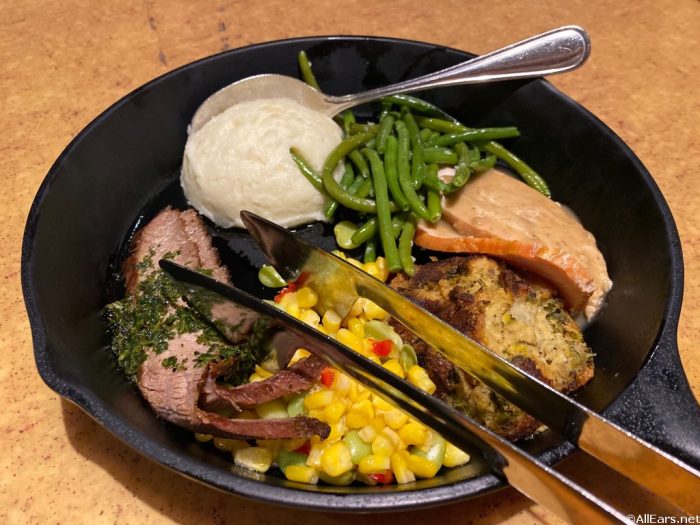 There's also a huge entertainment factor to this meal. First, it's a rotating dining room that allows you to peek into scenes from Living with the Land as you slowly roll past them.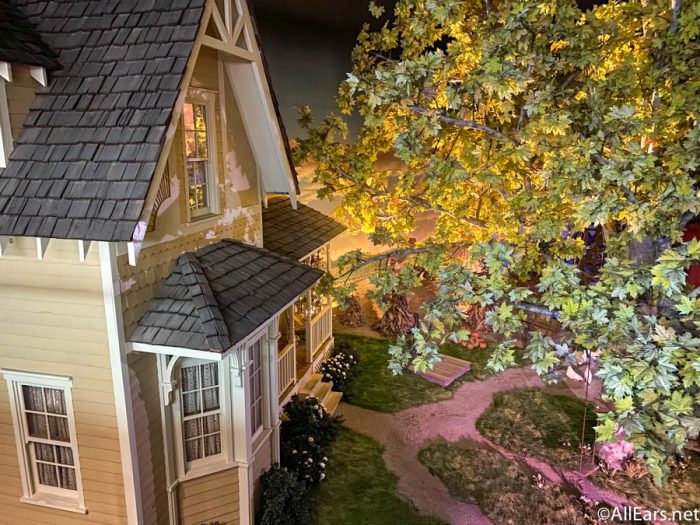 AND there are CHARACTERS! What could be better than enjoying a nice, delicious meal with your family members along with Farmer Mickey, Pluto, and Chip 'n' Dale?! Umm…we really can't think of anything that could top that!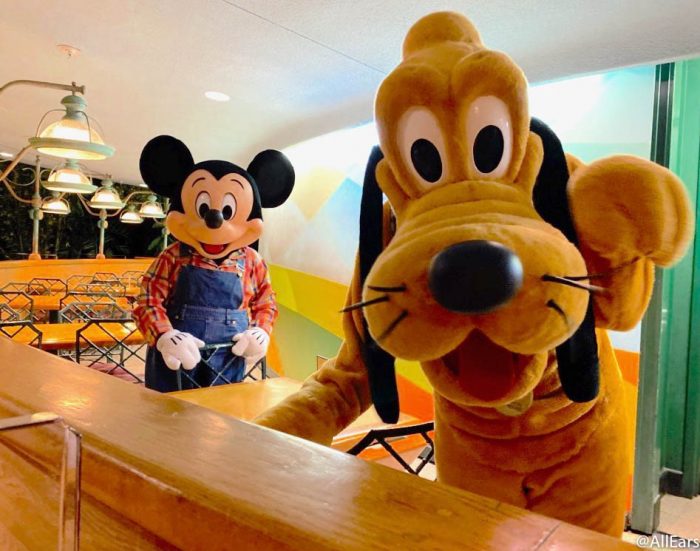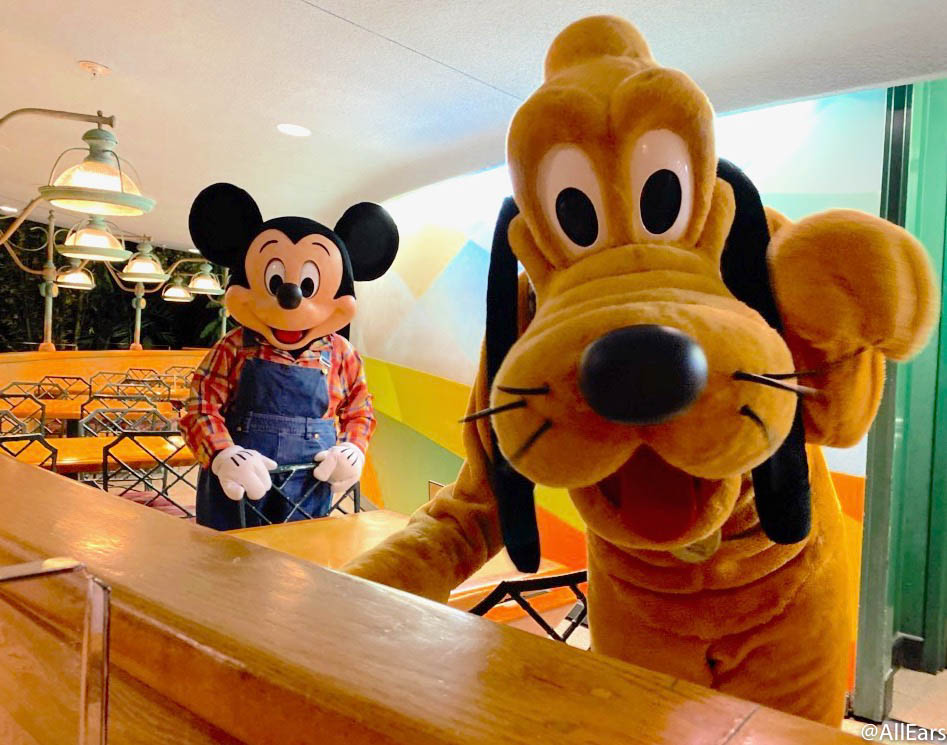 It's fun, delicious, and can give your family a truly unique holiday experience!
4. Hollywood & Vine — Disney's Hollywood Studios
Over at Disney's Hollywood Studios, you can enjoy Minnie's Holiday Dine right now until January 4th at Hollywood & Vine.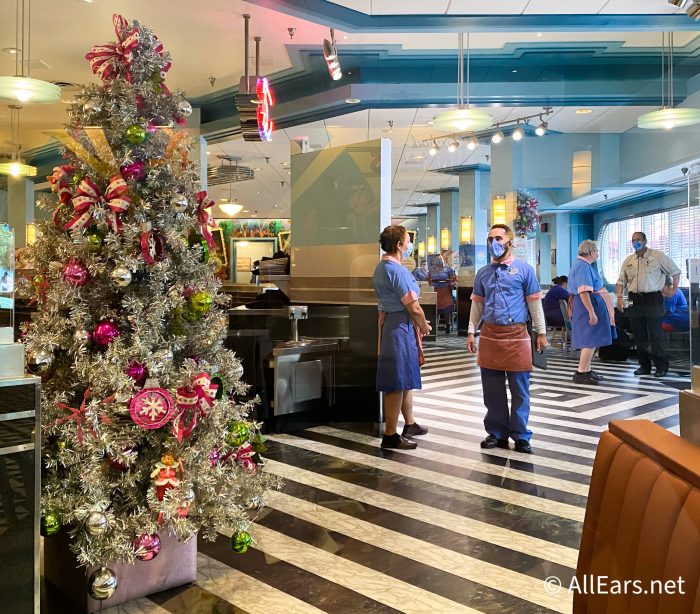 During this festive, themed meal, you'll get the chance to dine with some of your favorite Disney pals dressed in their holiday best, including Minnie, Mickey, Pluto, and Santa Goofy!
Aside from the fun character experience, you'll get to enjoy a salad served family style, an adult entree of your choice, and a choice of dessert. The food here has actually surprisingly improved compared to how it was in the past!
We've especially loved the Pork Osso Bucco — which is served with Boursin Cheese Hominy Grits, Caramelized Apples, Lemon Gremolata, and Pork Reduction Gravy — and the Garlic and Cracked Black Pepper Prime Rib of Beef, served with Sour Cream-Chive Whipped Potatoes, Fried Brussels Sprouts, and Pearl Onions with Red Wine Jus.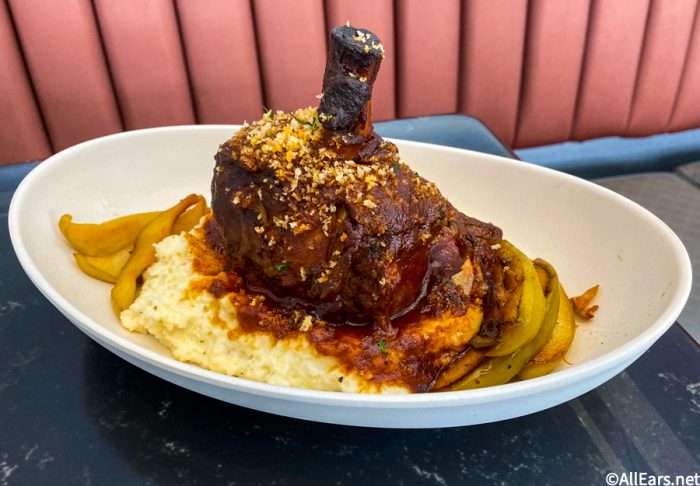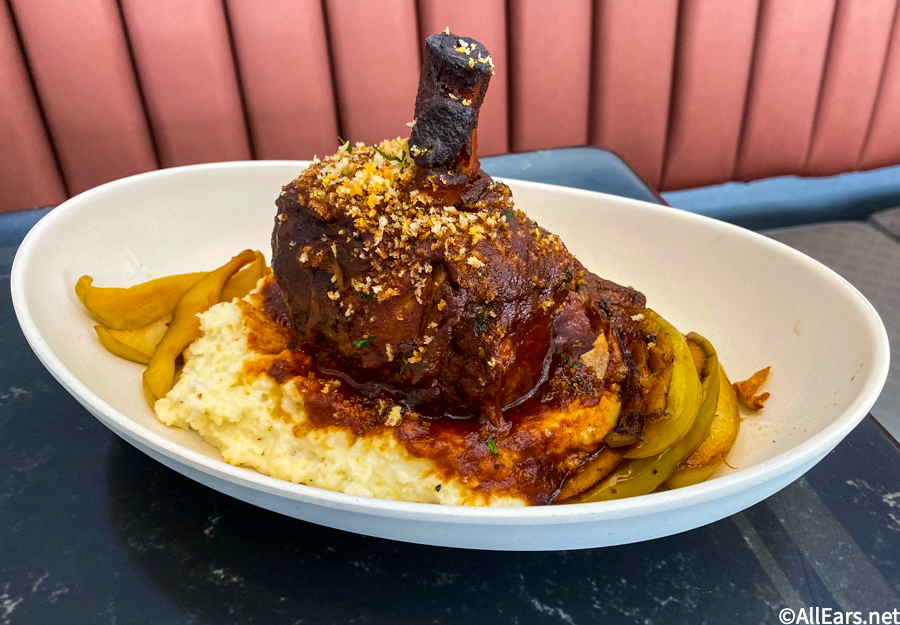 It's the perfect mix of yummy food and festive character interactions. This spot can be particularly difficult to get reservations for, so if it's on the top of your list, be sure to try and get reservations here as soon as possible! 
5. 50's Prime Time Cafe — Disney's Hollywood Studios
Another fantastic spot in Disney's Hollywood Studios for a fun holiday meal is 50's Prime Time Cafe!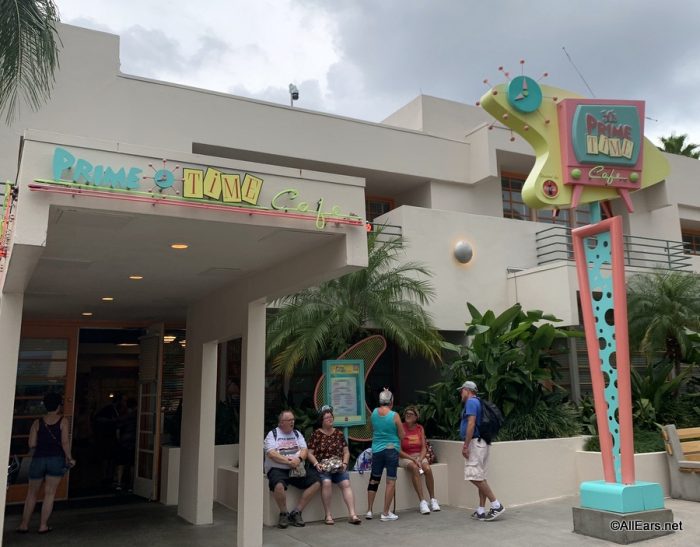 The dishes here will remind you of spending the holidays at home or at least having a good, hearty meal with family with dishes like Mom's Old-fashioned Pot Roast, Cousin Megan's Traditional Meatloaf, or Aunt Liz's Golden Fried Chicken. But you can't stop by without also grabbing a treat like the Peanut Butter & Jelly Milk Shake!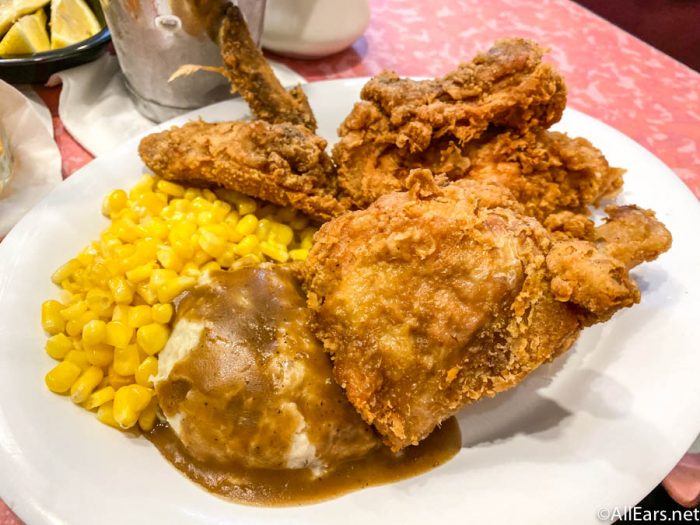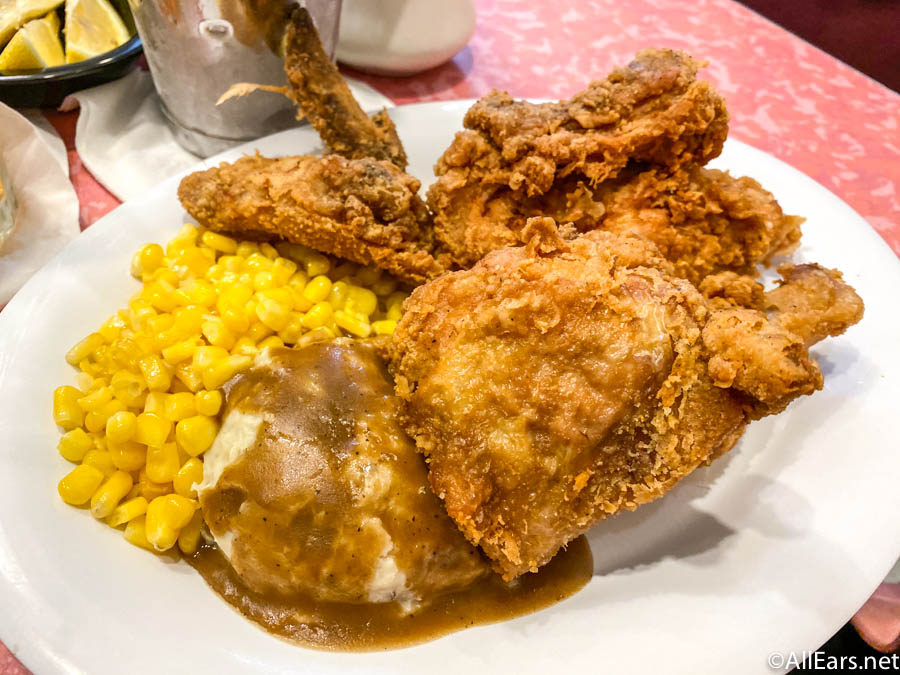 But the REAL winner here (aside from the tasty food and milkshakes) is the atmosphere! Not only will it taste like you're back in mom's kitchen, it'll feel like it, too! 
Between the retro decorations and being heckled (from an appropriate social distance) by your "cousins" (a.k.a. the servers here) about keeping your elbows off the table or eating all your vegetables, you'll feel right at home!
Disney World Resort Hotel Restaurants
Spending the holidays at Disney World does not have to involve a theme park, though! There are plenty of restaurants in the Disney World Resort hotels that can give you a taste of magic without all of the crowds. Here are some of our favorites!
6. Whispering Canyon Cafe — Disney's Wilderness Lodge Resort
Whispering Canyon Cafe is a great option for your next holiday meal for quite a few reasons. First, the menu has a lot of items that will fill you up and remind you of the holidays including a turkey sandwich at lunch. But the way to go for a true holiday feast here is to get one of their signature all-you-care-to-enjoy signature skillets!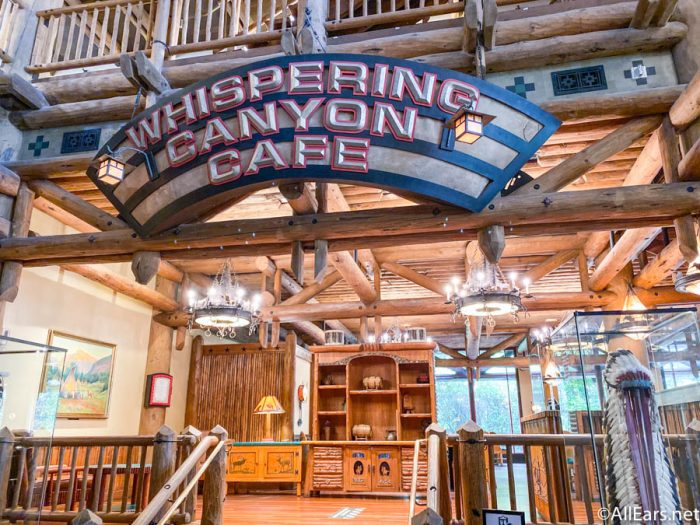 At lunch the skillet includes maple-chipotle barbecued slow-smoked pork ribs, barbecued pulled pork, citrus-herb chicken, smashed potatoes, buttered corn, and more. At dinner, there's a traditional skillet with brisket, ribs, pulled pork, chicken, and sausage; a land and sea skillet with salmon; and two other skillet options with even more delicious food!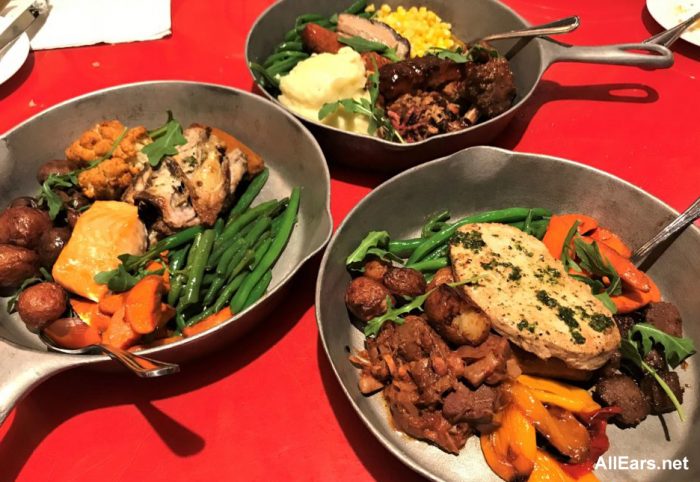 There's also a special Thanksgiving meal coming to Whispering Canyon Cafe which they're calling a "cornucopia of food!" YUM.
What we especially love about spending a holiday meal at Whispering Canyon Cafe is that you can (either after or before your meal) enjoy a relaxing walk around the resort with definitely more peace and quiet than you'll find in the parks. You can take in the scenery and holiday decorations and still add some magic to your day!
7. Trail's End Restaurant — Disney's Fort Wilderness Resort & Campground
Trail's End Restaurant is located at Disney's Fort Wilderness Resort & Campground and can often be a bit more difficult to get to as you'll have to park and take an internal resort bus, or take a boat from Magic Kingdom to get there. But its out-of-the-way nature adds to its value in our books. Oftentimes this restaurant is overlooked because it's harder to get to, which means you might find it easier to get a reservation here even on big holidays.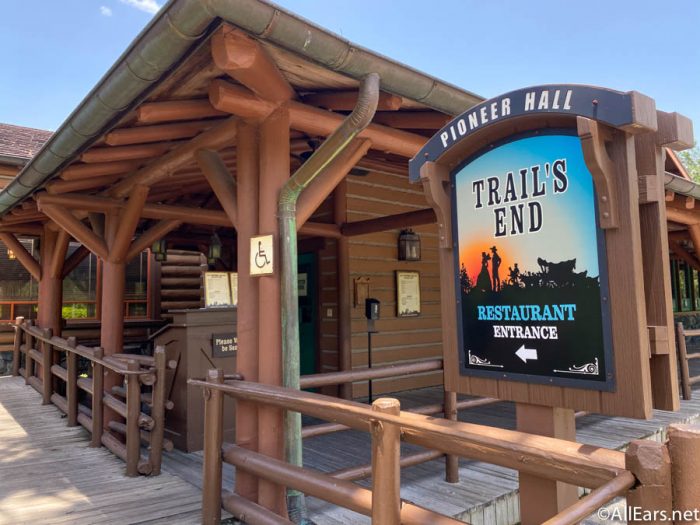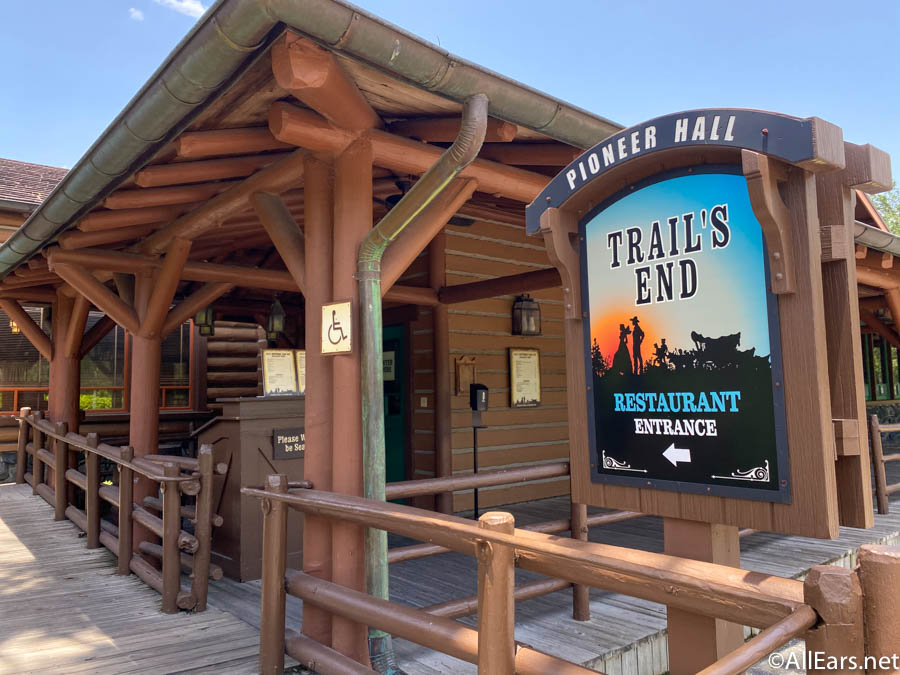 The food used to be served buffet style before the pandemic and is fantastic, including some awesome fried chicken, cornbread, bread pudding, strawberry shortcake, and more! 
When it comes to Trail's End, we've got some good news and some bad news. The bad news is, Trails End closed with the rest of Disney World during the pandemic and has not yet reopened, meaning you can't eat there right now. 
But the good news is you CAN still get food from P & J's Southern Takeout, which is also at Fort Wilderness, right next to where Trail's End is located.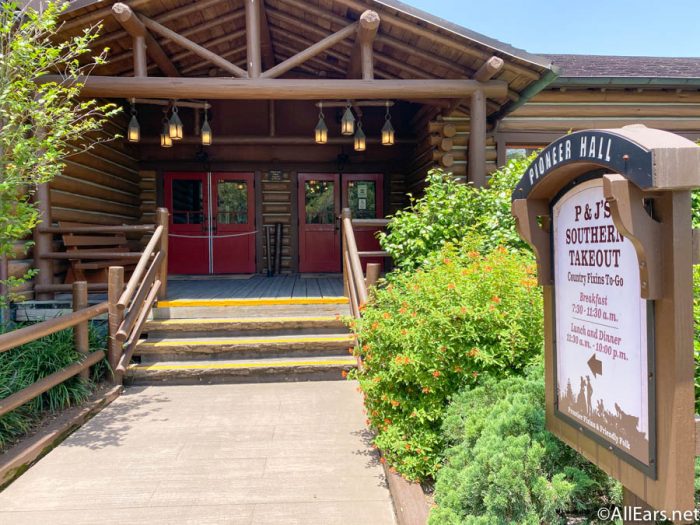 What's so great about P & J's you may ask? Well, you can still grab some of your southern favorites to go from this spot including ribs, fried chicken, mac & cheese, beans, and even…Strawberry Shortcake! They even do family meals that can serve 2 or 4 so you can get a whole holiday meal in a quick and easy way.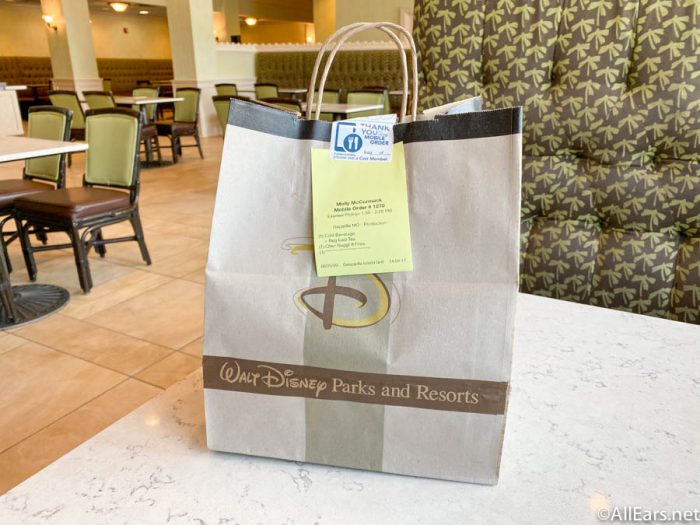 The pro tip here is to get your holiday meal, enjoy it together in the great outdoors, and then grab a golf cart and ride around all of the campgrounds to check out their awesome holiday decorations (particularly if you're going around Christmastime or New Year's Eve).
8. The Wave…of American Flavors — Disney's Contemporary Resort
The Wave…of American Flavors at Disney's Contemporary Resort can sometimes be overlooked because of other food "giants" nearby like California Grill, which means The Wave is typically quieter and an easier spot to get a reservation for!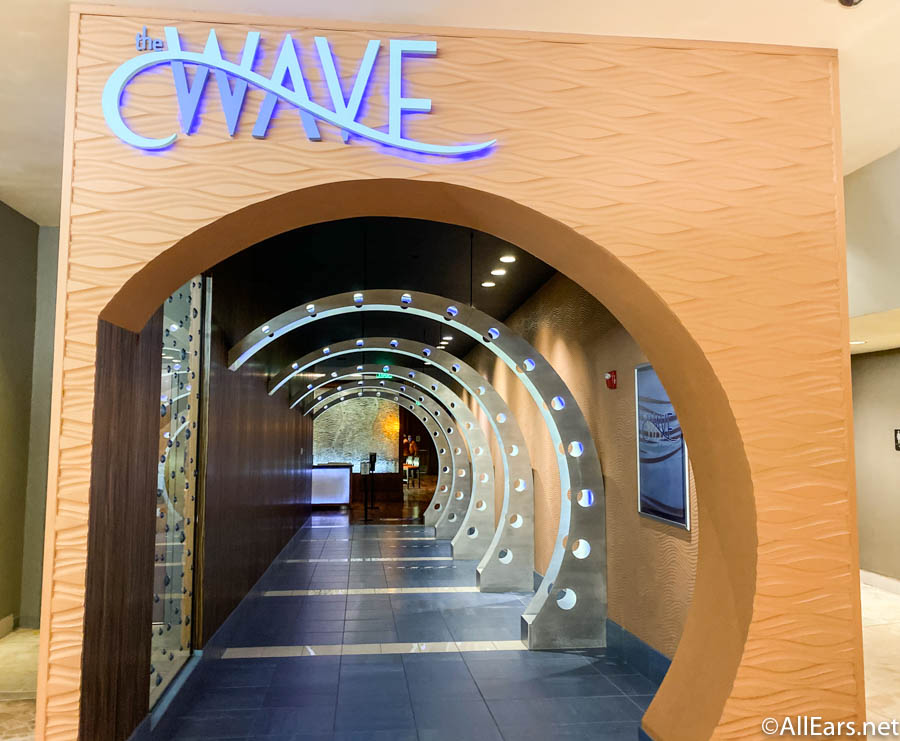 But just because it's quieter doesn't mean it isn't incredibly delicious! The food here is not necessarily "holiday" food, but it's still fantastic and there are lots of options you're sure to enjoy. Lunch includes some great Steamed Bao Buns and a Signature Burger, among other items, while dinner has some heftier items like the Seared Gnocchi, Tikka Masala, Grilled Beef Tenderloin, and Pork Tenderloin.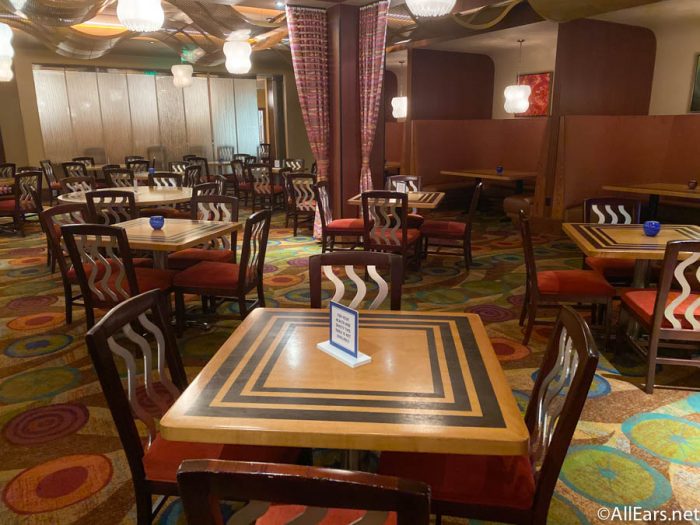 Again, coming here gives you the chance to enjoy some of the magic without the business of the parks. After your meal you can grab a holiday snack from one of the stores in the hotel or step outside on the upper floors and enjoy a gorgeous view of Cinderella Castle.
Disney Springs
Finally, we couldn't make a dining list without including at least a few Disney Springs options!
9. Chef Art Smith's Homecomin'
Two words: fried chicken. If you're looking for some fantastic southern food — you MUST check out Homecomin'.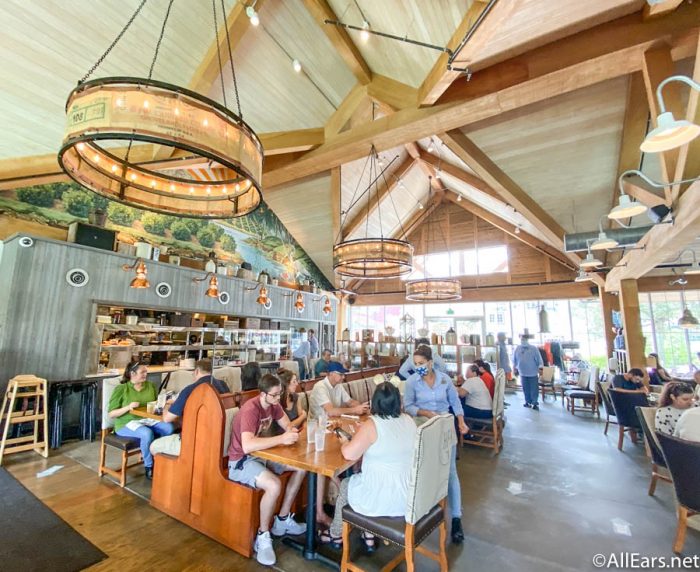 Whether you're in the mood for deviled eggs, chicken biscuits, okra fries, fried green tomatoes, barbecued chipped pork, or some yummy fried chicken — there's something on the menu for you! They'll also be serving a special Thanksgiving meal this year including Smoked Turkey, Cornbread Stuffing, Mashed Taters and more.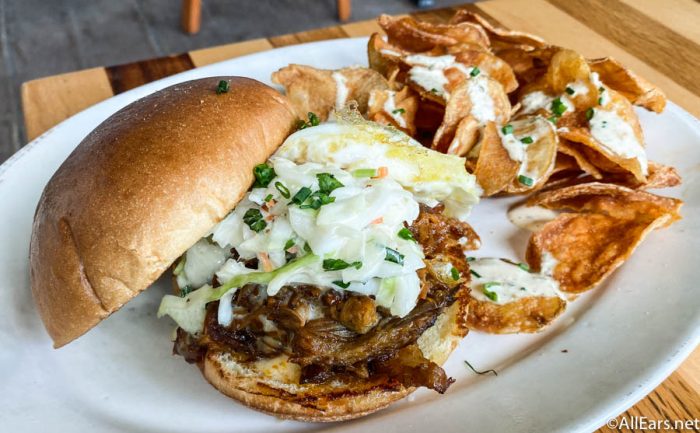 Oh, and you simply MUST get the Hummingbird Cake — Chef Art Smith's take on the famous pineapple-banana cake with cream cheese frosting served with a seasonal fruit gastrique and a scoop of vanilla bean ice cream. Delicious food in a relaxed atmosphere makes this spot an easy choice. 
10. Raglan Road Irish Pub and Restaurant
Last, but certainly not least, on our list is Raglan Road. Bangers & Mash, Shepherd's Pie, and Fish & Chips are just a few of the fun items available on the menu here. Some of the dishes may be a bit more unique than what you're used to eating at home for Thanksgiving, Christmas, or another holiday but eating here will give you the chance to change things up and add a bit of a unique, Irish twist to your holiday!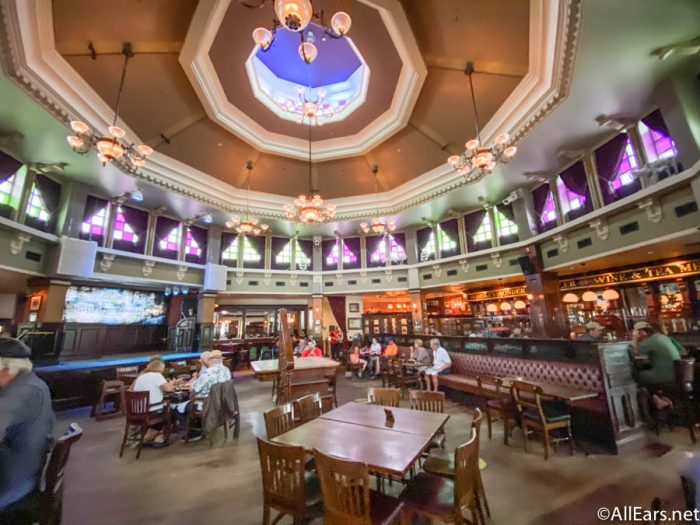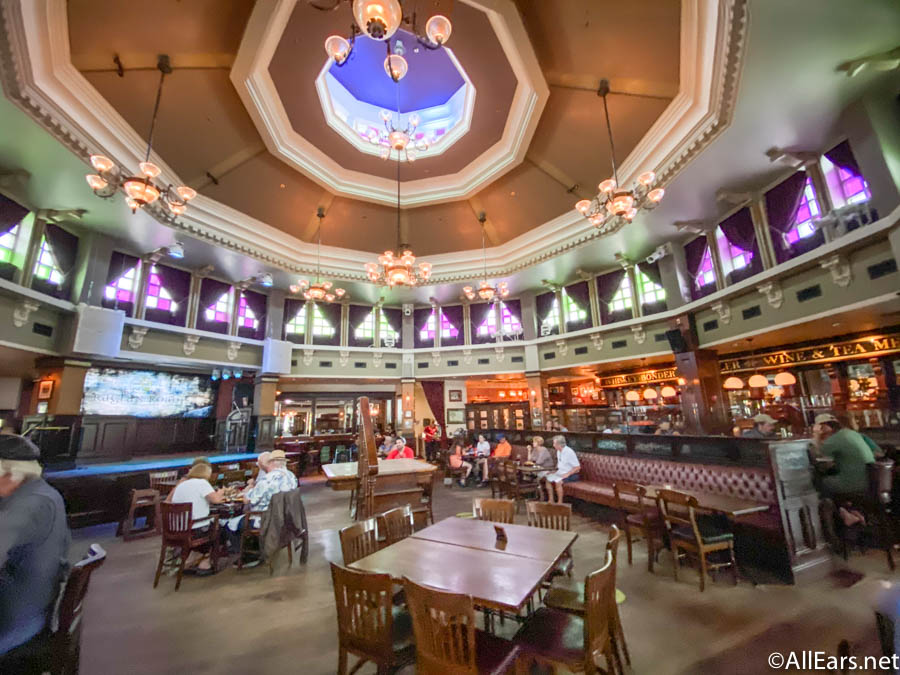 During the holidays, Raglan Road often offers a special menu, so that's something you'll definitely want to keep an eye out for. For Thanksgiving, their special menu items will include Butter & Herb Roast Turkey, Roast Garlic Mashed Potatoes, Duck Fat Roasties, Honey Glazed Carrots, Bacon Braised Brussels Sprouts, Sausage Meat and Walnut Stuffing, Red Wine Jus, and Cranberry Sauce, which will cost $28.95 for adults and $14 for children.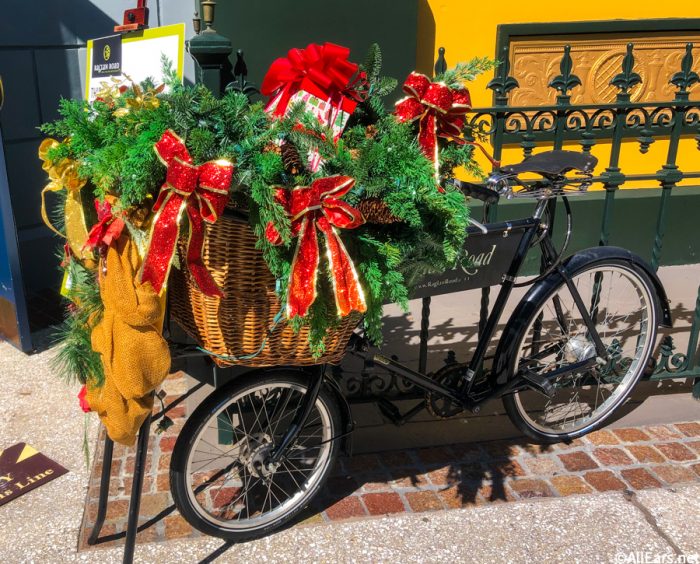 You'll also be able to enjoy live Irish music and dancing beginning at 4:30PM, which can add an extra touch of fun to your holiday meal. 
Well, that's our list of the TOP spots to enjoy a holiday meal in Disney World. There are lots to choose from and no matter how or where you choose to spend your holidays, we hope they're full of fun, joy, and tons of yummy food!
Have you had a holiday meal at a Disney World restaurant? Let us know which one you would recommend!
Join the AllEars.net Newsletter to stay on top of ALL the breaking Disney News! You'll also get access to AllEars tips, reviews, trivia, and MORE! Click here to Subscribe!