When we are away from Disney one of the things we miss the most is the food. We can't be the only ones this happens to, right?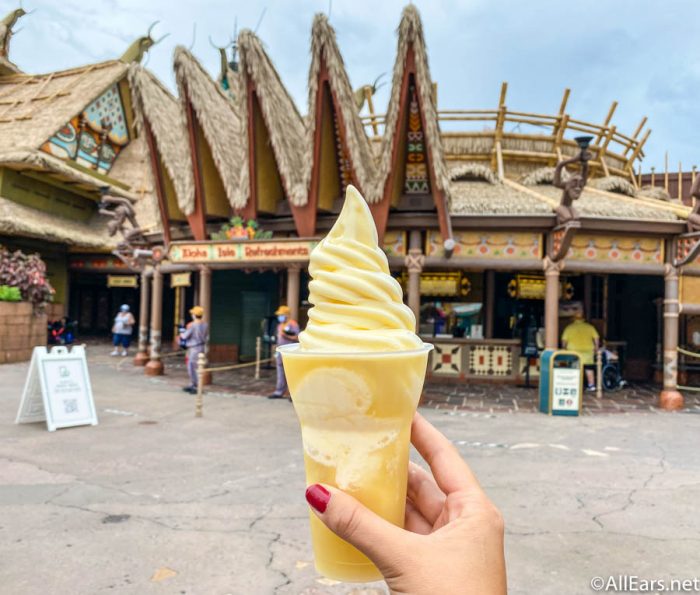 A great way to get a taste of Disney at home when you can't easily go visit is by making some of their iconic items at home.
Here are some of our favorite Disney recipes that you can replicate at home.
Mickey Mouse Dome – Chef Mickey's
Ingredients
2 cups chilled heavy cream
4 large egg yolks
3 tablespoons sugar
1 teaspoon vanilla
1 package of gelatin, bloomed
7 ounces fine-quality bittersweet chocolate (not unsweetened), chopped
Garnish: Two Chocolate Coins and Oreo Cookies
Special equipment: an instant-read thermometer
Method of Preparation
Heat 3/4 cup cream in a 1-quart heavy saucepan until hot. Whisk together yolks, sugar, and a pinch of salt in a metal bowl until combined well, then add hot cream and gelatin in a slow stream, whisking until combined. Transfer mixture to saucepan and cook over moderately low heat, stirring constantly, until it registers 160°F on thermometer. Pour custard through a fine-mesh sieve into a bowl and stir in vanilla.
Melt chocolate in a double boiler or a metal bowl set over a pan of
simmering water (or in a glass bowl in a microwave at 50 percent power
3 to 5 minutes), stirring frequently. Whisk custard into chocolate until smooth, then cool.
Beat remaining 1 1/4 cups cream in a bowl with an electric mixer until it just holds stiff peaks. Whisk one fourth of cream into chocolate custard to lighten, then fold in remaining cream gently but thoroughly.
Spoon mousse into small cups and let set then at the Oreo cookie.
Once completely set demold and add the two chocolate coins to the top.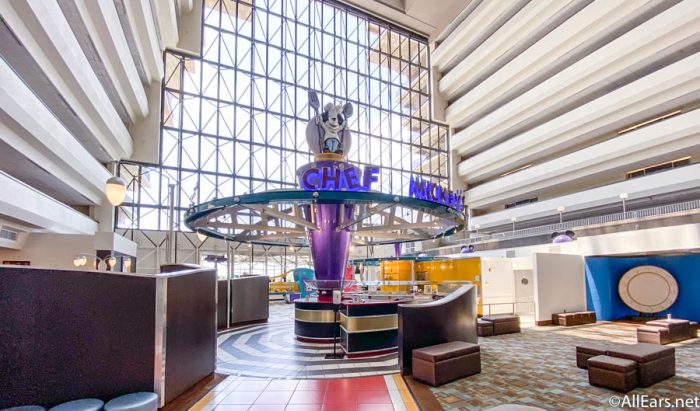 Tonga Toast – Kona Cafe
Ingredients:
2 slices sourdough bread, cut 1½ inches thick
1 banana
1/3 cup of sugar
1 teaspoon of cinnamon
1 egg
¼ cup of milk
½ teaspoon of vanilla
Vegetable oil or shortening for frying
Whipped butter and/or syrup
Directions:
Put about four inches of oil or shortening into a good-sized pot (such as a Dutch oven).
Heat the oil/shortening to 350ºF. While that is heating up, cut a small pocket (about 1 inch in length) in the side of each bread slice.
Cut your banana in half, then cut in half again lengthwise. Remove the peel from all four parts of the banana. Now stuff two pieces of banana into the pocket you cut into each slice of bread. In a small bowl, mix the cinnamon and sugar, then set aside. In a bowl larger than your piece of bread, mix the egg, milk, and vanilla, then also set aside.
Place each piece of stuffed bread into the bowl with egg mixture and allow it to soak for a few seconds. Place soaked bread into the hot oil/shortening and fry on both sides until lightly browned. When done, remove from oil and place on a plate lined with paper towels or a wire rack. Sprinkle with cinnamon sugar before serving.
Yield: 1 serving
Tip: If you cannot find sourdough bread that is 1½ inches thick, you can use slices of 1-inch thick sourdough bread.

Tie-Dyed Cheesecake – Pop Century Resort
Red Velvet Cake
1/4 cup butter, softened
3/4 cups sugar
1 egg
1 tablespoons cocoa
1 ounce red food coloring
1/2 teaspoon vanilla
1/2 teaspoon salt
1/2 cup buttermilk
1 cups flour
1/2 tablespoon vinegar
1/2 teaspoon baking soda
Preheat oven to 350 deg F. Grease the bottom and sides of a 9″ springform pan.
Cream together butter, sugar and eggs. Make a paste of cocoa and food coloring. Add the paste to the creamed mixture. Mix salt and vanilla in buttermilk and add alternately with the flour. Mix soda and vinegar separately, add last, folding in. Do not beat after adding soda mixture. Pour batter into prepared pan. Bake at 350 for 30 minutes or until tester comes out clean. Cool cake in pan.
Lower oven temperature to 325 deg F.
Cheesecake Filling
1 1/2 lb. Cream Cheese
1 1/3 C. Sugar
5 Large Eggs
16 oz. Sour Cream
1/4 C. Flour
2 tsp. Vanilla
2 tsp. Lemon Juice
* All above ingredients should be at room temperature before you begin.
Preparation:
Start by beating the cream cheese until light and fluffy. Keep the mixer on a low setting throughout the beating and mixing process. Add the sugar a little at a time and continue beating until creamy. Add one egg at a time and beat after each egg. When eggs have been mixed into the cream cheese add flour, vanilla and lemon juice, mix well. Add the sour cream last and beat well.
Divide the batter into 6 bowls and color each one:
purple
red
yellow
light blue
green
orange
Drop large spoonfuls of the colored batters randomly atop the red velvet cake in the springform pan. Swirl each layer slightly. Place on the top rack in the middle of a 325 degree preheated oven for one hour and 15 minutes. When time is up, prop open oven door and leave in oven for one hour. After one hour, remove from oven. Let cool enough before the cheesecake is put into the refrigerator for 24 hours.
Beignets – Port Orleans Resort
Yield: 2 dozen small beignets
Ingredients
1/2 teaspoon dry yeast
1/4 cup warm water (105º)
1/4 cup sugar
2 tablespoons vegetable shortening
1/2 teaspoon salt
1/2 cup heavy cream
1 egg
4 cups all-purpose flour
1/2 cup boiling water
Vegetable oil for frying
Powdered sugar for dusting
Method
1. Sprinkle yeast over warm water in a small bowl, stirring to dissolve. Let stand for 5 minutes.
2. Combine sugar, shortening, salt, heavy cream, egg, flour and boiling water in a large bowl; stir in yeast mixture. With the dough hook attachment of an electric mixer on medium speed, mix the dough just until combined and smooth. Let dough rest for 30 minutes.
3. Roll to 1/4-inch thickness and cut individual beignets into 2 x 3-inch pieces. Cover with a towel and let dough rise until doubled in size in a warm, draft-free area, about 1 to 1 1/2 hours.
4. Pour enough oil into a deep-sided pot until it reaches 2 inches up sides; heat oil over medium heat to 350ºF.
5. Lightly press beignets to flatten slightly.
6. Add a few beignets to oil; fry until golden brown on both sides, turning once.
7. Remove from hot oil with a slotted spoon and place on a baking sheet lined with paper towels.
8. Dust with a generous amount of confectioners' sugar before serving.
NOTE: Dough keeps well in refrigerator for several days. Cover bowl with plastic wrap and punch down occasionally.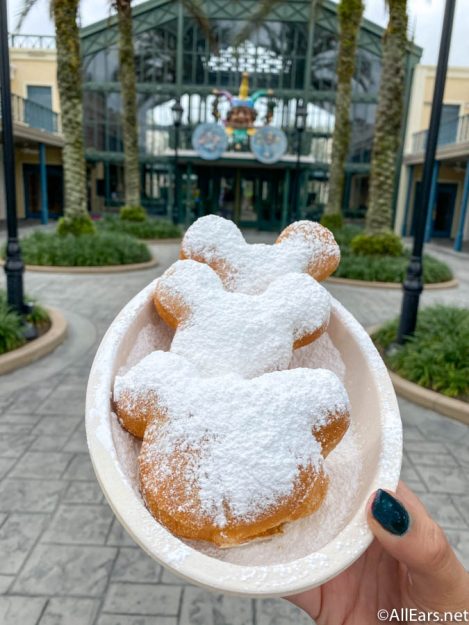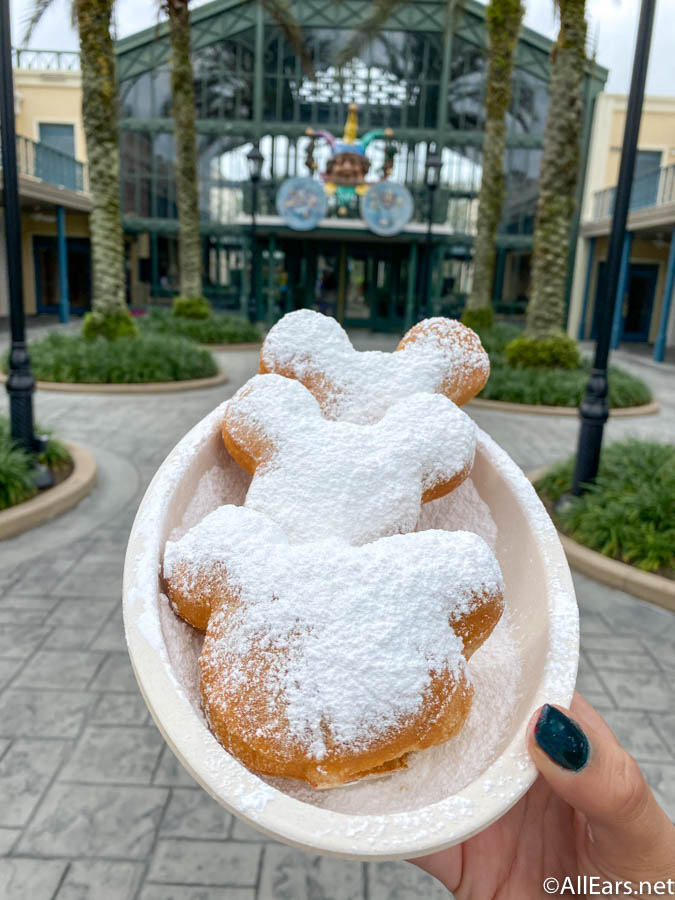 Cobb Salad – Brown Derby Restaurant
Serves 6
Ingredients:
1/2 head iceberg lettuce
1/2 bunch watercress
1 small bunch chicory
1/2 head romaine lettuce
2 medium tomatoes, blanched & peeled
1 1/2 cups cooked turkey breast, diced
3 eggs, hard-cooked
1/2 cup blue cheese, crumbled
6 strips crisp bacon, crumbled
2 tablespoons chopped chives
Method:
Chop all greens very fine (reserve some watercress for presentation) and arrange in salad bowl. Cut tomatoes in half, remove seeds, and dice fine. Also dice the turkey, avocado, & eggs. Arrange the above ingredients, as well as the blue cheese and bacon crumbles, in straight lines across the greens. Arrange the chives diagonally across the above lines. Present the salad at the table, then toss with the dressing (below). Place on chilled plates with a watercress garnish.
Brown Derby Old-Fashioned French Dressing

1/2 cup water
1/2 teaspoon sugar
1 1/4 tablespoons salt
1 1/2 teaspoons Worcestershire sauce
1 clove garlic, chopped
1/2 cup red-wine vinegar
Juice of 1/2 lemon
1/2 tablespoon ground black pepper
1/2 teaspoon English mustard
1/2 cup olive oil
1 1/2 cups salad oil
Blend all ingredients except oils, then add olive oil and salad oils and mix well. Blend well again before mixing with salad.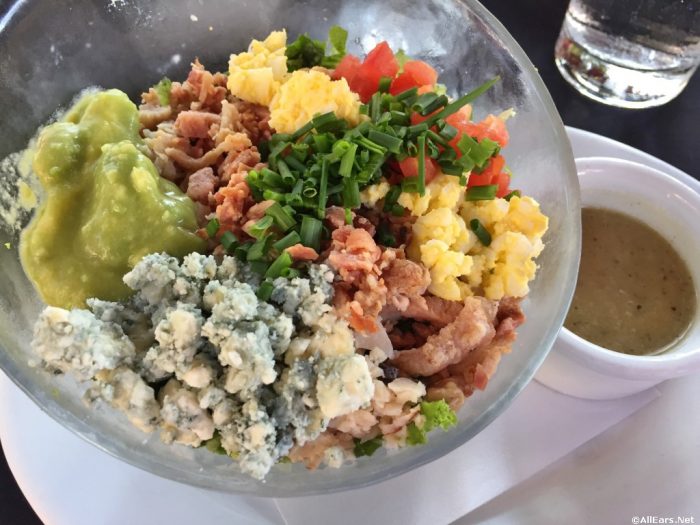 Grapefruit Cake – Brown Derby Restaurant
Yield: 4 to 6 portions
Ingredients:
1 1/2 cups sifted cake flour
3/4 cup sugar
1 1/2 teaspoons baking powder
1/2 teaspoon salt
1/4 cup water
1/4 cup vegetable oil
3 eggs (separated)
3 tablespoons grapefruit juice
1/2 teaspoon grated lemon rind
1/4 teaspoon cream of tartar
Method:
1. Preheat oven to 350º F. Sift together flour, sugar, baking powder, and salt into mixing bowl. Make a well in center of dry ingredients.
2. Add water, oil, egg yolks, grapefruit juice, and lemon rind. Beat until smooth.
3. Beat egg whites and cream of tartar separately, until whites are stiff but not dry.
4. Gradually fold egg whites into the cake batter, folding gently with a rubber spatula until just blended. Do not stir the mixture.
5. Pour into an ungreased 10-inch cake pan. Bake at 350º degrees for 25 to 30 minutes, or until cake springs back when lightly touched with a finger. Invert pan on cake rack until cool. Run spatula around edge of cake. Carefully remove from pan. With a serrated knife, gently cut layer in half.
Grapefruit Cream Cheese Frosting
Ingredients:
2 six-ounce packages of cream cheese
2 teaspoons lemon juice
1 teaspoon grated lemon rind
3/4 cup powdered sugar (sifted)
6 to 8 drops yellow food coloring
1 one-pound can grapefruit sections (well-drained), reserving 2 tablespoons of juice OR 3 fresh grapefruits, peeled, sectioned, and drained, reserving 2 tablespoons of juice.
Method:
1. Let cream cheese soften at room temperature. Beat cheese until fluffy.
2. Add lemon juice and rind.
3. Gradually blend in sugar. Beat until well blended. Add food coloring.
4. Add reserved grapefruit and blend into frosting.
5. Divide the frosting evenly into two bowls. Roughly chop 2/3 of the grapefruit sections and add them to half the frosting. Spread this mixture on the bottom half of cake. Top with several grapefruit sections. Cover with second layer of cake. Frost top and sides. Garnish with remaining grapefruit sections.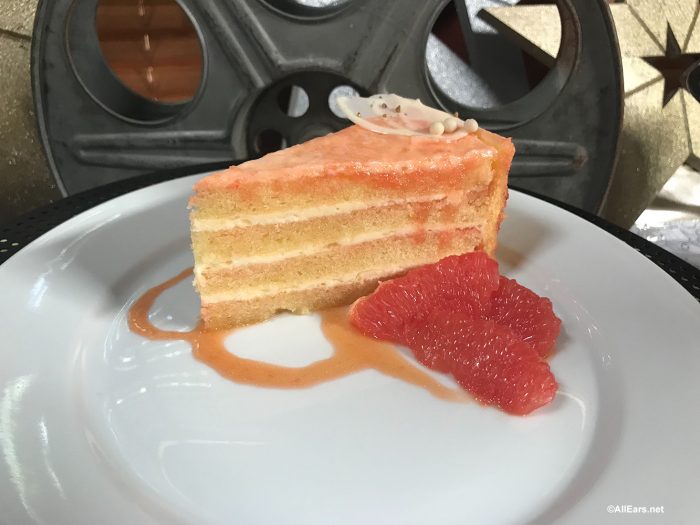 Lunch Box Tart – Woody's Lunch Box
Ingredients
TARTS
1 puff pastry sheet or pie crust rolled out
fruit jam (choose your favorite or mix a few together!) or chocolate-hazelnut spread
1 egg
1-2 tablespoons of milk
ICING
2 cups powdered sugar
¼ cup low fat milk
½ teaspoon vanilla extract
food coloring, of choice
sprinkles, optional
Preparation
Pre-heat oven to 375°F. If needed, set out puff pastry sheet to thaw.
Cut puff pastry or crust into 6 equal rectangles.
Make an egg wash by whisking 1 egg and 1-2 tablespoons of milk together.
Coat edges of half of the dough rectangles with egg wash.
Place a few tablespoons of fruit jam in the center and spread, leaving room on the edges.
Place a second piece of puff pastry on top of each. Use your fingers to push the edges together, and then seal with a fork.
Poke a few sets of holes with the fork in the top of each pasty.
Bake on wax paper or lightly greased cookie sheet for 20-30 minutes or until golden brown and puffy.
While pastries are baking, make your icing! Simply mix all ingredients together.
When the pastries are done, let them cool slightly and then top with icing and sprinkles.Let the icing harden a bit and then…
Enjoy!
Canadian Cheese Soup – Le Cellier
Yield: 8 servings
Ingredients:
5 cups milk, warmed
½ pound bacon
10 tablespoons butter
1 cup celery
2 each red onions, finely chopped
1 ½ cups flour
1 quart chicken stock
1 pound cheddar cheese, shredded
To taste – kosher salt
To taste – freshly ground black pepper
1 ½ teaspoons Tabasco sauce
3 teaspoons Worcestershire sauce
12 ounces slightly warm ale
Method of Preparation:
1. Slowly heat milk.
2. Brown the bacon first, then render until crisp.
3. Add the butter and melt.
4. Add celery and onions, cook until translucent.
5. Add flour and mix thoroughly to form a roux.
6. Add chicken stock and simmer for three minutes.
7. Add warm milk and stir vigorously to thicken.
8. Cook out roux until thickened (it should not have a starchy taste).
9. Reduce heat to low, add cheese, and stir until melted.
10. Season with kosher salt, pepper, Tabasco, and Worcestershire sauce.
11. Just prior to serving, add warm ale.
12. Garnish with cooked bacon and fresh chives.
Cook's note: When re-heating soup, do not bring to a boil, as it will break down.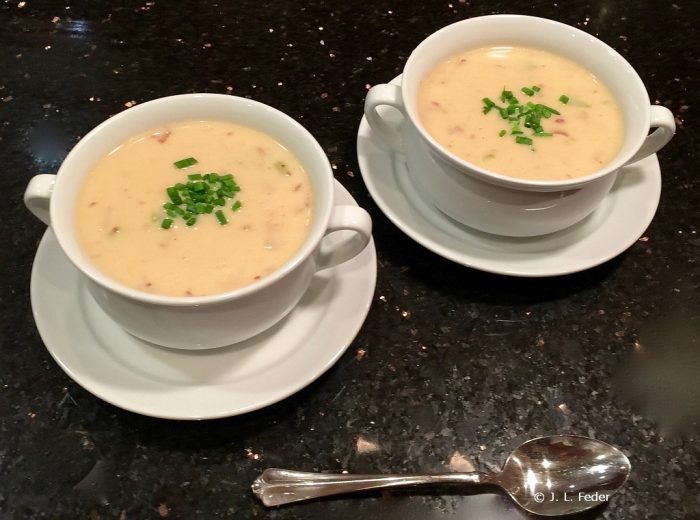 The Grey Stuff – Be Our Guest
Ingredients:
1 1/2 cups cold whole milk
1 (3.4 ounce) package instant vanilla pudding mix
15 chocolate sandwich cookies
1 (8 ounce) container whipped topping, thawed
3 tablespoons instant chocolate pudding mix
12 scalloped sugar cookies
Edible sugar pearls
Directions:
Pour milk into large mixing bowl. Add instant vanilla pudding mix and whisk for 2 minutes until smooth and slightly thickened. Place in the refrigerator for 1-2 hours, until firm.
Place chocolate sandwich cookies in food processor and pulse until puréed.
Fold puréed cookies into pudding mix. Stir until fully mixed.
Add whipped topping and instant chocolate pudding.  Stir until fully mixed.
Place in refrigerator and chill for one hour.
Spoon grey stuff into piping bag fitted with desired tip. Pipe grey stuff onto cookies. Top with sugar pearls.
Pineapple Dole Whip – Aloha Isle
1 cup pineapple juice, frozen in an ice cube tray
1 DOLE® Banana, peeled and frozen
2-1/2 teaspoons powdered sugar
1/4 to 1/2 cup unsweetened coconut milk beverage
Directions
Combine pineapple juice, banana, and powdered sugar in a blender. Cover; blend until smooth, gradually adding coconut milk and scraping down sides if necessary. Serve immediately.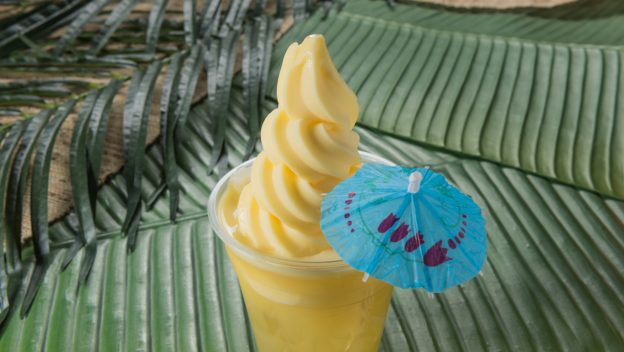 These are just some of the Disney recipes that you can make at home. For more great options, check out our full list of recipes.
What are some of your favorite Disney snacks to make at home? Let us know in the comments.
Join the AllEars.net Newsletter to stay on top of ALL the breaking Disney News! You'll also get access to AllEars tips, reviews, trivia, and MORE! Click here to Subscribe!