NOTE: At this time, not all Universal Orlando Resort hotels may be available for booking. Be sure to check availability for your dates if you are looking to book.
Universal Studios' thrilling theme parks in Orlando, Florida, – Universal Studios Florida and Islands of Adventure – are filled with awesome lands, rides, and other attractions that can keep you busy for days. And if you want to stay as close to the action as possibly, you can do just that by staying at a Universal Orlando resort.
The Universal Orlando Resort property contains many great hotels, and staying at them can further enrich your Universal adventure.
Here is our ultimate guide to Universal's resort hotels!
Benefits of Universal Resorts
Staying at a hotel in Universal Orlando provides more benefits besides just the convenience of quick and easy access to the theme parks. Being a Universal Orlando Resort guest gives you special privileges you won't get otherwise during your trip. For example, you'll get early park admission to the Wizarding World of Harry Potter and Volcano Bay parks, letting you enter one hour ahead of regular guests. You can also use your resort's room card to access live entertainment at Universal's CityWalk area, and select shops at Universal can deliver purchases straight back to your room for no extra charge.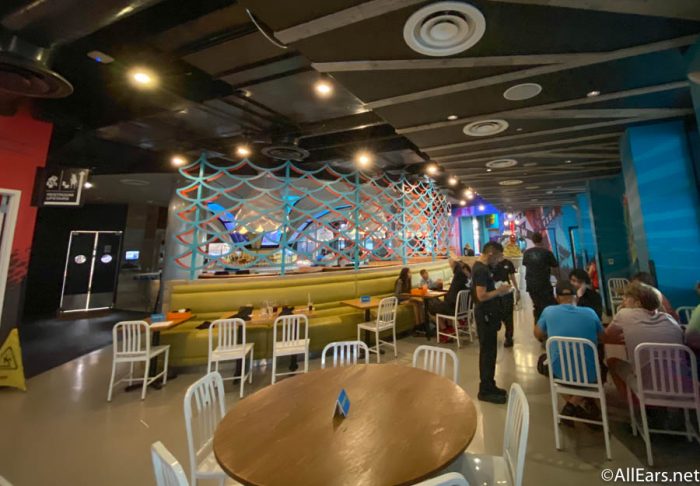 Some hotels at Universal Orlando even offer additional bonuses if you with them. The Hard Rock Hotel, the Loews Portofino Bay Hotel, and the Loews Royal Pacific Resort all give you priority seating at certain restaurants throughout Universal Orlando. In addition, staying at one of those three hotels also grants you free Universal Express Unlimited benefits, letting you skip past the normal lines at many Universal Orlando rides. With these benefits, staying at a Universal Orlando resort can complement your larger experience at the parks.
Aventura Hotel
Modern-styled Aventura Hotel is both large and stylish, making it a great choice for tourists. The resort features many excellent dining options, including Bar 17 Bistro, a snazzy rooftop bar looking out over the theme parks. Not only that, but the hotel also provides excellent, high-tech amenities. For instance, each room comes with its own tablet; in addition to accessing room service and air conditioning, these tablets let you sign into your subscription accounts like Hulu or Netflix so you can watch them on the TV.  The place even features a high-tech robot that dispenses candy when you show it your tablet.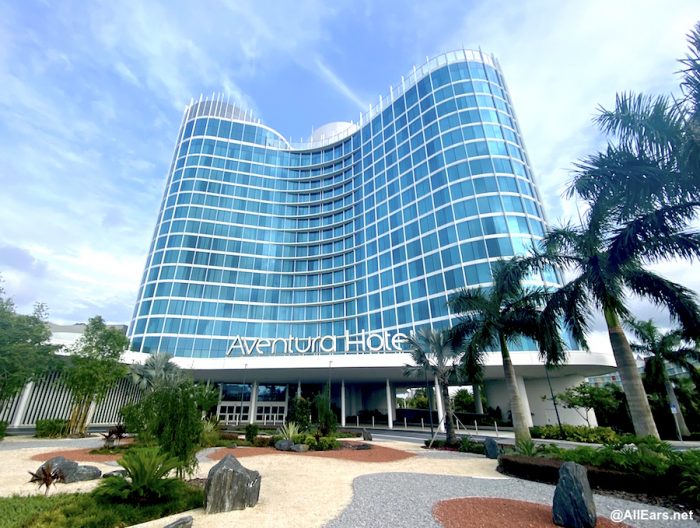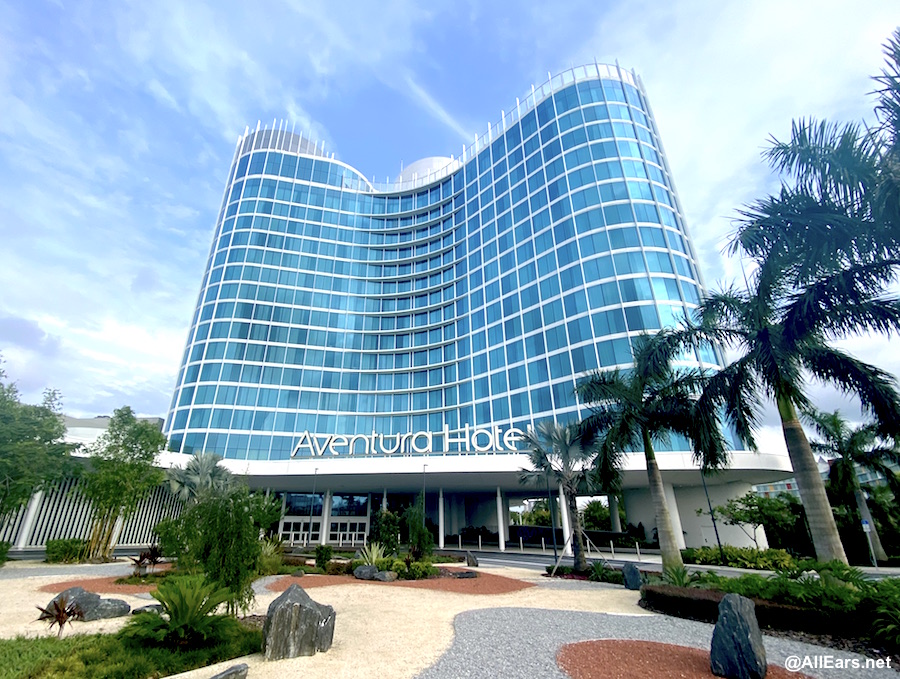 Aventura's rooms are also luxurious. Standard rooms can fit four people, and you can also upgrade to deluxe rooms. For families with children, you should consider the kids suite, which can fit up to five people and has a separate sleeping area for the kids. If you upgrade, you can even get a skyline view suite on the uppermost floors. Also, children will have a blast at the hotel's kids camp, enjoying fun activities while the adults take a break from watching them. In addition, Aventura is ideally located within walking distance of the Volcano Bay water park, perfect for Universal fans wanting to take a splash there.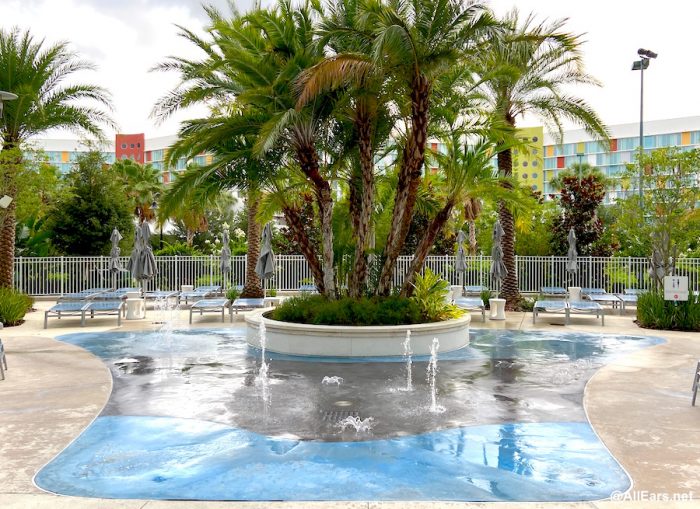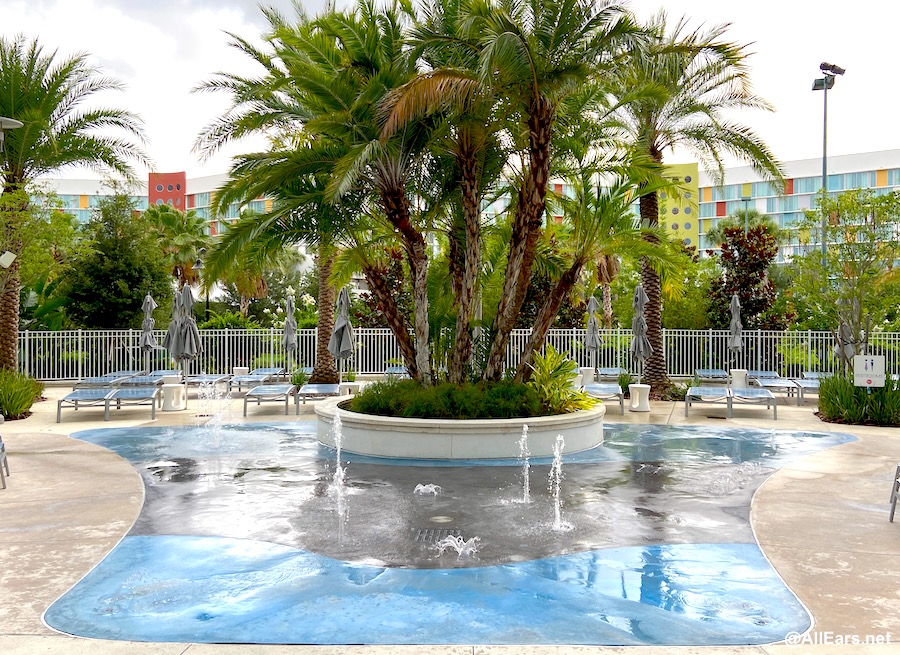 (Please note that Aventura Hotel has temporarily suspended operations due to COVID-19.)
Cabana Bay Beach Resort
If you want to step back in time to the 1950s and 1960s heyday of Florida beach resorts while at Universal, Cabana Bay Beach Resort could be just what you're looking for. Not only is the tropical aesthetic groovy, but there are also plenty of fun things to do at the hotel. For example, you can swim in one of two big pools, float along a lazy river, or play games at the bowling alley and arcade. You can also rent a cabana for up to six people by a pool, where you can even order pizza. Plus, Cabana Bay is just a short walk away from Universal's Volcano Bay water park.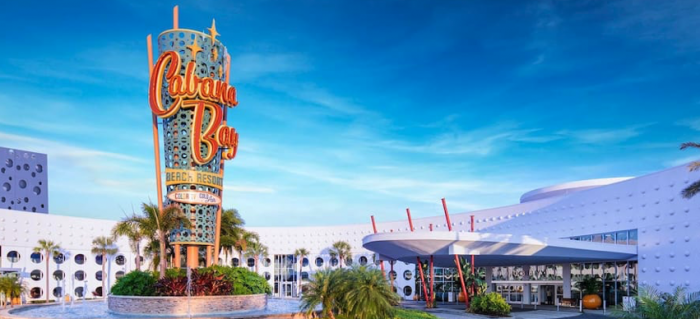 In addition, Cabana Bay Beach Resort offers splendid accommodations. Standard rooms can house up to four people. The six-person family suites are even better and ideal for large groups coming to Universal. Each suite comes with many welcome amenities, such as a kitchenette, separate bedrooms, a wet bar, and a compartmentalized bathroom. The Volcano Bay View, two-bedroom suite is even better, offering a glimpse of Volcano Bay while also hosting up to eight people. All of these features make Cabana Bay an excellent place for guests to stay at.
Endless Summer Resort – Dockside Inn and Suites
The Dockside Inn and Suites hotel is one of two different resorts that are part of the larger Endless Summer Resort complex at Universal Orlando. Both parts of the Endless Summer Resort embody the spirit of summery fun by the sea. However, Dockside Inn (the most recent addition to the Endless Summer Resort) does an especially good job at creating a fun, beach-themed experience. For instance, the two pools come with sand beaches and also offer fun activities such as bingo, hula hoops, and ping-pong. Furthermore, the inn is quite expansive, consisting of two towers and having many other interesting features like a game arcade.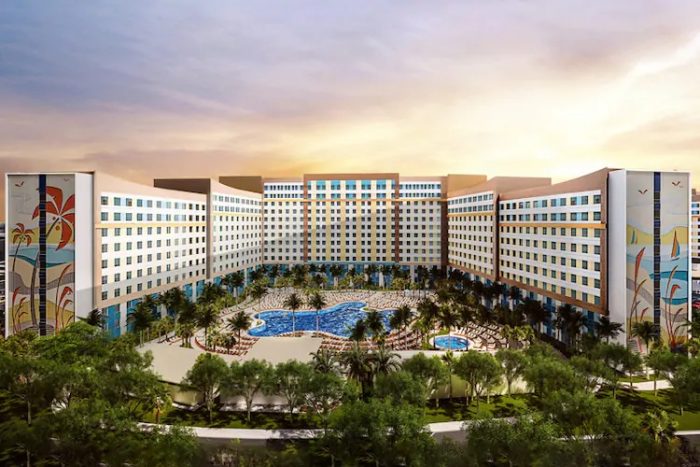 Like the rest of the resort, Dockside Inn's rooms have seaside aesthetics. In addition, the rooms are both good quality and relatively affordable. Standard rooms at Dockside have room for up to four guests. Alternatively, you can book a two-bedroom suite for a high-quality stay, which can hold up to six people at night, and it also has great features like a picnic table and a kitchenette area. (Please note that Dockside Inn and Suites is currently closed due to COVID-19.)
Endless Summer Resort – Surfside Inn and Suites
Surfside Inn and Suites makes for an excellent complement to Dockside at the Endless Summer Resort. As both value inns are connected to the same, beach-themed resort, you can enjoy many of the same seaside pleasures at Surfside as you would at Dockside, including poolside games and a game room. Though smaller than Dockside Inn, Surfside Inn maintains the beach-like atmosphere, with even a pool shaped like a surfboard.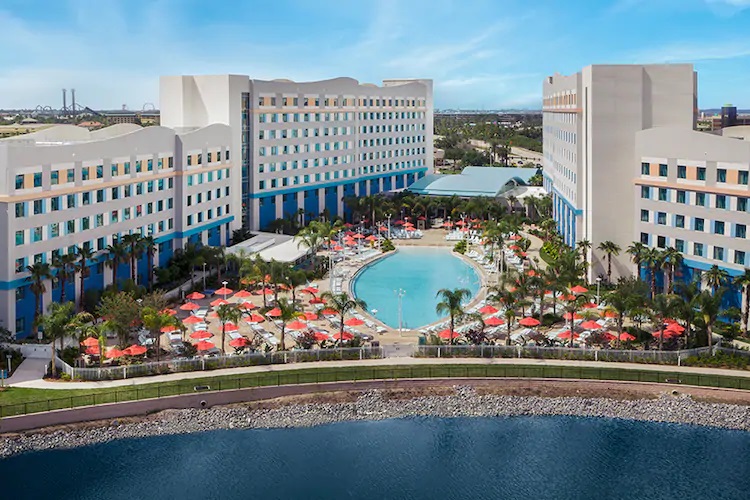 The rooms in Surfside Inn are also very nice and affordable, with many of them looking out at the adjacent lake. Like Dockside Inn, Surfside Inn offers standard rooms and deluxe, two-bedroom suites. So if you want to stay at a value resort with a fun surfing vibe, you should definitely check out the Surfside Inn.
Hard Rock Hotel
If you love rock and roll music, then the Hard Rock Hotel can really get you into a musical groove. As you explore the resort, you can stumble upon historic memorabilia like Paul McCartney's guitar and Elvis's pajamas. When you go swimming, the pool actually plays music beneath the water, and the adjacent bar provides live music; the pool also offers fun games and activities. The American style dining services, including a New York steakhouse called The Palm, are convenient after a long day at the parks. Plus, you can buy music merchandise at the hotel's Rock Shop – even authentic instruments that famous rock & roll stars have used.
There are a couple of other special opportunities only available at Hard Rock Hotel. The monthly Velvet Sessions, open to people 21 years and older, combine cocktails and snacks with live rock concerts by famous performers such as Eddie Money and Brett Michaels. Several times each year, the resort also hosts the more laidback Velvet Unplugged music show. Furthermore, hotel guests can have a personalized, musical blast via The Sound of Your Stay. With this resort program, you can select stream celebrity-curated playlists, have guitars delivered to your room, and play classic records.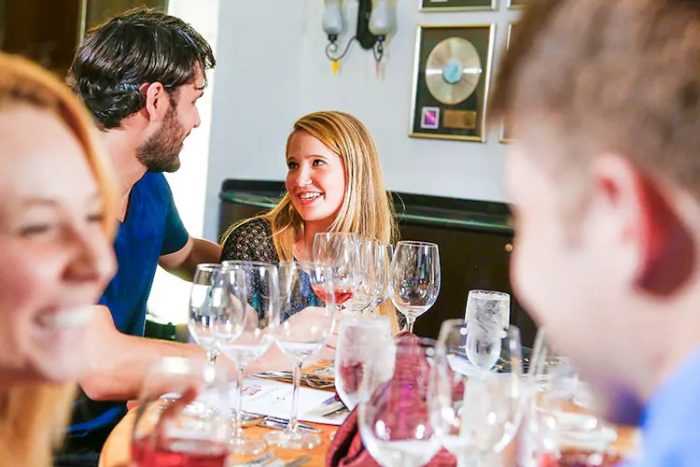 Like the rest of the hotel, the various rooms all have rock and roll aesthetics, as well as high-quality amenities. For standard rooms, you'll get two-bedroom accommodations for up to five people; you can also upgrade to a deluxe room (also fits up to five people), which has a larger living area. Located on the otherwise restricted seventh floor, the club guest rooms (can fit three to five people each) offer special bonuses such as pool cabana discounts and concierge services. Getting a club guest room also gives you access to the exclusive Rock Royalty Lounge. This club lounge offers snacks throughout the day, from a continental breakfast to evening hors d'oeuvres.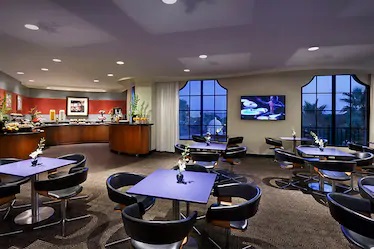 In addition, Hard Rock Hotel has lots of great suite options. The two-bedroom, Future Rock Star kids suites can house up to five people each, with kids getting a separate, colorful bedroom to themselves. King suites let up to four people sleep there, while also having an expansive entertainment area. The one-bedroom hospitality suite can fit up to four guests, while the two-bedroom version hosts up to nine people. The Graceland suite (maximum capacity of seven people) is especially luxurious. For instance, the master bedroom contains a roaring fireplace, while the bathroom features a marble shower and walk-in closet. The dining room even has a piano to jazz up the atmosphere.
Loews Portofino Bay Hotel
Have you ever wished to travel to Italy? Universal Orlando fluidly recreates that Mediterranean atmosphere at the Loews Portofino Bay Hotel. Based off the real-life village of Portofino off the Italian coast, the resort accurately replicates much of the town. From a beautiful ceiling mural in the front lobby to outdoor fountains, it feels as if you've truly crossed the Atlantic. You can walk along a cobblestone sidewalk beside the water, and stop at cafes and markets much like a classic European town. The port even contains Italian sports cars and Vespa-brand scooters to further immerse you in the unique setting.  Many of the restaurants offer savory and specialized Italian cuisine, so be sure to check them out during your stay.
In addition to the realistic Italian design throughout, Portofino Bay delivers many other fun experiences for guests to enjoy. The hotel contains not one or two but three different pools, each with its own unique features such as a Roman aqueduct; don't forget to also check out poolside activities like bocce and arts and crafts. If you really want to relax in style, then remember to stop at Mandara Spa, which provides unique and high-quality spa treatments, including massages, wraps, skin care, and saunas. All these features and more make a stay at Portofino Bay well worth it.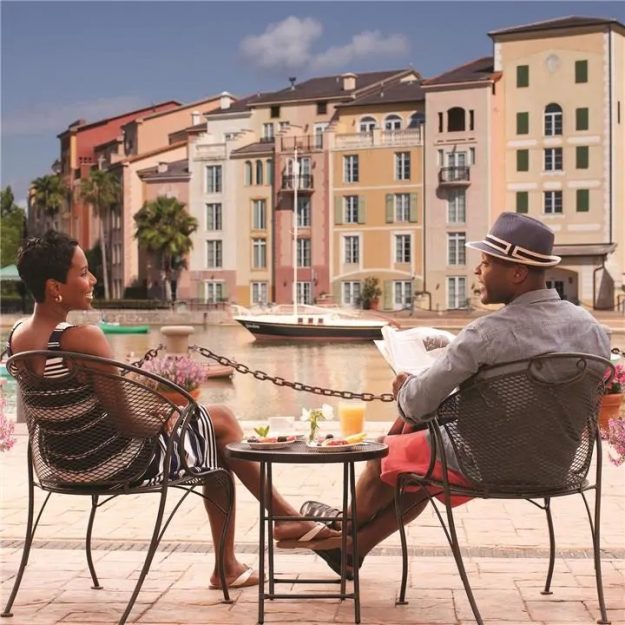 While exploring hotels and enjoying their special attractions is fun in its own right, the rooms are just as important. Standard and deluxe rooms at Portofino Bay are both big enough for up to five people to sleep in. Then there are the club-level guest rooms, which hold up to five guests. Club rooms give you access to concierge services as well as the Portofino Club Lounge for meals and snacks throughout the day and night.
The one-bedroom Portofino suite can fit between five and seven guests, while the two-bedroom Portofino suite can hold up to 10 people; both kinds look out at the gardens or bay. Likewise, the villa suites come in one-bedroom (5-7 people) and two-bedroom (10 people) options. The two-bedroom villa also has access to the Portofino Club Lounge. Hospitality suites are nice, too, with the one-bedroom version large enough for six to eight people to sleep in and the two-bedroom version hosting up to 10 people.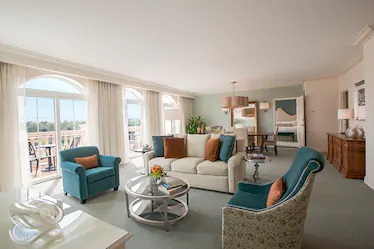 Children will love the Despicable Me-themed kids suite. On the flipside, if you want something elegant and sophisticated, you should go with a governatore or presidente suite. The governatore has lots of fine features, such as a study area, a dining room with a table able to seat 10, and a living room adjacent to a balcony for views of the harbor. The presidente suite has many of the same amenities and more – even its own private office and an outdoor terrace. In addition, you can add up to four bedrooms to the presidente suite for extra charge. (Please note that the Loews Portofino Bay Hotel is not currently operating due to COVID-19.)
Loews Royal Pacific Resort
Loews Royal Pacific Resort whisks you far away to the South Seas, capturing the sensation of being on a Pacific island. From the main lounge to the dining services to the individual rooms, the resort maintains a vibrant Polynesian theme. Even the pool immerses visitors in the tropical experience, as the pool mimics a lagoon with white sands and palm trees. On some nights, the pool area also hosts a special, Hawaiian-style torch lighting ceremony (currently not operating due to COVID-19).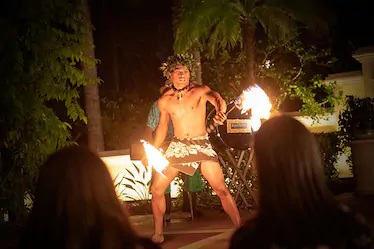 There are plenty of other things you can do at the Royal Pacific Resort as well. Kids can be kept busy with the resort's kid camp, while adults may enjoy Jake's Beer Dinner – a five-course meal with specialty ales that the hotel hosts several times a year. Dining as a whole is a blast at the resort, with multiple restaurants ranging in menus from Polynesian cuisine to sushi. Furthermore, in addition to shuttles, guests can reach the parks via water taxis, making this hotel very convenient.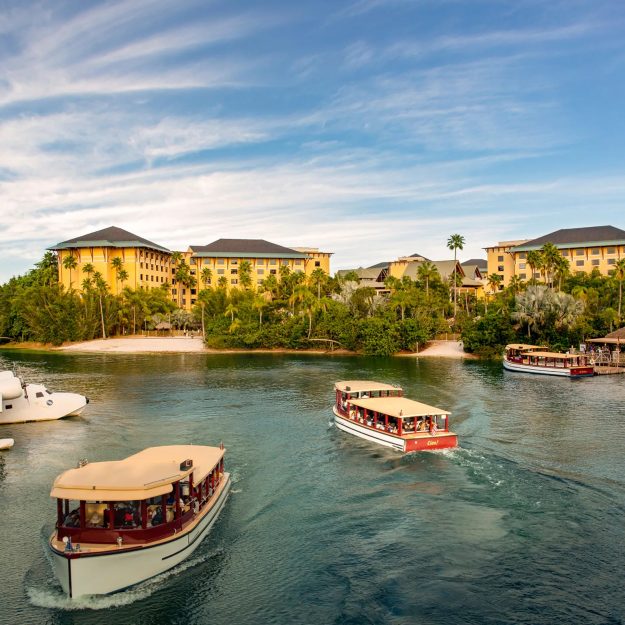 Along with the wonderful South Seas feel of the hotel, Loews Royal Pacific Resort features multiple options for high-quality rooms during your stay. Even the standard rooms are lovely, fitting up to three or five people depending on your specific selection. Club-level rooms not only provide you with personalized service from the concierge, but they also you access the exclusive Royal Club Lounge, where you can get everything from a continental breakfast to evening cocktails and snacks.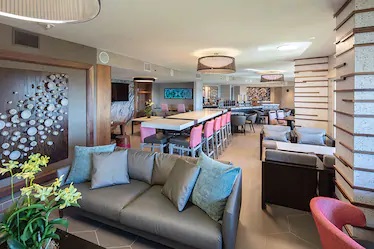 Furthermore, you can choose from many different kinds of great suites, each with its own special features. The five-person, colorful kids' suite is especially fun for children, since it's themed after Jurassic World. Up to four people can sleep in the king suite. The one-bedroom hospitality suite can house between five and eight people at a time. While the presidential suite normally fits only two guests, if you get a connecting second and/or third bedroom you can raise the capacity to 10 people. The presidential suites also provide expansive and exquisite dining and living spaces, not to mention a spacious bathroom with an oversized shower.
Loews Sapphire Falls Resort
While many of Universal Orlando's hotels theme themselves after tropical beach destinations, Lows Sapphire Falls Resort goes especially far with the aesthetic, making it feel like you're on an exotic island. From palm trees and waterfalls to steel drums playing in the background music, the resort immerses guests in an island adventure. When you dive into the pool, you'll even cross a sandy beach, letting you soak in the Caribbean atmosphere to your heart's content.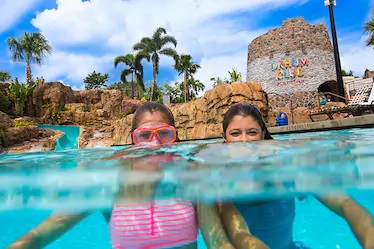 Dining here is also a treat, with not only Caribbean cuisine but also rare, vintage rums for gourmands to sample at the local restaurants. In fact, Sapphire Falls now offers a special rum dinner event, where award-winning chefs will provide you with a five-course dinner and specialty rums. For the little ones, the resort's kids camp might be just what they need, as they'll have fun with staff-supervised activities. Also, when you're ready to go to the parks, you can easily ride a boat over there from the hotel.
You'll love the island-themed rooms, too. Standard rooms provide sleeping accommodations for up to four or five guests. If you upgrade to a lagoon or pool view, you'll also get a great look outside from the comfort of your room.  In the kid suite, which can fit up to five people, children have their own bedroom with boats, whales, and other aquatic decorations, while the adults relax in the other bedroom. Similarly, the king suite hosts up to five guests. Sapphire suites can hold up to five people, and each includes a bedroom, dining area, two bathrooms, and even a wet bar. For smaller parties, the hospitality suite is another good option, and a few of these suites come with balconies. Finally, there's the grand presidential suite, which has separate bedroom, dining, and conference areas – even an exercise room.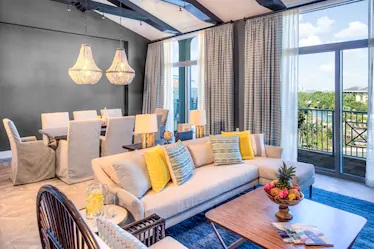 Plus, these different suites can be expanded with connecting bedrooms for an extra charge. For example, a second queen bedroom for the kids' suite lets up to 10 people sleep in the suite. The king suite can become a two-bedroom suite (holds up to nine people) or a three-bedroom suite for hosting up to 13 people. The sapphire suite can fit up to 10 people. Even the smaller hospitality suite can sleep up to eight guests with a connected bedroom. In addition, the presidential suite can expand to be two bedrooms (seven people) or three bedrooms (12 people). All of these different options make staying at Loews Sapphire Falls Resort great for all kinds of groups and individuals. (Please note that Loews Sapphire Falls Resort is shut down right now due to COVID-19.)
As you can see, with the rich variety of unique and immersive resorts at Universal Orlando, you won't need to leave Universal at all during your stay. There are lots different hotels and room options, but if you search around, you can find one that's just right for you and your companions.
Which Universal Orlando resort is your favorite, and why? We're curious to know your thoughts, so please let us know in the comments.
Join the AllEars.net Newsletter to stay on top of ALL the breaking Disney News! You'll also get access to AllEars tips, reviews, trivia, and MORE! Click here to Subscribe!