Premiering today on Disney+ is the Muppets' newest stab at a weekly series, Muppets Now.
This six episode show is touted as the first unscripted series for the Muppets and is made up of a series of recurring improv bits joined by the framework of the ever-suffering Scooter trying to get them uploaded to Disney+ by his streaming deadline.  Much like Kermit, who struggled to put on a music hall revue each week in the 1976 The Muppet Show, Scooter is occasionally helped, but largely impeded, by a variety of familiar Muppet faces.
All the characters look great, including a pretty svelte Piggy who seems to have had a little work done in the intervening years.  Sound-wise, some of the voice acting feels a little off, particularly Kermit who, now performed by Matt Vogel, is on his third performer.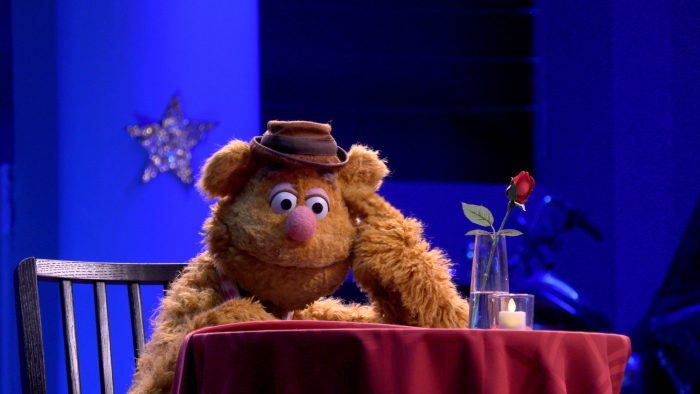 It is great to hear Gonzo and Bunsen Honeydew again however, both of which are still played by Dave Goelz, one of the few remaining original Muppet performers.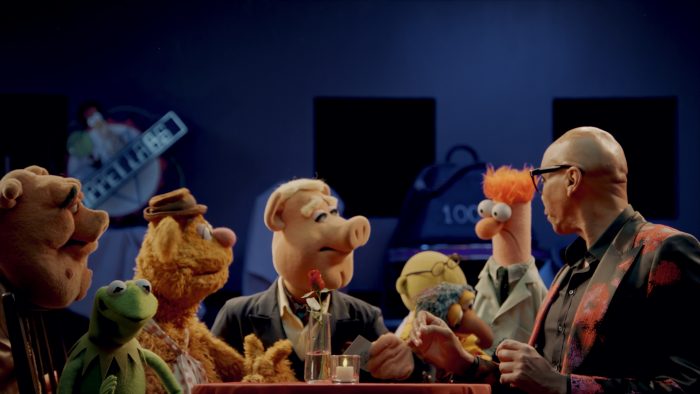 The different sketches are a little bit of a mixed bag — some work well, and some are rough, to put it mildly.  The Muppets always did work best when they had live performers to play off of, and that continues to be true with Miss Piggy's "Lifesty" segments, which featured her trying out slap facial massages or hot yoga with Broadway star Taye Diggs.
Or, there's the "Mup Close and Personal" interview with Aubrey Plaza, which tended to elicit the most genuine humor.  (In giving Plaza life affirmation, Piggy tells her "you may have no expression on your face, but you are alive"). Another asset to the segments is the use of Uncle Deadly as Piggy's second banana, whose deadpan delivery works as a nice foil against Piggy's histrionics.
Bunsen Honeydew and Beaker are always a great act, and their "Muppet Labs Field Test" is a fun throwback to the old days of Muppet Lab, updated to more of a MythBusters combination of actual science and madcap destruction.  (Sad to think of how entertaining it would have been to see long time Disney collaborator and MythBusters cast member Grant Imahara guest starring here).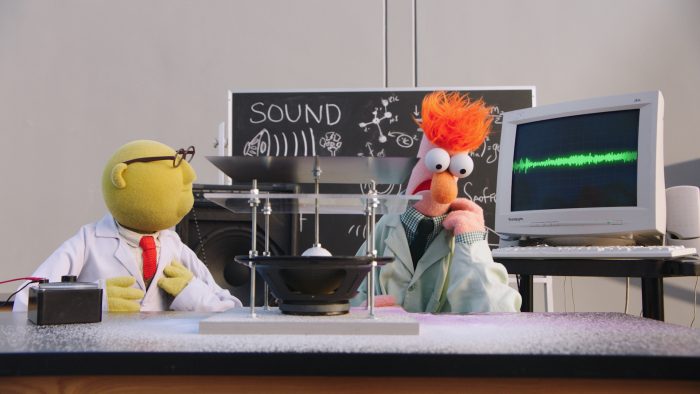 Other bits are less successful.  "Okey Dokey Kookin" is most amusing when it focuses on interactions between host Beverly Plume and the celebrity chef of the day (Carlina Will, Danny Trejo, Roy Choi, chef Giuseppe Losavio.)  The Swedish Chef surprisingly adds little to the mix, seeming to have replaced his old exuberance for cooking with more of a petulant toddler propensity for making a mess.
Most difficult, however, is Pepe the King Prawn's "Unbelievable Game Show."  While Bill Barretta does his usual fun job with Pepe, the overall premise of Pepe making two hapless contestants do whatever pops into his head for no apparent reason comes off more like an exercise in an improv workshop than a fully-realized sketch.
I was, however, only able to see the first four episodes and the last two definitely worked better for me than the first two…so it may be that there's some adjustment happening as everyone gets used to this format.  With only six episodes in the series, it would be nice to be able to see them improve over another season.
Perhaps it's just because I am very old by now, and the Jim Henson-era Muppets were so important to me, that some of the attempts to make them smoother or more contemporary just end up making them seem like imitations of themselves.
These were little felt creatures that sang and danced around on a tiny stage in London — when Kermit now announces that his new favorite hobby is photobombing, it just feels incongruous.  For that matter, if they want to go back to the same variety show feel of the original series, why not go back all the way?  Maybe intersperse musical numbers between these more Letterman show-esque segments. It seems a waste to have Diggs on if you're not going to have him sing eventually.
On the whole, it's a nice attempt to bring the Muppets back to a modern audience and certainly one that feels more true to the core of what I perceive the Muppets to be than recent attempts.  If you've enjoyed the Muppets before, it's likely you'll find something here to enjoy as well.
Improv is a tough business, whether you're a Man or a Muppet, but these Muppets certainly give it an enthusiastic try despite success or failure…which is maybe, more than anything, what the Muppets were always about.
Produced by The Muppets Studio and Soapbox Films, "Muppets Now" premieres today, Friday, July 31st, streaming only on Disney+.
Be sure to follow @allearsnet on Instagram and Twitter!
Check out our YouTube Channel for reviews, news, information and more!
Questions?  Comments?  Suggestions?  Let us know below!
Click below to subscribe to the AllEars® newsletter so you don't miss any of the latest Disney news!