Today's the day — The Rise of Skywalker is finally here!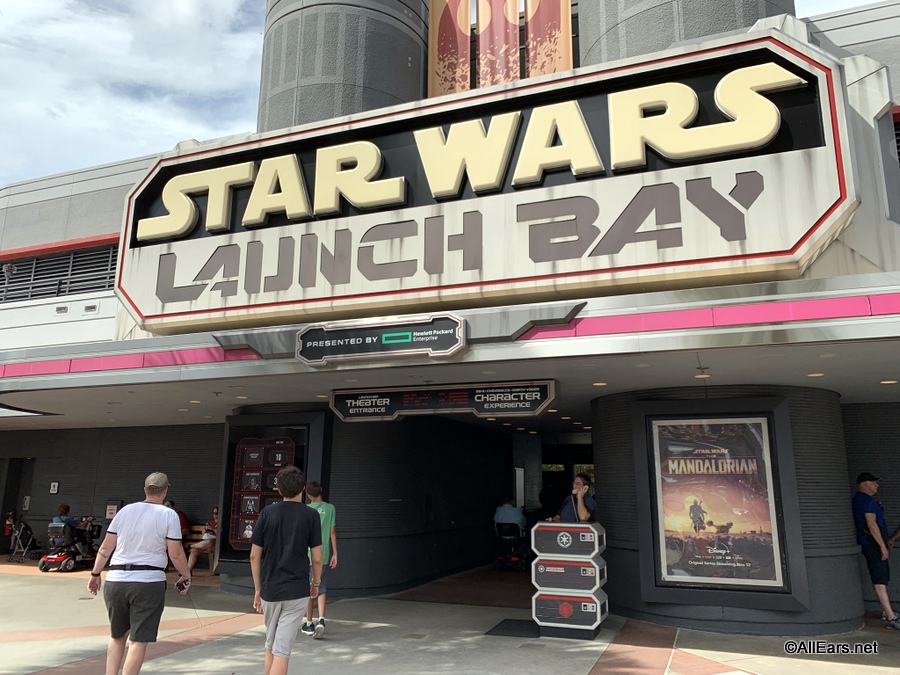 And what better place to celebrate the new film than Hollywood Studios at Walt Disney World? In honor of the movie's premiere, the park is now offering new The Rise of Skywalker merchandise as well as adding a brand new scene to Star Tours that is inspired by the movie! Additionally, Launch Bay has just debuted a new collection of costumes and props from the film that you can now check out in person!
 The new The Rise of Skywalker exhibit DOES feature a few spoilers from the film, so while we'll try and be as spoiler-free as possible in our description, if you're looking to stay away from any information about The Rise of Skywalker than proceed with caution!  
Spoiler warning in effect from here on! 
There's a whole lot of villains' masks on display up in here! This case featured four different masks worn by some of the "bad guys" throughout the film.
We've got the Sith Jet Trooper Armor in red next to the mask of one of the mysterious Knights of Ren on the far right!
On the left, we've got another mask from the Knights of Ren along with a First Order Jet Trooper.
More bad guy weapons and armor over here! That Sith Trooper sure looks menacing.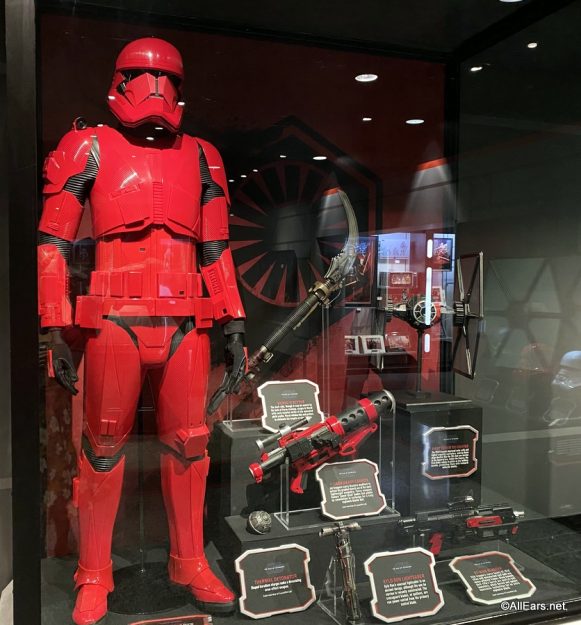 This is pretty darn cool to see – a First Order Tie Fighter model! (You can see a full-size version on Rise of the Resistance!)
Then there's this ST-W48 Blaster, which the description explains is carried by Sith troopers.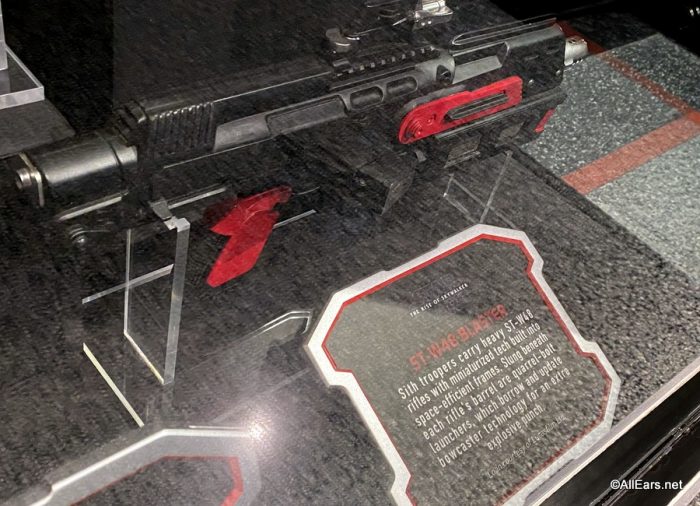 This is one most everyone will certainly recognize — Kylo Ren's Lightsaber! The lightsaber is described as "unusual" and "from an ancient design", with cross-guard blades. Anyone who's watched any of the sequel trilogy is sure to know who this lightsaber belongs to!
This one is certainly interesting — a Thermal Detonator. We wonder how this particular weapon will play into the new movie!
The Vicrul's Scythe is a threatening (but very cool) looking prop! This is another weapon that is favored by the dark side.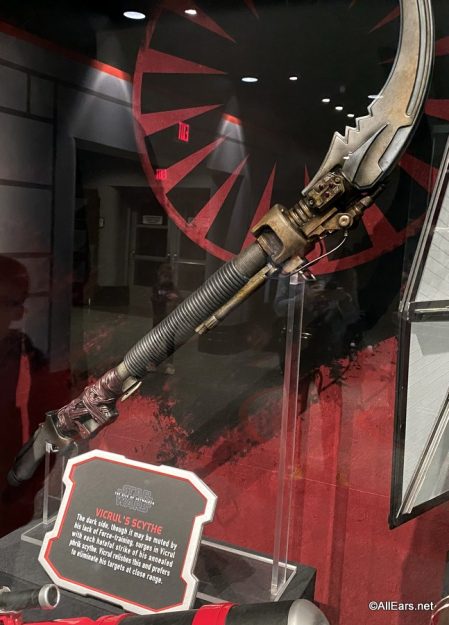 Lastly, we spotted a F-11ABA Heavy Cannon, which is apparently used by jet troopers and features a "power blast".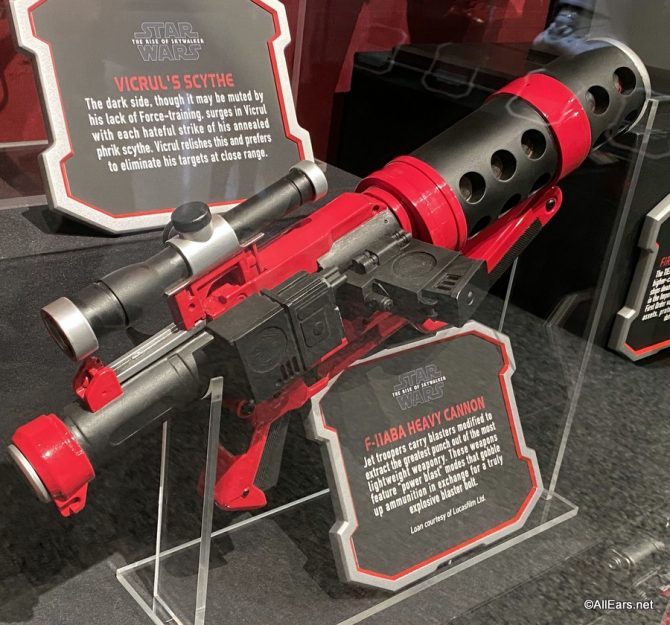 Phew, over to the Light Side we go with this collection!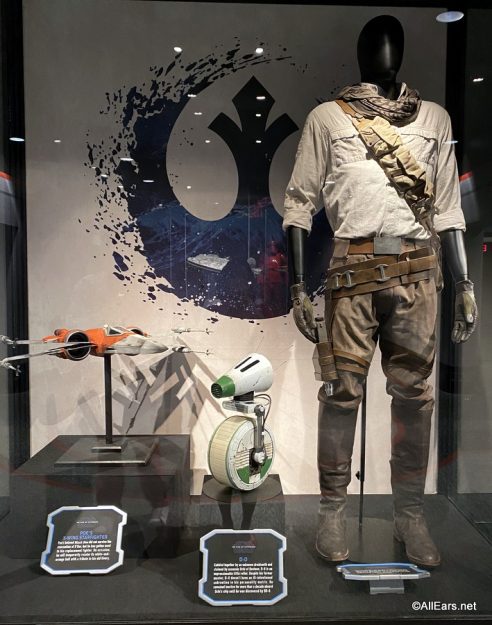 We love seeing this model of Poe's X-Wing Starfighter! If you look closely, you'll even spot BB-8 in the back there!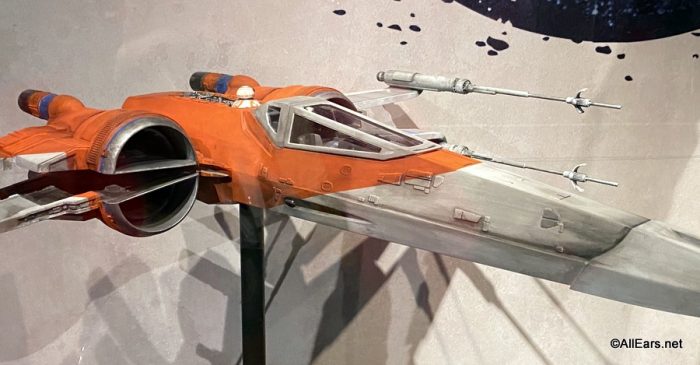 D-O is a new droid that's making his debut in The Rise of Skywalker! He's described as being "cobbled together by an unknown droidsmith and then claimed by assassin Ochi of Bestoon". We're intrigued to see the role this little guy has to play in the newest movie.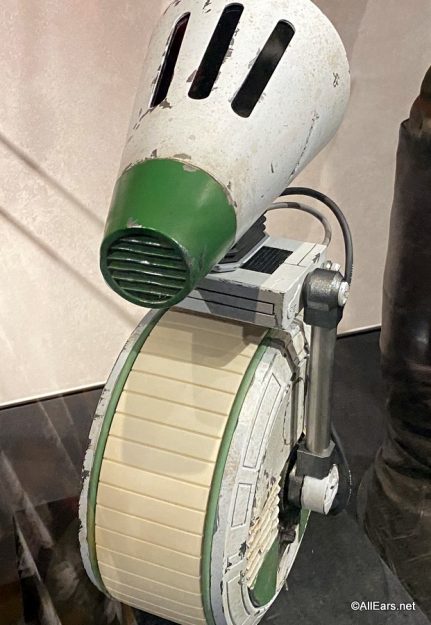 That's our guy — Poe Dameron! According to the description, our favorite pilot will be taking on a little more responsibility and leadership in the newest Star Wars flick.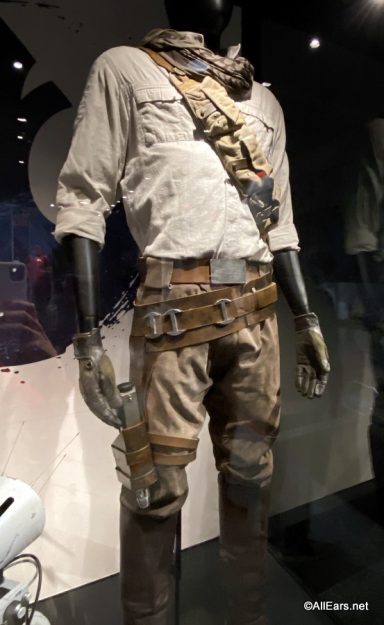 This particular blaster belongs to a Zorri Bliss, a new character with a link to Poe who's introduced in the movie!
Jannah is another new character introduced in Rise, and it looks like she knows her way around some archery, as she has this truly awesome looking Bow!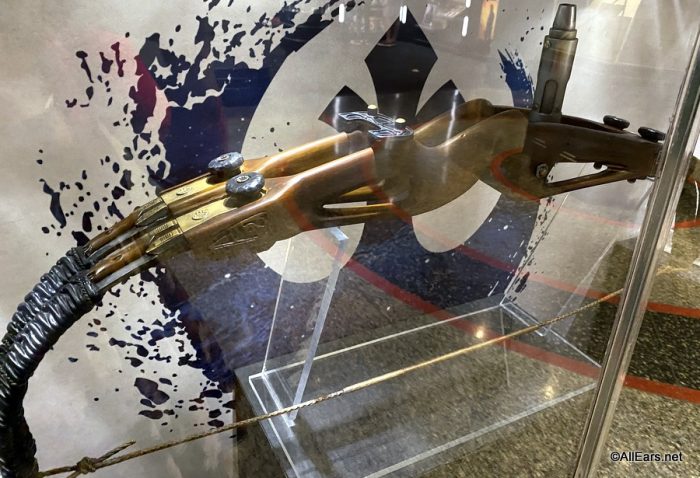 If you're looking to check out the latest Rise of Skywalker exhibit, head over to Launch Bay in Hollywood Studios!