As the COVID pandemic shut down on-site conventions of every kind this year and forced them into the virtual realm, SIGGRAPH (Special Interest Group on Computer Graphics and Interactive Techniques — basically the BIG show for everything animation, visual effects, interactive gaming, and computer technology) 2020 was no exception.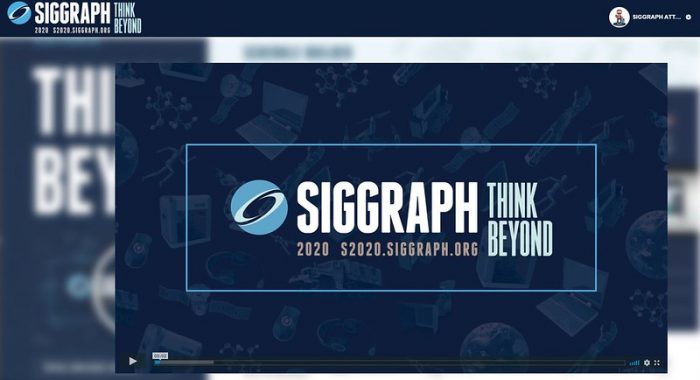 Starting its online offerings from August 17, it featured scheduled Zoom Q&A sessions from August 24th to 28th and continues to have on-demand content available now through October 27th.
Over 10,000 attendees registered and watched/engaged with presentations and Q&As on the latest innovations in computer graphics and techniques.  As we've noted in the past, SIGGRAPH is a highly technical conference geared largely towards people in the industry.  Despite that, there are generally always a handful of panels of interest to the layman fan of computer animation and games.
"ILM Presents The Making of 'Star Wars: The Rise of Skywalker'" was voted one of the top five presentations of the conference, with panelists Roger Guyett, Stacy Bissell, and Paul Kavanagh from Industrial Light & Magic discussing the many visual effects shots from the film.
The Jordan desert was scanned and documented as a digital background for the desert speeder chase and the festival on the planet Psaana.
Leia was brought back to the screen by using live-action facial performances from previously shot footage and blending them with an animated body and hair using motion control.
To keep the feel of the original trilogy, practical effects were often used, with physical models for the new droid DIO and a new, state-of-the-art animatronic Maz, driven in real-time by an actor in a mo-cap suit.  Classic rod puppets were also used for aliens such as Babu Frik.
A great deal of care was taken in designing Leia's shots so that although only her face was used, her blocking and posture from the original recordings were reproduced exactly to preserve the feeling that it was actually her.

Carrie Fisher in Star Wars: The Rise of Skywalker

Drone footage of actual locations was used to create a 3-dimensional map that could then be altered or embellished by other departments.  Digital elements such as vehicles, smoke, explosions, stormtroopers, and topographical features were then placed and fused with actual images of the real locations to create a seamless and believable environment.
 Babu is a puppet whose body is performed traditionally, but with today's technology enabling the erasure of all the puppeteers crowded around him.  His performance is consequently not compromised by the need to hide his handlers, as it would have been back at an earlier time.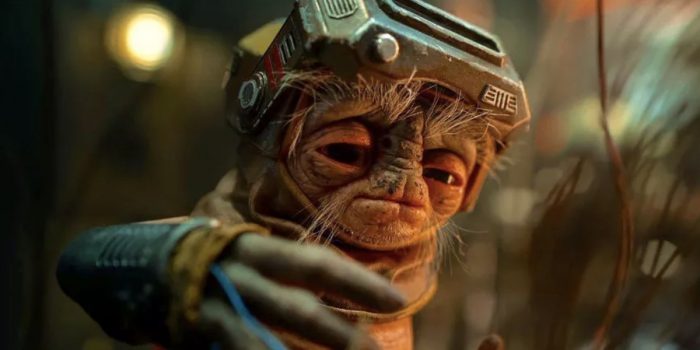 Babu's head contains around 20 motors animating his different expressions.  By being able to use a practical puppet versus a CG character, it gives the scene a different and arguably more charming feel as the other actors aren't required to imagine anything except the absence of the puppeteers.
The lightsaber duel between Rey and Kylo on the Death Star wreckage takes place on the ocean moon Kef Bir and required the actors to film on a 60-foot recreation in a tank at Pinewood Studios.  The wind, rain, and crashing waves of water were largely practical effects, eliciting realistic reactions from the actors and grounding the scene in an otherwise synthetic oceanic environment.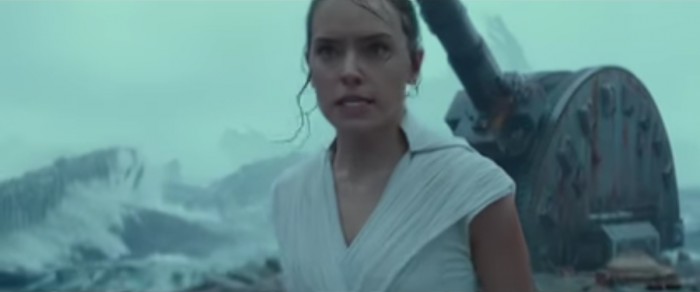 The Battle over Exegol was a massive undertaking and utilized every ship design from the history of Star Wars, along with over fifty new ones.
When Finn and Jaina are battling Sith troopers to protect BB-8 on the side of the Star Destroyer, there is an X-wing flying throughout the shot around them, wrecking havoc on the Sith.  Careful viewers noting the color of the ship can identify it as Poe in his X-wing, continuing to support his friends below.
Walt Disney Animation was well represented at SIGGRAPH with numerous presentations on the different effects and creative challenges involved in creating their recent projects, Frozen 2 and Onward.  Much of this information was discussed at the early press days for those films which I covered back before the films' opening, in the pre-COVID era.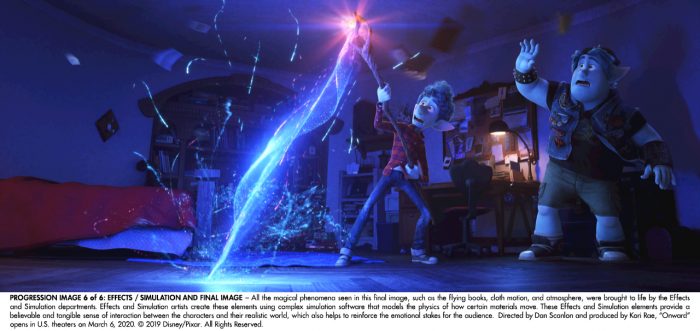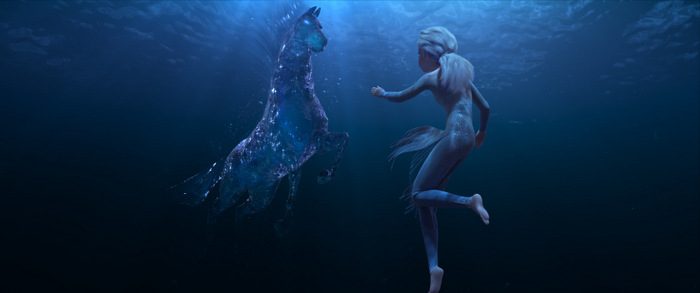 Another hot Disney property with high technical effect requirements is, of course, The Mandalorian.  In the production session "ILM Presents 'This is the Way' – The Making of Mandalorian," Richard Bluff, Landis Fields, and Rachel Rose from Industrial Light & Magic presented the many practical and digital techniques developed for the series.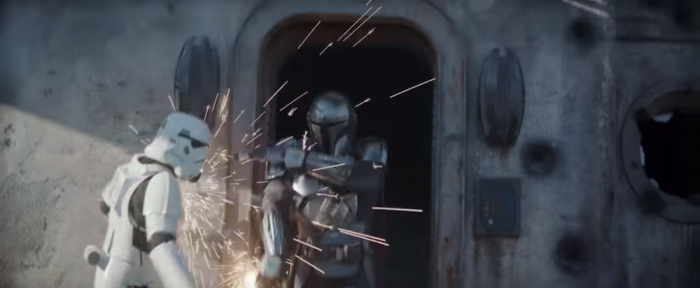 One innovation used on set was a wraparound LED wall that served in place of a blue/green screen.  By having the background in place while shooting versus placed post-production, the set became much more immersive and facilitated subsequent review of shots and editing.
To ensure that the 3D digital environments were seamless extensions of the practical builds in all directions, care needed to be taken that the images on the wall were in the proper perspective and synced with the camera movement, as well as consistently blending with the practical props and lighting used.
Prominent set pieces were often constructed practically and then scanned digitally so that they could be rotated or reflected virtually as the characters moved around the environment.
The Child (or as everyone actually calls it, Baby Yoda) started out as an animatronic puppet, but was also represented virtually, particularly during his many walk cycles.
As part of SIGGRAPH's "Real-Time Live!" panel in which presenters displayed examples of new technology in a live broadcast format, "The Technology Behind Millennium Falcon: Smugglers Run" gave people a brief look at some of the details behind the innovative ride.
To make the experience as immersive as possible, Imagineers wanted to avoid having people see any screens yet still provide a high-resolution and high-fidelity view of the world.
A scene is rendered and projected on a spherical dome over five different projectors which are separately powered to decrease rendering time.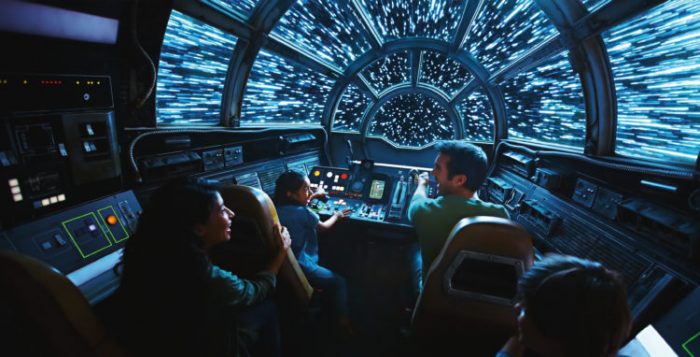 Like every year prior, SIGGRAPH featured its Computer Animation Festival, which showcases the latest in computer graphics and is also a qualifying festival for the Academy Awards®.  The 2020 award winners were:
Best in Show
"Loop"
Pixar Animation Studios
Erica Milsom
(United States)
Jury's Choice
"The Beauty"
Filmakademie Baden-Württemberg GmbH, Animationsinstitut
Pascal Schelbli
(Germany)
Best Student Project
"Gunpowder"
Supinfocom Rubika
Romane Faure
(France)
This is only a small handful of the enormous amount of virtual content SIGGRAPH offered, including the great Experience Hall which featured Emerging Technologies, an Art Gallery, and a VR Theater.  Going forward, SIGGRAPH looks to be incorporating their successful virtual offerings of this year with (hopefully) a traditional in-person convention next year.  Those interested in attending this hybrid event in 2021 should keep an eye on the newly-launched https://s2021.siggraph.org/ for future updates.

Be sure to follow @allearsnet on Instagram and Twitter!
Check out our YouTube Channel for reviews, news, information and more!
Questions?  Comments?  Suggestions?  Let us know below!
Click below to subscribe to the AllEars® newsletter so you don't miss any of the latest Disney news!