Six years after the huge blockbuster that was Frozen, comes the sequel Frozen 2 to tell us how the sisters–especially icy Elsa–fare after their initial Happy Ever After.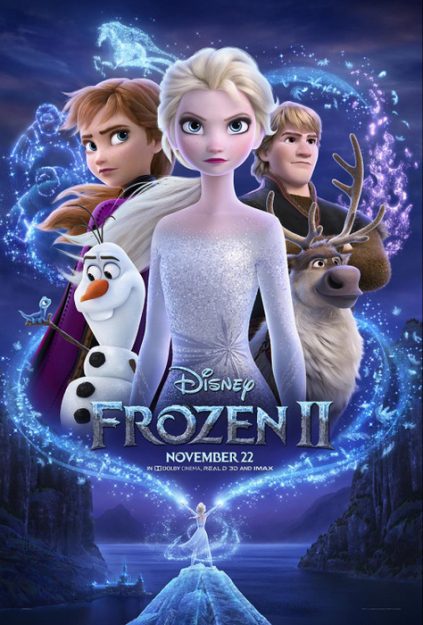 To get an advance look at how the film is developing, AllEars was invited down to Walt Disney Animation Studios to hear about it from the animators themselves.
In Frozen 2, we are introduced to several new areas in the periphery of Arendelle, each of which have their own special and mythic inhabitants.  In the presentation ENCHANTED FORESTS & DARK SEAS animators gave us a look into the process of creating these creatures.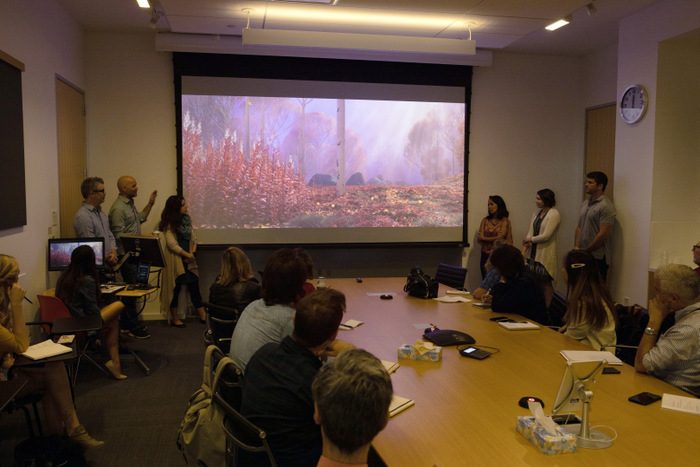 One of the first of the new characters our heroes encounter in the Enchanted Forest is the Earth Giants.  These posed the challenge of being massive and made of rock, and consequently had to be animated in a way that conveyed both their size and weight and still let their character shine through.

Because their rock tissues can't bend or stretch like skin and muscle, they were ultimately designed to have joints of sliding rocks, similar to tectonic plate movement.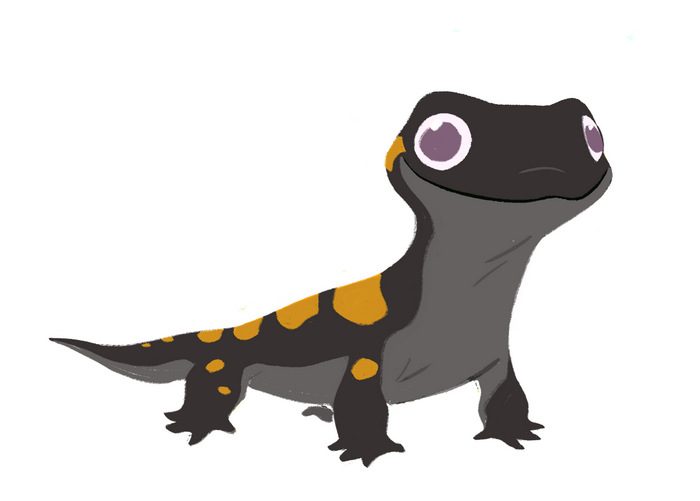 In contrast to the large, lumbering Earth Giants, Bruni the Salamander is small with a nimble, fast-moving walk cycle.  The animators' main goals with him was to make him as cute and lovable as possible.
Gale, the wind spirit, posed its own challenges–how do you depict something that is essentially invisible?  One method was to load her up with debris like leaves and sticks to give her some physical presence.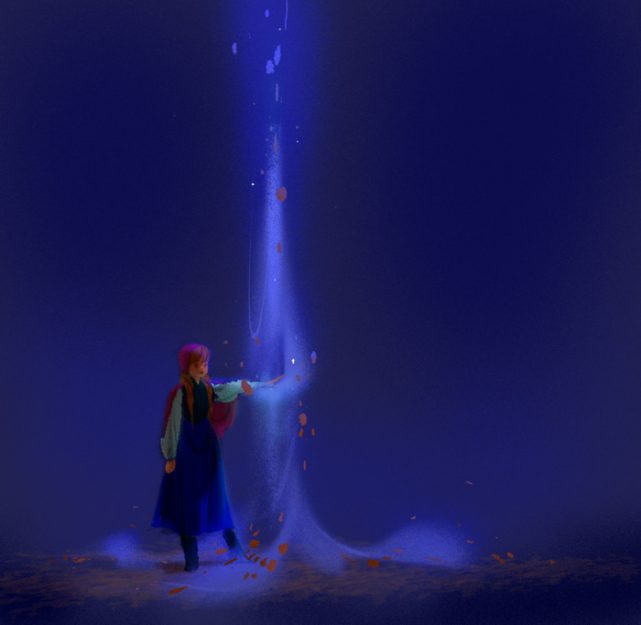 Other scenes depend on constructing an animated path where she's traveling, to give cues as to her location and velocity.
Finally, the water horse Nokk emerges as part of the Dark Sea sequence.  To properly show the spirit, thought had to be given as to how much water was required to give the horse shape, and what kind of visibility would it have underneath water as opposed to in the air.  Because he was directly inspired by Nordic mythology and folklore, he needed to be more animalistic and real, versus the more cartoony approach they took with Bruni.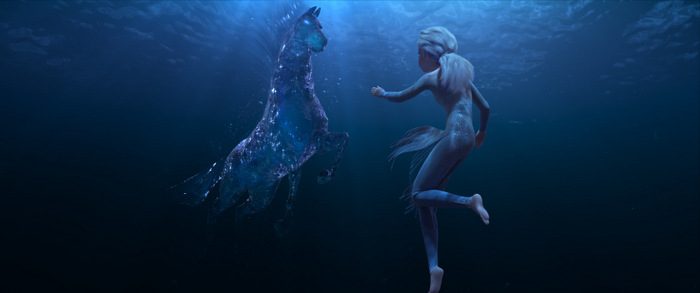 After some research trips to Equestrian Centers, the animators modeled the Nokk after a wild stallion, using his ear positions to indicate attention and emotion.
Finally, a last group of animators took us INTO THE UNKNOWN as they showed us the evolution of one of Elsa's big musical sequences in the film.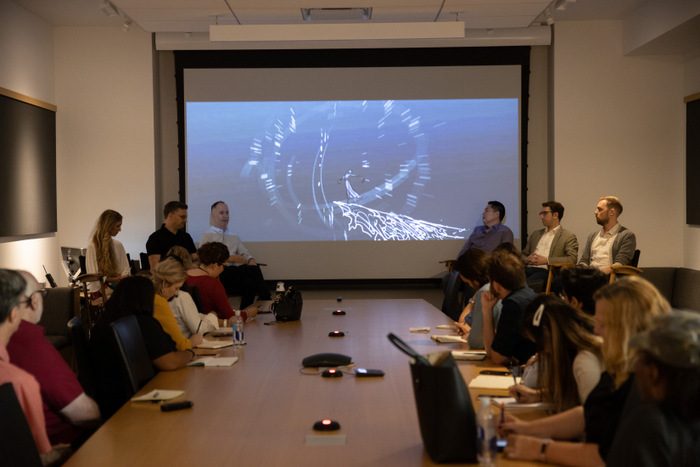 When considering the visual development of a character, every aspect is chosen to best support the narrative and inform the audience.  When we first met Elsa as a young girl in Frozen, she wore bright colored clothes that ultimately became darker and more restrictive with higher collars and longer sleeves as she grew up, mirroring her isolation from the rest of the world.  When she finally breaks free in "Let It Go," she reverts back to her original colors, indicating that she is returning to her authentic self.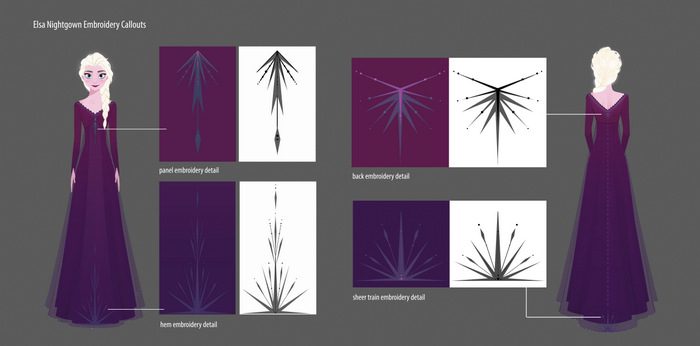 At the beginning of Frozen 2, Elsa's nightgown is designed to have both sheer/ethereal qualities as all her magical clothes do, with little snowflake elements that callback to her essential icy nature.  The color palette, however, while still adhering to the cool colors that befits a snow queen, are darker and more subdued, showing, perhaps, her uncertainty of mind.
In musicals, the protagonist often has an "I want" song early on, where they reveal in some ways who they are and what their heart's desire is.  "Into the Unknown" works in an opposite format, as Elsa tries to persuade herself against investigating either the mysterious singing voice only she can hear, or the nagging doubts that have begun to trouble her over the three years since we last saw her.
As the song progresses, the voice uses Elsa's magic to show her visions of magical things beyond the limits of Arendelle which ultimately raises a kindred spirit in Elsa.  As she becomes more animated and engaged with this strange power, the song crescendos into an explosion of little ice crystals with symbols that signify a change and the beginning of our adventure.
To give a truthful impression of a live musical performance, animators worked with a vocal coach to better understand how singers breathe and how the physicality of their breathing changes with the emotional demands of the song.  By more accurately animating Elsa taking deeper breaths and increasing the tension and energy in her body as the song progresses, the animators are able to make the song look like it's costing her some effort which makes her seem more real and more vulnerable.
Subtle changes in the speed and color and form of the magical apparitions were placed to let people know that they are actually coming from some external force and not just Elsa's creations.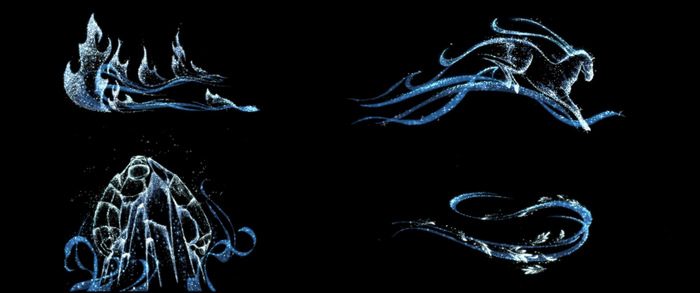 Frozen songwriters Robert Lopez and Kristen Anderson-Lopez return to write the songs for Frozen 2.  As always, the main concern is that the musical numbers in some way help tell the story by moving the character from one state–emotional or psychological–to another one.  Here, Elsa is forced to deal with her life-long insecurities she's been suppressing her whole life:  Why does she have powers?  Why is she different?  What is her purpose?  We'll find out November 22.
"Frozen 2" opens in U.S. theaters on Nov. 22, 2019.
Questions?  Comments?  Suggestions?  Drop us a line below.
Be sure to follow @allearsnet on Facebook, Instagram and Twitter!
Check out our YouTube Channel for reviews, news, information and more!
Click below to subscribe to the AllEars® newsletter so you don't miss any of the latest Disney news!

Are you excited for Frozen 2? Let us know in the comments!