A new game designed specifically for those of us still addicted to those adorable Tsum Tsums has recently arrived for the Nintendo Switch:  Disney Tsum Tsum Festival.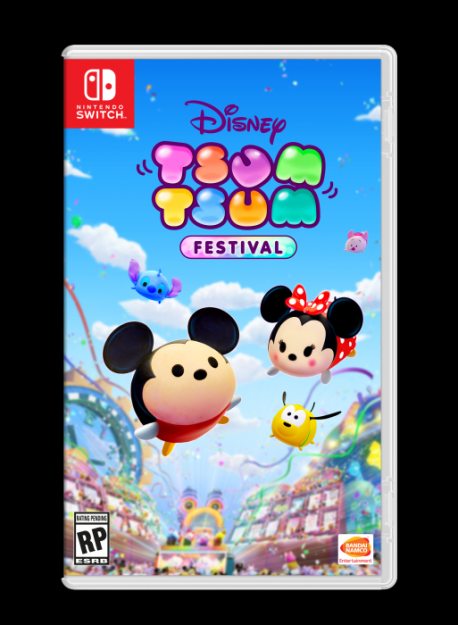 [A copy of the game was provided by Bandai Namco for review purposes with no restrictions on expressed thoughts or opinions.]
Disney Tsum Tsum Festival is a party/family game in which players can compete with others both locally and online in addition to solo play.  There are ten different minigames each with different variants for multiplayer/solo/mission gameplay that utilize virtually every configuration of the the Switch controllers.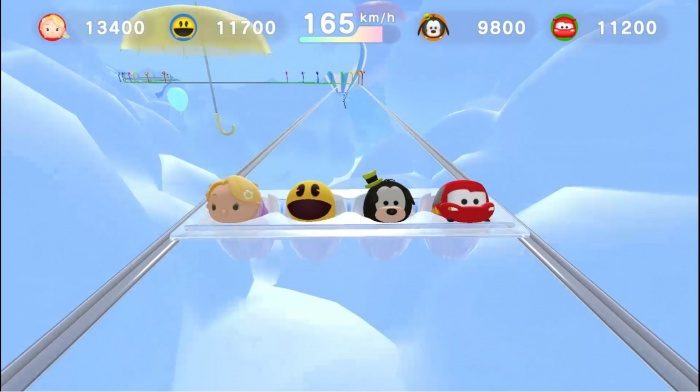 "Egg Pack Coaster" has your chosen Tsum riding with three others in an egg crate (they are Tsum shaped, after all) down a high-speed roller coaster.  The game is to tilt the Joy-Con controller to match the curves and bends of the track or your Tsum is apt to get thrown off and lose points.
"Tsum Curling," much like curling IRL, sees your Tsum trying to get their stone closest to the center of the ring, utilizing good aim and strategy in knocking pre-placed stones further (your opponent's) away or closer (yours.)  You control the force of the initial stone push and then shake the controller to move the sweepers to clear a path for it.  This was one of my favorites as the mechanism of play is ingenious and different from a lot of the minigames commonly seen, and the sweeper Tsums are cute as all get out.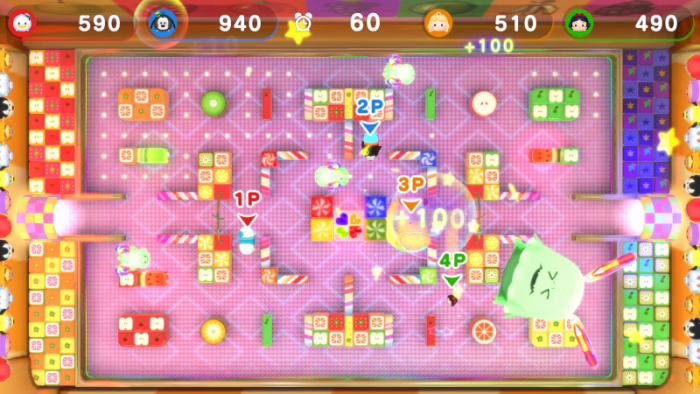 "Tsum Chase" is pretty much like Pac-Man, where your Tsum runs around a maze trying to avoid getting caught by ghosts and eating pellets and candy for points and power ups.  "Tsum Tsum Mania" is similarly a shooter like Space Invaders (my game references are dating me) with your Tsum shooting different aliens and possibly Christmas trees (?) as they fly around in space.
"Tsum Tsum Puzzle" is pretty familiar to anyone who has played the mobile game Disney Tsum Tsum, which, if the earnings are any indication, is everyone.  This is the only one played with the screen in vertical position, as you draw lines connecting identical Tsums to make them vanish from the screen and earn points.
"Tsum Rhythm" is much like many other rhythm games, in which you shake the controller to match the beat if you are musically inclined, or the position of the sliding icons if you are not.  While you might have expected all Disney tracks on this, the only one is a techno version of "The Mickey Mouse Club March" with the rest being general pop songs.  I also loved this one, not because I have any sense of rhythm, but because the dancing tsums are too kawaii for words.
In "Spinner Battle," your tsum balances on a spinning top in a ring set on a pirate ship.  There are three modes to this one where you either try to knock your opponent off the stage to steal their mini Tsums or jewels, or cooperative play where you combine to stop the Villain Tsums from collecting treasure.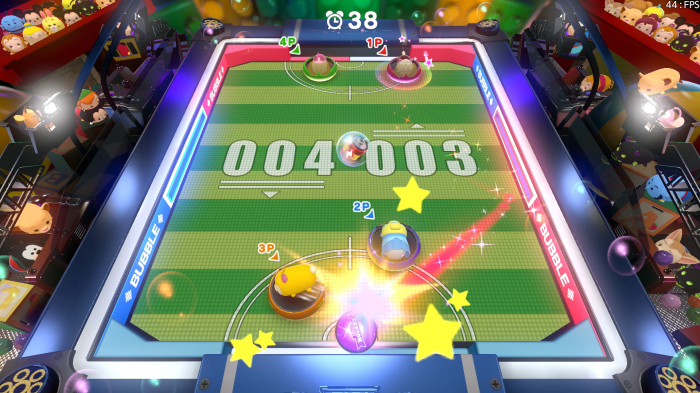 "Bubble Hockey" is played either competitively like air hockey or as a timed mission to pop as many bubbles as possible.  I was so bad at this one, I thought the controller might have been having some signal disruption because I couldn't block a goal to save my life.
"Round 'n' Round Run" is a platforming race where your Tsum jumps and dashes around moving elements to pick up as many jewels as possible before the finish line.  If you go too slow and lag behind the scrolling screen, the game gently picks you up in a bubble and carts you back into view where you can resume, although having missed all the jewels that passed by in the meantime.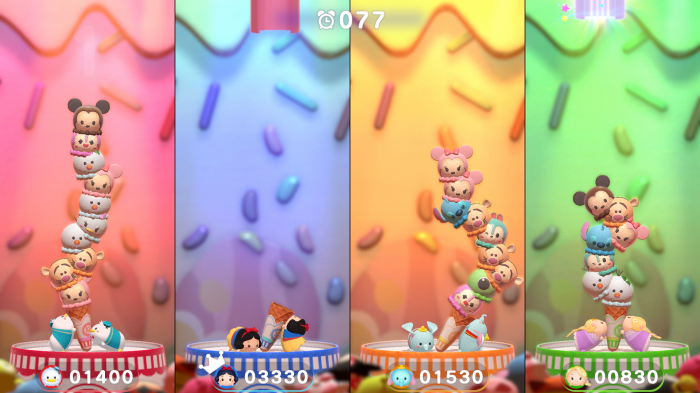 Finally, "Ice Cream Stacker" has your Tsums catching ice cream scoops that fall from a chute in the ceiling by tilting the controller.  The goal is to catch ten and hold it for a few seconds at which time you start the next stage with an empty cone.  Another favorite, the gameplay mechanic is very straightforward and the only thing more appealing than Tsum Tsums is Tsum Tsums and ice cream.
In addition to the mini-games there are other auxiliary activities such as purchasing more Tsum Tsums with "present balloons" that cost 10,000 coins and yield random Tsums.  An alternate method of collecting more Tsums (and coins, if you're lucky/skilled) is the Lost Treasure coin pusher which works much like the ones in arcades that sweep back and forth shoving coins off a ledge when you shoot other coins in to dislodge them.
On the whole, the game has good animation and art design–a sizable amount of its appeal is definitely just getting to see the Tsums waddle about like the old YouTube videos they used to put out.  A lot of the games have a very familiar feel to them so you should be able to tell pretty quickly whether a given one is for you or not.  I found the use of the unique Switch Joy-Con set up to be a little uneven between them–some, like the ice cream and curling games worked well and some, like the hockey and shooting games, seemed to lack accuracy (this could also be user error.)  I also found it tiresome to keep having to reassemble everything going from game to game as some of them require the controllers held separate and others need them connected.  The use of the separate connectors also limits its playability on the new Nintendo Switch Lite which doesn't have detachable ones.  Lack of a Nintendo Switch Online membership limits you as far as online matches or access to rankings, and for people who like to play solo, the Tsum Festival Tour, which gives you a selection of random games depending on how many rounds you want to play, is inaccessible as it only accommodates multiplayer mode.
Disney Tsum Tsum Festival is a cute game with generous amounts of the terminally adorable Tsum Tsum appeal you'd expect.  While a solo player may not be able to access about a third of its content, families or Disneyphiles looking for casual games to play at upcoming holiday gatherings will likely find it an entertaining choice.
To learn more about Disney Tsum Tsum Festival or purchase a copy for yourself, visit https://www.bandainamcoent.com/games/disney-tsum-tsum-festival
Questions?  Comments?  Suggestions?  Drop us a comment below!
Be sure to follow @allearsnet on Instagram and Twitter!
Check out our YouTube Channel for reviews, news, information and more!
Click below to subscribe to the AllEars® newsletter so you don't miss any of the latest Disney news!

Do you still love Tsum Tsums as much as we do? Let us know in the comments!