Frozen 2, the sequel to the blockbuster Frozen debuted this last weekend and judging from the box office ($127 million domestically, highest opening weekend ever for an animated movie in France and the UK, third-highest opening ever in China for an animated movie) quite a few of you have seen it already.  If you are among the standouts or just looking to see it a second time (did you find Baymax?) 4DX is an entertaining way to give a boost to your movie-going experience.
[A ticket to Frozen 2 in 4DX was provided to me for the purposes of review with no constraints on thoughts or opinions.]
4DX is a relatively new theater technology that gives audiences a multisensory additive experience with their film.  In synchronization with the onscreen visuals, 4DX seats provide motion and environmental effects such as water, wind, fog, scent, and snow.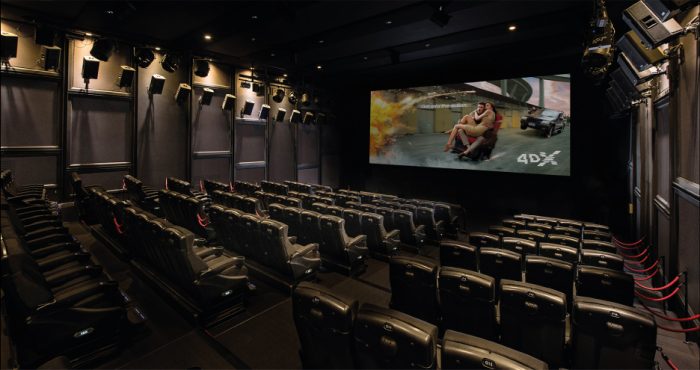 Going into Frozen 2 and experiencing 4DX for the first time, I think I anticipated it being something like Captain EO, with occasional chair bumps and smoke, but it was actually much more involved than that.  The chairs are in almost continuous movement throughout the film and, given the importance of the character of wind in the story, the breeze effects are as well.  In general, a movie like Frozen 2 proves to be pretty ideal for 4DX as the different elemental spirits–water, wind, earth, and fire–lend themselves well to the different effects.  Whether getting quaked by the Earth Giants stomping around or misted with Elsa in the Dark Sea, audience members are constantly subjected to the same environmental demands that the characters are, pulling them into the movie.
One of the things I was relieved to find not as intense as it might have been was the water effects, which were reasonably subdued compared to those in the 4D theme park theaters.  Some 4DX theaters have buttons where you can actually turn off the water effects altogether, which I would have been happy to have in "Philharmagic" or "Honey I Shrunk the Audience."  The seat motion worked best for me when it followed long tracking shots such as when Elsa wanders around the castle in "Into the Unknown" where it really took on a motion simulator feel, versus some of the more random jerking about that had more of a "turbulence on an airplane" feel.  If you're eating or drinking during the movie this can be a little challenging because unless you have a lid on your drink, you'll only be able to drink securely during the sad parts.  What you do give up in exchange for all this is the cushy reclining seats that most cinemas have installed in at least a few of their theaters by now.  Additionally, if you're someone who requires absolute silence during your filmgoing experience, be aware that the setting up of some of the effects/motion does happen with a low-pitched rumbling that is audible over the dialogue.
On the whole, 4DX gives an entertaining new facet to watching Frozen 2, although I think it might be better saved for your second viewing so that you have more attention to pay to the whole experience instead of trying to figure out which symbol corresponds to which element spirit.  There is an upcharge for the 4DX showings–as a comparison, these are the prices from a local theater:
Standard evening ticket:  $14.70
RPX ticket:  $19.70
RealD 3D ticket:  $22.70
4DX ticket: $22.70
RealD 3D 4DX ticket:  $26.70
I saw it in 3D 4DX, but if I had a choice between seeing a film in 3D or 4DX and the price was equal, I would probably go with 4DX because I feel like it adds significantly more to the film than the typical 3D conversion most films get.  Either way, enjoy one more adventure with your Frozen friends who are already on their way to blockbuster status once again, because as Anna and Olaf sing, "Some Things Never Change."
For more information about the 4DX Experience, visit their website at https://www.cj4dx.com/
Questions?  Comments?  Suggestions?  Drop us a comment below!
Be sure to follow @allearsnet on Instagram and Twitter!
Check out our YouTube Channel for reviews, news, information and more!
Click below to subscribe to the AllEars® newsletter so you don't miss any of the latest Disney news!

Do you think 4DX is worth it? Let us know below!