What Disneyland may lack in size compared to its younger sibling in Florida, it certainly makes up for in classic nostalgia. It was Walt's first park after all!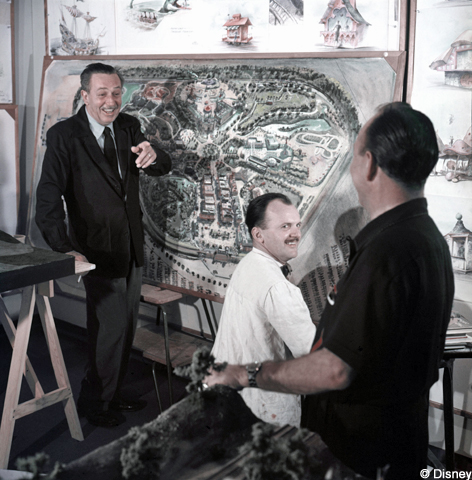 Comprised of just two theme parks and a handful of hotels, Disneyland is sometimes tacked onto a larger Southern California vacation.
After you've hit Hollywood, and you've only got one day to spend at Anaheim, you can be strategic and still see a good chunk of the beloved theme park.
We've compiled the 15 Best Ways to Spend One "Best Day Ever" at Disneyland
MUST RIDE
There are way too many attractions in both Disneyland Park and Disney California Adventure that, sadly, it is nearly impossible to ride all of them in just one day. Our MUST RIDE list covers some classic Disney attractions as well as innovative and thrilling newer rides.
Pirates of the Caribbean at Disneyland Park
Pirates of the Caribbean at Disneyland Park is one of the last attractions that Walt Disney personally had involvement in before his death. With a rather long queue and ride length, this can take up a large chunk of time, but it's worth it.
Pirates of the Caribbean was the birth of animatronics as we know them today. While other versions have been built in Disney Parks all over the world, this will always be the original.
Mr. Toad's Wild Ride at Disneyland Park
Your one day at Disneyland must include a classic dark ride, like Mr. Toad's Wild Ride. Located in Fantasyland, it was also was one of the few attractions operational on opening day, July 17, 1955.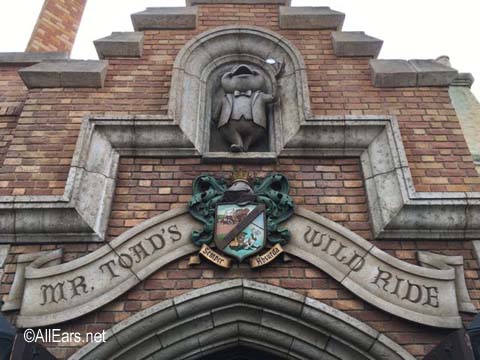 This trippy experience is fun for all ages and definitely something you'll remember. While the attraction is long gone at Walt Disney World, you can still ride it here.
Guardians of the Galaxy: Mission Breakout at Disney California Adventure
Fans were hesitant when it was announced that Tower of Terror would be no more. To our pleasant surprise, Guardians of the Galaxy: Mission BREAKOUT has surpassed our expectations becoming a must ride attraction.
Even if you haven't seen the movie, it is pure fun set to an awesome soundtrack. It is the perfect combination of strong theming and thrills.
Radiator Springs Racers at Disney California Adventure
Perhaps the crown gem of Disney California Adventure, Radiator Springs Racers in Cars Land is a showpiece of Disney technology and where they are headed. Based in the Disney-Pixar world of the film Cars, guests hop aboard a simulated slot car as they race through the rolling hills.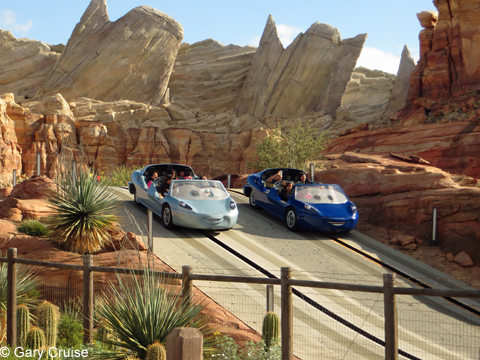 The attraction borrowed technology from a similar ride system over at Walt Disney World, Test Track, and is one of the most expensive theme park attractions in the world.
Disneyland Railroad at Disneyland Park
Climb aboard the Disneyland Railroad that explores notions of the past and present all while taking an exhilarating and relaxing loop around the park on an authentic steam-powered train.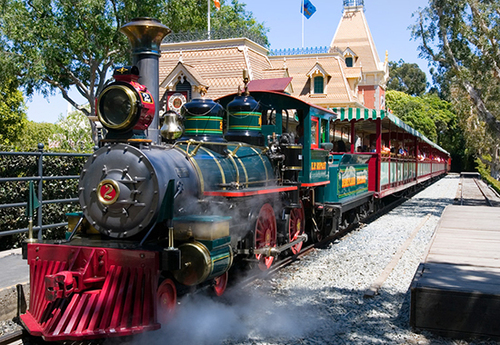 It is only on this 18-minute journey that you can see Walt's legendary dioramas of prehistoric times. You'll explore the land of the great dinosaur between the Tomorrowland and Main Street, U.S.A., stations. This was one of the park's earliest marvels into large scale audio-animatronics and is certainly not to be missed.
MUST SEE
There's so much to discover at both Disneyland Park and Disney California Adventure. Luckily, with entrances to both parks literally across from one another, you can cover a lot of ground in one day.
Star Wars: Galaxy's Edge at Disneyland Park
A walk through the seven-month-old Star Wars: Galaxy's Edge is a must. Even if you can't get on Millenium Falcon: Smugglers Run or make a reservation at Oga's Cantina, a stroll through Black Spire Outpost is a must.
Become immersed in one of the biggest franchises of all time as you meet characters along the way and build your own custom lightsaber.  Snack on a Ronto Wrap from Ronto Roasters or try yourself some Blue Milk from the Milk Stand.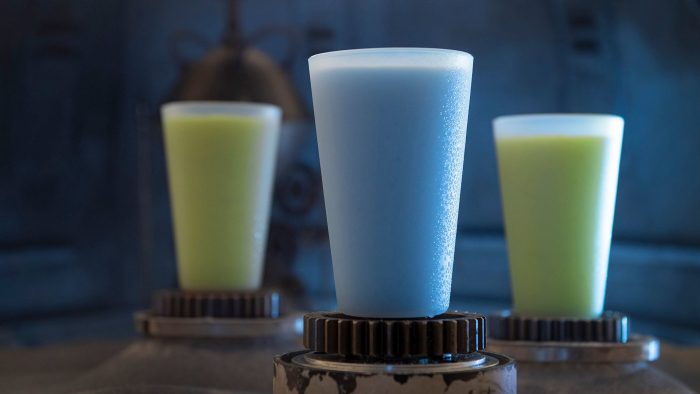 Pixar Pier at Disney California Adventure Park
The recently reimaged Pixar Pier opened in 2018 at Disney California Adventure. Celebrating all things Pixar in a picturesque Boardwalk Promenade setting, there's lots to do even without a FastPass to Toy Story Midway Mania.
Pick up a Jack Jack Yum Yum cookie or an adorable snow-capped lemon cone. The Lamplight Lounge is the spot to relax and indulge in cocktails and gastro-pub style cuisine.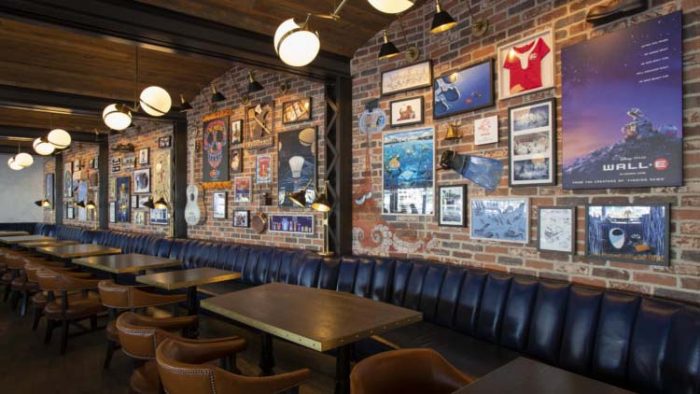 New Orleans Square at Disneyland Park
A stroll through this area that houses Haunted Mansion and Pirates of the Caribbean is a step back in time to when New Orleans was the prime jewel of the American frontier.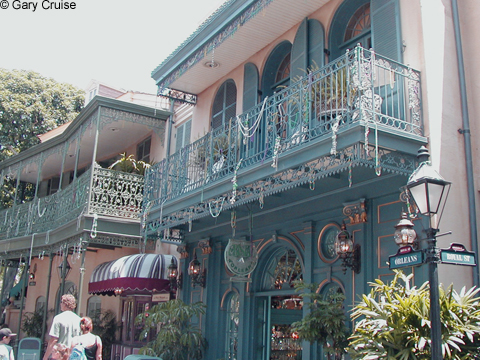 Every day is a celebration as you wander past the Mint Julep Bar serving up Mickey Shaped beignets and take in the live jazz musicians who perform in the area. Experience the vibrance that is Royal Street and its quaint shops with global treasures.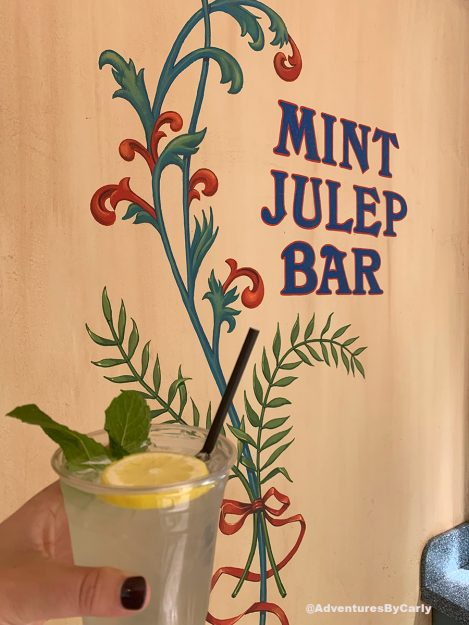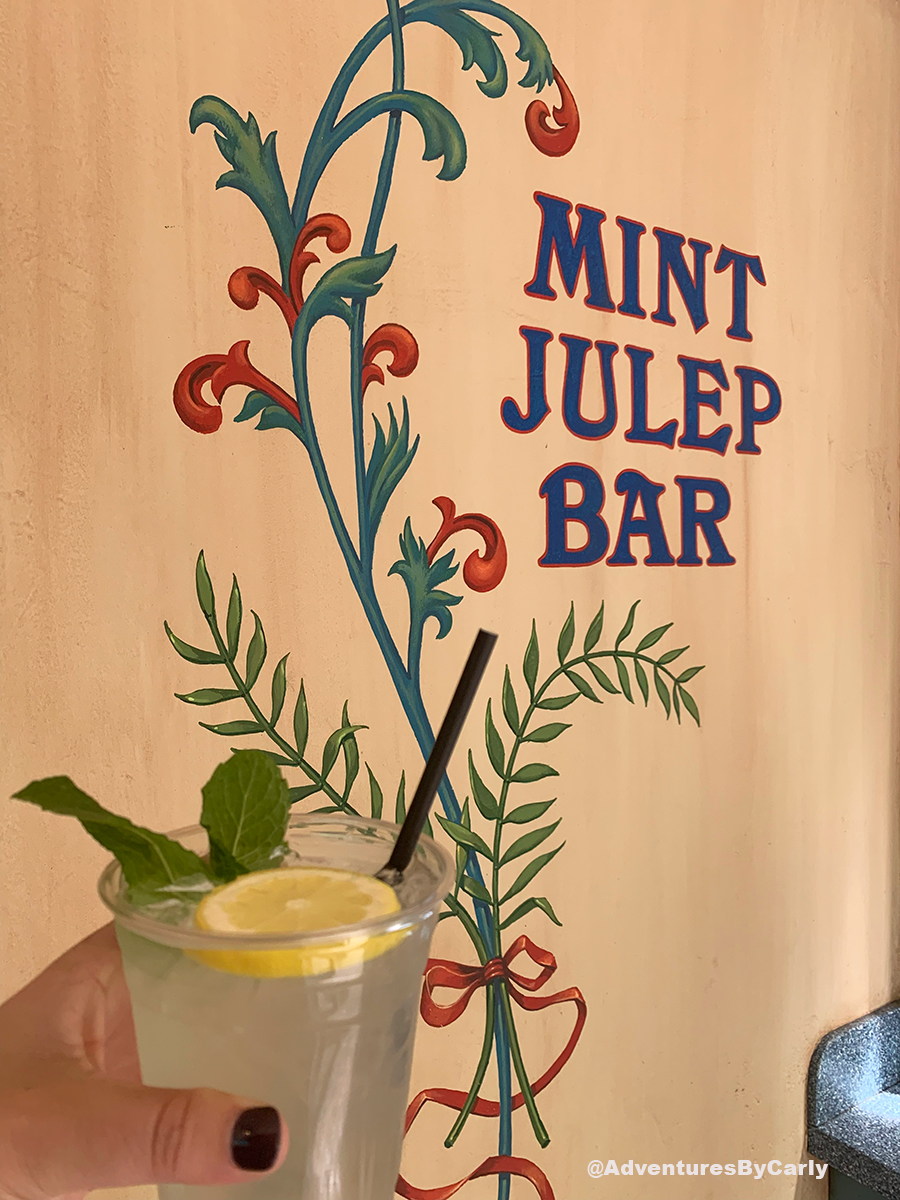 MUST EAT
While one day at the Disneyland Resort is not nearly enough time to try all the delicious dining options, you can try quite a few items if you skip the table service options (those eat up precious time anyway) and opt for some solid counter service snacks instead.
Tropical Hideaway at Disneyland Park — Bao and Dole Whip
Tropical Hideaway is a relative new spot in Disneyland Park's Adventureland and also the place to get Dole Whip without standing in line forever around the corner at the Tiki Juice Bar.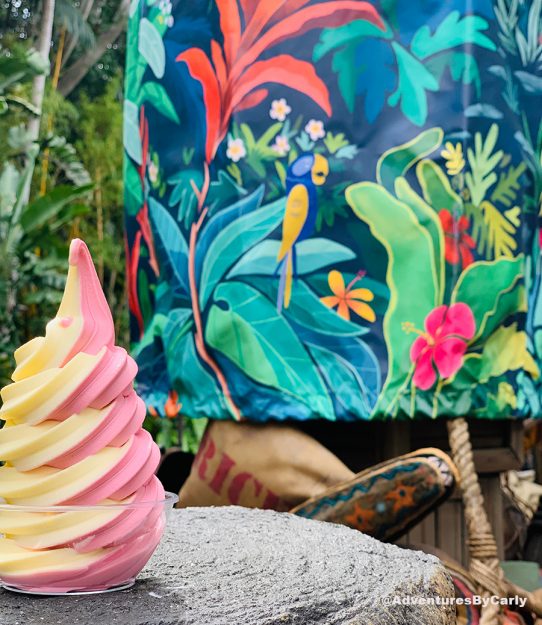 The Moroccan street bazaar-style atmosphere features an ample amount of seating, which is a bonus for the area. The draw here are the Bulgogi Beef Bao. Perfectly doughy on the outside and flavorful on the inside, these make the perfect snack. Pro tip: ask for a side of their homemade hot sauce they keep behind counter.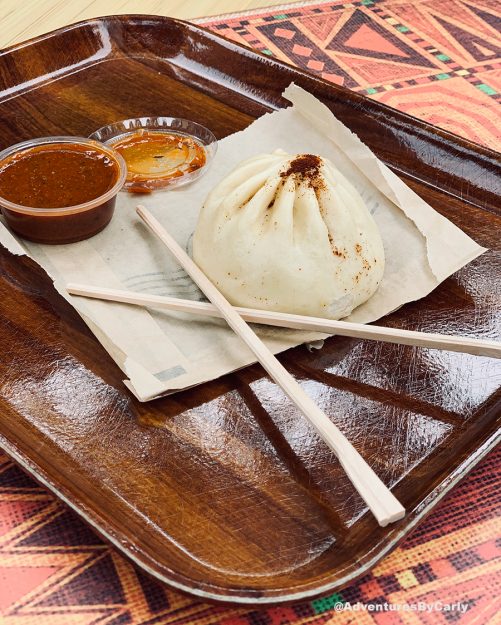 Cozy Cone Motel at Disney California Adventure — Savory Mac 'n' Cheese Cones
Cozy Cone Motel is serving up a variety of classic theme park treats, like lemonade and soft pretzels. The main draw here are their addictive savory mac 'n' cheese cones.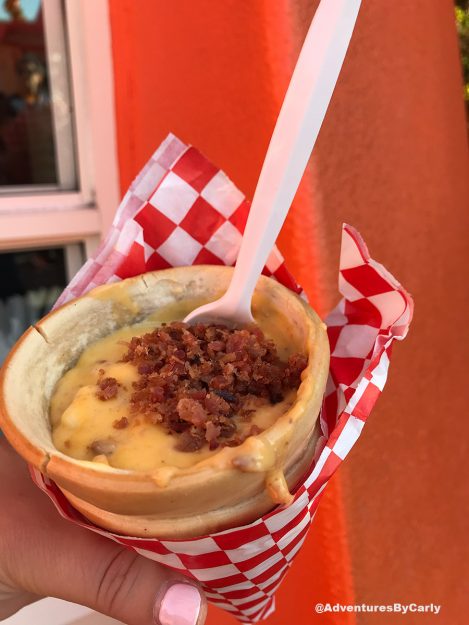 The doughy and edible cone is the perfect vessel for their creamy mac and cheese, which is then topped with everything from chili cone queso to bacon. These things are a meal in themselves and a can't miss when at Disney California Adventure.
Red Rose Taverne at Disneyland Park — Grey Stuff
In Fantasyland, you'll find the Beauty & the Beast-themed counter-service spot, Red Rose Taverne. While the entrée options are usually nothing to write home about, we come here for the Grey Stuff Gateau.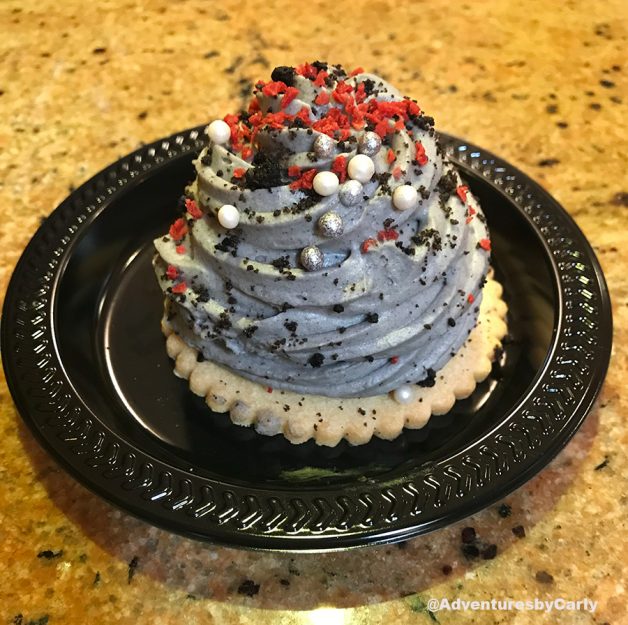 This decadent dessert features creamy white chocolate mousse and a moist red velvet cake with a raspberry center. They hit it out of the park with this one.
Corn Dog Castle at Disney California Adventure Park — Specialty Hand-Dipped Corn Dog
What would a trip to an amusement park be without some sort of classic theme park item?
The Corn Dog Castle, located at Paradise Pier, is serving up its own take on classic boardwalk eats. These made-to-order dogs are hand-dipped and fried to perfection. In addition to a classic dogs, they also feature sausage links and cheese-only versions.
MUST DRINK
Maurice's Treats at Disneyland Park — Boysen Apple Freeze
Located in Fantasyland, Maurice's Treats introduced this specialty drink in 2013, and it quickly became a fan favorite and a permanent menu item.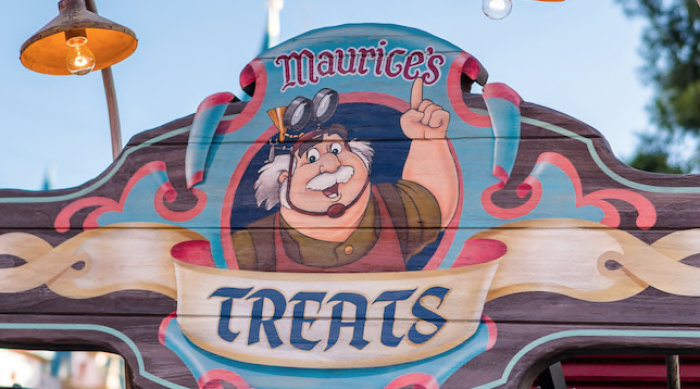 The Boysen Apple Freeze features a base of frozen apple juice that is then cranked up a notch with boysenberry and topped with passion fruit foam. The little bit of sour and little bit of sweet combined with the cold factor makes for the perfect sunny day treat.
Trader Sam's Enchanted Tiki Bar at Disneyland Hotel — Various
Tucked away near the resort pool of The Disneyland Hotel is Trader Sam's Enchanted Tiki Bar. The Jungle Cruise-themed watering hole is an homage to the Hollywood tiki bars of the 1950s and 1960s.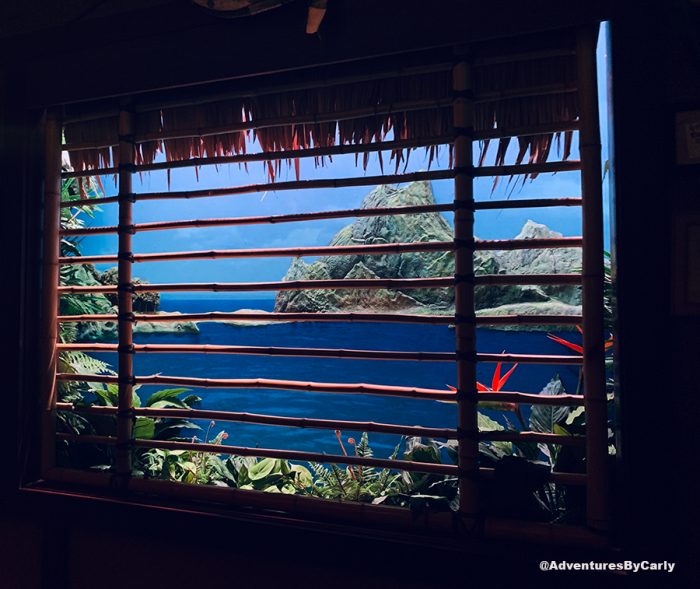 Here, you'll find knowledgeable (and playful) bartenders serving up some seriously delicious and strong cocktails as you're transported to a place far, far away. A peek inside is worth it for the atmosphere alone.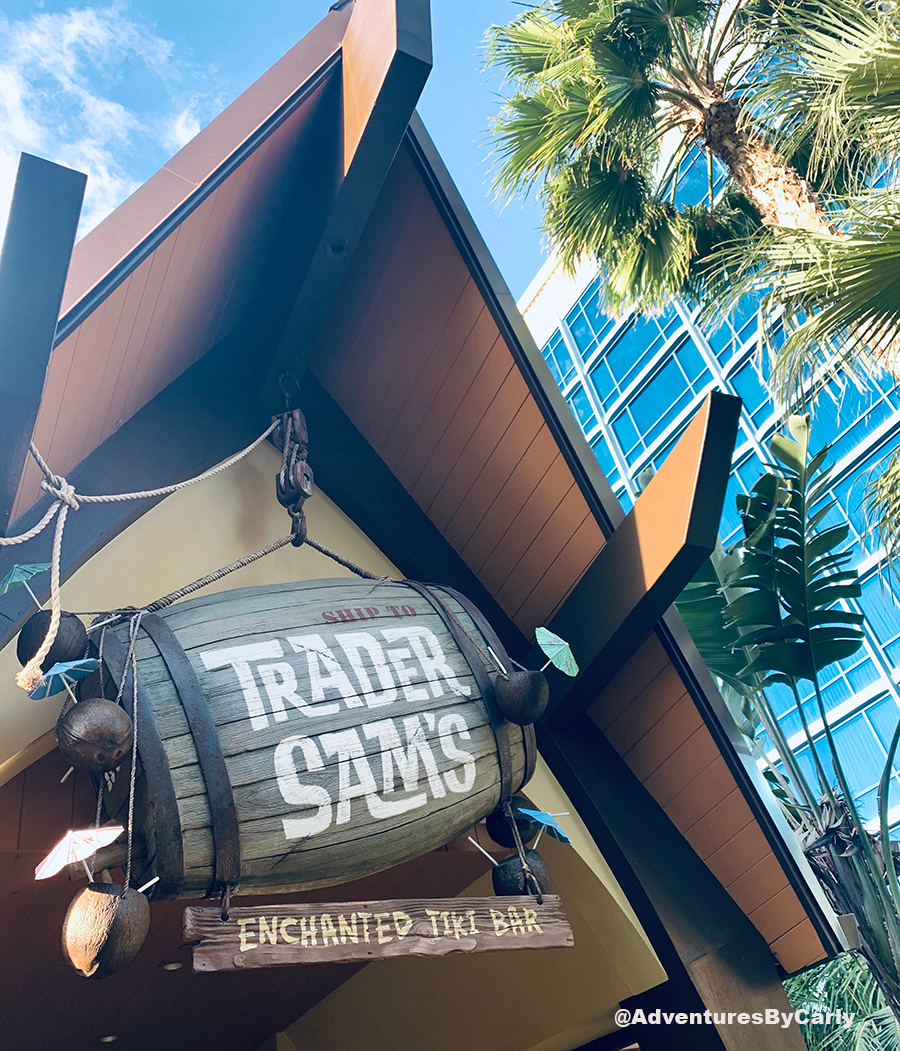 Carthay Circle Lounge at DIsney California Adventure — Various
Carthay Circle is a coveted dining spot inside Disney California Adventure that celebrates the golden era of Hollywood. While reservations can be tough in the restaurant proper, walk-ins are welcome at Carthay Circle Lounge. Fair warning: lines for the Lounge are common, so build some flexibility into your plans for this one.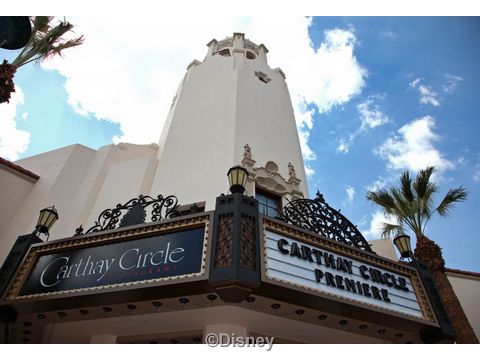 Once inside, you can dine on a limited but gourmet menu while sipping on a hand-crafted cocktail. While inside, you'll have no idea you're still in a theme park.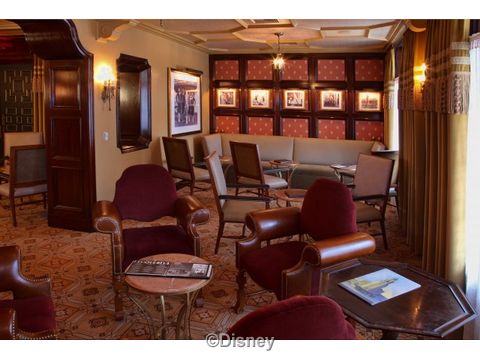 While it may be impossible to see all of Disneyland Resort in one day, with proper planning and strategy you can make the most out of your time for that one "Best Day Ever."
Join the AllEars.net Newsletter to stay on top of ALL the breaking Disney News! You'll also get access to AllEars tips, reviews, trivia, and MORE! Click here to Subscribe!

What is on your MUST DO list when visiting Disneyland?