Pixar Pier – Disney California Adventure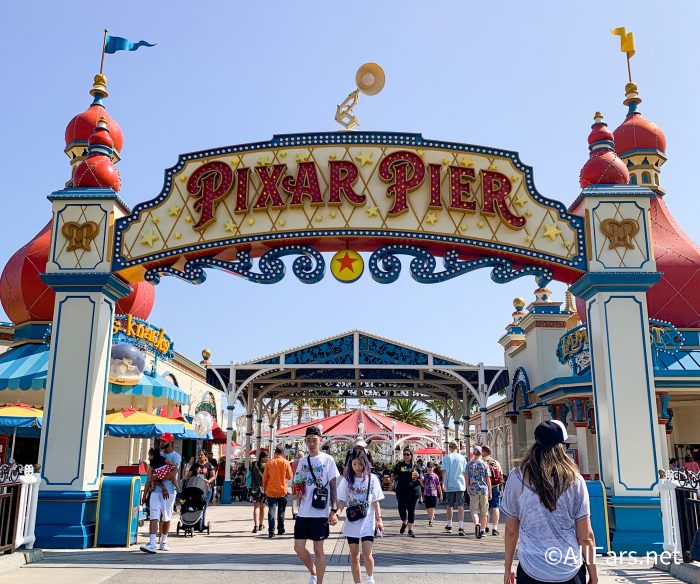 Introduction | Attraction | Touring Tips | Kids/Characters | Dining | Shopping | Interesting Facts
INTRODUCTION
All the worlds of Pixar Animation come together in the themed neighborhoods of Pixar Pier. The four neighborhoods celebrate beloved Pixar Animation stories and characters with Incredibles Park, Toy Story Boardwalk, Inside Out Headquarters, and Pixar Promenade.
ATTRACTIONS AND ENTERTAINMENT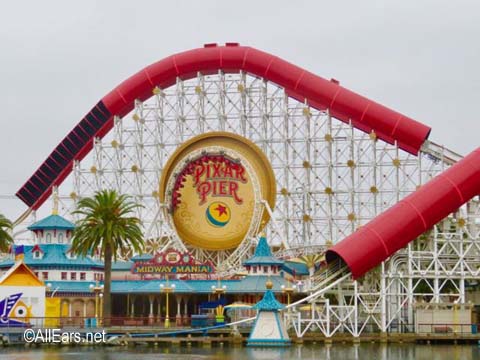 Incredicoaster – Take a roller coaster ride with the Incredibles as they attempt to catch baby Jack-Jack.
Toy Story Midway Mania! – Score points while playing interactive classic midway games hosted by favorite Toy Story characters.
Pixar Pal-A-Round – Choose a swinging or stationary gondola for this Ferris wheel type of ride above Paradise Bay.
Inside Out Emotional Whirl – Inspired by the film Inside Out, this attraction tasks you with helping Riley's emotions Joy, Sadness, Anger, Disgust, and Fear.
Jessie's Critter Carousel – A carousel themed around Jessie the Yodeling Cowgirl from the Toy Story films.
Boardwalk Games – Classic boardwalk games featuring Pixar characters such as Heimlich, WALL-E, and Bullseye.
Pixarmonic Orchestra – This entertaining orchestra plays music from Pixar movies – sometimes on unconventional instruments.
TOURING TIPS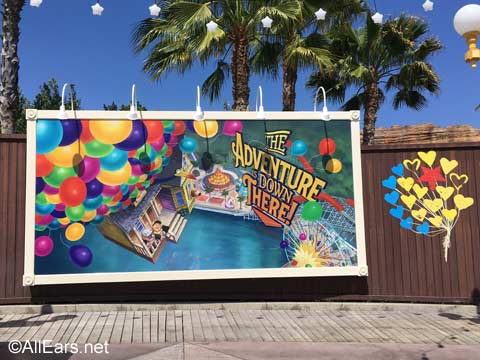 There are many photo ops placed throughout Pixar Pier, including the painted balloon bouquet and the Pixar Ball fountain.
PLACES TO DINE
The Lamplight Lounge offers dining upstairs and downstairs. The full food menu is only available downstairs, where reservations can be made up to 60 days in advance. While a full beverage menu is available upstairs, only the small plates "Bites" food menu is offered. Seating upstairs is walk-up only, first come, first served.
Adorable Snowman Frosted Treats – non-dairy lemon soft-serve as well as chocolate and vanilla soft-serve ice cream.
Jack-Jack's Cookie Num Nums – cookies and flavored milk.
Poultry Palace – Chicken and turkey legs.
Angry Dogs – Spicy hot dogs.
Restaurants At A Glance
Menus From the Disneyland Resort
PLACES TO SHOP
Knick's Knacks – Pixar-themed apparel, including t-shirts, hats, and socks, as well as pins and artwork. Some of the merchandise is exclusive to the location.
Midway Mercantile – Toy Story merchandise including toys and souvenirs.
Bing Bong's Sweet Stuff – Pixar-themed treats such as cake pops and caramel apples, as well as Bing Bong's Candy Tears, Rainbow Unicorn Cotton Candy, salt water taffy, and Memory Refreshers frozen slushes.
INTERESTING FACTS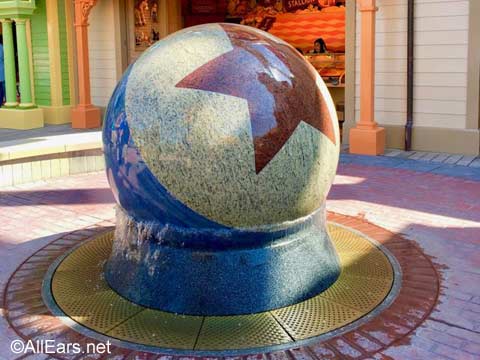 When Disney California Adventure opened in 2001, the entire area around Paradise Bay was originally known as Paradise Pier. In 2018, the southern part was re-imagined into Pixar Pier.
In designing the look of Pixar Pier, Imagineers took inspiration from the turn-of-the-century architecture and modern-day colors of the Santa Cruz Beach Boardwalk.
The Pixar Ball Fountain is a "kugel fountain". It's supported, almost weightlessly, by aquaplaning on a thin film of water.
The Pixarmonic Orchestra is inspired by the music of Spike Jones. Their costumes have some Pixar "Easter Eggs."
If you have comments or tips to share with others about touring Disney California Adventure, please email us. Thank you.